You couldn't say that one Abe was overshadowing another as they were both already world champions before the start of the competition. Okay, the brother has one more world title than his sister but both were chasing the Olympic title and some luck to do things right. They fought the same day under the dome of the Nippon Budokan. The question remained, could they achieve the feat of winning the Games on the same day.
The answer is obviously yes. This day is historic. Beyond the anecdote, seeing two champions of the caliber of Abe and Abe climb on the podium during the same Games, the same day, is symbolically very strong. Uta had the opportunity to tell us how much she admired her brother and that he was always a role model for her. We can say tonight that there is no longer a single model, but two models of technique and tactics, as well as two masters in the desire to perform and present the best image of judo.
Tonight Japan wins two beautiful gold medals. More generally, it is judo and sport that wins the gold medal for hard work, passion and talent.
Everyone likes statistics and fun facts. It is obvious that this 25th July 2021 will forever be the day when a sister and a brother, Uta and Hifumi, who admired each other, had the opportunity to rise together to become Olympic champions.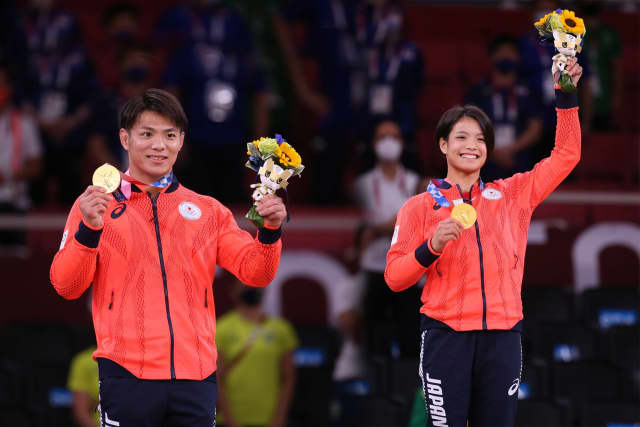 -52kg: Prodigy ABE Does it in Tokyo Final BUCHARD, Amandine (FRA) vs ABE, Uta (JPN)
This was the expected final! Amandine Buchard, who is one of the only athletes to have defeated the Japanese star on the World Judo Tour, and ABE Uta, supported by the whole of Japan. During the first half BUCHARD concentrated perfectly on her powerful right arm, which is for sure her most powerful weapon and on ABE's kumi-kata . Not scared to be in contact, not scared to launch her tokui-waza and not scared to go on the floor, the French powerhouse pushed the Abe to be penalised with a first shido for passivity.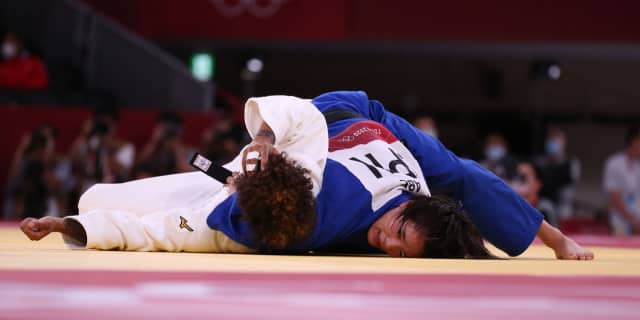 Into golden score and the first attack came from ABE Uta, with no score but a shiver that ran through the audience. Would the Japanese lose at home under the permanent pressure of BUCHARD or would ABE ultimately find the solution? The answer required a long await but eventually ABE Uta blocked Buchard's kata-guruma and immediately turned her over to pin her down with an inescapable immobilisation. This was for sure the plan but it took many minutes for Abe to apply it. When she did, it was the right moment and it offered her the Olympic title. A long hug between the two champions followed. They knew that they were the best today and that they put everything out there on the tatami. It was a beautiful final. No, it was an amazing final in terms of engagement. To do that one needs to have two great athletes. BUCHARD has a silver medal and she must be proud. ABE has the GOLD and she deserves it, more than any one else.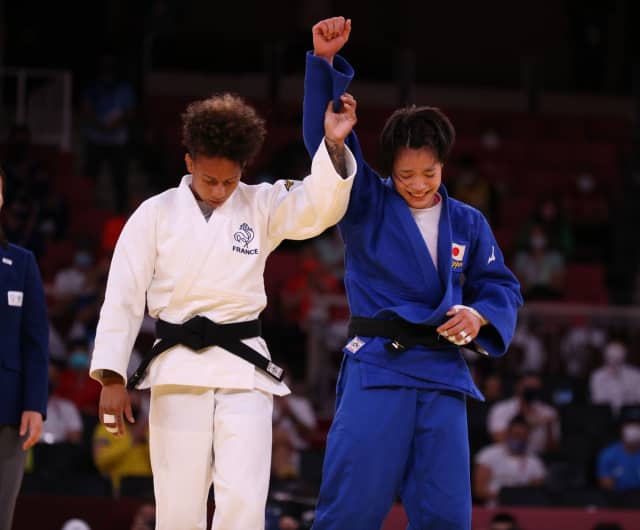 Uta ABE said, "When asked if it was more difficult to fight or to watch my brother fight, I have to say that fighting the final was much more difficult. In the final the key was to be patient and not make mistakes and that is why I won."
Amandine BUCHARD said, "I was feeling great all day long, doing the right things at the right time. In the final I felt she was a little bit scared, I felt it just like that. I made one mistake, just one but it cost me the gold. I'm proud of my silver and I guarantee you it wont be the last final between the 2 of us."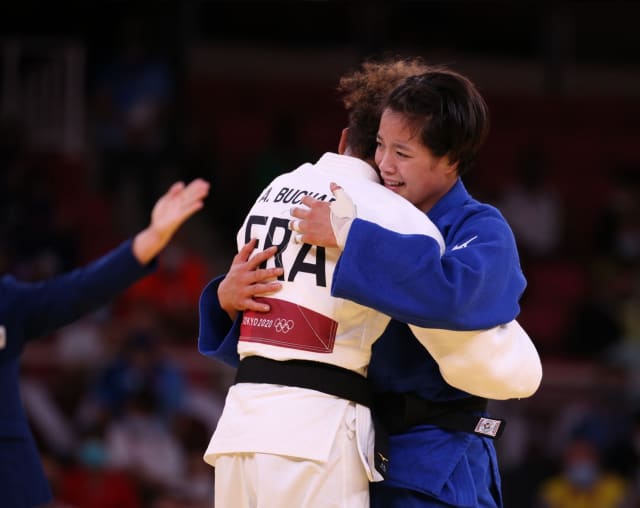 Bronze Medal Contests PUPP, Reka (HUN) vs GIUFFRIDA, Odette (ITA) GILES, Chelsie (GBR) vs KOCHER, Fabienne (SUI)
In the first bronze medal contest, Reka PUPP hoped that she could conclude a beautiful day of judo with a medal around her neck but Odette GIUFFRIDA, who participated in the final of the Rio Olympic Games and lost against Majlinda KELMENDI five years ago, this time concluded the competition with a victory eventually imposing her reversed seoi-nage, executed on one sleeve, to conquer a second medal at an Olympic Games. Not many athletes can say that they have two Olympic medals, so congratulations Odette.
Even under KOCHER's pressure, Chelsie GILES was the first to score, with a counter-attack for a first waza-ari, to take a strong lead halfway through. The match kept showing a dominent KOCHER and an opportunist GILES, but the Brit scored a second waza-ari with a clever de-ashi-barai. A bronze medal for Chelsie GILES and a first medal for Great Britain in judo here in Tokyo.
Chelsie GILES said, "This year I have learned to not underestimated myself. This morning I felt great. I made a little mistake in the quarter-final but then I managed to get the bronze. The next step is to enjoy watching other contests, especially my teamates."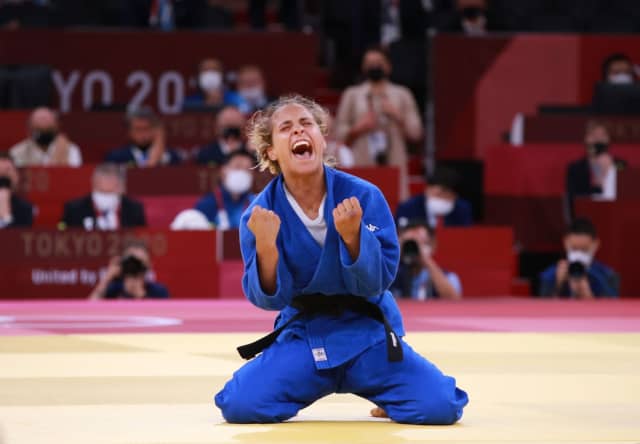 Semi-finals BUCHARD, Amandine (FRA) vs KOCHER, Fabienne (SUI) ABE, Uta (JPN) vs GIUFFRIDA, Odette (ITA)
If yesterday there were tears of joy in the eyes of the Kosovan camp, they were tinged with sadness today, with the exit in the first round of the reigning Olympic Champion, Majlinda Kelmendi. European and World champion and above all the first Olympic gold medallist in the history of her young country, Majlinda is a true heroine of sport.
Joined by her compatriot Distria Krasniqi at the top of the Olympic Pantheon yesterday, since Rio, Majlinda has never quite regained her level of that time. Seeded number 4 in the competition, she still hoped to recover in Tokyo, but that was without taking into account the performance of the Hungarian Reza PUPP who in the first round ruined all the hopes of the Olympic champion. Majlinda took a long time to leave the tatami because she probably knew that this was one of her last appearances at this level. The life of a top athlete is complicated and sometimes painful, both mentally and physically.
In 2012 in London, Kelmendi was quickly eliminated in the first rounds, but four years later she came back as the winner. Today fate is once again less accommodating. All of this happened in less than ten years. It is ultimately little, but for a competitor of the caliber of the Kosovan, it is an eternity dedicated to judo, sport and the influence of her country.
Driton Kuka, her coach, explained a few minutes later, "Majlinda, thank you for life! You will forever be Olympic, world and European champion! Don't be sad today. All the work and sacrifice, sweat and blood that you have paid for yourself, for me, our families, for all our people, have rewarded you during your career. Do not be sad because the gold of Distria is that of all of our team. Don't be sad today please. Keep your head up because you have given us so much joy! I will remain proud of you until my last breath."
In ABE's half of the draw, there was no surprise, as the ultimate favourite qualified to face the Rio 2016 silver medallist, Odette GUFFRIDA of Italy. The semi-final started with an impressive pace always imposed by ABE, who was close to concluding on the floor but the very experienced GIUFFRIDA escaped. ABE and GIUFFRIDA reached the end of the four minutes, with no score and no penalty given, which is rare enough to be underlined. Following a precise tactical plan based on strong but safe attacks, some of them being at the limit of the false-attack, the Italian brought her opponent a penalty, the first of the match, but flirting with the false attack offered GIUFFRIDA a turn to be sanctioned a first time and then a second time. After three minutes in the extra period, ABE had maybe the only real opportunity of the match and she didn't miss it, to score a waza-ari with a massive uchi-mata.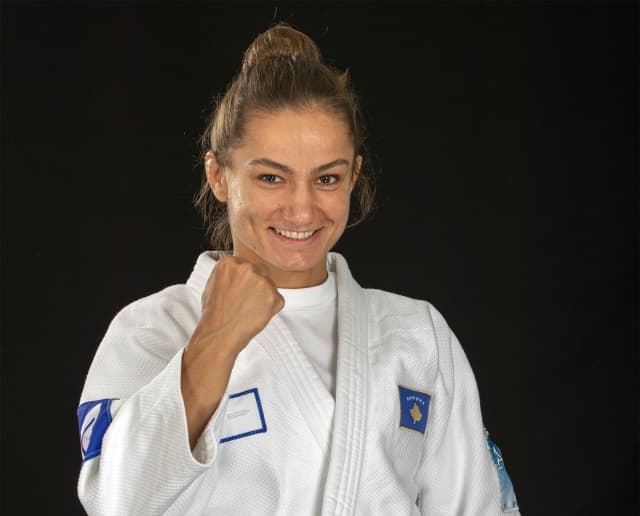 As Kelmendi was leaving the tatami, Amandine Buchard (FRA) proved that her number one seeding was not just by chance. Without trembling for a single second, she qualified for the semi-final of her first Olympic Games. Five years ago she was not selected but this time she is among the best. Once again, from one Olympiad to the other, so many things can change. In front of her was the Swiss Fabienne KOCHER, author of a perfect start earlier in the morning but it took only 16 seconds for Amandine BUCHARD to score a clear and fast-as-lightning ippon with her special movement, kata-guruma, on the edge of the competition area. KOCHER was even smiling at the end of the match as she realised how fast everything moved.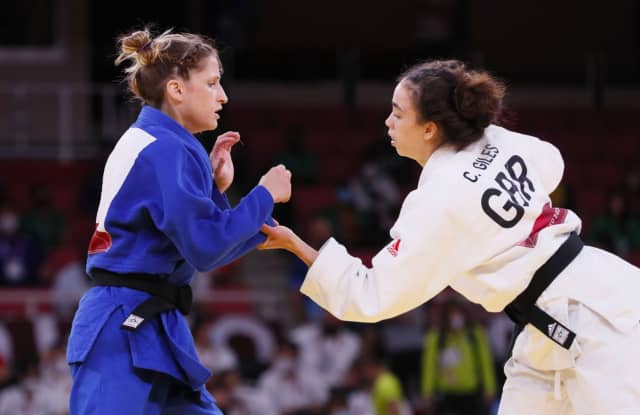 Repechage PARK, Da-Sol (KOR) vs PUPP, Reka (HUN) GILES, Chelsie (GBR) vs VAN SNICK, Charline
After a really good first session and despite her defeat in the quarter-final against Fabienne KOCHER, Reka PUPP (HUN) faced Da-Sol PARK, who eliminated Natalia KUZIUTINA earlier in the day, to have a chance to compete for a medal. Within the first minute, she scored with an aerial uchi-mata to take the lead. She then controlled the rest of the bout with very clever ne-waza sequences, where she was close to scoring but at the same time was able to control time without getting too tired. Reka PUPP really did a good job, combining attacks and tactics in the best possible way.
Chelsie GILES (GBR) confirmed her good form from the last IJF World Judo Tour events and was still present in the final block against Charline VAN SNICK, a veteran on the circuit, since the Belgian was a bronze medallist in London 2012. In golden score, with a very opportunist ko-uchi-gari, while VAN SNICK was counter attacking, GILES scored ippon and sent her myself to the bronze medal contest.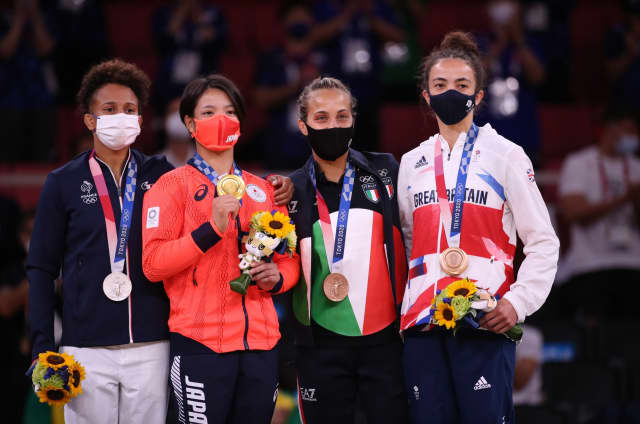 Final Results 1 ABE Uta (JPN) 2 BUCHARD Amandine (FRA) 3 GIUFFRIDA Odette (ITA) 3 GILES Chelsie (GBR) 5 KOCHER Fabienne (SUI) 5 PUPP Reka (HUN) 7 VAN SNICK Charline (BEL) 7 PARK Da-Sol (KOR)
-66kg: ABE Hifumi Mirrors his Sister's Victory Final ABE, Hifumi (JPN) vs MARGVELASHVILI, Vazha (GEO)
There were so many questions to be answered at the beginning of the final, since ABE Uta was already waiting backstage with her title. Would her brother succeed as well was the main question and it didn't take too long to get an answer as Hifumi scored a waza-ari with his homemade o-soto-gari, similar to those he used throughout the day. While UTA was jumping up and down excitedly on the edge of the field of play, cheering for her brother, Hifumi did not make any mistake and controlled MARGVELASHVILI until he could finally raise his arms in victory.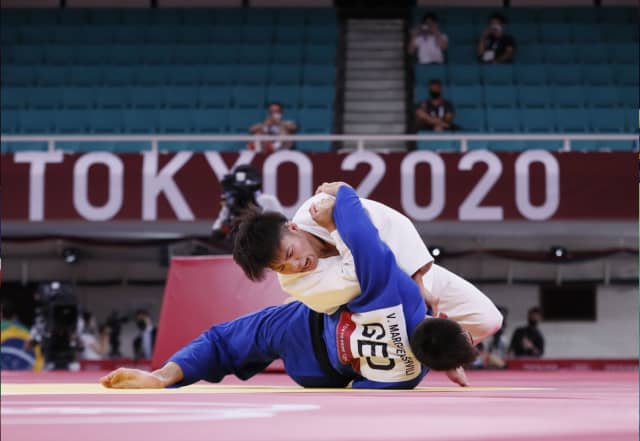 Abe Hifumi said, "The Budokan is the best place for judo, so I wanted to leave the mat proud. I dit it, my dream came true and it is even better because there were two dreams and both ended well. It is the greatest moment of my 23 years of life."
MARGVELASHVILI declared, "Abe is a great champion and deserves his gold. I tried to go step by step all day long. I succeeded with this plan until the final. There, there was something missing."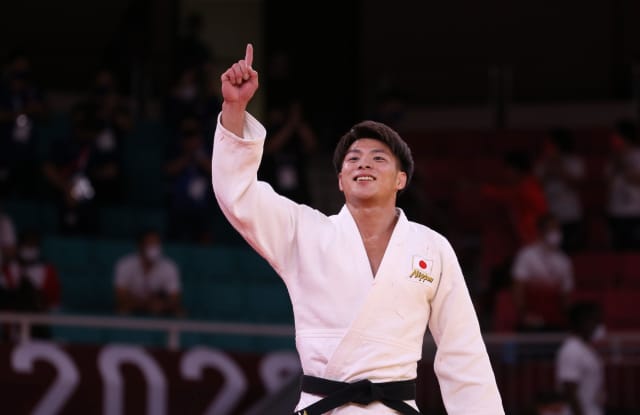 Bronze Medal Contests LOMBARDO, Manuel (ITA) vs AN, Baul (KOR) SHMAILOV, Baruch (ISR) vs CARGNIN, Daniel (BRA)
The first bronze medal contest was won quickly by Baul AN (KOR), scoring ippon against Manuel LOMBARDO (ITA), who will not join his teammate, GIUFFRIDA, on the podium. Both the Italian and the Korean came for the gold medal and both must be disappointed, but at the end of the day, we will remember that Baul AN was standing on the podium.
Baul AN said, "What a day! I'm as tired as I was in Rio and it was as hard as 5 years ago."
In the second bronze medal contest, Daniel CARGNIN (BRA) scored first with an unorthodox rolling arm throw for a waza-ari. Then Baruch SHMAILOV started to put incredible pressure on his opponent, who managed to keep his advantage alive and win his first Olympic medal and the first medal for team Brazil.
CARGNIN's coach declared, "We have improved in the last 2 years but we were missing medals at major events. What we had to do was to be better in the competitive aspect. That is why I'm so happy today."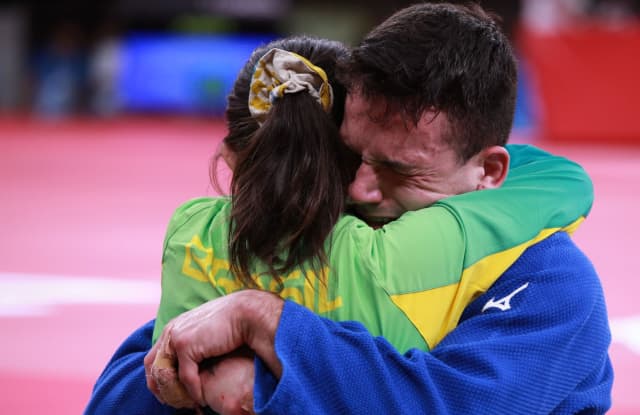 Semi-finals CARGNIN, Daniel (BRA) vs ABE, Hifumi (JPN) AN, Baul (KOR) vs MARGVELASHVILI, Vazha (GEO)
The first part of the draw was tough; the athletes knew it. It's the Olympic Games and even if there are less competitors than at the World Championships for instance, the pressure is very high and there is no escape. You win, you go on, you lose, you have to wait four, or in this case three, more years until the next Olympic Games.
Being world number one and top seed, Manuel LOMBARDO (ITA) thought he had good chances to reach the semi-final but that was without world number 13 Daniel CARGNIN (BRA), who round after round showed more and more confidence. Junior World Champion in 2017, the Br IMO azilian, who won the Pan-American Championships last year, proved that he is one of the major threats in the category. It is not LOMBARDO who will say the contrary.
In the semi-final CARGNIN was opposed by the local star and hero-to-be Hifumi ABE, who had several tough matches during the morning session, even if the Japanese judoka never looked in danger. The fact is that in each round ABE had to face opponents who were mostly trying not to fall rather than trying to win. Nevertheless, ABE showed an amazing long distance right handed o-soto-gari that scored several times. CARGNIN is another kind of opponent, trying to impose his kumi-kata and a different rhythm, but ABE was obviously ready to face any kind of adversary and this time he didn't need golden score to deliver the ippon; A seoi-nage came for him to join his sister Uta, from a distance in the final of the Olympic Games.
There were no surprises in the second half of the draw, with both top seeds qualified for the semi-final, Baul AN (KOR) with his reverse Korean style seoi-nage and Vazha MARGVELASHVILI who aligned several significant victories. The surprise came from the semi-final itself. As the golden score period began, Baul AN seemed to control what could be controlled and was slowly but surely pushing MARGVELASHVILI go be penalised, which was the case twice, but in a confused action, the Korean tried to counter-attack his opponent, who had perfectly anticipated it and who countered the counter-attack to score an unexpected waza-ari that opened the doors of the final for him.
Repechage LOMBARDO, Manuel (ITA) vs YONDONPERENLEI, Baskhuu (MGL) GOMBOC, Adrian (SLO) vs SHMAILOV, Baruch (ISR)
Being in the repechage was definitely not LOMBARDO's goal but winning a bronze medal at the Olympic Games is very important. To do so he still had to compete against Baskhuu YONDONPERENLEI (MGL). In a tough battle to take the lead, only shido were distributed until YONDONPERENLEI scored a waza-ari in golden score, but the score was cancelled after a video review as the Mongolian pushed the leg, under the belt, to conclude his technique, which is not valid. For this infringement, he was penalised a third time, offering the victory to LOMBARDO, who didn't expected it.
The second repechage match starred Adrian GOMBOC (SLO), who was close to having the perfect day until the quarter-final. To access the bronze medal contest, he faced Baruch SHMAILOV (ISR), who also had a powerful journey through the prelims, until he lost the quarter-final against the Georgian.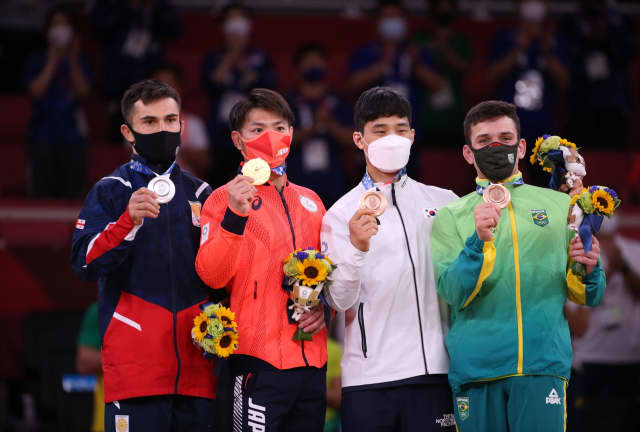 Final Results 1 ABE Hifumi (JPN) 2 MARGVELASHVILI Vazha (GEO) 3 AN Baul (KOR) 3 CARGNIN Daniel (BRA) 5 SHMAILOV Baruch (ISR) 5 LOMBARDO Manuel (ITA) 7 GOMBOC Adrian (SLO) 7 YONDONPERENLEI Baskhuu (MGL)