It is not easy to qualify a day like the one we have just spent. Once again the emotions are many and varied. First of all, we have two magnificent new Olympic champions: Clarisse AGBEGNENOU (FRA) and NAGASE Takanori (JPN).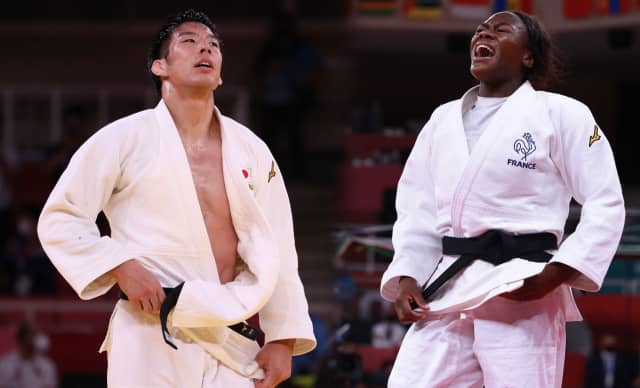 The first one was expected and as several of the favourites had done so far, she did not disappoint her supporters. Clarisse AGBEGNENOU (FRA) was the overwhelming favourite, but her shoulders were broad and strong enough to carry the flag during the opening ceremony and this burden here today at the Nippon Budokan.
Encouraged by her team, she did not tremble when it came to winning against the same opponent who had defeated her five years ago in Rio, the reigning Olympic champion, Tina TRSTENJAK (SLO), who has passed the flag to Clarisse now. This time the result is different, to the great pleasure of the French delegation which, after four days, has won their fourth medal. This is a good overall performance. There was a little scent of revenge for Clarisse, but a beautiful and respectful revenge as only sport can offer.
In the men's category, a lot of athletes who had been performing well for months had high expectations, without one or the other really standing out from the crowd in an indisputable way. It was finally the Japanese NAGASE who added a medal to the wallet of the host country, as obvious continuity to what has taken place since the start of the Olympic tournament.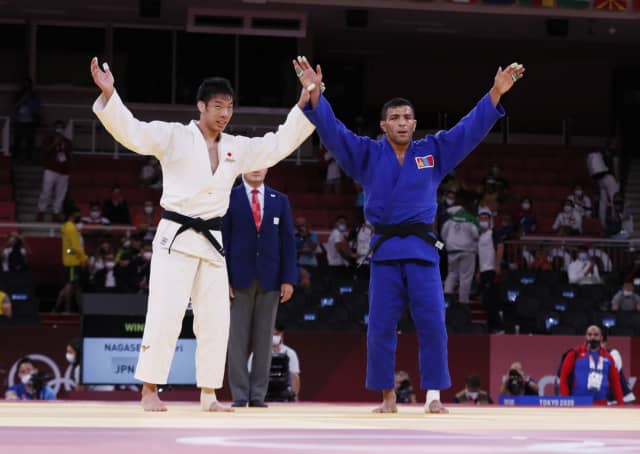 In the -81kg, many hoped for a feat from Saeid Mollaei, now representing Mongolia and the 2018 world champion was present and performed, reaching his best level. Mr. Marius Vizer, IJF President said, "The story of Saeid is incredible. Two years ago, his world collapsed here in Tokyo during the World Championships and we were the witnesses of that. But we decided as a united family to stand next to him and to support him. Today's results proves that we took the correct decision to defend his rights and his will to be a free man as well as an athlete."
Tomorrow will be the fifth day of competition and we are expecting more incredible judo. Two categories will be in action: the women's -70kg and the men's -90kg.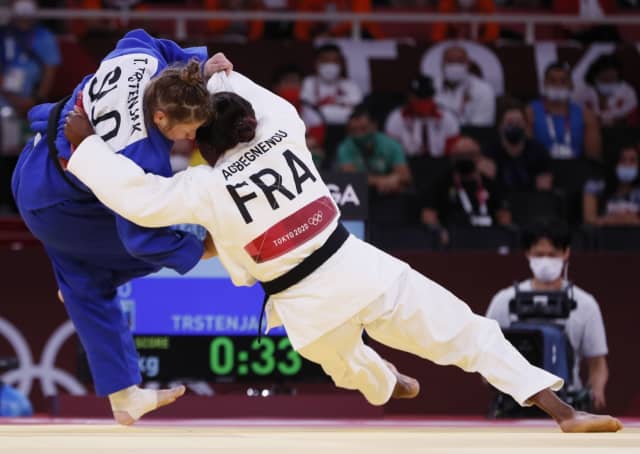 -63kg: AGBEGNENOU's Revenge to Win GOLD Final AGBEGNENOU, Clarisse (FRA) vs TRSTENJAK, Tina (SLO)
The fact is that a match between Clarisse AGBEGNENOU (FRA) and Tina TRSTENJAK (SLO) is not something uncommon since the two athletes dominated the category over the past few years. The fact is also that this is a rematch of the 2016 Rio Olympic Games final. Would TRSTENJAK be able to steal the title again or would AGBEGNENOU finally reach the summit of Olympus?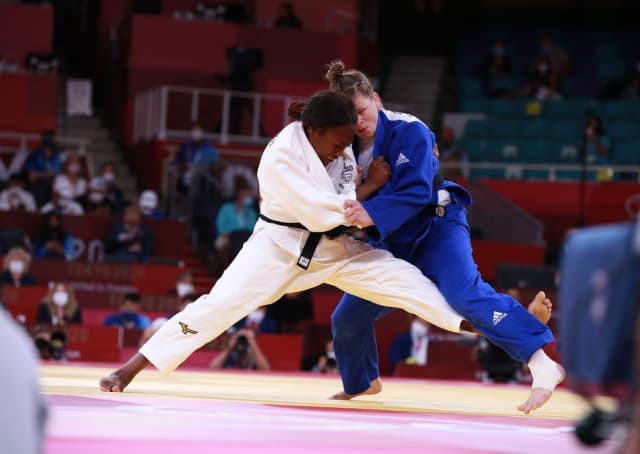 The first in action with a dangerous seoi-nage was TRSTENJAK, an attack perfectly controlled by the French, who was then close to strangling her opponent, but for a powerful and determined escape. The rest of the match was alike, TRSTENJAK attacking always before AGBEGNENOU, to push her to be penalised and she was penalised, but then it was TRSTENJAK's turn to receive two shido for false attacks. In golden score, AGBEGNENOU eventually concluded a perfect competition day by throwing the best opponent. Five years ago, in the same configuration, Clarisse lost, but this time the story is different and both competitors looked happy at the end. One for winning and the other for watching the joy of the first.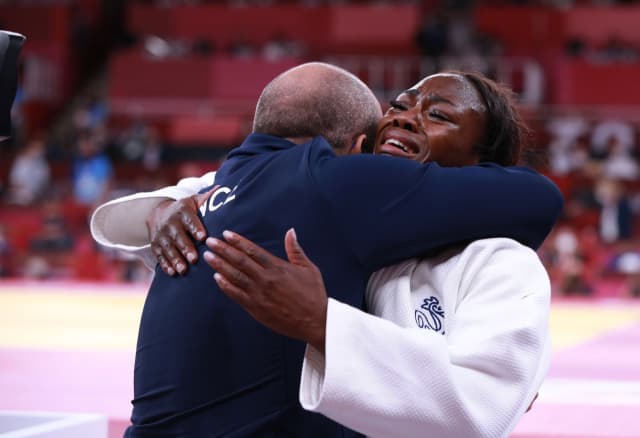 Clarisse Agbegnenou said, "I'm doing some new things now, such as boxing and yoga, to help me to improve different aspects of my judo. It paid off. Now I'm going to take time to enjoy my medals, because I haven't since Budapest. After that I will take a long break."
Tina TRSTENJAK said, "It is a great day after 5 hard years. I wanted the gold medal but, hey, this is the Olympic Games. Silver is great!"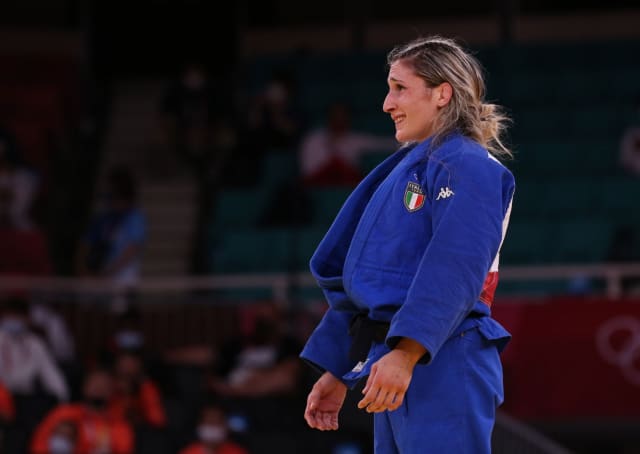 Bronze Medal Contests FRANSSEN, Juul (NED) vs CENTRACCHIO, Maria (ITA) BARRIOS, Anriquelis (VEN) vs BEAUCHEMIN-PINARD, Catherine (CAN)
Maria CENTRACCHIO (ITA) was not among the favourites of the category and for sure is not the most prominent judoka of team Italy, but this evening she is an Olympic bronze medallist after she won against Juul FRANSSEN (NED) by penalties. So far she has won medals only two times on the World Judo Tour.
Anriquelis BARRIOS (VEN) and Catherine BEAUCHEMIN-PINARD (CAN) were then opposed in the second bronze medal contest. A golden score period was necessary again to determine the winner of a close match. The Canadian needed a little more than three minutes of extra time to score a liberating waza-ari to win the bronze medal.
Catherine BEAUCHEMIN-PINARD said, "In the semi-final I lost against the best. After the semi-final it was hard to focus but I did it. Then I stuck to the plan to grab her sleeves and make no mistakes."
Maria CENTRACCHIO declared, "I was the last qualified for the Games so I decided to fight with zero pressure, just relaxed, for fun. When I do that I'm better! That is how I won my bronze medal."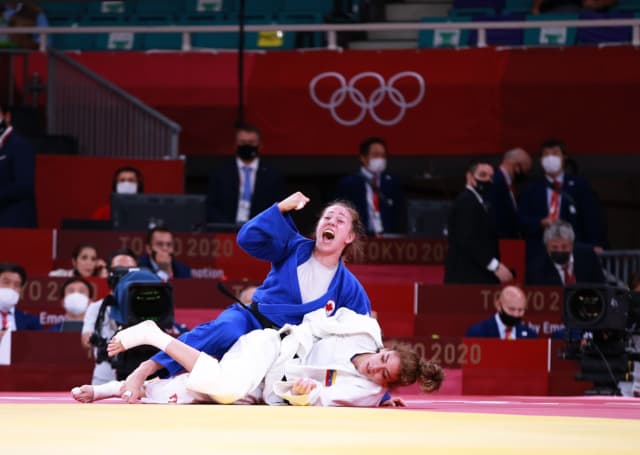 Semifinals AGBEGNENOU, Clarisse (FRA) vs BEAUCHEMIN-PINARD, Catherine (CAN) TRSTENJAK, Tina (SLO) vs CENTRACCHIO, Maria (ITA)
In the upper part of the draw there was no surprise as Clarisse AGBEGNENOU (FRA), dominated all her preliminary rounds, first against Sandrine BILLIET (CPV) and then Juul FRANSSEN (NED). The quarter-final was a really good test for the five-time world champion. She clearly dominated the match, but had to pull some extra concentration as the Dutch judoka can be dangerous at any time. Nevertheless, Clarisse controlled the bout perfectly, bringing to the table a kata-guruma that we didn't know she was a specialist of, to face Catherine BEAUCHEMIN-PINARD (CAN) to access the final. With an opportunist little foot action, AGBEGNENOU scored the first waza-ari, that followed several sequences where the French was clearly dominating. The rest of the semifinal was a one way ticket for Clarisse the reach the second Olympic final in a row of her career.
The lower half of the draw was dominated by Tina TRSTENJAK (SLO), who had a more difficult journey than AGBEGNENOU. The defending Olympic champion has a lot of resources and although she was led by waza-ari by the Venezuelan Anriquelis BARRIOS, she managed to qualify for the semi-final, to meet Maria CENTRACCHIO, one of Italy's last chances to reach the podium. Actually Maria was not even seeded but she defeated Agata OZDOBA-BLACH, who had just upset the Japanese fans by defeating TASHIRO Miku. Tashiro became, therefore, the first local athlete not to be in a position to reach the podium. Half way to the end, TRSTENJAK put a serious option on the final by scoring a waza-ari with an opportunist shoulder throw, which she secured by pinning down CENTRACCHIO for ippon. A great performance again by the defending Olympic Champion.
Repechages FRANSSEN, Juul (NED) vs QUADROS, Ketleyn (BRA) BARRIOS, Anriquelis (VEN) vs OZDOBA-BLACH, Agata (POL)
Juul FRANSSEN, who had no chance against the power of AGBEGNENOU, was opposed by a veteran on the circuit, Ketleyn QUADROS (BRA), who was already an Olympic bronze medallist back in 2008 in Beijing. For those who know how difficult it is to stay at the highest level, seeing an athlete who competed in Beijing and got a bronze medal, meaning that she was already a top level competitor for several years before that performance, and having her performing again 13 years later in Tokyo, is incredible. Unfortunately for this time, QUADROS, who was dominating the bout against Juul FRANSSEN, was pinned down by the Dutch, who qualified for the bronze medal contest.
Two of the main animators of the morning session, Anriquelis BARRIOS (VEN) and Agata OZDOBA-BLACH (POL), met to access the second bronze medal match and it is BARRIOS who qualified for it after having scored a waza-ari with o-uchi-gari.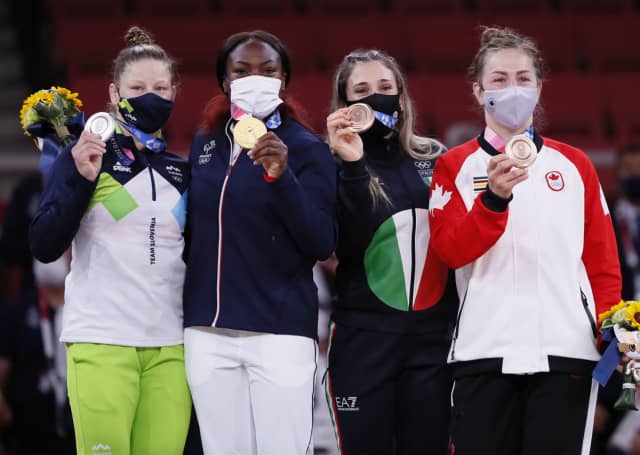 Final results 1 AGBEGNENOU Clarisse (FRA) 2 TRSTENJAK Tina (SLO) 3 CENTRACCHIO Maria (ITA) 3 BEAUCHEMIN-PINARD Catherine (CAN) 5 FRANSSEN Juul (NED) 5 BARRIOS Anriquelis (VEN) 7 QUADROS Ketleyn (BRA) 7 OZDOBA-BLACH Agata (POL)
-81kg: NAGAZE in Gold, MOLLAEI Back Final NAGASE, Takanori (JPN) vs MOLLAEI Saeid (MGL)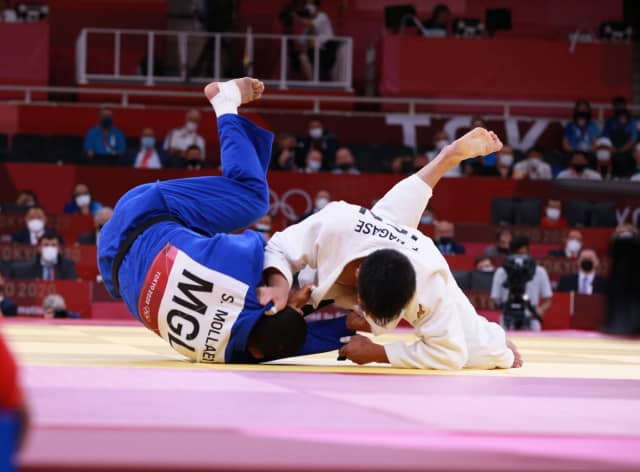 What happened in the -81kg once again goes beyond the sports framework. The whole Saeid Mollaei story started two years ago here in Tokyo, on the occasion of the World Championships, when the Iranian-born world champion decided to fight for his freedom. Since then, Saeid has been struggling to come back to his best level and what is extraordinary is that he did it on the D-day, the day he was dreaming of.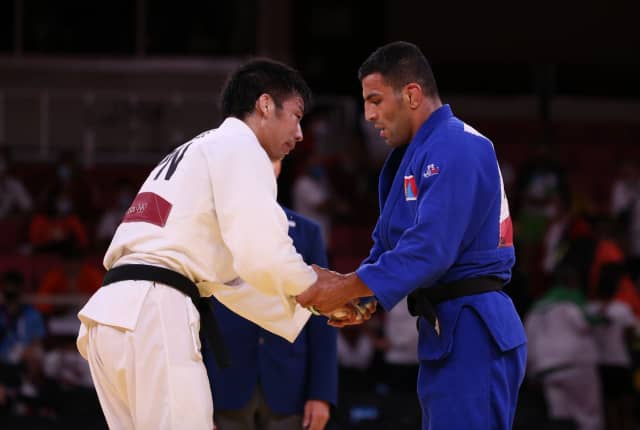 Nagase is probably not the most spectacular Japanese judoka but he is efficient. Taking more time to prepare his movements, he's patient and that's the way he worked throughout the day and in the final as well. Having spent more time on the tatami than MOLLAEI and especially in golden score, NAGASE knew what to do and at what time. With the perfect timing he executed a tai-otoshi that sent Saeid to the floor for the silver medal, while NAGASE caught gold.
Nagase Takanori said, "I can't tell what was the hardest part of today. Every contest was tough and I'm happy but exhausted."
Saeid Mollaei said, "2 years ago I said I will come back here and win an Olympic medal. I'm a man of my word. This medal is for my family and for all of the judo family."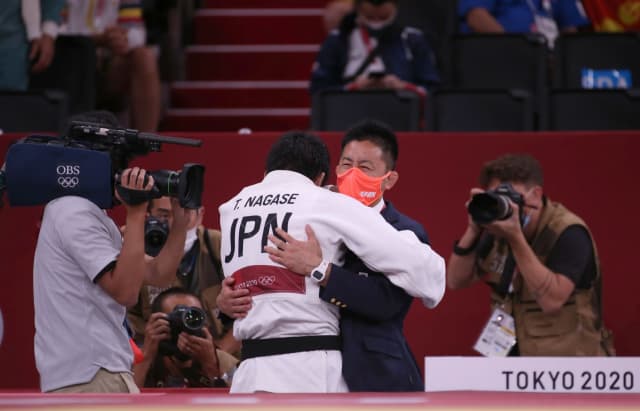 Bronze Medal Contests RESSEL, Dominic (GER) vs BORCHASHVILI, Shamil (AUT) GRIGALASHVILI, Tato (GEO) vs CASSE, Matthias (BEL)
The two bronze medals were awarded to Shamil BORCHASHVILI with a waza-ari and a pin down for ippon, while Matthias CASSE (BEL) scored a beautiful ippon with a counterattack against Tato GRIGALASHVILI (GEO) to step on the podium.
Matthias CASSE said, "Tato defeated me at the Europeans and then I won the Worlds against him. Today I defeated him in the bronze medal match. This is sport, it comes and goes."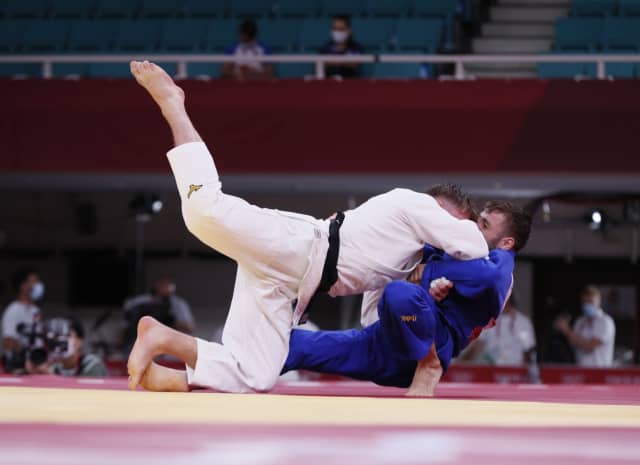 Semifinals CASSE, Matthias (BEL) vs NAGASE, Takanori (JPN) BORCHASHVILI Shamil (AUT) vs MOLLAEI Saeid (MGL)
We had announced that the men's -81kg category would be totally unpredictable and that was correct. It is not the case that because world champion, Matthias CASSE (BEL), was in the semi-final, that it became predictable though, since the Belgian had really challenging first rounds and at any time he could have lost. That's where you recognise great champions, something that Matthias definitely is. When times are hard, they find the necessary energy to produce the winning technique. When CASSE was thrown for waza-ari by Adrian GANDIA (PUR) in the first round, things looked bad for him but he came back and won, as he did again against Robin PACEK (SWE) and Alan KHUBETSOV (ROC), to face in Takanori NAGASE (JPN) in the semi-final, who also had to struggle to find his way through the preliminary rounds. As it was the case throughout the preliminary rounds, both athletes ended up in the golden score period, where everything seemed so close: winning, loosing, neither CASSE nor NAGASE could tell, but eventually it's the Japanese who forced the doors to the final by scoring a waza-ari with a last chance shoulder movement.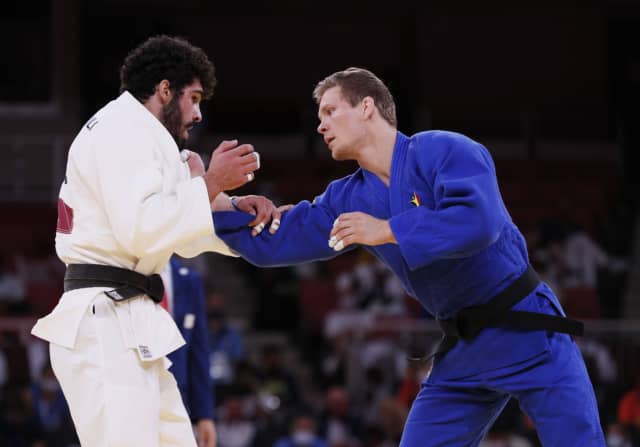 In the second half of the draw many names could have made it through, like Tato GRIGALASHVILI (GEO), but he was defeated by a Saeid MOLLAEI (MGL) who was on fire, reaching the semi-final. Everyone was dreaming of a semi-final between him and Sagi Muki (ISR) but the 2019 world champion was defeated in the second round by the surprise of the day, the Austrian Shamil BORCHASHVILI, who joined MOLLAEI in the semi-final, even if the Austrian was not among the favorites of the category. This is exactly how the category looked like over the past years, with several athletes capable of winning and new comer showing up at every event.
It is Saeid MOLLAEI who qualified for the final, after having produced two movements in a pure Mollaei's style, that only him can perform, two kata-guruma in two different forms.
Repechages KHUBETSOV, Alan (ROC) vs RESSEL, Dominic (GER) BOLTABOEV, Sharofiddin (UZB) vs GRIGALASHVILI, Tato (GEO)
After the elimination game that was played during the morning session, only four athletes were still present in the repechage to have one more chance of reaching the podium. After four days of competition, Alan KHUBETSOV was the first athlete from the Russian Olympic Committee to be in a position to win a medal, but first he had to face Dominic RESSEL (GER), who was really close to eliminating NAGASE in the quarter-final. In the morning session we observed many close matches, finishing with long golden score periods where power and strength were involved. RESSEL produced one of the nicest and finest technique against KHUBETSOV and scored ippon with a de-ashi-barai to enter the bronze medal contest.
The second repechage match saw Sharofiddin BOLTABOEV (UZB), also being in a position to win Uzbekistan's first medal, when the country was among the favourites to step on several podia and Tato GRIGALASHVILI, who probably thought he had done the most difficult part against Saeid MOLLAEI in the morning session when he threw him for waza-ari, but this was without counting on the capacity of the 2018 Baku world champion, to change a situation that looked pretty bad, into a clear victory.
This is the magic of sport and especially of judo. Many specialists agreed that Tato GRIGALASHVILI had all the chances to defeat Saeid MOLLAEI in the quarter-final and the first minute of the bout proved them right, but then the Mongolian representative executed an almost perfect kata-guruma for waza-ari, followed a few seconds later by another waza-ari from a counter attack that only the Iranian-born champion can do, with his unorthodox style. Maybe Tato was too confident. Being so is necessary and good and all champions are confident in what they can achieve, but there is a limit that they shall not cross. The Georgian is still young and he will learn to deal with that. If he does, he will definitely be really difficult to defeat in the future.
Tato GRIGALASHVILI was the first in action to score a waza-ari with a o-uchi-gari to take the lead, a waza-ari that Sharofiddin BOLTABOEV could never catch up with.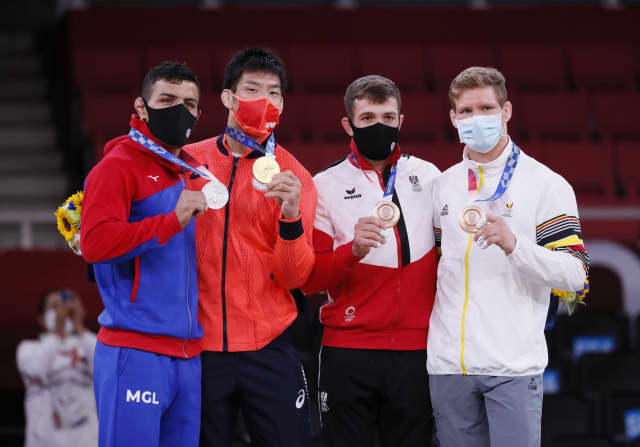 Final Results 1 NAGASE Takanori (JPN) 2 MOLLAEI Saeid (MGL) 3 BORCHASHVILI Shamil (AUT) 3 CASSE Matthias (BEL) 5 GRIGALASHVILI Tato (GEO) 5 RESSEL Dominic (GER) 7 KHUBETSOV Alan (ROC) 7 BOLTABOEV Sharofiddin (UZB)