We are seven weeks away from the opening of the Tokyo Olympic Games, just seven weeks! It has taken an age to reach here, through a rough period in human history, a unique postponement of the greatest sporting event on Earth and a mammoth and unified effort to restore our feeling of security and familiarity.
Now that it's so close, the days and weeks are tumbling past at a rate of knots, like an unstoppable missile thundering towards its destination. Athletes, coaches, organisers, everyone is on high alert, ensuring every tiny detail is accounted for. Absolutely nothing can threaten our Games again!
At the World Judo Championships Hungary 2021, we will hit the ground running, as it is the final Olympic qualifier as well as offering 14 individual and a team world title, which hold their own glittering prestige outside of the Olympic melee.
One competitor in Budapest, now just into her 30s and with an exemplary career to this point, will be feeling the countdown, not only to tomorrow's tatami, but to the Tokyo rendezvous. Urantsetseg Munkbhat (MGL) is 31 years old, holder of a world title, 3 continental titles and just shy of 40 World Judo Tour medals. That is not a typo; 39 medals at the highest level, not including previous world championships.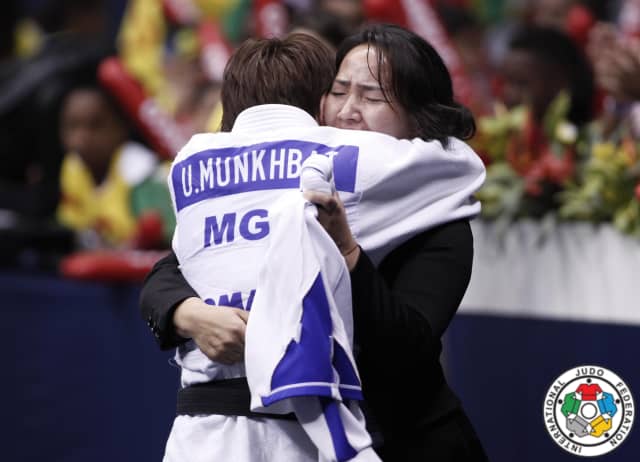 Munkhbat turned 31 in March and within days had won gold at the Tbilisi Grand Slam and another just 3 weeks before, in Tashkent.
She was born in Bayankhongor in the south of Mongolia, a wild and rural region, with mountain ranges and a great expanse of desert, reaching into the Gobi. When Urantsetseg was a little girl, while she was looking after her family's cows, she remembers seeing a golden bird in front of some bushes near the river where she grew up. It was a strange experience but it fed her ideas and after that her life was changed. She had a vision to fight and started to practise boxing and wrestling and was fighting and training with local boys.
To succeed in a combat sport, this rural area was definitely not the place to be and like other Mongolian judoka from rural areas, she had to make the choice to move to the capital. She moved to Ulaanbaatar and joined the Genco Judo Club when she was 16 years old. The President of Mongolia, Mr Battulga, was a founder of the Genco club, with his own background being in Sambo. Munkbhat's judo coach there was Mrs Sharkhuu Tsevelmaa, who was one of the first members of the Mongolian national women's team.
Urantsetseg Munkhbat had no pedigree as a junior or cadet, but her steady climb through the senior ranks has been methodical and sustained, beginning with an appearance at the Rotterdam World Championships of 2009. There she found herself amid an extraordinary group of -48kg judoka. They were tiny giants with a staggering collective record and Munkbhat, at 20 years old, found out quickly what the correct level looked like, to be winning the medals she wanted.
Rotterdam World Championships -48kg category
*Frederique Jossinet (FRA): Olympic silver, 4 world medals, 3 times European champion
*Tomoko Fukumi (JPN): world champion, Asian champion, world number 1 for 3 years
*Alina Dumitru (ROU): Olympic champion, 3 time world medallist, 8 time European champion
*Sarah Menezes (BRA): Future Olympic champion (London), 3 time world medallist, 10 time Pan-American medallist, twice junior world champion
*Paula Pareto (ARG): Olympic bronze medalist, future Olympic champion (Rio De Janeiro), future world champion (Astana, 2015)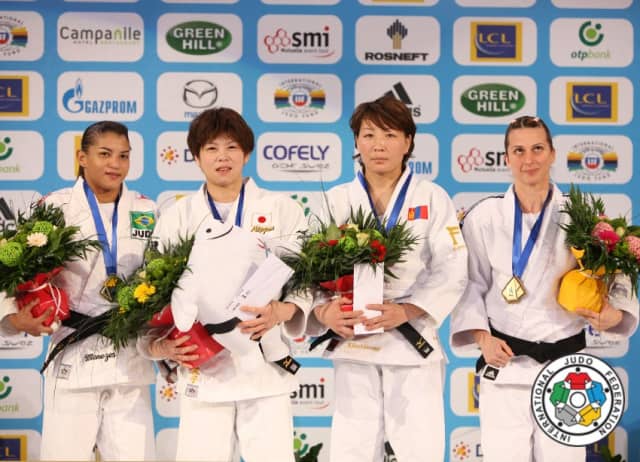 So, here we are in 2021, just coming out of a global pandemic. It is a special world championships, but more than that, it is Munkhbat's final outing before her final shot at an Olympic medal. It is the only prize missing from her impressive haul and completing the set is important to all judoka, but even more so when they have been so close; 5th in 2016 and 7th place in London in 2012. She has been world number one and is seeded number two in Budapest, but in her quarter of the draw is Galbadrakh (KAZ), who was once her team mate and who took a medal in Rio when Munkhbat came so very close. Day 1 promises to be a tense day, but a great one for lovers of strong judo. Munkbhat is one to watch, as ever, but not just tomorrow; 24th July is among the biggest days of her career. The Nippon Budokan awaits.