The IJF Veteran World Championships 2017 continued on Sunday with 246 male judoka competing at the Geo Village resort in Olbia, Italy.
Two of the youngest men's age groups were contested on day two as the M1 and M3 judoka had their chance to shine. All of the women's categories will be held on Tuesday, the last day of competition in Olbia.
Former Japan international lights up Veteran Worlds
Long-time Japanese national team member KOMURO Koji, 40, was the star performer on day two as he won his second Veteran World title.
The 2010 titleholder was competing in this event for the second time and remained unbeaten at the world's premier over 30 competition with a perfect display.
The 1999 Kodokan Cup bronze medallist is a long-standing practitioner of Kosen judo and was taught by HIRATA Kanae. An in demand ne-waza specialist, KOMURO is famed for his arm-lock and sode-guruma-jime, which features in his Judo Newaza book.
KOMURO arrived in Olbia after staging a masterclass in San Diego, USA, but there were no signs of jetleg from the classy Japanese who won all five of his contests by ippon and with five different techniques.
The M3 -73kg judoka defeated Rafail GADZHIEV (RUS) in 12 seconds with a drop seoi-nage before thwarting Israel FERNANDEZ GARCIA (ESP) after 27 seconds with a ko-uchi-gari.
Home judoka Gianluca ARACU (ITA) was dismissed in the quarter-final with a kami-shiho-gatame hold in a bout which was streamed live on the IJF's Periscope channel and watched by Rio 2016 Olympic champion BAKER Mashu (JPN).
KOMURO topped a Veteran World podium for a second time
KOMURO registered back-to-back wins against local competitors as the Enrico BELTRAME (ITA) had to submit to a lightning quick juji-gatame in the semi-final.
A stunning display was rounded off with a submission win over Radzhabali MUKHABATOV (TJK) who tapped out to KOMURO and his trademark sode-guruma-jime after one minute in the gold medal contest.
KOMURO said: "My specialty is my ne-waza, this is what I'm known for, so I have been working hard on my tachi-waza. I was pleased to win my first contest with a seoi-nage and from there I was able to use a variety of techniques.
"I'm no so young now, I don't have many chances to compete internationally because of my busy schedule as judo teacher, and so this result makes me very happy.
"I was very excited to be fighting today, I felt very energised and was determined to show my best judo. Judo is my way to keep healthy, maintain a good condition and I'm as active as I can be.
"I hope to compete at the All Japan High Grades competition at the Kodokan later this year and then I look forward to relaxing and enjoying watching the Tokyo Grand Slam in December."
Olympic and world medallist steps into the coaching chair for his brother
London 2012 Olympic bronze medallist Ugo LEGRAND (FRA) reappeared on the international stage today as he made a special trip to Italy to coach his older brother Paco LEGRAND who fought in the M1 -66kg category.
Thumbs up from Ugo LEGRAND for his older brother Paco
The 2013 world silver medallist retired from judo in 2015 and moved to Los Angeles with his wife. Paco LEGRAND coaches at the family dojo in Normandy which was run by their father and grandfather and so when he asked his brother to coach him at the IJF Veteran Worlds, the famous LEGRAND was only too happy to support his sibling.
Paco LEGRAND (FRA) defeated Vincent NUSSBAUM (SUI) by a waza-ari to win bronze and complete a successful first outing for the brother act.
Ugo LEGRAND, 28, was coaching for the very first time and said that is was particularly special to share this moment with his brother.
"My brother asked me to come and coach him and it was my pleasure to be here and do that," said the 2012 European champion.
"I have never coached before but I have to say that I enjoyed it a lot. Since retiring I have taken a step back from judo. I am very happy what I accomplished and how I concluded my career but it was great to be back involved today and to enjoy this special atmosphere.
"I was surprised by just how strong the level is. There was some very hard fights for my brother and particularly against the Japanese UNO Shintaro in the semi-finals. It was a very good experience for my brother to fight here in a Worlds Championships for the first time and we're both pleased by his medal.
"Right now I am working on a number of projects including a fitness app but I remain open to things and maybe I will return to coach my brother next year."
Paco LEGRAND (FRA) far right on the podium after being coached by his famous younger brother
Judo's Moral Code: Modesty
1.the quality or state of being unassuming in the estimation of one's abilities.
Home gold medallist Raimondo DEGORTES (ITA) and silver medallist UNO Shintaro (JPN) after their M1 -66kg final
The M4 and M5 age groups will take to the tatami on Monday and will be followed by a concert from famed Italian singer and IJF Amassador Al BANO. IJF President Mr. Marius VIZER will also be in attendance on Monday.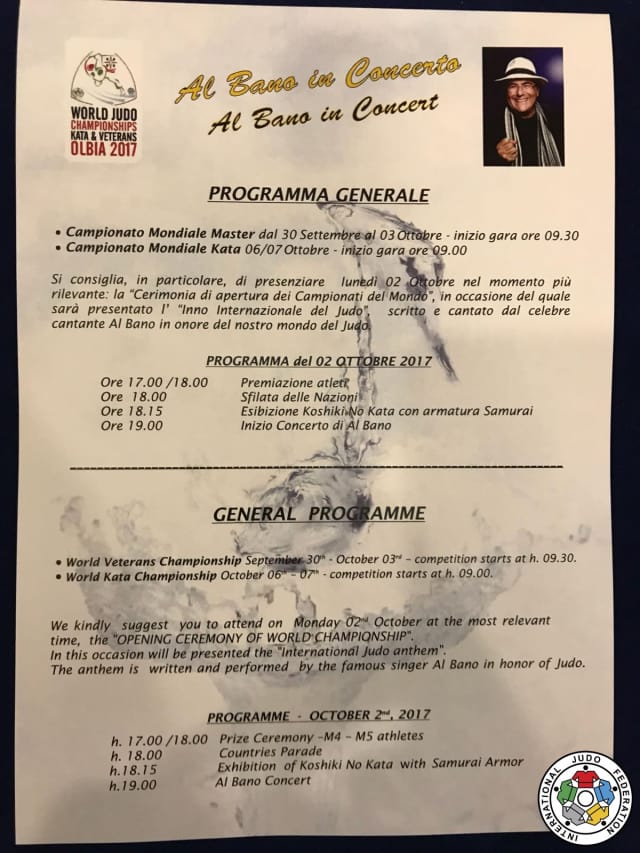 The live concert is the special attraction for all the judoka and their families following the final contest on Monday evening. A kata presentation, the parade of the flags of the competing nations and awarding ceremonies will set the scene for the multi award-winning Al BANO to close out the evening in style.
It was double delight for another set of brothers as Francesco DEGORTES (ITA) won M1 -60kg gold and Raimondo DEGORTES won M1 -66kg gold
Programme
Monday 2 October
09:30: M4 & M5
Tuesday 3 October
09:30: M2 & F1-F10
Location: Geo Village, Olbia, Italy