On the penultimate day of the individual Olympic judo tournament, we once again witnessed a demonstration by Japanese judoka, who won both titles, dominating all opponents. If the domination is obvious, it does not mean that everything is easy, but the Japanese team, led by Kosei Inoue, who has already exceeded his bet, has the ability to raise their level in crucial moments.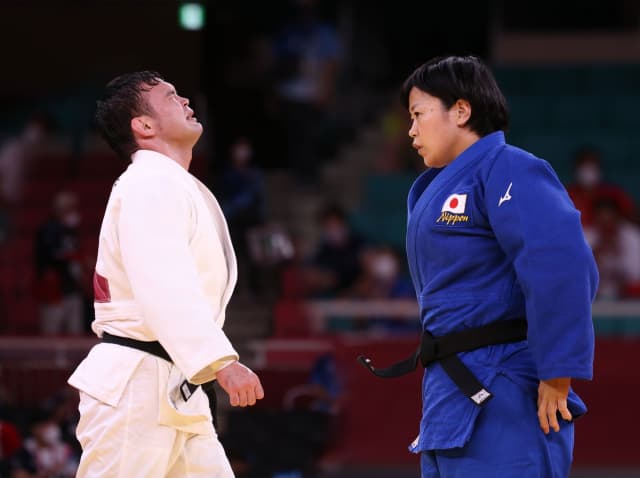 This is what Aaron WOLF did to throw his opponent in the final, when everything seemed frozen. This is also what HAMADA did against the Frenchwoman who had beaten her in the final of the 2019 World Championships, here in Tokyo. This time HAMADA did not intend to let her chance pass.
If the Japanese domination is indisputable, even logical, many countries are also present at the great Olympic rendezvous. This is still the case for France today, which after one day without medal, is back on the podium. Its also nice to see so many countries win medals. With one day of individual competition remaining, 22 nations have already reached the podium and 33 have entered the final block. We are now looking forward to the heavyweight day. Will Japan be able to dominate, or will Teddy Riner make history? Will other nations bring spoilers? We will find out on day 7 but we are very impatient.
-78kg: HAMADA for Japan Crushes all Challengers Final MALONGA, Madeleine (FRA) vs HAMADA, Shori (JPN)
Even with MALONGA being world number one and 2019 world champion here in Tokyo, what HAMADA has shown during the day is particularly impressive and brought reasons for the French to be a little scared. Specialists would say, prior to the first hajime, that MALONGA had to watch herself in ne-waza and that is actually how she fell. During the first sequence on the floor, HAMADA calmy unfolded the French judoka to pin her down and win the 7th title for Japan, crushing all challengers.
HAMADA Shori said, "I felt very good to use the hold down in the final and prior to the Games I trained ne-waza a lot. I remembered my loss against Malonga 2 years ago so the plan was not to make the same mistake. I wanted to get close and start ne-waza as soon as possible because I knew it would be her weak point."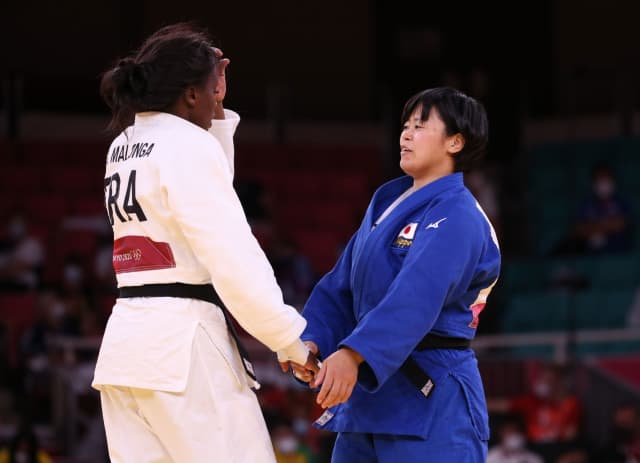 Madeleine MALONGA said, "I'm very disappointed. I really wanted this title. Yesterday I was so sad for Pinot that today I fought for her too. This year I lost my world title and now I have silver again. It is a great result but I wont stop until I get the Olympic gold."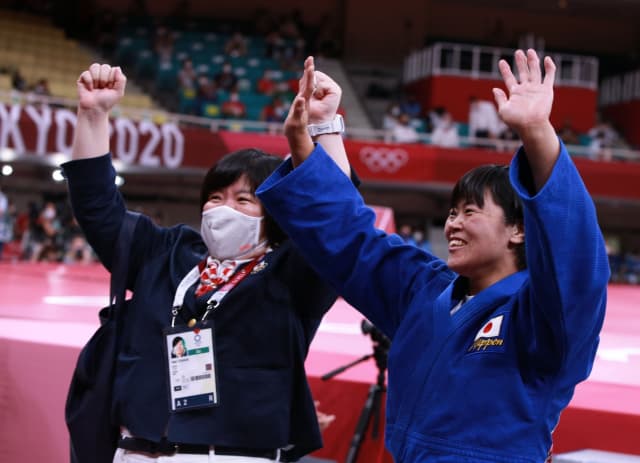 Bronze Medal Contests ANTOMARCHI, Kaliema (CUB) vs WAGNER, Anna-Maria (GER) AGUIAR, Mayra (BRA) vs YOON, Hyunji (KOR)
Half way through, Anna-Maria WAGNER (GER) scored a waza-ari with an ample uchi-mata but the most difficult part was to keep that advantage until the end, with a Cuban tornado in front of her. The new world champion controlled the kumi-kata of her opponent until the very last second and let her joy explode with this second medal for the German delegation.
In the second bronze medal contest, Mayra AGUIAR (BRA) won her third medal at the Olympic Games. This is an impressive result for the former world champion having been the victim of injuries in recent months. Great champions never give up and today she is back at her best level to win a second bronze medal for the Brazilian delegation.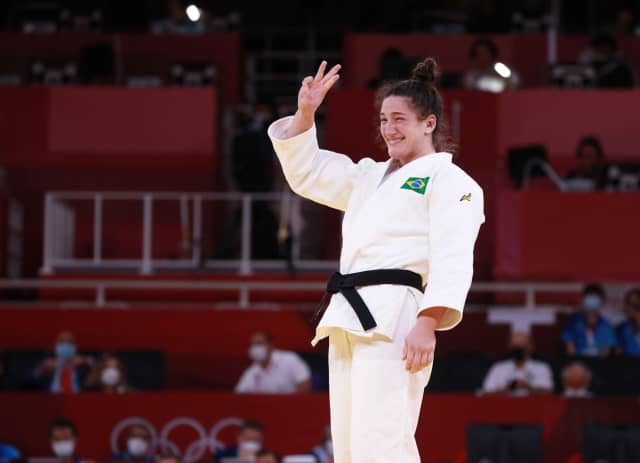 Anna-Maria WAGNER said, "I'm so happy to end this day with a medal, even if I was looking for another colour. I did it by attacking, always looking for ippon."
MAYRA AGUIAR: "It is the best medal of my whole career. After all that has happened with injuries and Covid, this medal has the taste of gold. Now I can go back home happy because I'm enjoying judo again."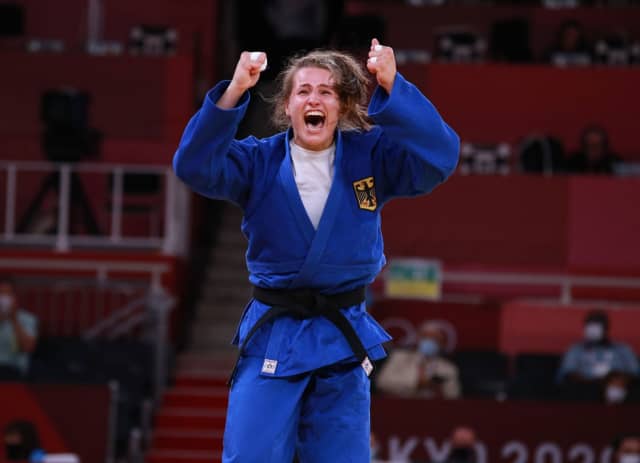 Semi-finals MALONGA, Madeleine (FRA) vs YOON, Hyunji (KOR) HAMADA, Shori (JPN) vs WAGNER, Anna-Maria (GER)
Madeleine MALONGA (FRA) was the favourite and it looks like everything went well, with her being in the semi-final but the truth is that her quarter-final against Kaliema ANTOMARCHI (CUB) was super tight and could have gone the other way. The Frenchwomen, in the golden score period, found the energy to score and go to meet YOON Hyunji (KOR), who defeated seeded Guusje STEENHUIS (NED) for her spot in the final. There was no real semifinal as the Korean was penalised three time rapidly, the last one for stepping out of the competition area, opening the door of the final for the French.
The other semi-final saw the two favourite of the second half of the draw meet. Anna-Maria WAGNER won the World Championships in Hungary a month and a half ago. Knowing that she can do it again, she was super motivated in the morning of the tournament in Tokyo and after another tight match, against Mayra AGUIAR, who has been on the circuit for many years and who showed great form today, Wagner did what was needed. As all eyes were focused on the other competitor, people almost forgot to see that HAMADA Shori also qualified for the semi-final for Japan and therefore was close to bringing another medal opportunity to the host country, who are more and more out of reach in terms of medals.
Impressive is the word. After a little bit more than one minute, HAMADA had already created several opportunities to score before she concluded with a masterful juji-gatame for ippon.
Repechage ANTOMARCHI, Kaliema (CUB) vs STEENHUIS, Guusje (NED) BABINTSEVA, Aleksandra (ROC) vs AGUIAR, Mayra (BRA)
After her lost semi-final against the French world number one, Kaliema ANTOMARCHI (CUB) could still get a medal if she could get past Guusje STEENHUIS (NED). After 1 minute and 34 seconds into the first golden score of the final block, STEENHUIS scored waza-ari with an o-uchi-gari to enter the bronze medal match. That's actually what she thought, but the video refereeing cancelled the score and the athletes kept going for more than two minutes, which changed the final results as the one who eventually scored was the Cuban, with a massive soto-maki-komi for ippon and a big smile spread across ANTOMARCHI's face. Still there was one match for the bronze medal.
The second repechage saw Aleksandra BABINTSEVA, representing the Russian Olympic Committee and the two time Olympic bronze medallist, Mayra AGUIAR of Brazil, facing each other to keep their Olympic dream alive. Three shido against BABINTSEVA and the result was known. It was AGUIAR who would go into the bronze medal contest.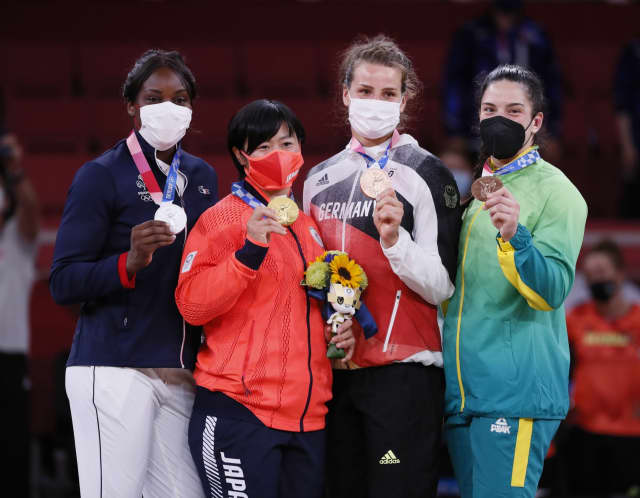 Final Results 1 HAMADA Shori (JPN) 2 MALONGA Madeleine (FRA) 3 AGUIAR Mayra (BRA) 3 WAGNER Anna-Maria (GER) 5 YOON Hyunji (KOR) 5 ANTOMARCHI Kaliema (CUB) 7 STEENHUIS Guusje (NED) 7 BABINTSEVA Aleksandra (ROC)
-100kg: WOLF Reaches the Top of Olympus Final WOLF, Aaron (JPN) vs CHO, Guham (KOR)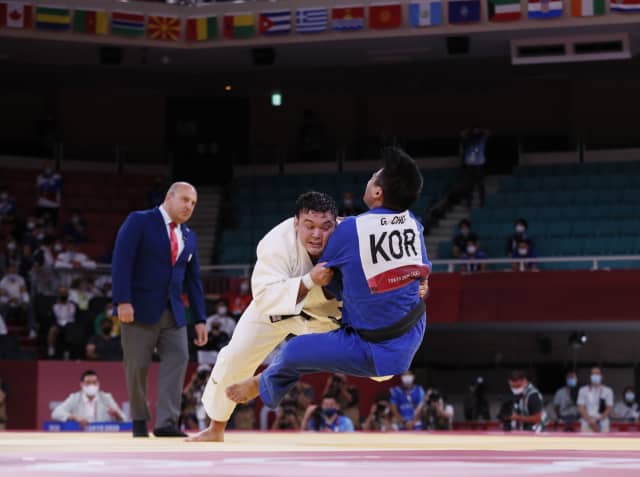 The two finalists proved to be the most stable men of the day. Almost impossible to throw, precise with their hands and in their attacks, the electricity between these titans promised to be epic. For four minutes of normal time and more than 5 minutes of golden score, the two champions totally neutralised themselves and nothing seemed to differentiate them. Would a penalty be the judge, as both had been penalised twice?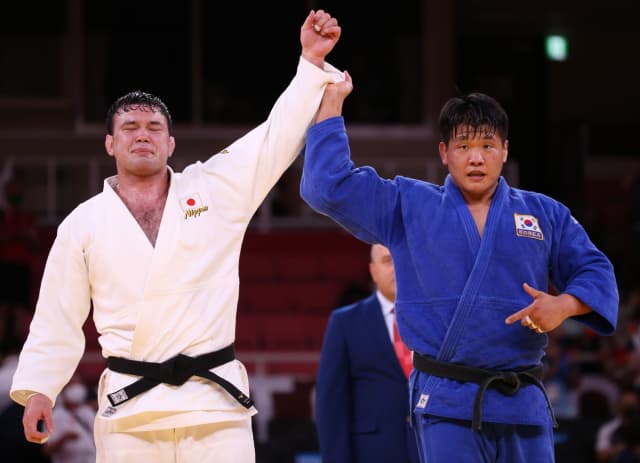 No, because after minutes and minutes of intense kumi-kata, Aaron WOLF put an end to the suspense by scoring a magnificent ippon with a perfectly executed o-uchi-gari. When an athlete is capable of raising his level as WOLF did for a tiny moment in time, it produces beautiful results. WOLF wins his first Olympic gold and the 8th for Japan.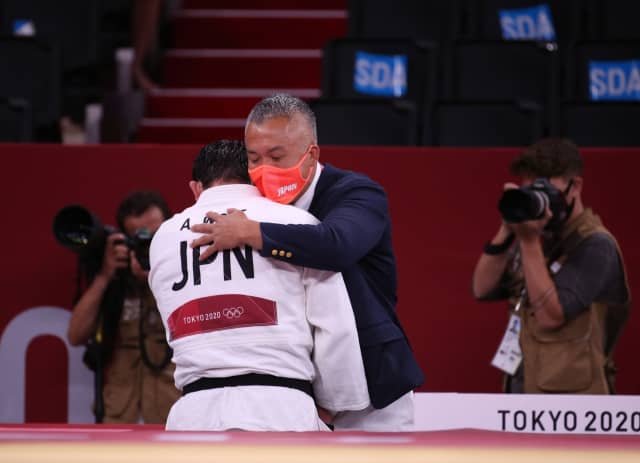 Aaron WOLF said, "My physical condition was not good today but I'm happy because it is the first title for Japan in this category since Sensei Inoue and I'm double happy because it was the last major title to achieve in my career, after the worlds, the Asian and the national Japanese title. I was crying on the mat for all those reasons."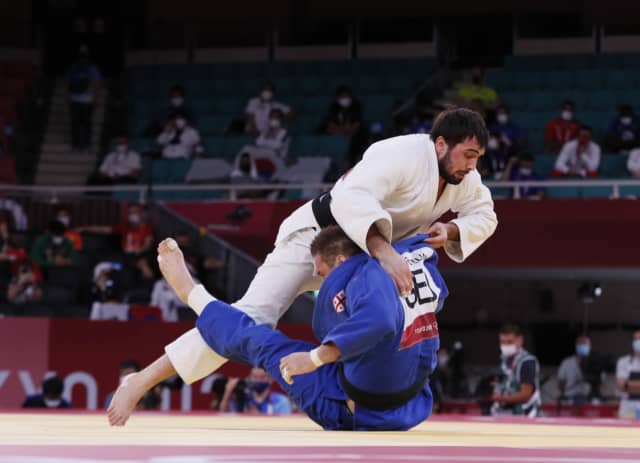 Bronze Medal Contests ELNAHAS, Shady (CAN) vs FONSECA, Jorge (POR) ILIASOV, Niiaz (ROC) vs LIPARTELIANI, Varlam (GEO)
Jorge FONSECA is well known for his impressive explosiveness but he's also known for having some difficulties when matches get longer. Today against Shady ELNAHAS he faced another explosive athlete who is capable of competing for longer but the double world champion secured a first Olympic podium place after scoring at the right moment, less than 30 seconds to the end. The most complicated part was to keep that advantage, which he did brilliantly. Congratulations Jorge, a well deserved medal.
The second bronze medal went to Niiaz ILIASOV representing the Russian Olympic Committee, who scored a waza-ari against Varlam LIPARTELIANI (GEO), despite him trying everything to run after ILIASOV at the end of the match but with no success. It was an emotional ILIASOV who left the mat, winning a second medal for ROC and the first for the male team.
Jorge FONSECA said, "I'm happy but there is always a but! I was feeling great and fighting as well as in Budapest, until the semi-final when I had cramps in my hands. I could not do my judo with such pain but in the end I managed to get the bronze, so not bad, not bad at all."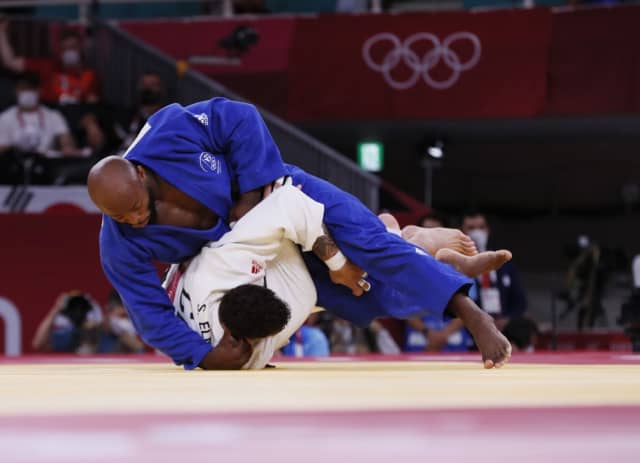 Semi-finals LIPARTELIANI, Varlam (GEO) vs WOLF, Aaron (JPN) FONSECA, Jorge (POR) vs CHO, Guham (KOR)
From the first match on, the level displayed by the -100kg men was incredible and several potential finals happened during the morning session, finals which will never happen in Tokyo of course, because the draw is what it is. Nevertheless the first semi-final was already a must see between Varlam LIPARTELIANI, who has been looking for the Olympic title for a long, long time and the 2017 world champion Aaron WOLF (JPN). Unfortunately for LIPARTELIANI, WOLF, who had been very strong the whole day, perfectly controlled the semi-final, building his attacks step by step, executing at the right moment to score a waza-ari. LIPARTELIANI remains one of the most successful and consistent athletes of his generation, appreciated on and off the mat and he is now also a member of the IJF Athletes' Commission.
In the second semi-final we found the current and double world champion Jorge FOJNSECA, who is always so spectacular, even when in a bit of trouble against Niiaz ILIASOV in the quarter-final. He had to wait until the golden score period to finally come up with the win. Almost as spectacular, but a little less of a showman, CHO Guham (KOR) also qualified for the semi-final, in what promised to be an explosive match. It was explosive but with no score until 16 seconds from the end, when blocked in one corner of the contest area, CHO was obviously preparing an attack and it came in the form of a left handed ippon-seoi-nage, earning waza-ari. For a few more seconds, FONSECA ran after an escaping CHO, who could then enjoy being qualified for the first Olympic final of his career. Fonseca went on to the bronze medal match.
Repechage ELNAHAS, Shady (CAN) vs PALTCHIK, Peter (ISR) ILIASOV, Niiaz (ROC) vs FREY, Karl-Richard (GER)
Shady ELNAHAS (CAN) and Peter PALTCHIK (ISR) have been prominent players of the past months, performing regularly on the circuit but one had to step off the mat after the bout between them. With 45 seconds into the golden score period, Shady ELNAHAS scored ippon with an o-uchi-gari that started inside the competition area and finished just outside the security zone. The attack, totally valid, gave Canada another opportunity to win a medal.
Winner of Grand Slam Hungary 2020, bronze medallist in Tel Aviv this year and fifth at the European Championships, Niiaz ILIASOV (ROC), who was close to upsetting the current world champion during the preliminary rounds, was present in the repechage against former world bronze medallist Karl-Richard FREY (GER), who today was again flirting with the best of the category, but not enough to pass ILIASOV, who won by waza-ari.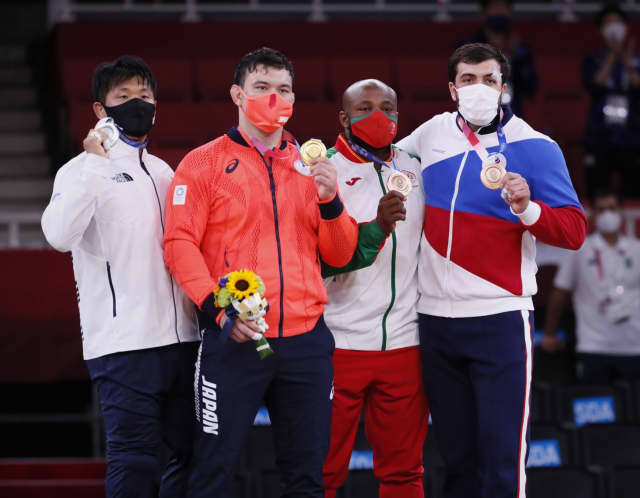 Final Results 1 WOLF Aaron (JPN) 2 CHO Guham (KOR) 3 ILIASOV Niiaz (ROC) 3 FONSECA Jorge (POR) 5 LIPARTELIANI Varlam (GEO) 5 ELNAHAS Shady (CAN) 7 FREY Karl-Richard (GER) 7 PALTCHIK Peter (ISR)