At the head of France Judo, Stéphane Nomis is on the front line throughout the weekend, as the Paris Grand Slam is in full swing. As President of the organising federation, we met him so that he could comment on the Olympic summer experienced by French judoka and tell us about the upcoming projects of a federation that really counts in the world of judo.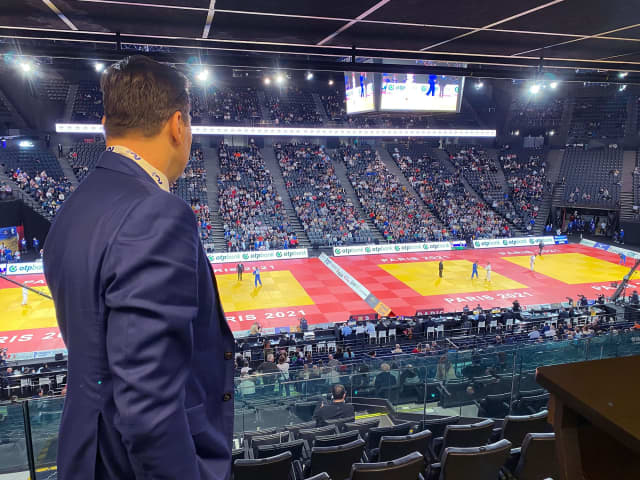 "We had an incredible summer. The French team had good results in the individual event, even if we could have hoped for better, but the Olympic mixed team title against Japan, in Japan, was an historic and magical achievement. It was not easy and above all not predictable, but all the members of the team gave their best. We could not ask for a better outcome."
Stéphane Nomis is an emotional person, "I live with my heart, I vibrate. Tokyo 2020 was my first Olympic Games as President of the Federation, so I had a mission of representation, but as there was no public I also wanted to be the first supporter of the team. As President, I had above all a supporting role, in both the victory and in any defeat. It is not easy to find the right words especially when you have an athlete who loses in the final but you have to put a smile on their faces again. Sometimes I get a little carried away, but I'm really happy to be able to serve French judo."
President Nomis did not always wear a suit and tie. He himself participated in four editions of the Tournoi de Paris, "My best result was a bronze medal. The audience is simply magnificent. The thousands of spectators make Paris an event apart. It is an audience of connoisseurs who react live to what is happening on the tatami. This year, you could say that we only have 7,500 spectators, but you can see that 7,500 spectators make a lot of noise. Personally, it gives me some chills. When I fought here, it was not always an advantage for me, always the emotions..."
If Stéphane Nomis is a happy president who can rejoice at the results of his athletes and among others of a young generation of successful competitors, with everyone appreciating the 2021 edition of the Grand Slam, he still remains lucid about the monumental work that stands in front of him, "We have really suffered from Covid. Very quickly, the government put in place very strict sanitary measures to preserve the population. We were classified as contact activity and so for months it was no longer possible to practise judo. As a result, we have lost a lot of members and almost 1,000 clubs have closed. This is huge but we are working hard to rectify the situation and we are hopeful."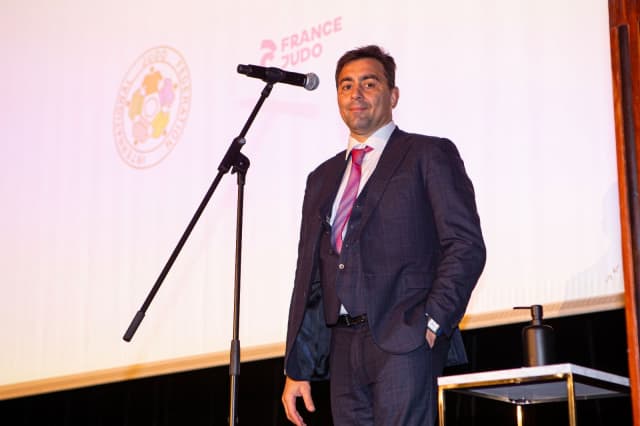 This hope is nourished by recent government announcements about their preparation to release significant funds for the benefit of French judo, "An initial envelope of 40 million Euros will help us build or renovate 1,000 dojo by 2024. Another contribution of 60 million Euros will be allocated to employment. On the first day of the Grand Slam, we had a visit from a hundred mayors of municipalities which have neighborhoods in difficulty. For months we were in the urgency of managing the Covid crisis and now we must launch major projects to regain our pre-crisis level. I am optimistic. In the next three years we have a lot of things to do."
Stéphane Nomis also wants to include France Judo in the international movement, "First of all I would like to underline the fantastic work that the International Judo Federation has provided for many months, in order to allow all our athletes to be ready for the Games. Resuming the world circuit despite Covid was a lifesaver and that is also why the Tokyo Games were a great success, thanks to the IJF. In the next three years we will be organising several major international events in France, including the Paris Grand Slam of course but we will also welcome foreign delegations who want to prepare for Paris 2024."
To understand President Nomis' passion for judo, you have to know that he is one of the thousands of young children who start judo every year in France, "My mother hated football. When all my friends started playing football, I started doing judo, at the age of seven. Very quickly, I loved it because I made a lot of friends there, lifelong friends. Every time we met on the tatami, we were throwing each other challenges. What I like above all about our sport is the values it conveys. We are carriers of benevolence and we give meaning to life. One of our big projects in the future will be to bring judo back to school. It's essential."
The French team, the preparation for Paris 2024, the one thousand dojo, judo at school: France Judo and President Nomis have a lot on their plate. "Being President of France Judo is a full-time job," concludes Stéphane Nomis. We believe that too but this is what French judo needs to do to remain one of the leaders in the development of judo in France and around the world.