The last category of the day and the last of the individual competition, before the mixed teams, opposed Gabriel Santos (BRA) and John Jr Messe A Bessong (CAN), who performed flawlessly throughout the elimination phases, defeating the Japanese Dota Arai in the semi-finals. As we know, Japan dreams of reconquering the world of male heavyweights. There is still work to be done and it was therefore not in Sarajevo that it would happen. For these young athletes there is still a long way to go and a lot can happen in even the shortest period, in judo terms.
In the final, the first to action was Santos with uchi-mata for no score. After the second strong attack from Santos, Messe A Bessong was penalised with a first shido for passivity. So spectacular during the morning session, Messe A Bessong seemed to be a somewhat neutralised, maybe stressed by the title at stake. With then two shido to his name, the Canadian judoka had no other choice but to attack and take risks. Still it was Santos who took the initiative but after a sequence on the edge of the competition area, Messe A Bessong executed the perfect move with a de-ashi-barai that left his opponent flat on his back. Woah, that was brilliant! It was gold for John Jr Messe A Bessong.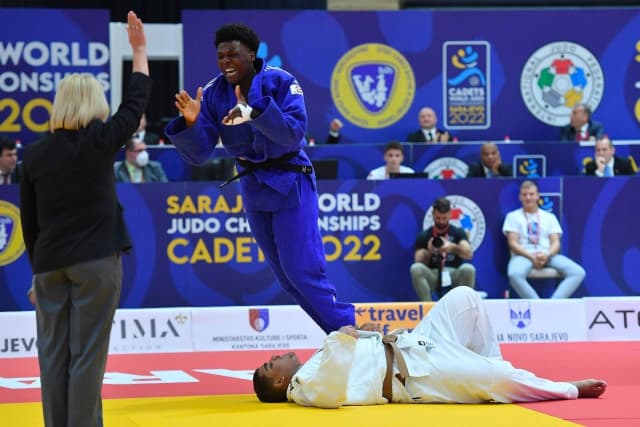 The Turkish delegation had high hopes for their heavyweight, Ergin Recep, who clearly had the potential to win the gold medal. Maybe he didn't believe in himself enough. In any case, he still managed to get into the bronze medal match against Dota Arai (JPN).
Left-handed, Arai was looking for the uchi-mata early on in the match, but was counterattacked for a first waza-ari for Recep. Not keen to repeat the same mistake, Arai went for the o-uchi-gari and this time was more successful; one waza-ari apiece. Meanwhile the Turkish judoka was penalised twice, making things a little complicated. Recep then received his third penalty and sent the bronze medal to Arai and Japan.
The third double of the day, with the +78kg final and the match for the bronze medal at -90kg, two judoka came from the same country; this time Romania, to compete for a place on the podium. Darius Georgescu and Bogdan Petre gripped up but Georgescu was immediately in danger and received two of a possible three shido for false attacks. The third one indeed came a little later and that meant a bronze medal went to his teammate Petre.
Final (+90 kg)
Bronze Medal Fights (+90 kg)
Final Results (+90 kg)