She assures us that she slept well, that she was a little nervous, but not enough to deprive her of sleep. It is surprising because a few hours later, on 6th June 2021, Luca Mamira was going to participate, for the first time, in a senior world judo championship.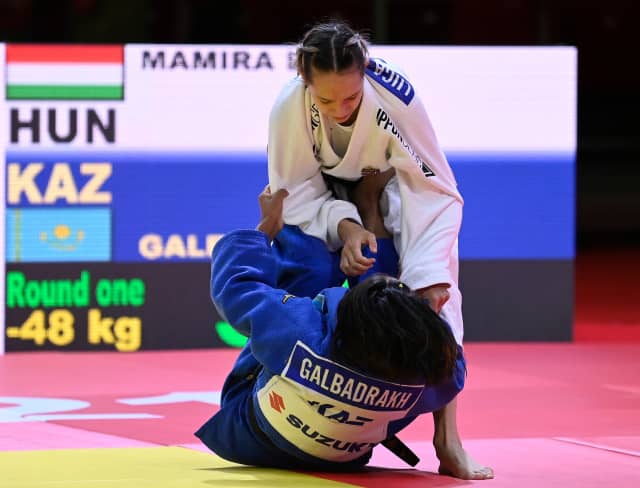 Luca Mamira is 16 years old. The young Hungarian cannot drive, nor can she vote, but she can compete. Mamira is the world champion in the cadet category, from 2019. We met her in Almaty when she earned the gold, in what is, so far, her greatest achievement on her newly printed service record. What we saw then is that judo runs through her veins.
She is tall and practises offensive judo. Budapest means a lot to her because she volunteered at the Grand Slam. For her, the Laszlo Papp Stadium is home, the house where she was going to premiere at the highest level. 
What she perhaps had not foreseen was how it would be to face reality in a brutal way. Mamira competes in the –48kg category and in the first round she was waiting for Otgontsetseg Galbadrakh (KAZ). That is the bronze medallist at the 2016 Rio Olympic Games, double silver medallist at the world championships, winner of 2 Grand Slam and 5 Grand Prix golds and she is thirteen years older. 
Mamira did not enter the tatami in a contemplative way. She was not intimidated, she wanted to learn. The lesson was fast and effective. Ninety seconds later, Galbadrakh countered an attack and scored ippon. 
"She is stronger and has much more experience," confessed Mamira. "It was a good lesson, one I will not forget." The young judoka is intelligent and instead of reacting sadly, she prefers to store the conclusions of her first fight in the best of scenarios. 
Her next date, in two weeks, will be more affordable because she will fight girls her age in the European Cup in Porec. Let's say that the World Judo Championchips Hungary 2021 have offered a small taste of what the future holds for a young woman with a desire to learn and with clear ideas and those are the symptoms that allow Luca Mamira to project a bright future.