The end of the competition approaches. When an event starts, the end always seems so far away, but day after day, as we witness defeats and victories, we reach the sixth day of competition at the World Judo Championships Hungary 2021. With the two categories in action today, we were expecting powerful judo and we got it. Power doesn't mean a lack of technique, on the contrary.
Both new world champions, Wagner and Fonseca are undoubtedly among the strongest athletes on the World Judo Tour, but they are also capable of throwing with spectacular judo techniques and both of them, as well as all the other medallists, displayed the judo we love to see, stepping on the tatami with only one idea in mind: to score ippon.
Tomorrow will be the last day of the individual event, with the last two categories: women's +78kg and men's +100kg. This won't be the last day of the World Championships though, as Sunday will be dedicated to the mixed team event, with the same format of competition as for the Olympic Games, starting in July, where the team competition will be introduced for the first time in history. Before that, let's celebrate once again our two new world champions.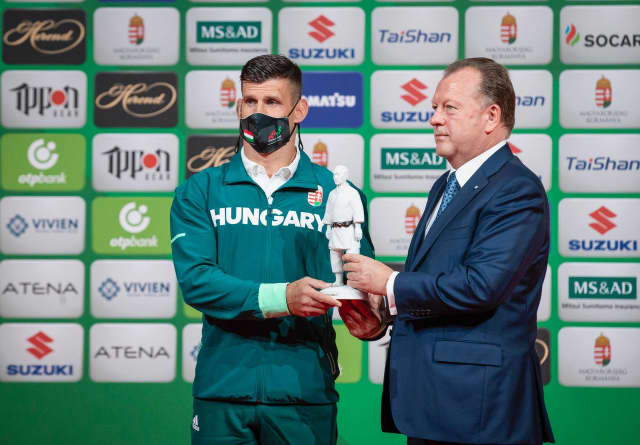 Thank You Miki! During the break between the preliminaries and the final block there was a special presentation to Miklos Ungvari following the announcement of his retirement.
A video montage was played showing numerous ko uchi gake ippon throws, the trademark taped fingers, medal presentations, Miki's generous contact with spectators and a big sign saying 'thank you Miki.' It was an emotional tribute.
IJF President Mr Marius Vizer said, "dear Miklos I want to congratulate you for a great and distinguished judo career. We hope you always stay close to the judo sport."
Mr Vizer, accompanied by the President of the Hungarian Judo association Dr Laszlo Toth, then presented a Miklos with the specially designed Herend Jigoro Kano statue. The rest of the Hungarian team then arrived at the podium. Olympic silver medallist, 3 times world bronze medallist and 3 times European champion, Miklos Ungvari received rousing applause and cheers. The team then threw him in the air before each hugged him.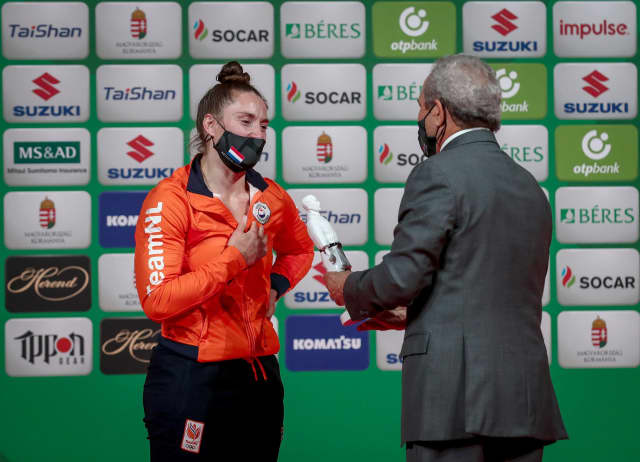 Thank you Marhinde! Also retiring today was Marhinde Verkerk, after an extensive career that included a world championship gold, in her home country in 2009. As with Miklos there was an emotional video compilation followed by a Ditch invasion on the podium, as he whole team joined in for a big 'goodbye.' Mr Juan Carlos Barcos presented Marhinde with her Jigoro Kano statue. It was a really touching end to a great day of judo.
-78kg: Red Back Number Goes to Anna Maria WAGNER for Germany Her prize list speaks for itself; Madeleine MALONGA is part of that group of athletes who win a lot of medals on the World Judo Tour. Already world champion two years ago in Tokyo, a World Judo Masters gold medallist, holder of two continental crowns and 6 Grand Prix and Grand Slam victories, it's not a secret why the French woman is world number one in her category. Because she is so strong, she is also observed and studied by all her opponents, who try to find the solution to defeat her.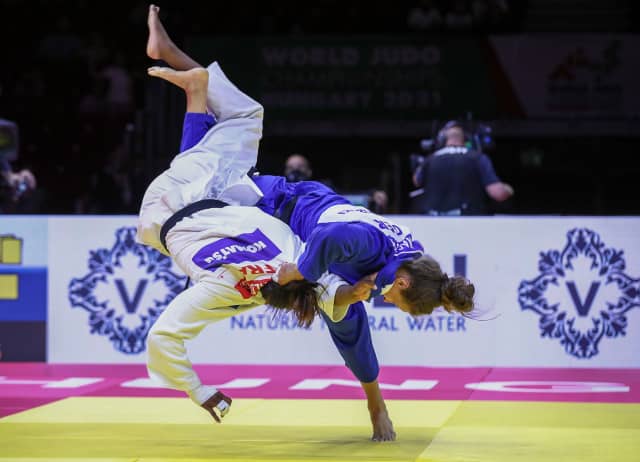 Let's say that today, until the final, only one athlete, Karla PRODAN (CRO), caused some problems for MALONGA, in the first round, but the next rounds were way easier. This is also due to the fact that coming as a favourite puts some extra pressure on your shoulders and it took one match for Malonga to really start the engine. In the quarter-final she imposed her style on Anastasiya TURCHYN (UKR) and in the semi-final the same for Guusje STEENHUIS (NED); two massive ippon throws.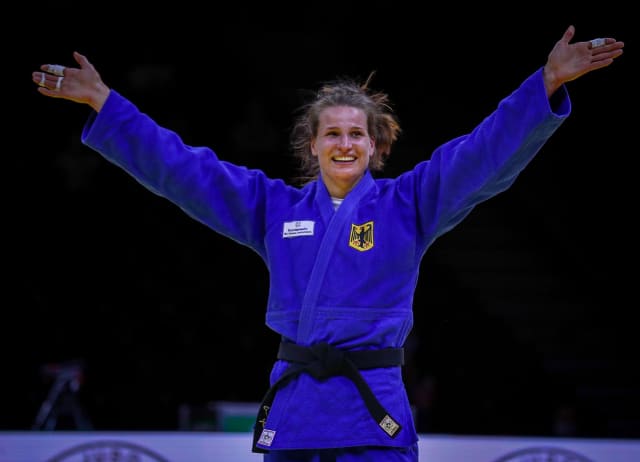 In the other half of the draw, Anna Maria WAGNER did the job and she did it well, especially in the semi-final against the 2015 world champion, Mami UMEKI of Japan, who seemed a little injured. At that level, when you are not at your best, it's difficult if not impossible to succeed. All the stars have to be aligned to win the world title. Being close to the main event of the season is no exception. Winning the world title is something that all the athletes present in Budapest want.
Not at all impressed by the pedigree of her prestigious opponent, WAGNER was the first to action with ample o-uchi-gari attacks, that always came before MALONGA could do anything. The French judoka was penalised a first time for passivity. During the next sequence she imposed her kumi-kata and it was WAGNER's turn to be penalised. The tactic of the German athlete started to become very clear: a strong right arm over the head to block the attacks and pushing for o-uchi-gari. MALONGA was penalised a second time. In the last seconds of normal time, the world champion seemed to regain some control but not enough to score. Golden score! After a few unsuccessful attacks, it was eventually WAGNER who scored with an aerial uchi-mata. MALONGA's first match was a signal. She was not exactly on top of her form. In that final freshness, accuracy and determination were on the German's side. This is a first world championship gold medal for Anna Maria WAGNER, who from now on will wear the red back number. This is not the result that was expected in the morning, but a beautiful result indeed.
In tears, Anna Maria WAGNER said, "For me it was just a tournament to prepare the Games, but now I realise I'm world champion, so it is not just any event. And I won showing my best judo."
Anastasiya TURCHYN (UKR), who had a severe defeat against MALONGA earlier in the day, remained focused and qualified for the bronze medal contest against UMEKI Mami (JPN). Imposing her strong grip over UMEKI's head, TURCHYN quickly forced her opponent to be penalised. Totally dominated, the Japanese athlete seemed a bit lost, incapable of taking control. Maybe TURCHYN was over confident and moreover, UMEKI did find just one opportunity, a single one, but this was enough to throw her opponent for waza-ari with soto-maki-komi and concluded with an immobilisation for ippon. This is the third world medal for the Japanese former world champion.
The second bronze medal contest saw Marhinde VERKERK (NED) competing at the worlds for the last time of her career and her teammate Guusje STEENHUIS (NED), silver medallist at the last European Championships. Showing opportunism, STEENHUIS scored a first waza-ari with a little but so effective o-uchi-gari. She could then control the score until the final gong. Beyond the result and the well deserved bronze medal for Guusje STEENHUIS, there was a lot of emotion as Marhinde VERKERK, world champion in 2009, in Rotterdam, left the competition area for the last time of her career. She would have loved to do it with the medal, but it is her friend and teammate who won it. For sure, at the moment she kissed the tatami that offered her so much, her head must have been full of thoughts. We could feel it, we could see it and just for that, she deserves all the medals in the world.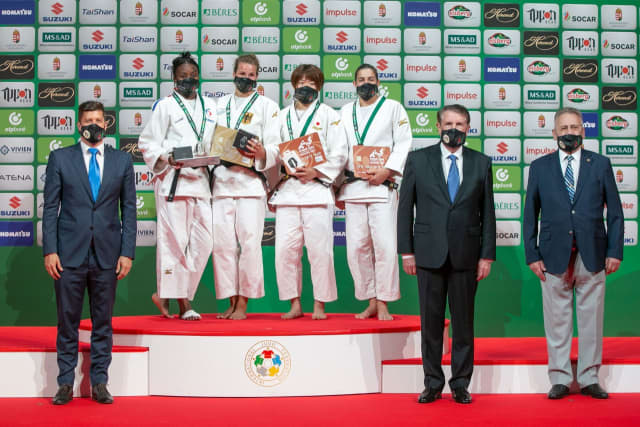 Final MALONGA, Madeleine (FRA) vs. WAGNER, Anna Maria (GER)
Bronze Medal Contests TURCHYN, Anastasiya (UKR) vs. UMEKI, Mami (JPN) VERKERK, Marhinde (NED) vs. STEENHUIS, Guusje (NED)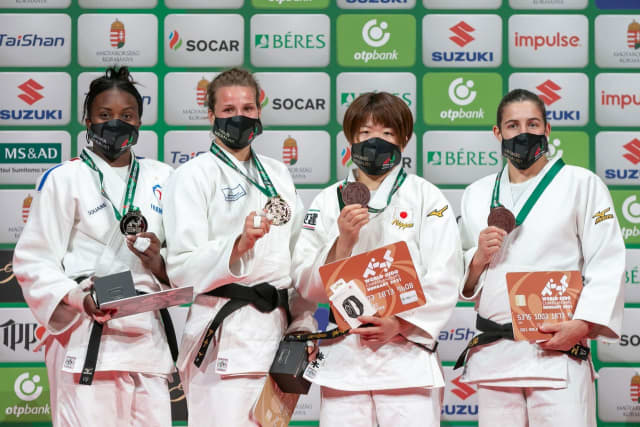 Final Results 1. WAGNER, Anna Maria (GER) 2. MALONGA, Madeleine (FRA) 3. STEENHUIS, Guusje (NED) 3. UMEKI, Mami (JPN) 5. TURCHYN, Anastasiya (UKR) 5. VERKERK, Marhinde (NED) 7. LANIR, Inbar (ISR) 7. MALZAHN, Luise (GER)
-100kg: FONSECA Dances for the Second Time The start list of the category was pretty rich in terms of top judoka and medals at the international level, like in all the other categories, but at the end, there will only be one world champion. Many questions needed answers and we didn't have to wait too long for them.
Would Varlam LIPARTELIANI (GEO) become world champion? No, as he was defeated in the quarter-final by future finalist Aleksandar KUKOLJ (SRB). Would Japan enter the final block and add more medals to their names? No as IIDA Kentaro (JPN) was eliminated early in the first rounds. Among the early departures were also Toma NIKIFOROV (BEL), Cyrille MARET (FRA) in his last competition of his career in this category, Arman ADAMIAN (RJF) and Elmar GASIMOV (AZE), just to name a few.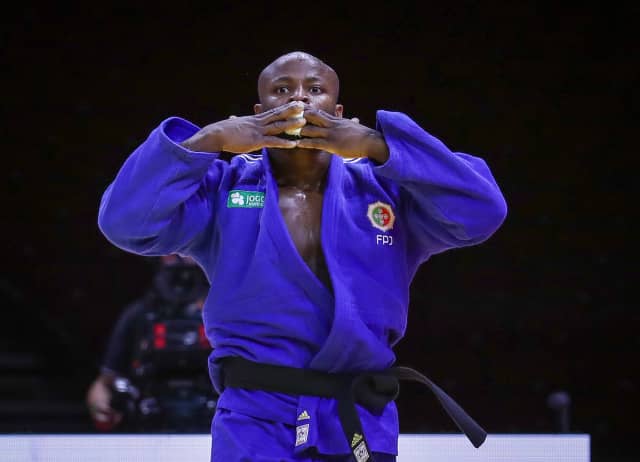 One of the main questions was, would Jorge FONSECA (POR) be able to repeat his Japanese feat from two years ago? Just before the final, we could easily answer, yes. The Portuguese current world champion had been demonstrating his best judo. The man who can win by ippon anytime, but who can also suddenly lose by ippon, produced some of the most spectacular judo of the competition. It is impressive to see him, with his muscular stature, moving like he was 20kg lighter, with each of his attacks exploding in the face of his opponent. After 4 preliminary rounds FONSECA had spent just over 5 minutes altogether on the tatami and offered a masterclass in explosiveness.
In the final FONSECA, who was in a really good position to add a second world title to his name, was up against Aleksandar KUKOLJ of Serbia, who was concentrated like never before and who eliminated Shady ELNAHAS (CAN) and the new member of the athlete's commission, Varlam LIPARTELIANI, just to mention two main opponents of the day.
A first shido was awarded to KUKOLJ for passivity, while FONSECA received his penalty for a false attack. The following attack was not a false one and scored a superb waza-ari with a sode-tsuri-komi-goshi. A few seconds later as he seemed to be dominated by the high kumi-kata of his opponent, FONSECA executed the perfect action-reaction ko-uchi-gari that propelled KUKOLJ flat on his back. With this second world title in a raw, FONSECA can dance and he will be one of the top favourites for the Olympic Games in Tokyo. If in Japan he has the same capacity to throw, he will be difficult to defeat.
Being world number one, Varlam LIPARTELIANI (GEO) hoped that this world championships would be his. Already three time world silver and an Olympic silver medallist, this had to be his championships, but defeated in the quarter-final, the champion had to go for a match against Michael KORREL (NED) for the bronze medal. After a strong kumi-kata battle but with no attack, both athletes were penalised. After a failed seoi-nage attempt from KORREL, who was on his knees, LIPARTELIANI turned him over with a counter-attack to score a first waza-ari that was immediately followed by an immobilisation for ippon. This is the sixth world championship medal for the Georgian champion, who reinforced his role-model image among the judo community.
The second bronze medal contest was for either Ilia SULAMANIDZE (GEO), who could become the 'next Liparteliani' or one of the most spectacular Canadian competitors, Shady ELNAHAS (CAN). The two athletes offered a beautiful show, with a lot of attacks on both sides. With the support of the video, two waza-ari were then cancelled successively, one on each side. It is rare enough to underline, that the normal time was over with no penalties at all on the scoreboard. In the golden score period, after a confused attack from ELNAHAS, SULAMANIDZE, perfectly in position, countered to score a devastating ippon and join his teammate LIPARTELIANI on the podium.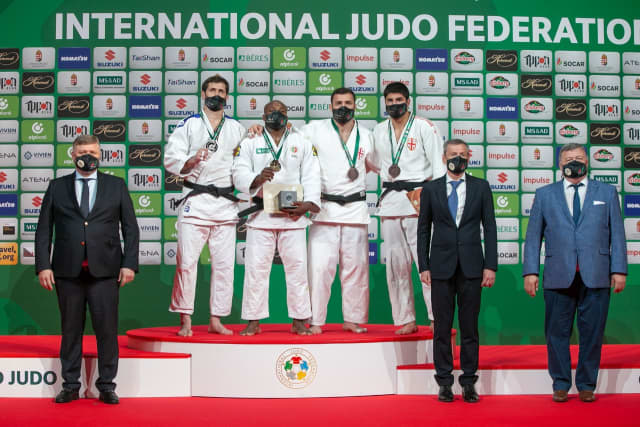 Final KUKOLJ, Aleksandar (SRB) vs. FONSECA, Jorge (POR)
Bronze Medal Contests LIPARTELIANI, Varlam (GEO) vs. KORREL, Michael (NED) SULAMANIDZE, Ilia (GEO) vs. ELNAHAS, Shady (CAN)
Final Results 1. FONSECA, Jorge (POR) 2. KUKOLJ, Aleksandar (SRB) 3. LIPARTELIANI, Varlam (GEO) 3. SULAMANIDZE, Ilia (GEO) 5. ELNAHAS, Shady (CAN) 5. KORREL, Michael (NED) 7. ADAMIAN, Arman (RJF) 7. IDDIR, Alexandre (FRA)