She hasn't lost a single fight since December 2019. She hasn't fought much either, but when she does, she wins. At 27, Madeleine Malonga has reached full maturity. The world champion will put her world title on the line in Budapest. She says that she is fine and that the decision to participate in the World Championships has been hers.
The –78kg category has had her name on it for at least two years. The Frenchwoman has left her suitcases behind and does not and intend to pack up and leave, at least for the moment. This pandemic year has kept her off the tatami longer than she would have liked. Even so, when she has put on the judogi, at the Doha Masters and the European Championships, Madeleine has continued her victorious path, the one to which everyone is already accustomed. 
There is a lot of talk and it is normal, about Teddy Riner and Clarisse Agbegnenou. Madeleine's record is more discreet because catching up with her two compatriots seems almost impossible. However, to this day, when the judo oracles speak of the -78kg category, all point to the French fighter because she dominates her business, thanks to her accumulated experience and an offensive style of judo, as well as unusual physical abilities. What does fall within normality and does not surprise us, is her frankness when speaking, very typical of judoka. 
"I am a free woman," she says, "because I have the privilege of being able to train in my own way. The French Federation has allowed me to choose and I have decided to do it in my club in the mornings and go to the national centre to work in combat sessions in the afternoons." 
Madeleine needs to feel comfortable in order to realise her potential. You know, a healthy mind means a healthy body. It is a theory that the French Federation applies to enrich the already enormous potential of the women's team. 
"We get along really well. We are a very united group in which good humour reigns." 
Some weeks ago the women's team spent a few days with the army special forces commandos. It was a seminar designed to bring the team together under extreme conditions. 
"I don't like water; I am more terrestrial than marine. Also the water temperature was only twelve degrees," Madeleine confesses with a huge smile. "We had a great time and as we understand each other perfectly it was very positive and interesting. It was about pushing us to the limit."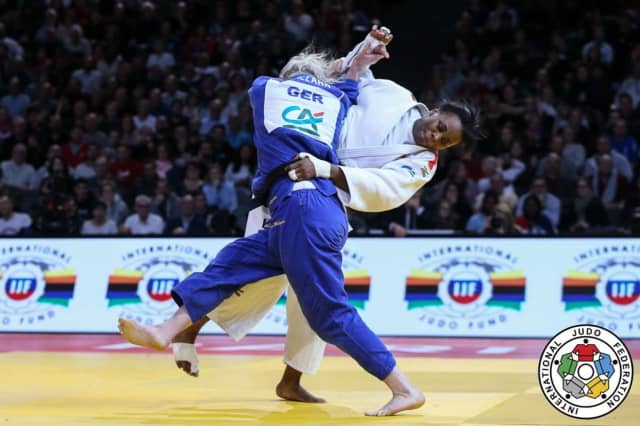 The limit of the French women's team is something that is talked about a lot this year. "We have a lot of possibilities to do something great, both in Budapest and in Tokyo. That is due, to a large extent, to the fact that we feel free. We feel good on and off the mat and we make our own decisions, always supported by the Federation." 
This is what is called a mutually beneficial relationship. The federation sets priorities and develops long-term strategies and the judoka are organised according to the plan. They preserve a piece of independence while respecting the guidelines of the coaches. The result is an impressive crop of titles from a team that everyone fears and admires.
"We like what we do and we are serious fighters, determined, but we cultivate good humour. That helps us to perform better when the competition arrives."
Madeleine doesn't show off, but she enjoys being different. "I am not obsessed with tournaments. I have not felt the urgent need to fight. It has been a very strange year, but I have lived it well. I am going to Budapest with the intention of keeping the title and building momentum for the Games. I am calm; I do not think about what is to come. When the time comes and I step onto the mat, then I will think about what to do. " 
This is how Madeleine works, always away from stress, especially because she knows the tournaments and enjoys them when they happen, never before or after. However, there is something that she does not know, something that remains to be discovered, an unknown for her because Madeleine has never participated in the Olympic Games.
"Everybody says that it is something really different, that it has nothing to do with the rest of the calendar. I'm going to find out, but I want to be the same as always, not think about it all the time because, if I do, then I can get nervous." 
Her main opponent and world number two will not be in Budapest, Japan's Hamada Shori, but there will be the number three, German judoka Anna Maria Wagner, Japan's Umeki Mami and Great Britain's Natalie Powell. "They are all excellent, it is a strong category, but I like that and it motivates me," she concludes.
No matter what happens, Madeleine confesses that she wants to continue until the Paris Games in 2024. That certainty makes her take things slowly, step by step, fight by fight. She does not want to project herself forward in time because it could be a fatal mistake. Her strength lies in immediacy. Many need to follow certain routines to know where they are going. Madeleine's routine is to walk away from any routine and trust her instincts. At the moment it has not gone badly at all. At the moment she is the world number one and owner, at least until 11th June, of the red patch that accredits her as world champion. Above all, win or lose, she will remain a free woman.