The Kodokan Judo Institute, known around the world as the Kodokan, is both the building and the original school of judo and as an organisation is the guardian of tradition, education and the spirit of judo.
The President of the Kodokan, Uemura Sensei, has spent almost all his life embracing judo, at all levels. He was world champion in Vienna in 1975 and Olympic champion a year later in Montreal. He has been a Japanese national coach and later became an expert in kata. Since 2009 he has carried the honour and responsibility that come hand in hand with being the Kodokan President.
On 3rd February at the French Judo Federation in Paris, Mr Uemura was present for the referee seminar for the referees and supervisors who would be working at the Paris Grand Slam over the following two days. This meeting has become a permanent fixture in the timetable of the World Judo Tour.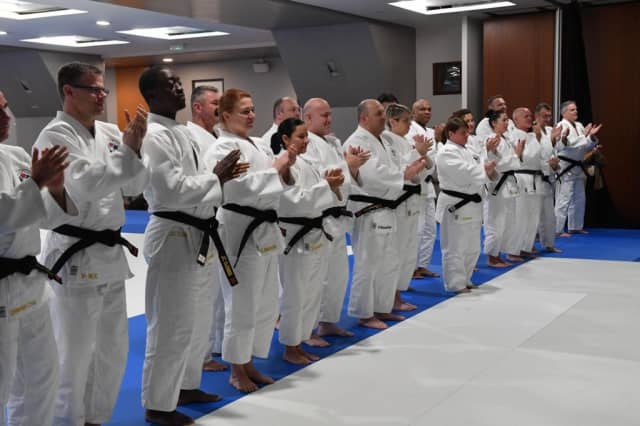 During the seminar Mr Uemura made a presentation, a first of its kind in judo's 140 year history. It cannot be stressed enough that the uniqueness of the occasion is testament to the work, courage and spirit of those involved.
"It is a big responsibility to teach judo properly to the world," nodded Uemura Sensei. "Since the Kodokan was established, more than 140 years ago, the total number of Kodokan members has reached over 2 million. Of course the membership is not only Japanese because judo became a worldwide sport many decades ago.
According to the history of the Kodokan there is a special type of teacher, one which holds a special position and even a special name, the Shidoin. It is not possible to become a Kodokan Shidoin only for competition results, a black belt and some qualifications. A Kodokan Shidoin (instructor) must be able to teach judo properly to the world and their knowledge must include judo history and spirit. Until now all Shidoin are Japanese."
In Paris this changed and therefore, with Mr Uemura's presentation, a new era of world judo began. "I, along with my Kodokan colleagues, decided Mr Florin Daniel Lascau is the best person to become a new Shidoin because he already made such a huge, positive contribution to the world, teaching judo properly through the IJF Academy. I had the chance to meet Mr Lascau many times and have experienced his teaching through the Academy. Having enjoyed many occasions of mondo with him and understand his development work thoroughly, I believe he is a suitable person to continue the work of the Kodokan."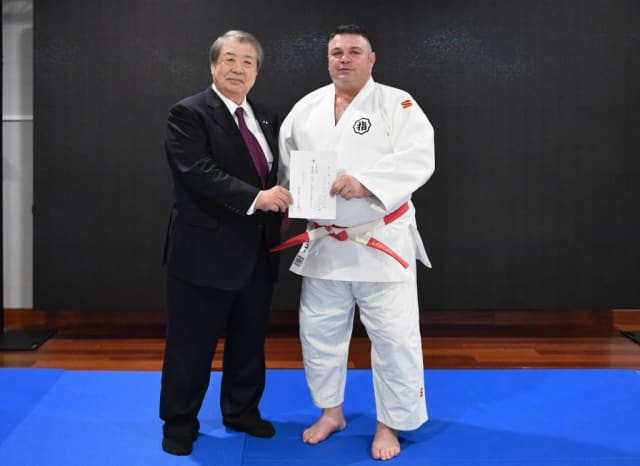 "The Shidoin must be at least 5th dan. Already Mr Lascau has the grade of 7th dan and he took his 7th dan examination in the Kodokan, including kata. The Kodokan has an important mission to deliver judo properly to the next generations and so in order to do this we have to work together and send the message to the world. He is doing this already and shows the required spirit. So, we take this opportunity, in Paris, to include Mr Lascau as one of our highly regarded Shidoin."
Chikara Kariya Sensei is Mr Uemura's assistant and is also a Shidoin, "We make videos, teach on the mat, encourage discussion of the differences between the techniques. It's not just to teach and produce materials but to spread the correct message always and Mr Lascau will continue to work with us to do this in the future."
Mr Uemura continued, "The Kodokan is already open to the world. I wish that in the future some other members, either Japanese or not, if they have good enough knowledge and spirit, can also have the possibility to be a Kokodan Shidoin. There are already Kodokan seminars in countries around the world and we are organising these again beyond Japanese shores.
The world is big and not everyone has the chance to learn at the Kodokan itself but with Shidoin travelling and living in other countries as ambassadors, spreading the message more widely, we can continue to ensure the expected standard in maintained and the history and spirit is respected. For example, Murakami Sensei is a Japanese Shidoin living and teaching in Hungary, Mr Lascau is living in Romania and there are others around the world.
We can answer easily the question of whether this is a good decision or not; Kano Shihan did the same thing. He taught judo to the world and it was his wish to continue. We now continue in his way. It's a part of history in the Kodokan.
We can see this message in other ways too. There has always been a changing room for Japanese people and another for non-Japanese at the Kodokan but now they are together, all the judo family welcome in each judo space, not different just because of a passport. This is the philosophy of judo.
I repeat that the mission is to teach judo, to pass it properly to the next generation. Through competition we can see that some athletes do not fight with fair spirit and so the education of athletes is a very important mission. The spirit of judo is not a small idea, but the essential core of judo. Even strong competitors on the way to reaching the best level can have good experiences but not behave correctly. All must learn self-control, to internalise the need to bow at the right time, even in loss. Our spirit is very important.
I have had a long relationship with Mr Lascau and now I know his spirit and knowledge. It is the right time to make this presentation. His place as the first non-Japanese Shidoin is important and illustrates a very clear message to the world."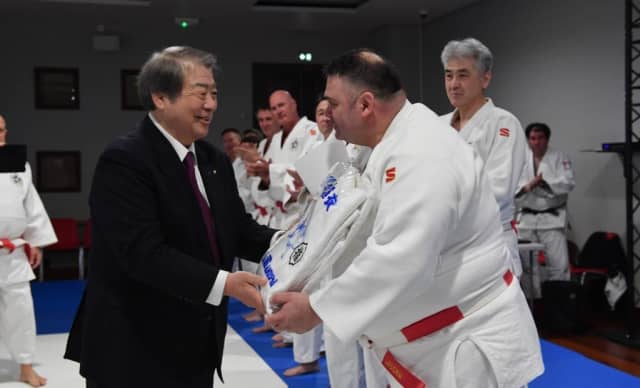 Mr Uemura gave Mr Lascau a Shidoin judogi, specially prepared by the Kodokan. Mr Lascau was not made aware of the Kodokan's decision in advance and so it was a surprise and an emotional moment. Mr Lascau said, "To become Shidoin is not a goal, it can't be, but now it has happened it is more important than ever.
After finishing in high performance I dedicated myself to other areas of judo, including politics, administration and education. Everything began with a Kodokan seminar many years ago. I was the delegate responsible for setting it up and working with the Croatian Federation as hosts. Of course as Europeans we didn't want to be embarrassed in front of the Japanese. At that moment I realised how much I don't know! I had some questions, like any judoka, but day to day the number of questions increased exponentially. My last question was about what I have to learn to become a Kodokan expert, not necessarily Shidoin, but an expert dedicated to the true message of Kodokan judo. This thinking was really outside the box at that time.
I started to discuss rules and education with the Kodoakn and with the IJF Academy. My wish to become an expert became bigger and bigger. My answer was that if I can truly understand Kodokan judo, I can spread the right message and improve myself and also those around me.
The support of the experts who explained to me and kept me in their minds was unbelievable. Mr Uemura really supported me.
Later the Kodokan asked me to prepare my kata as part of the Kodokan 7th dan examination. I performed itsutsu-no-kata as tori and uke. This was a tough process.
Later I wrote an article for the Kodokan's monthly magazine and it was the only article ever written and published in English. There were so many important points that played a part in my development and this was always fuelled by my wish to know and understand more and to become an expert.
Another key point was the refereeing seminar that took place on the main floor in 2017, from where the refereeing seminar was delivered worldwide via streaming. It was the first seminar of this type to be held there and in that way.
Another milestone was the filming of the Kodokan classified judo techniques, speaking about the deepest details of the techniques and how we can ensure the world understands the correct details to be able to perform all and apply judo in the right way.
The last big milestone was the IJF Academy course held in the main hall of the Kodokan. At that moment the IJF Academy was allowed to run this judo education seminar and was delivered by myself and other members of the Academy, including Olympic champion and IJF Academy expert Mark Huizinga (NED) and so I became one of the first non-Japanese instructors to teach in the Kodokan main hall. That was a very special moment.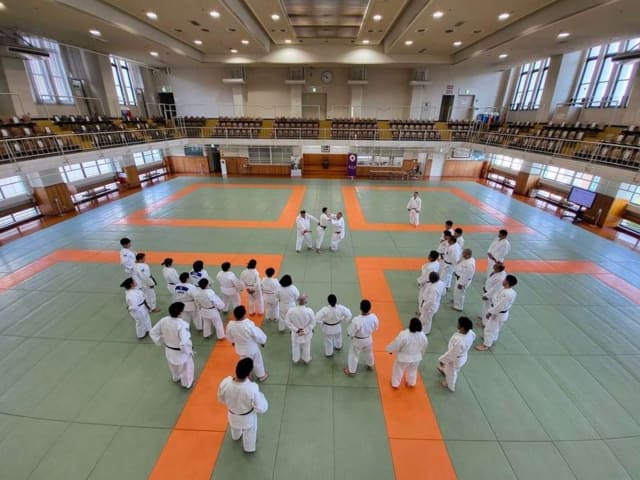 Finally, on 3rd February this year, while finishing a regular referee training session, Mr Uemura came with the Shidoin judogi and diploma.
I am affected by this presentation a great deal. It is not just a judogi or a diploma and it is not just a 'thank you' for some hard work. It is trust and respect. Mr Vizer opened a new way for worldwide judo to be seen and experienced. Mr Uemura opened the doors of the Kodokan widely and to allowed the non-Japanese to be as much a part of judo's history and future as those whom have gone before. It is a matter of education and spirit.
Also, I cannot forget my first coach, who allowed me to tie my white belt. Also my parents for introducing me to this sport and thank you to my family who allow me to be away from home for so much time teaching judo. This is not a singular occasion, reserved for me. I want to say that every stitch of the embroidery on the Shidoin judogi is a thank you to a person who helped me in my life. It is not possible to come alone.
In conclusion, this nomination is a very big honour and responsibility and I will take this chance to add my own contribution to the development of judo worldwide."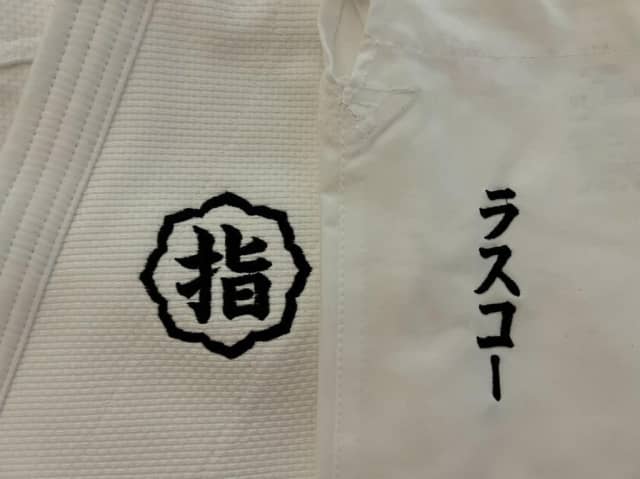 Neither Mr Lascau nor Mr Uemura mentioned that the new Shidoin was world champion too. Maybe this is the most easy-to-understand message of all, that judo, although marked by medals and spectacular ippon judo, is not a singular track. The judo of the Kodokan as inextricably entwined around a spirit, a message of excellence and tradition, a respectful adherence to the ideas of the past but also the need for a broader future.
Congratulations to Shidoin Lascau but also to all of the judo community, being present to encourage and facilitate the development of our contemporary place in a world that needs these positive messages as much as it ever has.