Today the official draw of the Agadir Grand Prix, Morocco was held in front of the heads of delegations of 38 nations representing 241 athletes from five continents. But before the draw began, women were honored in the framework of the International Women's Day.

In his address to this Grand Prix, the President of the International Judo Federation, Mr. Marius Vizer, made a particular statement regarding the importance of this day and the role of women as important members of the judo family contributing on a daily basis to the development of our sport. In his message that was also posted on the IJF website (https://www.ijf.org/news/show/presidents-message-for-international-womens-day) Mr. Vizer added further, that he "wished to thank all the women for making us stronger and sharing with us the joy and honour to work for the betterment of the sport."
The Judo community has many examples of National Federations doing projects for International Women's Day, such as the one by the Danish Judo Federation which has 25% of their members who are women and they are using this day to increase that number.
Above: Judo for Women in Denmark
Women play an important role in judo as can be seen in countries such as China where China's three gold medals in judo at the Beijing Olympics were won by women, one of whom, Xian Dongmei, is now president of the Chinese Judo Association, in Slovenia with Urska Zolnir who inspired their second gold medal in Tina Trstenjak, and of course Malinda Kelmendi who won Kosovo's first ever Olympic gold medal of any kind.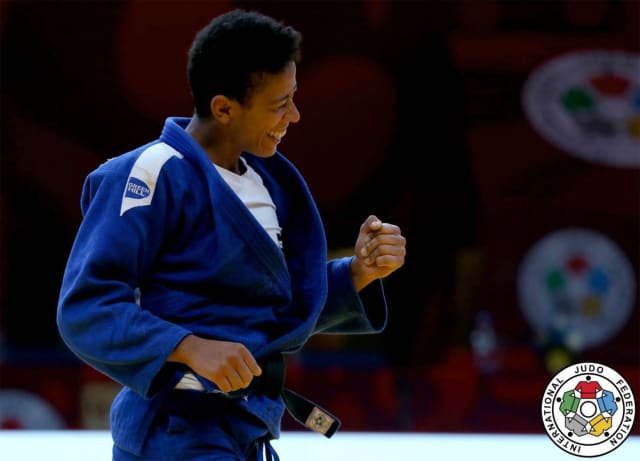 Above: Miryam Roper (PAN) after winning the Ekaterinburg Grand Slam in 2017.
On this special occasion the IJF also had the opportunity to ask some question to Miryam Roper (PAN) who will be the top seed athlete in the women's -57kg weight division.
IJF: How do you feel to be a elite competing female athlete in judo in 2018?
MR: I am really enjoying representing women especially of Latin or Central American descent. We are still living in a world where gender and other things define your chances. So I love showing that women are strong and we can be whatever we believe in.
IJF: How does it feel to compete in a sport which has such a strong sense of gender equality?
MR: I think in judo we have been progressing a lot. In Tokyo 2020 we will have the same number of female as male athletes. We have the same venues, competitions, prize money etc., but still there is room for improvement. We as women have to work on that too, to showcase us more. It's not about equality, men and women are not the same, but both is beautiful and our differences make it special. It's on us to get more involved in the judo world as coaches, officials etc.
IJF: As a woman, what are the greatest experiences and opportunities you have had in judo?
MR: Last year I was in Panama working with abused women and girls from districts of small incomes and telling my story, showing them that woman can be strong and fighters, living their dreams, also the big ones gave them hope, motivation and big smiles. That is for me one of the greatest things and after my career I want to dedicate myself more to the empowerment of women. Also it is a motivation for me, in the central american Games women told me now that I represent Panama I represent all of them, the women of central america.
IJF: What would be your message to girls and women who are thinking about trying an activity such as judo?
MR: For any girl or woman top thinking about trying judo I would say stop thinking about it and just go to the nearest dojo. For sure, you will be welcome there. Judo is for everybody, no matter your gender, age, nationality or religion. Enjoy!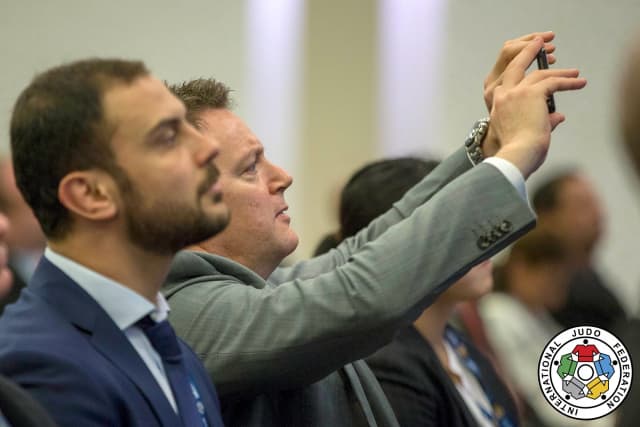 As the draw procedure was going on, Naser Al Tamimi welcomed all the guests and wished them all the best for the three days to come, while the Moroccan Judo Federation President, Chafik ELKETTANI underlined the fact that: "The Agadir Grand Prix is the first one of its kind and we are happy to welcome all the delegations in Africa, In Morocco and specifically in the beautiful city of Agadir. This event, as all the events that our federation has been organizing over the past years, is strongly supported by His Majesty, the King Mohammed VI of Morocco, and it is an honor for us to receive the support of the International Judo Federation and its President as well."
It must be said that Morocco has been very active in the past years to develop judo in the region. In 2010, the Junior World Championships were held in Agadir. A few years later, it was Rabat's turn to host the World Judo Masters and less than four months ago, the Open World Championships were held in Marrakech. For several years also the Moroccan Judo Federation held a Continental Open in Casablanca and in 2018, this event was upgraded to a Grand Prix by the IJF. After this 2018 edition, two more Grand Prix will be organized in Morocco in 2019 and 2020.
At the end of the day, an IJF delegation visited the Childhood Protection Center for Girls of Agadir, where the Moroccan Judo Federation is conducting a programme using judo as a social development tool (image above - more information about that visit and the programme in the upcoming news articles).
Many delegations arrived in Agadir with young athletes, who they want to test before the Olympic qualification starts in May on the occasion of the Hohhot Grand Prix. This is the case of France for instance, as most of the athletes are rookies on the international circuit. Other delegations such as Russia are back with their top athletes like Khasan KHALMURZAEV, Olympic Champion in Rio in 2016. Below you will find the four top seed athletes per weight category and their most significant result. It will also be interesting to follow Nemanja MAJDOV (SRB), the current World Champion, who was a big surprise last year in Budapest and who his back on the World Judo Tour with his red back patch.
-48kg
DOLGOVA Irina (RUS) – WRL 5 (Abu Dhabi Grand Slam gold)
NIKOLIC Milica (SRB) – WRL 6 (Düsseldorf Grand Slam bronze)
RISHONY Shira (ISR) – WRL 13 (Antalya Grand Prix silver)
MINSKER Noa (ISR) – WRL 15 (Antalya Grand Prix bronze)
-52kg
FLORIAN Alexandra-Larisa (ROU) – WRL 6 (World Judo Masters bronze)
TSCHOPP Evelyne (SUI) – WRL 17 (European bronze medallist)
TEMELKOVA Betina (ISR) – WRL 19 (Tashkent Grand Prix gold)
EASTON Tinka (AUS) – WRL 26 (Hong Kong Open gold)
-57kg
Miryam ROPER (PAN) – WRL 7 (Tunis Grand Prix bronze)
NELSON LEVY Timna (ISR) – WRL 9 (Tashkent Grand Prix silver)
ROGIC Jovana (SRB) – WRL 16 (Baku Grand Slam silver)
KAJZER Kaja (SLO) – WRL 28 (Tashkent Grand Prix bronze)
-63kg
LESKI Andreja (SLO) – WRL 9 (Düsseldorf Grand Slam gold)
HAECKER Katharina (AUS) – WRL 15 (Tunis Grand Prix bronze)
BELATTAR Sofia (MAR) – WRL 42 (African Championships gold)
SHEMESH Inbal (ISR) – WRL 56 (Warsawn Open gold)
-70kg
PEREZ Maria (PUR) – WRL 11 (Tokyo Grand Slam bronze)
NIANG Assmaa (MAR) – WRL 12 (African Championships gold)
POGACNIK Anka (SLO) – WRL 23 (Tashkent Grand Prix bronze)
TAEYMANS Roxane (BEL) – WRL 27 (Tunis Grand Prix silver medallist)
-78kg
DMITRIEVA Anastasiya (RUS) – WRL 13 (Tashkent Grand Prix bronze)
TURCHYN Anastasiya (UKR) – WRL 14 (Tashkent Grand Prix gold)
MAYERSOHN Yarden (ISR) – WRL 23 (Tashkent Grand Prix bronze)
RAMIREZ Yahima (POR) – WRL 27 (Zagreb Grand Prix bronze)
+78kg
KALANINA Yelyzaveta (UKR) – WRL 15 (Hohhot Grand Prix silver)
JABLONSKYTE Sandra (LTU) – WRL 17 (The Hague Grand Prix silver)
VELENSEK Anamari (SLO) – WRL 26 (Tashkent Grand Prix gold)
SUTALO Ivana (CRO) – WRL 27 – (Cancun Grand Prix gold)
Men
-60kg
KYRGYZBAYEV Gusman (KAZ) – WRL 9 (Tashkent Grand Prix bronze)
OZLU Bekir (TUR) – WRL 15 (The Hague Grand Prix gold)
TRBOVC Matjaz (SLO) – WRL 28 (Tunis Grand Prix silver)
MOUDATIR Yassine (MAR) – WRL 34 (African Championships bronze)
-66kg
ZANTARAIA Georgii (UKR) – WRL 7 (Düsseldorf Grand Slam silver - Former World Champion)
PULIAEV Mikhail (RUS) – WRL 11 (World silver medallist)
OLEINIC Sergiu (POR) – WRL 17 (Zagreb Grand Prix silver)
KATZ Nathan (AUS) – WRL 24 (Oceania Championships gold)
-73kg
MOGUSHKOV Musa (RUS) – WRL 17 (Abu Dhabi Grand Slam silver)
ZINGG Anthony (GER) – WRL 29 (The Hague Grand Prix bronze)
EL MEZIATI Ahmed (MAR) – WRL 33 (Dakar Open gold)
KANIVETS Dmytro (UKR) – WRL 34 (Zagreb Grand Prix gold)
-81kg
KHALMURZAEV Khasan (RUS) – WRL 2 (Olympic Gold and World Judo Masters gold)
RESSEL Dominic (GER) – WRL 12 (Düsseldorf Grand Slam bronze)
CASSE Matthias (BEL) – WRL 18 (The Hague Grand Prix bronze)
EGUTIDZE Anri (POR) – WRL 22 (Junior European silver)
-90kg
MAJDOV Nemanja (SRB) – WRL 8 (2017 World Championships gold)
BOZBAYEV Islam (KAZ) – WRL 9 (Tunis Grand Prix gold)
KHALMURZAEV Khusen (RUS) - WRL 13 (Hohhot Grand Prix gold)
TRIPPEL Eduard (GER) – WRL 20 (Paris Grand Slam bronze)
-100kg
DENISOV Kirill (RUS) – WRL 5 (Abu Dhabi Grand Slam bronze)
FONSECA Jorge (POR) – WRL 8 (Düsseldorf Grand Slam bronze)
KUMRIC Zlatko (CRO) – WRL 27 (Tashkent Grand Prix silver)
FREY Karl-Richard (GER) – WRL 37 (Paris Grand Slam bronze)
+100kg
CULUM Zarko (SRB) – WRL 29 (Antalya Grand Prix bronze)
GORDIIENKO Oleksandr (UKR) – WRL 33 (Tunis Grand Prix gold)
KRIVOBOKOV Anton (RUS) – WRL 34 (Abu Dhabi Grand Slam bronze)
TEMMAR Nadjib (ALG) – WRL 36 (African Championships gold)