The rich have rich problems. It is what happens when you swim in abundance. When it comes to women's judo, France has so much talent to choose from that it is scary, but in-house decision-making is not an easy matter because the rules are strict and only one judoka per category can participate in the Olympic Games. That means that someone very good, in this case a world champion, has been discarded. Marie-Eve Gahié will have to watch the Games on television because the one who will be in Japan, in the –70kg category, is Margaux Pinot. Both accept the rules of the game; both started a long-distance race five years ago, with a goal located in Tokyo. The race is over and Margaux Pinot has won.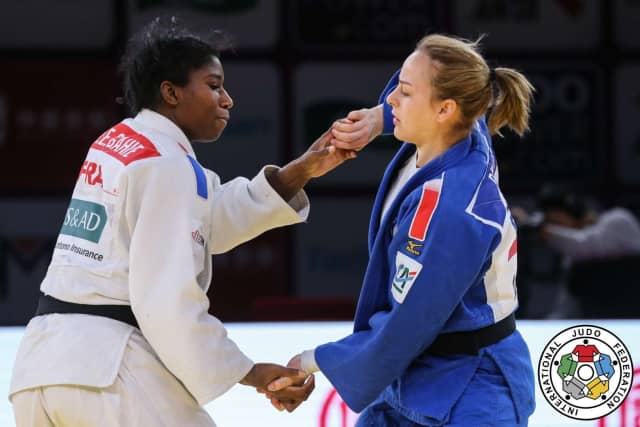 On the morning of 22nd April, Margaux is at her brother's house in Annecy, a beautiful city in France surrounded by mountains. She is enjoying a few days holiday. She is a discreet and thoughtful woman. She does not raise her voice; she is contained and reflects before expressing herself. She has things to say because her status has changed and she is no longer the one running behind.
"It has been long," she begins. "It has not been unpleasant, nor have I suffered from the pressure, but five years is a long time. What I have done is build a mental bubble and not move out of that scheme. In the end, the wait was even positive because it motivated me."
In March, the day before the Georgia Grand Slam, Margaux was world number two and Gahié number one. Barely two hundred points separated them, in what was the tightest rivalry in the judo world in recent years. There are other countries with similar antagonisms; see the cases of Canada at –57kg and Spain at –48kg, but here we were a step above because two hundred points is not a big deal and the duel can be decided one way or another with a single victory.
Then a setback appeared, that thing we call Covid. The French men's team had a positive test result for the virus and the Federation chose to repatriate the entire delegation.
"It was a strange moment, it was the first time something like this had happened to me in my career. At first I thought it was a joke in bad taste, but no."
In the morning we had attended the training of the French team. Gahié worked seriously but what caught our attention was the intensity of Pinot. She gave off a sense of prodigious strength. "I was feeling very well and I wanted to fight. I had to channel that energy and transform it into patience."
Even a week before the European Championships, Pinot did not know that she would participate. They communicated it to her suddenly while she was at a training camp in Bordeaux, "a week more technical than physical, I really liked it." Nor did they tell her that it would be in Portugal where everything would be decided. "It was something like a hint. They told me, 'you know what you have to do.' I understood that Lisbon would be the place of the final judgment."
Margaux didn't have to make any extra effort to lose weight, that problem faced by many judoka. "I always keep the same weight." The only thing she did was the same as always, preparing herself psychologically. "It is my motto: always ready." In other words, she stays in that bubble that she was talking about at the beginning, that space of safety that ensures her concentration and her subsequent release, when it is time to put on the judogi.
They landed in Lisbon, one a world champion and the other a European champion and then the least expected happened. Logic and judo don't usually go hand in hand; there are too many variables and immense room for the unpredictable. Still, no one thought that one of the two could be defeated in the first round.
Gahie lost to Croatian Lara Cvjetko. Fate, if present, can be cruel because it is one thing to lose a final or be eliminated in the semi-finals, when the frustration is tremendous but acceptable, but it is quite another to do it in the first exchange.
Margaux didn't know it right away, she was concentrating in the warm-up area. "It took me an hour to realise it. Before my first match I looked at the screen with the results that had already been decided and did not see Marie-Eve's name. For me it was surprising, I really didn't expect it."
That sad moment for Gahié could have been a danger for Margaux because, as her rival disappeared from the competition, the risk of being overconfident was a threat. 
"I thought I could go all the way, but to do that I couldn't lose concentration." She did not lose it. Margaux defeated all her opponents on her way to the final. "I have an offensive style, always moving, moving and using my shoulders. I need to attack and I like to score." This is how she enjoys it, but to be complete, she has learned other things. "Nobody likes shidos, all judoka want to win by ippon, but you have to know how to use them because they are also part of judo."
In the final against Dutch judoka Sanne Van Dijke, Margaux had the advantage and was looking superior. Then she made a mistake, one of those that are paid for dearly. "Sometimes you have to get up in the seoi-nage to show the correct attitude. I made the wrong decision and she took the opportunity."
With the silver medal in her pocket, she had to wait for the official confirmation from the French Federation to arrive. Margaux had sensed it and her result in Lisbon looked like a final sentence, but even so, all certainties have to be confirmed. Hers arrived on Tuesday 20th April, a date that already has a special place in Margaux's memory.
"I found out through social networks. It was a huge feeling of relief." Gahié has worn it with sportsmanship and has congratulated Margaux. It is in these moments when the greatness of people is also seen, in the most compromising situations. Marie-Eve Gahié is a world champion and an even better person.
Margaux has a clear tatami and two and a half months to digest her selection. "I liked being a challenger in this situation, being the hunter who chases the prey, but now I confess that leadership is not a bad thing either."
Being chosen for some Games also means being analysed and studied thoroughly by her opponents. Margaux knows it and accepts it. "There is no particular adversary, no one who is my spectre. I prefer it that way. I don't want to start with a handicap. They are all very good. Ours is a category where we Europeans are doing things well."
More than well, to be honest. The world ranking illustrates the matter. Marie-Eve Gahié and Margaux occupy the first two places, with the Dutch pair Kim Polling and Sanne Van Dijke the next two. Only then do two Japanese appear and, in total, there are thirteen Europeans in the top twenty.
"Japan's Arai Chizuru lost in the last World Championships but I suppose that in Tokyo she will go far. Van Dijke is very regular and often wins medals. It will be interesting because Arai will be at home but we Europeans are still very solid."
For now, those who want to see Margaux before the Games will be left with the desire. "I will not compete until Tokyo anymore. I'm going to prepare as best I can but I'm not going to Kazan or to Budapest."
What Margaux is also sure of is the potential of the French women's team. "When you look at it on paper it is impressive because there are medal chances in all categories. Shirine Boukli has won her place in just six months, while Amandine Buchard is always there. Sarah Leonie Cysique is very talented. Clarisse Agbegnenou clearly dominates her category and Madeleine Malonga also hers. Romane Dicko is getting outstanding results. In addition, it is a cohesive group. There is a very good atmosphere and that will strengthen us."
The role of France in Tokyo may be preponderant because the possibilities that Margaux talks about do not refer to a gold, a silver and a couple of bronzes. At least five of them legitimately aspire to the Olympic title. It is possibly the most powerful team, or at least as good as the Japanese. Later, history will put each one in their right place.
Suppose Margaux wins the gold, "In that case, it is possible that I will participate in the 2022 World Championships and maybe retire later, but if I don't get the gold I will try to reach the Olympic Games in Paris in 2024. All this is speculation. Everything will depend first on the result in Japan and later on the desire to continue."
Margaux is on holiday at the moment. She has a week to rest, enjoy the moment and put herself on standby. Then serious business will come and she will have to get back into her bubble so that, when the moment of truth comes, she is, as usual, always ready.