On 24 August, one day prior to the start of the Judo World Championship, an art exhibition was opened by IJF President Marius Vizer at the Kodokan Institute, the home of judo. After Budapest and Baku, the art exhibition simultaneously organized with the Judo Worlds has become a new and refreshing tradition combining art and sports.
The opening of the art exhibition was attended by Her Imperial Highness Princess Tomohito of Mikasa, also an IJF Ambassador, and many guests, among them former judo champions.
"I'm grateful for the Japanese All Judo Federation and the Kodokan Institute for hosting this wonderful art exhibition. Thank you for your presence and please enjoy this wonderful exhibition", the president welcomed all guests.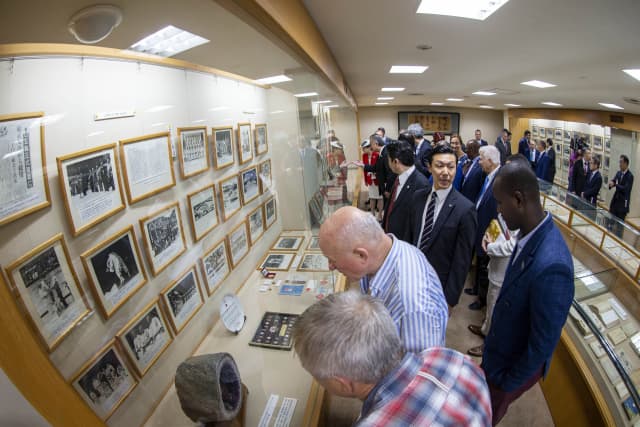 Four artists presented their paintings, Irina Cristescu (ROU), Raymond Poulet (FRA), Eugen Vasile (ROU) and Neil Eckersley (GBR). All colorful canvasses, many depicting panoramas and sceneries of Japanese lifestyle and culture. Porcelain artware from sponsor Herend was exhibited as well. Herend is today in the forefront of world porcelain making.
"I think combining art and sport is an excellent opportunity," says Irina Cristescu, a Romanian contemporary artist. "It's fantastic that this is happening. It's great because sport is art and also painting is about discipline and I think it's truly a great combination." Mrs. Cristescu only paints self-portraits, each piece representing one of the internal phases of her life. "It's all about energy," she says. "A lot of characteristics similar to judo. That's why I opinion judo and art go well together."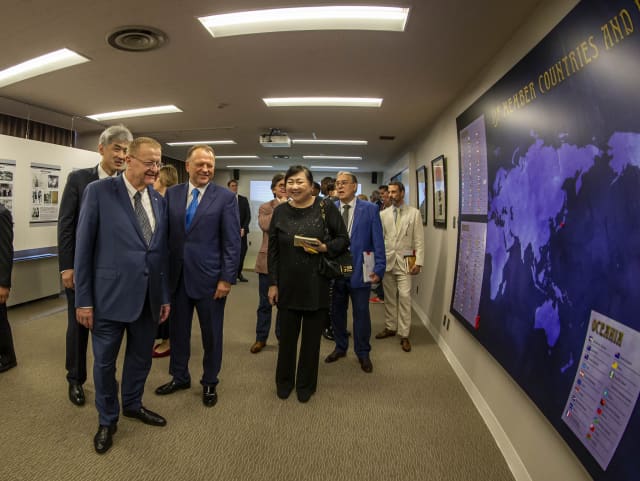 Distancing himself from all schemata, from any preconceived structures, Eugen Vasile is being careful that in the end the construction in his paintings achieves such a spontaneous unity that the beholder is astonished by their cohesion. "Being a former judoka, for me art and sport mix perfectly. I'm very happy to show my work here," the artist said.
"After Baku, I'm more than happy to be able to show my work to the judo family again," says Neil Eckersley, a former Olympic judo bronze medalist. "I first came to train at the Kodokan when I was 17 years old and to imagine many years later that I was exhibiting some of my artwork is pretty amazing. I have to pinch myself," Neil jokes. "When I found out the exhibition was going to be in the Kodokan, it's a dream come true for me. There is a similarity with the sweat on the tatami and the sweat I put into these paintings. It's really weird because I got the same nervous feeling coming to the dojo to train and coming to this exhibition. Because when you create a piece of art it's there to be looked at, to be viewed, to be discussed. So, I'm happy to be here."
"Art and Sport, for me it's the best combination", said AIPS President Gianni Merlo, also present at the exhibition. "Let's face it, sport is a kind of art. It's an artistic expression, but also an expression of culture. In this case, there is the culture of Japan. I think it's a very good choice. When we discuss culture and sport, it is not only about competition, how you build it, how you make a better environment for the athletes. Athletes are not only developing their muscles but also the mind. Because the brain is a muscle and we have to use it."