The best of the best came to Kyrgyzstan's capital, Bishkek, to fight for the titles of the Asia and Oceania Championships of 2021. It is vital to win; every point counts before the Olympics. On day one of the competition we witnessed the following categories: -48kg, -52kg, -57kg, -60kg and -66kg.
The first day saw China rise to the top of the medal table; a great result for their team, taking into consideration that Chinese athletes have been absent from  many international competitions in recent months. 
Here is the list of countries winning golds today:
On the occasion of the International Day of Sport for Development and Peace, referees of the tournament gathered together to celebrate the event, being photographed with the white card that symbolises peace.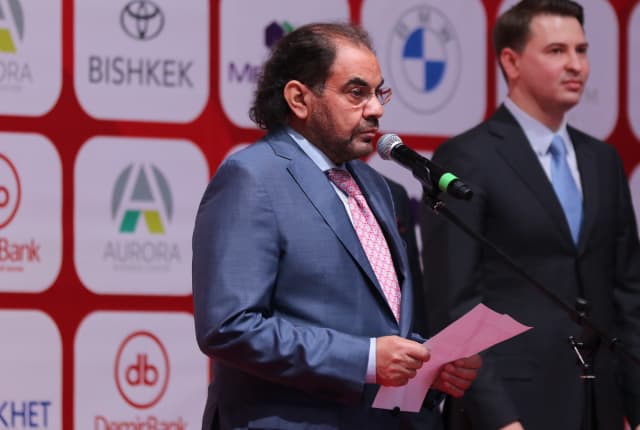 -48 kg final results
1. LI, Yanan (CHN)
2. ABUZHAKYNOVA, Abiba (KAZ)
3. LIN, Chen-Hao (TPE)
3. MURATBAEVA, Gulnur (UZB)
5. KARCHIEVA, Shukrona (TJK)
-52 kg final results:
1. PARK, Da Sol (KOR)
2. KELDIYOROVA, Diyora (UZB)
3. KADAMBOEVA, Sita (UZB)
3. HSU, Lin Hsuan (TPE)
5. WARASIHA, Kachakorn (THA)
5. ZHANG, Kexin (CHN)
7. BABAMURATOVA, Gulbadam (TKM)
7. EASTON, Tinka AUS
-57 kg final results
1. LU, Tongjuan (CHN)
2. KIM, Jisu (KOR)
3. NISHANBAYEVA, Sevara (KAZ)
3. ERMAGANBETOVA, Nilufar (UZB)
5. BISHOP, Justine (NZL)
5. NOVRUZOVA, Gozel (TKM)
7. BELDIAGINA, Kseniia (KGZ)
7. KOCHKONBAEVA, Adina (KGZ)
-60 kg final results
1. TAKATO, Naohisa (JPN)
2. YANG, Yung Wei (TPE)
3. LEE, Harim (KOR)
3. AIBEK UULU, Kubanychbek (KGZ)
5. KATZ, Joshua (AUS)
5. NURILLAEV, Kemran (UZB)
7. SMETOV, Yeldos (KAZ)
7. LUTFILLAEV, Sharafuddin (UZB)
-66 kg final results
1. NURILLAEV, Sardor (UZB)
2. AN, Baul (KOR)
3. KIM, Limhwan (KOR)
3. ZHUMAKANOV, Yeldos (KAZ)
5. KATZ, Nathan (AUS)
5. TE, Artur (KGZ)
7. GAYRADOV, Isa (TKM)
7. TSAI, Ming Yen (TPE)
Tomorrow, on the second day of competition, we will see some powerful judo from the women in the -63kg and -70kg categories and the men in the -73kg and -81kg categories. We will be watching to see how the medal table evolves. Will Japan, Korea or other nations take the lead from China? Will the number one seeds prove their ranking? Will the Olympic Games qualification list be juggled or cemented? What we do know is that at this end of the Olympic cycle, much is at stake and everyone is giving of their best. 
Photos provided by the Kyrgyzstan Judo Federation