It is well known that, as the days go by, more noise is produced on the tatami, louder as we close in on the end of the competition. On the seventh and final individual day of the World Judo Championships Hungary 2021, it was not necessary to tune the ear because when a body fell on the tatami the sound it produced echoed throughout the stadium. This is what the heaviest categories have; you can hear them from a long distance.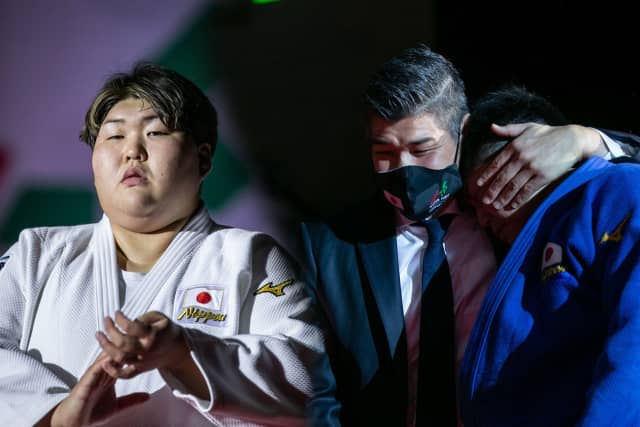 It's been a strong day with not too many golden score contests. The final block gave us the contests we expected, on the whole, with all 4 top ranked men making the medal contests. The women weren't quite so predictable, although the main interloper was Tomita (JPN), not as well known as her compatriot, Asahina, who made the final without too much resistance.
This final day is not just about the competition but has been punctuated by meetings for important future projects, which are facilitated best when the judo family can be together at global meets such as this world championships.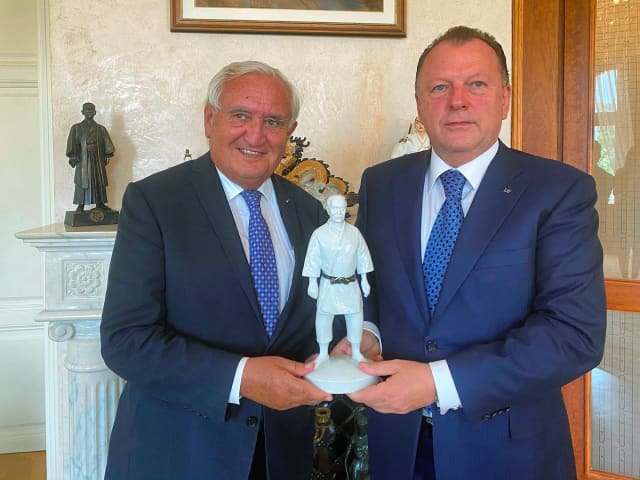 During the day, IJF President, Marius Vizer, welcomed an important guest to the IJF Presidential office. Former Prime Minister of France and President of the Leaders of Peace organisation, Jean-Pierre Raffarin, visited the office and had a fruitful meeting with the Mr Vizer, where 'peace' was at the centre of the discussion. After the meeting, Mr Vizer presented Mr Raffarin with the specially designed Herend Jigoro Kano statue. Later during the competition, Mr Raffarin enjoyed the honour of presenting medals to the winners.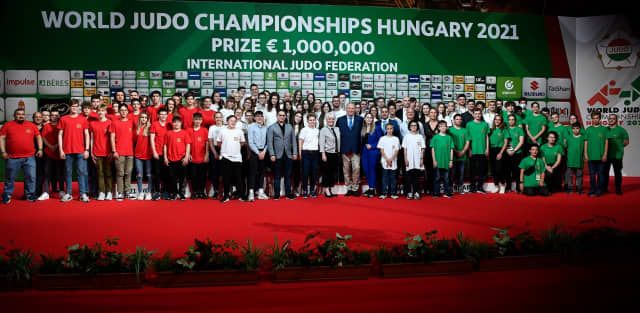 Just before the last final block of the individual event, Dr. Laszlo Toth, President of the Hungarian Judo Association gathered together the volunteers who have been helping and supporting with the organisation of the World Judo Championships Hungary 2021, for a group picture, "We had two groups of 150 people each who helped us in all sectors of the organisation. Most of them came from different judo clubs around the Budapest area but we also asked some parents to join them. To be honest, without them nothing would have been possible." There is something that is guaranteed. All the young volunteers will remember forever that in June 2021 they participated in building the success of the event. They can be proud of that and they are warmly thanked for all their hard work. Among them are some of the next generation of champions, surely, just for one reason, because they were inspired by what they saw.
78kg: Golden Kindness for ASAHINA Those who are suspicious of heavyweights have a chance to change their minds. The preliminaries of the +78kg category was a model of speed, efficiency and offensive judo. The competition debuted at 10:00am. An hour and a half later and we already had the four semi-finalists.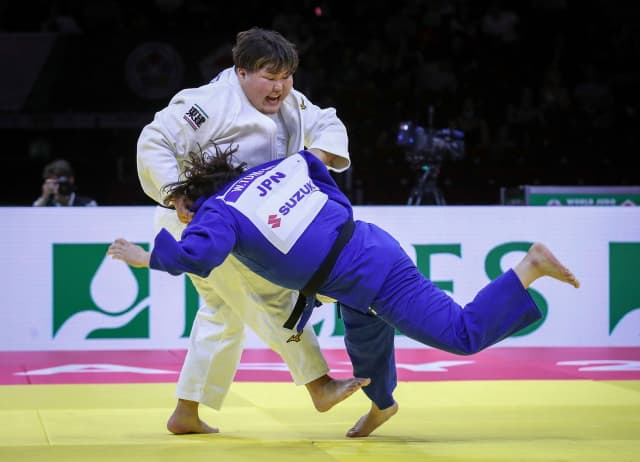 Almost all of the matches ended with ippon or, in the worst case, waza-ari. The message is very simple: no-one takes the world championships lightly, at least among the heaviest women. From the first match they all worked rigorously, they all applied themselves to win with class and style.
The first final of the day was a one hundred percent Japanese final, as it was at -48kg. Japan dominated the first day and wanted to close the world championship with its seal of first world power.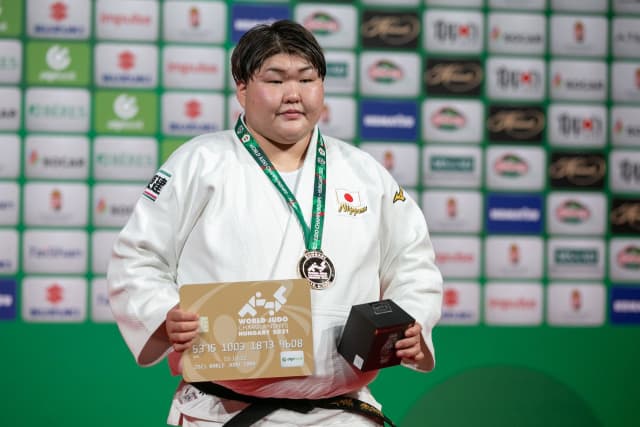 The first penalties came after 45 seconds for the two athletes for passivity and the first really dangerous action came from ASAHINA with a strong sasae-tsuri-komi-ashi that was really close to scoring. It was time for the golden score period. With 2:26 of extra time, ASAHINA received her second shido for passivity, a logical reward for TOMITA, who proved to be more active, but after a last false attack, TOMITA received a third penalty that gave the victory to Sarah ASAHINA. As TOMITA was slightly injured in the last action, we saw the new world champion coming to her opponent, also her friend and loaded her on her back to leave the tatami. Only sport and only judo can offer such fair-play images. It's worth noting that Asahina, even with her precious cargo, turned back to the mat to bow before leaving. She would have been forgiven for not doing so but we see what real champions are made of when they behave so humbly.
Sarah ASAHINA said, "The most difficult contest today was the final. I was about to lose and then she got injured. I am very sad for her and that is why I helped her to leave the mat as much as I could."
Earlier in the day, we paid attention to many matches as the tournament was unfolding. Idalys Ortíz (CUB) is the most awarded judoka in Latin America. She has won absolutely everything, in some cases several times, but she has not had an easy year due to Covid. The world number one does not complain, though, "Competitor once, competitor always," she said, between contests.
From the first match, Asahina showed a large part of her repertoire, a mixture of technical quality and experience. It was a shame for Velensek (SLO), Olympic bronze medallist, to have to meet Asahina (JPN) in the preliminaries. Both are capable of winning big medals, but that's the way of judo! Velensek went out in the 3rd round and the young Japanese star moved into the last 8.
Ortiz moved into her semi-final against this old acquaintance, Asahina Sarah (JPN). At no time during the day was Ortiz nervous or impatient, always executing the right movement at the right time. However, against Asahina she had to do something else because they know each other by heart and the Japanese, who has also traveled to Budapest to win her third world title, was highly motivated and especially offensive from her first fight.
They reached golden score, each weighed down by two shido. A third was close to being called because neither attacked. Ortíz then tried to surprise Asahina, who countered for waza-ari, with the flavour of a big final.
The second semi-final opposed Beatriz Souza (BRA) and the second Japanese athlete in the running, Tomita Wakaba. Souza is a promising 23 year old and is ranked third in the world. She is in constant progression and has earned a medal in six of the last seven tournaments she has participated in.
Tomita is a year older and was junior world champion in 2015. She is less tall, but faster and with a refined technique, it was a fight between opposing styles. Throughout the morning, Tomita was dedicated to demolishing all her rivals; four fights, four ippon. Souza had the merit of stretching the fight to golden score, but she did not escape from a text book ippon executed by Tomita.
In the first bronze medal contest, Julia TOLOFUA (FRA) was ready to grab her first medal at this level, in the absence of the one who starts to scare all her opponents: her teammate Romane DICKO. TOLOFUA faced Beatriz SOUZA (BRA) for a place on the podium. TOLOFUA seemed to be in control of the match. This was not obvious, but still visible. However, as she missed her counter attack after an o-soto-gari attempt from SOUZA, TOLOFUA was thrown for a waza-ari and caught for a 10 second hold for ippon. This is a first world medal for Beatriz SOUZA at this level.
The second Brazilian competitor Maria Suelen ALTHEMAN (BRA) was opposed to judo legend Idalys ORTIZ (CUB). After 45 seconds, the first shido were distributed for passivity to the two medal contenders. The match started to be a little more animated, with big counter attacks, such as ura-nage and yoko-guruma, from ORTIZ and more discrete combinations from ALTHEMAN. After a failed attempt from the Cuban, the latter found herself under her opponent for an immobilisation, but ALTHEMAN couldn't hold ORTIZ for more than 10 seconds. Golden score! ALTHEMAN was rapidly penalised a second time for passivity, but during the next sequence, she controlled her opponent perfectly to counter attack and with just a little foot movement that was at the right place at the right moment, she threw ORTIZ for ippon to win her third bronze medal at a world championships.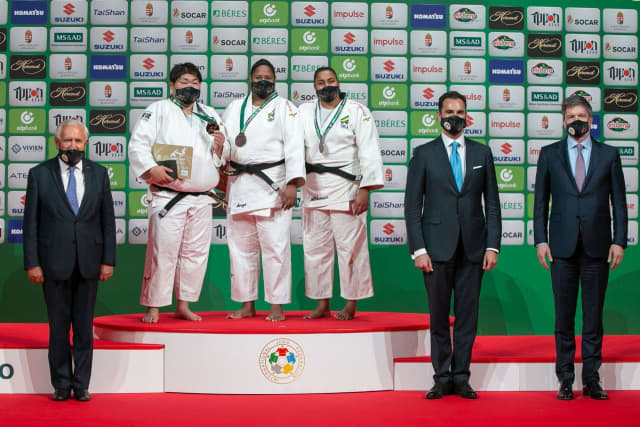 Final ASAHINA, Sarah (JPN) vs. TOMITA, Wakaba (JPN)
Bronze Medal Contests TOLOFUA, Julia (FRA) vs. SOUZA, Beatriz (BRA) ALTHEMAN, Maria Suelen (BRA) vs. ORTIZ, Idalys (CUB)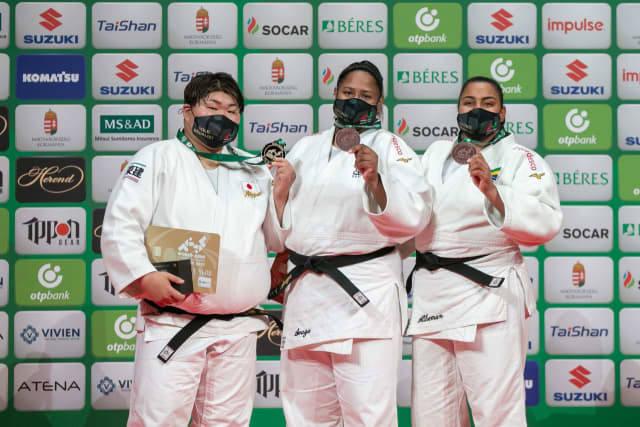 Final Results 1. ASAHINA, Sarah (JPN) 2. TOMITA, Wakaba (JPN) 3. ALTHEMAN, Maria Suelen (BRA) 3. SOUZA, Beatriz (BRA) 5. ORTIZ, Idalys (CUB) 5. TOLOFUA, Julia (FRA) 7. CHEIKH ROUHOU, Nihel (TUN) 7. MOJICA, Melissa (PUR)
+100: KAGEURA Concluded a Japanese Day The last final of the individual competition opposed Tamerlan BASHAEV (RJF) and Kokoro KAGEURA (JPN). The final started pretty slowly, both athletes taking their time to analyse the situation to try to find a solution. The first in action was BASHAEV, but the first to score with less than one minute remaining was KAGEURA, with a reverse seoi-nage for a waza-ari. With only a handful of seconds remaining, BASHAEV gave it all and caught KAGEURA for osae-komi, but he put all his power into it, to not to stay held and finally won his first senior world title.
Kokoro KAGEURA declared: "People are only asking me about my victory against Riner, but now I have major titles: I'm Asian champion and now world champion. The next step should be the Olympics and I also hope people will start to talk about my titles more than my contest versus Riner."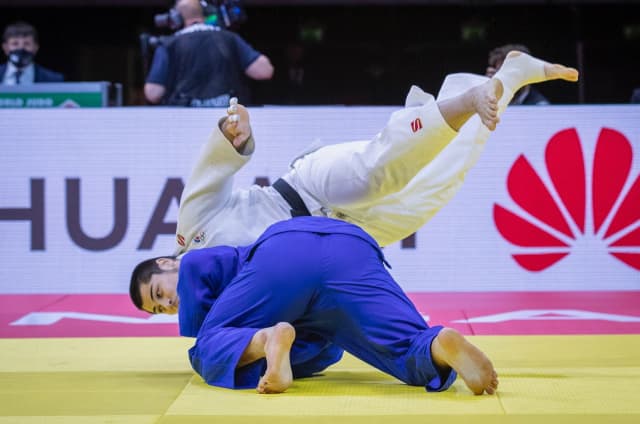 In the first bronze medal contest, an old acquaintance of the World Judo Tour, Roy MEYER (NED), bronze medallist in Tokyo two years ago, faced the true judo legend that is Rafael SILVA (BRA), multi-Olympic and world medallist. Even before the two athletes entered the arena, the tactical plan of each of them was clear. Roy MEYER would try to impose a fast and strong pace to the match with his incessant attacks, while SILVA would try to slow MEYER down to launch from time to time a big hip movement. That's exactly what happened. It's only when entering the last minute, that the first shido for passivity was given to the two competitors. After 1 minute and 13 seconds of golden score, MEYER's strategy started to pay off, when SILVA was penalised a second time and definitely paid off when the Brazilian champion received his third penalty, offering a second bronze medal in a row to MEYER at the world championships.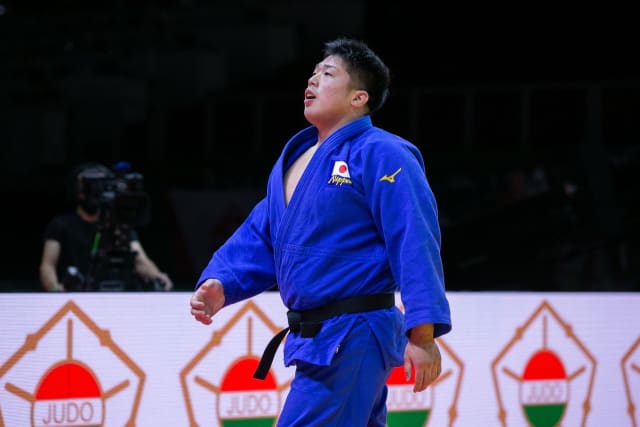 The second and final bronze medal was disputed between Yakiv KHAMMO (UKR) and Gela ZAALISHVILI (GEO). Having those two athletes on the tatami is almost a guarantee of spectacular judo, as they proved during the preliminary rounds. If a first pair of shido was distributed after a minute, the first massive and acrobatic attack was from KHAMMO, scoring a waza-ari with a shoulder throw. Penalised a second time, KHAMMO was in danger, though. Under an incredible pressure the Ukrainian athlete applied a technique that seemed to come from nowhere, but ZAALISHVILI was propelled through the air to conclude an intense match and the bronze medal was for Yakiv KHAMMO.
During the preliminary rounds, there were many matches to follow. In round one the number one seed showed his caliber and his intention by casually practising a range of his favourite techniques, without ever being put at risk himself. Bashaev (RJF), the 2020 European champion, enjoys judo and this is not a silly statement. He is here to win and here to prove things but he also just loves to compete and is clearly comfortable on the tatami no matter who he is facing. He allowed the first match to go into golden score and almost without taking a breath rolled his German opponent out of an uchi-mata attempt with what looked like an easy counter.
Meanwhile Sipocz of the home nation began well and seemed buoyed by the noise from the crowd. The day began with big throws, exactly what we all want to see as the individual competition comes to a close this evening, in preparation for tomorrow's mixed team clash. When Sipocz and Bashaev met in the third round it came with some drama and a lot of near misses, but Bashaev's sleeve control proved to be too much for the bigger Hungarian judoka and he avoided each attack, eventually transferring to a strong shime-waza to reach the quarter-final and a date with Rakhimov (TJK).
Rakhimov looking strong from the start, with a decisive uchi-mata and overall upright judo. His meeting with Bashaev in the quarter-final definitely wasn't one-sided, with Rakhimov arriving with dangerous left-sided uchi-mata and ashi-guruma attacks, but his opponent's ura-nage was just too sharp.
Veteran Austrian team member, Allerstorfer, offered a really strong start too, with a koshi-guruma and a smile from his coach Yvonne Boenisch, before leaving the mat to make way for one of the real characters of the circuit, Roy Meyer (NED). He looked determined and brought a full bag of high quality technique and gripping skills and clearly didn't come to play around. He was strangled out of the quarter-final by Georgia's big man, Zaalishvili, but both made appearances in the final block.
Kageura (JPN) ground it out in the morning session with a good mix of tachi-waza and transition phases, but looking at risk throughout. A final block without Kageura was always unlikely, but he made hard work of it! Spijkers (NED) gave him a good run for his money but it wasn't enough. Kageura's ne-waza came to the fore and he went into the final block after applying a reverse juji-gatame in golden score. He then just managed a win on penalties in the semi-final against the experienced Brazilian giant, Rafael Silva and gave himself the chance of a gold, despite not being as sharp as we have seen him in the past.
Khammo (UKR) brought all his big throws today too and went into the final block following a massive standing seoi-nage in the third round. He didn't quite go all the way but in the repecharge final he threw with one of the fastest wins of the tournament to book his place in that bronze medal contest.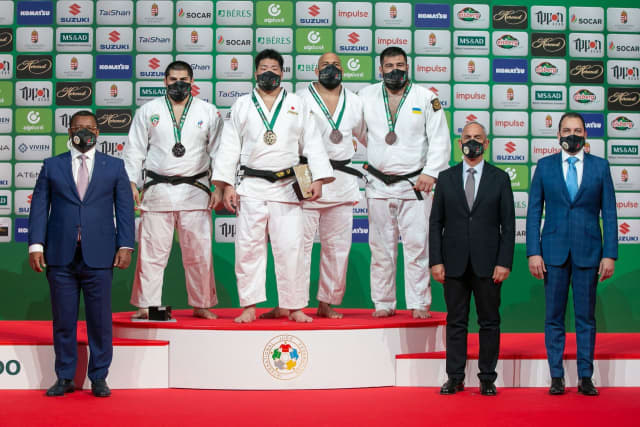 Final BASHAEV, Tamerlan (RJF) vs. KAGEURA, Kokoro (JPN)
Bronze Medal Contests MEYER, Roy (NED) vs. SILVA, Rafael (BRA) KHAMMO, Yakiv (UKR) vs. ZAALISHVILI, Gela (GEO)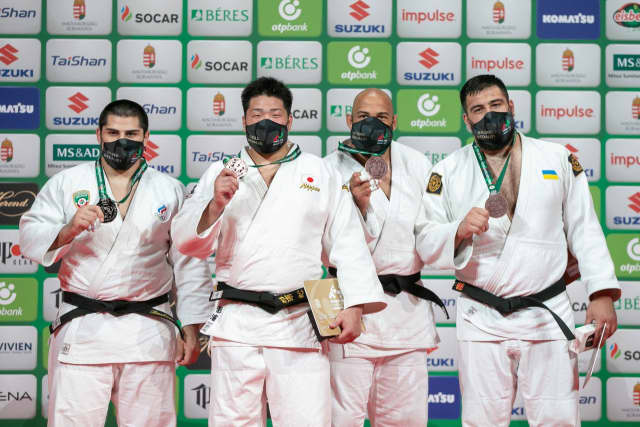 Final Results 1. KAGEURA, Kokoro (JPN) 2. BASHAEV, Tamerlan (RJF) 3. KHAMMO, Yakiv (UKR) 3. MEYER, Roy (NED) 5. SILVA, Rafael (BRA) 5. ZAALISHVILI, Gela (GEO) 7. PUUMALAINEN, Martti (FIN 7. RAKHIMOV, Temur (TJK)