They are invisible and discreet. Their mission is to offer the best show possible. Their days and hours of work do not count. They are polite, cheerful and share a mutual passion for judo. They are the men and women behind the scenes.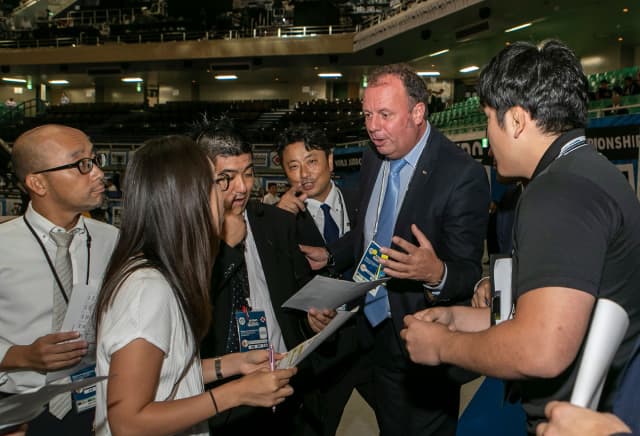 Claudiu Chimoiu is one of those guys who makes you want to have a drink with him, or several. If he wanted, he could do a one man show and get rich. Talking with him is much more than a pleasant time, it is an avalanche of laughter, an endless series of anecdotes.
To understand the guy, it is better to first check his CV. This 51-year-old Romanian has been a television producer for 26 years. He has produced everything, absolutely everything, especially sports programs and events. For nine years he has been the Executive Producer of all judo events organized by the International Judo Federation.
"The Federation sought to improve the quality of broadcasts", begins Claudiu. "They wanted a finished product. I did not know judo and before agreeing to be involved I set a condition, that I would attend a tournament to see if I would be able to do it." Claudiu pauses, looks around and, in a confidential tone, adds, "I didn't understand anything," he says with a huge laugh.
However, he accepted the proposal and started to work. "I saw it as a challenge and I also understood that my ignorance about judo could become a quality because I saw things from a different perspective and bring something new for sports lovers who were going to discover judo."
Consequently, Claudiu began traveling around the world to inspect the venues and stadiums where judo competitions were held.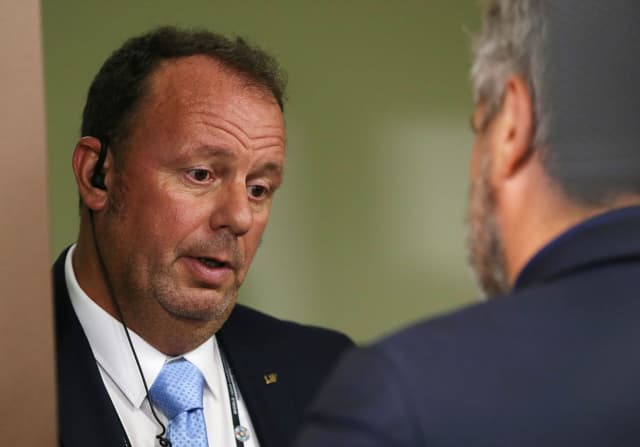 "A tournament has a long gestation period", says Claudiu, "and starts long time before the official start." When the calendar of the season is published, the Romanian takes action. There are some key tournaments where the dates are set in stone each year and must always be held on the same dates and stadiums, such as the Paris Grand Slam or the Budapest Grand Prix.
"The crucial tournaments have their own dynamic where I always work with the same people and know what I want and how I want it." Then there are the new competitions. Claudiu then travels to the cities that will organize a tournament for the first time, as was the case in Montreal last July and Brasilia in October.
"As soon as I enter the venue, I know how I am going to organize it. The number of tatamis, the location of the podium, the cameras, the billboards, the spotlights, the referees' tables, the press stand and much more." He observes everything, analyzes it and, when he has everything in mind, communicates the plan to the local organizers.
"It's very interesting because each country has its own idiosyncrasies." Working in Germany or Azerbaijan is not the same. What is acceptable in one place may not be in another. Claudiu has to communicate and explain his plan and thinking, negotiate and convince. He is the conductor of an orchestra that changes musicians in each city. The most complicated part of his work is the one before the tournament because it starts from nothing and everything has to be built, step by step.
"I relax a bit when the event opens, which is when others start to get stressed." It is a physical rest, not mental because, when an event starts, Claudiu is dedicated to what he likes most, the production. This is the time to talk about the anecdotes inherent in his work.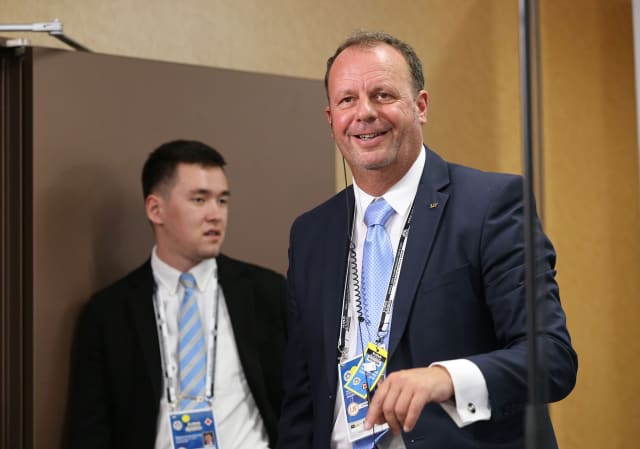 "We were in Paris, I was in the TV production truck. Then, my colleague Vlad Marinescu started talking to me in Romanian on the walkie-talkie.
-Claudiu, Ma Auzi?
In Romanian, Ma Auzi means, " … can you hear me?"
"Claudiu, Ma Auzi?, Ma Auzi?, repeated it many times and very quickly. The next day I met my English colleague Jack Willingham and he greeted me, saying "Hello Mouse."
"Why do you call me Mouse?, I asked.
"Because Vlad calls you that. Yesterday he spent all day saying 'Claudiu Mouse'", he replied.
Since then all my work colleagues call me Mouse".
Then come the other problems, the urgent and the unexpected. The urgent, for instance, also happened in Paris.
"It was during the final block", says Claudiu. "Like everything else, we have established a protocol. And Lucie Décosse almost busted".
The French, Olympic and world champion, was in such intense state of concentration before her contest that she started walking towards the tatami when it was not planned.
"I had to get in front of her and prevent her from getting on the mat. Since she was so focused, she did not understand and tried to pass by my right side. Then on the left. And there I was, jumping from one place to another, as if dancing, in front of everyone and trying to stop a judo star looking at me wanting to kill me. Imagine the scene".
As for the unexpected.
"The air conditioning broke down in Tunisia. It was unbearably hot. Suddenly, a bird fell on the tatami. A bird! Man, I don't know where it came from. And me, in the truck, thinking: and now, what do we do?"
The referee stopped the fight, took the bird, which was not dead, and threw it into the air to fly. And it flew. And the whole crowd stood up while clapping. It was beautiful on television, but for a few seconds it almost gave me a heart attack".
After so many years of permanent routine, he says he doesn't get bored with his work and tells us his secret.
"The technology. I always discover something new and I like to understand things. Technology is constantly evolving, and I want to learn to use any new tool".
Claudiu is smart enough to know what he ignores, like a modern Socrates with a suit and tie. "I need to know the answers to any question the people I work with ask me. That's why they trust me".
We still have to ask his favorite place from a professional point of view. Claudiu does not doubt a second. Japan.
"In Japan there is no problem and, logistically, they are perfect. The challenge comes from another aspect. The Japanese are so good that they have an original idea every ten minutes. For me, the challenge is to live up to it. It is a challenge that consists in being reactive, that is the key".
As for the worst place to work, the answer does not wait.
"Georgia and Turkey because you eat too well and always get fat" ends Claudiu with a laugh.
This is the story of Claudiu Chimoiu, the conductor, the man who learned very soon that a teacher is also an eternal apprentice.