What are the odds a bloke from Hastings, UK makes friends with a couple of guys from Montevideo, Uruguay? Siblings actually. Well, throw in judo – mind the pun – and you have judokas Alain and Pablo Aprahamian (resp. -90kg and -100kg) who are being prepped for the next step in their judo career by coach Ben Urban from Great Britain.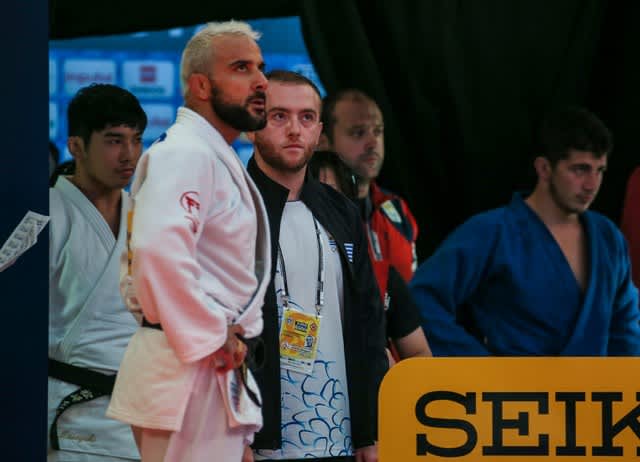 "Due to my job working for Fighting Films at IJF Events, I met both brothers," explains Ben. "I'm working with them on tactical awareness. This is the beginning of an individual athlete tactical plan to prepare for the continental qualification and hopefully an Olympic qualification. The idea is to build a support network for an athlete from a country with limited means."
"We met at an event a year ago. And we agreed to collaborate with Ben," Alain adds. "We both said, OK, let's try this out to see if it works and it does. Being from Uruguay, I often travel alone to events. It's hard if you have to do everything by yourself. So having Ben there to assist me helps a lot."
Ben and the siblings will now intensify their collaboration. "We will try to work more together. Also going to training camps together."
"Unfortunately, judo is only a small sport in Uruguay and the funding budget for high-level judokas is limited. Hence, we have to organize many things ourselves," says Alain.
Although the Uruguayan judoka lost in the first round, he found it worthwhile to have a taste of the fierce competition. "Next year the Olympics will be in the same venue," he says. "I never competed in the Budokan before, so it was opportune to experience the special atmosphere."
"As this was the first time we officially worked together as an athlete-coach duo here at the Worlds, we now have the best part of a year towards the Olympic Games to work with Alain and Pablo to uplift their level of judo," Ben says. "In a contest one of the best things a coach can do is to let the athlete only perform. On tournament day my job with them is not necessarily to improve their judo here on the spot as such but make their job as less stressful as possible. Things like making the athlete be on time for his match, what bout number we are, tactics, i.e. just building up all the things around the day."
"Judging his performance, Alain went up against a strong Polish judoka. Not having to wonder about all things around it, makes the tournament easier and his performance was good today. His loss was borderline. What we discussed, there were massive improvements in this short amount of time between the Grand Prix in Zagreb and the Worlds here in Tokyo," Ben praises his judoka.
Alain, who currently resides in Valencia, Spain where he recently finished university, still continues training in Spain. "That's easier to meet in the future," says Alain. "Spain certainly is closer to the UK than Uruguay," he jokes. With his studies finished, he is fully concentrating on his judo now, hoping to make it to the 2020 Olympics.
His brother Pablo qualified for Rio 2016 and is also on the road to qualification for 2020. He still resides in Montevideo, Uruguay. "My brother and I are really close," Pablo says. "We always support each other, that's what brothers do. Competing here both on the World scene of judo, those or moments we will remember for the rest of our lives. A great event, supporting each other, being here together … that' what counts also."
"We try to approach our sport as real professionals, but funding is very limited," he regrets. Where Alain is full-time concentrating on his judo, Pablo has a day job and can only practice four times a week. "We have to take care of so many things, so we are fully committed to our sport from the bottom of our heart. We both love judo so much and that keeps us even more together, a band of brothers. Judo is our main conversation topic in the family," Pablo jokes. "Judo is always an important issue."
"I think it's great that we can work with Ben now. There is a good chemistry between him and both of us. We still have to get used to a coach, because we didn't have one in the past. Ben is helping me a lot on the tactical side of the sport. Some of my previous bouts, I lost against lesser strong opponents than me, but their tactics were better than mine. And that's were Ben luckily comes in now. Today I was facing a strong competitor. Both me and my brother are not young, we already have our judo style, but tactically we can still improve. I don't think Ben wants us to change our judo. On the contrary, he wants to help us on the mental and tactical side as well as all side aspects, like weight control, taking care of accreditation etc. In the past we needed to be everywhere. Constant stress. And that's not a good way to prepare for your bouts," Pablo explains.
"Working with athletes in their early thirties, in this stage of their career, is more about making sure on competition day that they are the best prepared for their time on the mat. Certainly in the built-up for this World Championship and with Tokyo 2020 looming around the corner. We just have to make sure the preparations for every fight are right," says Ben. "Obviously, the draw for Pablo was also tough, that you cannot control. For me what's important is that all controllable parts are taken care of. Something we can control is prepare the best way we can. Pablo had a tough pick but managed to stay in the match. If you prepare yourself in the best way, anything can happen when the perfect draw comes along."
"Working with two athletes who love judo so much but belong to a small federation, having a good support network for them will make them feel more secure on the mat when I have their backs beside the tatami," ends Ben.
Benjamin Urban is one of the youngest coaches present in Tokyo and has recently been nominated for a national coaching award for his work with young talented judokas in Britain with the Tonbridge Judo Club. He also works the international judo scene as a member of Fighting Films, a video production company.