The men's -60kg and women's -48kg categories opened #JudoWorlds on Sunday morning.
-60kg
Defending world champion TAKATO Naohisa (JPN) was stunned in the quarter-final by world number seven Sharafuddin LUTFILLAEV (UZB) by ippon. TAKATO has already lost his red backpatch but will be back in the final block with the aim of salvaging a bronze medal.
World number one Robert MSHVIDOBADZE (RUS) lost out to YANG Yung Wei (TPE) after picking up three shidos. YANG fell at the quarter-final stage at the hands of Lukhumi CHKHVIMIANI (GEO) by a waza-ari score.
Former world bronze medallist KIM Won Jin (KOR) lost out to NAGAYAMA Ryuju (JPN) in the second round via uchi-mata-sukashi.
World number three Amiran PAPINASHVILI (GEO) was another early casualty as he fell to Gusman KYRGYZBAYEV (KAZ) by a waza-ari score.
Semi-Finals KYRGYZBAYEV, Gusman (KAZ) v LUTFILLAEV, Sharafuddin (UZB) NAGAYAMA, Ryuju (JPN) v CHKHVIMIANI, Lukhumi (GEO)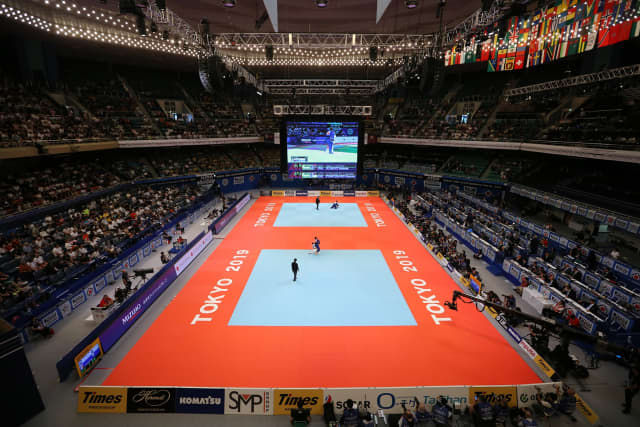 -48kg
The top four seeds all safely progressed to the semi-finals as the top-ranked judoka were on form during the preliminaries.
Reigning world champion Daria BILODID (UKR), the youngest world judo champion of all time, eased through her preliminary rounds with three wins all by ippon to book her place in the semi-final.
World silver medallist TONAKI Funa (JPN) produced the same form to claim pool A while MUNKHBAT Urantsetseg (MGL) was on form in pool D and Distria KRASNIQI (KOS) defeated Olympic champion Paula PARETO (ARG) to take pool B.
Semi-Finals MUNKHBAT, Urantsetseg (MGL) v BILODID, Daria (UKR) TONAKI, Funa (JPN) v KRASNIQI, Distria (KOS)
Watch the final block from 7pm local time here on the IJF site at live.ijf.org