Whenever the Olympic Games approach one of the lists that we digest the most is the list of flag bearers. It must be said that the symbol is strong. For an athlete, being chosen by their country to wear its colours during the opening and closing ceremonies is always a defining moment in a career. It is a source of pride and recognition, a guarantee of being visible on small screens around the world. It is also a responsibility because being a flag bearer confers a legitimacy that one does not want to disappoint.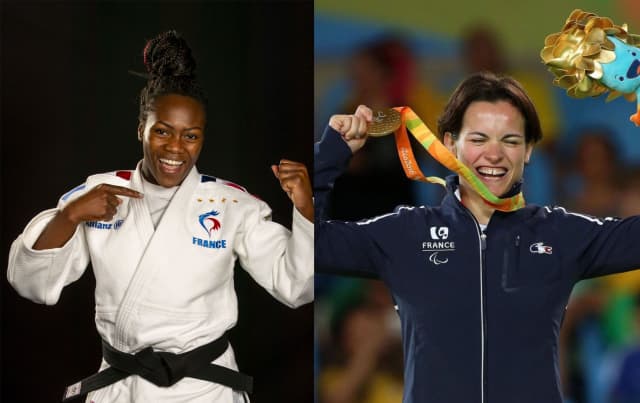 The waltz of announcements has therefore begun and on Monday 5th July it was team France whom announced their flag bearers for the Olympic and Paralympic Games in Tokyo. In 2016, in Rio, it was the great Teddy Riner who had the honour of bringing the tricolor into the stadium.
In Tokyo, French judo achieves a satisfying double, with the five-time world champion, Clarisse Agbegnenou, accompanied by gymnast Samir Aït Saïd, leading the parade for the Olympic Games, beginning  on 23rd July and 2016 Paralympic champion Sandrine Martinet, accompanied by tennis player Stéphane Houdet, heading up the team for the Paralympic Games, launching on 24th August. Both were appointed by their peers, as well as by the general public, to guide the French delegation.
Clarisse Agbegnenou declared, "It is a unique moment, which comes on top of our crazy year. For many athletes it is already complicated to go to the Olympic Games, but to be a flag bearer, it is an even more difficult challenge. You must have already participated in the Olympics. I feel very honoured because in the team of France, there are many nuggets! I am touched to have been chosen by my peers. I will return my enthusiasm and my joy to them for these Games, which will be so completely different. I would like the whole nation to be united and for us to be able to support each other from different sports and different generations, as we will not have the opportunity to have our loved ones with us. I know that the whole nation will be with me on 27th July."
The two women join a small list of great French judo champions who have been given the same role, including Angelo Parisi (Los Angeles 1984), David Douillet and David Guillaume (Sydney 2000) and Teddy Riner five years ago in Rio. Teddy said, "Dear Flag, I was honoured to be able to carry you high in Rio and to represent our wonderful delegation. So it is with great emotion that I leave you in excellent hands. All my congratulations to the athletes."
For sure more judoka, like Telma Monteiro for Portugal, will be designated to be flag bearers in Tokyo. As we will approach the opening, we will reveal the whole list.