"How is everything, Tina? Are you looking forward to fighting?" "Yes, it's been a long time!"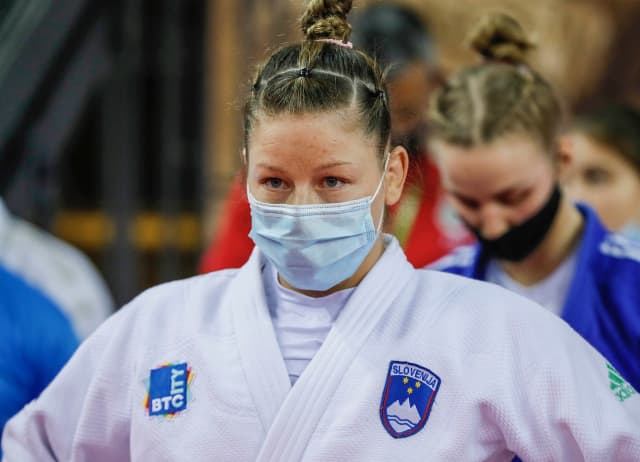 On the day of the draw, with the many small stresses to overcome, for everyone, -63kg Olympic Champion, Tina Trstenjak (SLO) is settling into the normal flow of pre-competition. She's the number one seed and probably the gold medal bet for most of us watching.
With the draw done, her weight on target and the new protocols becoming more familiar, Tina agreed to an interview, not this day and not next week, but at the end of her fight day. Tina is the perfect example of modesty, not worrying about the final result of the competition, balancing against whether she would like to do an interview or not. She just says yes. So then I left her alone to manage her final preparation, without interruption.
There are not many athletes who could boast her CV: an Olympic gold, 4 world medals, 6 continental medals and almost 30 medals from the World Judo Tour. Yet she is quietly happy to speak about her experience, even on her competition day, even after the 8 months away from events, even without a guarantee of a happy ending. Such is Tina's humility.
We fast forward to the day of competition and she begins as she often begins, with a hard first fight, harder than maybe it should have been, but a win nonetheless. That winning continued and her 6th grand slam gold was assured. True to her word the interview came a couple of hours later, but with a special surprise for me; we were joined by Brazilian number 1 at -70kg, Maria Portela.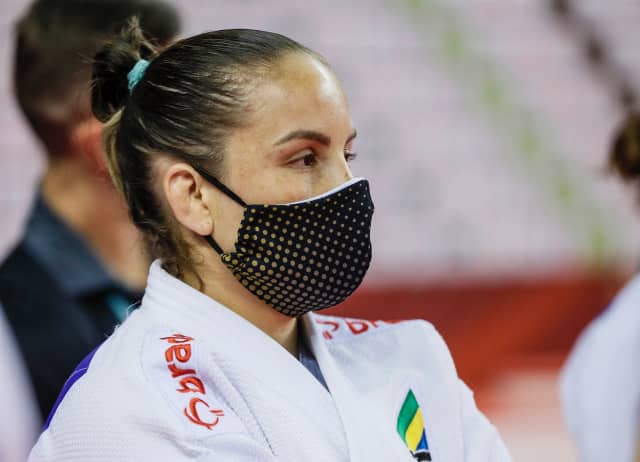 Maria's own record shows such consistency; the former world number 3 has 7 continental medals and 19 from the World Judo Tour. These are powerful athletes but with very different images. Maria is aggressive about her strength training and shares this with onlookers via digital media. We see innovative and traditional training methods and we see a passion for judo and for her country. With Tina we see a more reserved and even shy character, quietly training as hard as anyone could, just doing what needs to be done (and maybe a little more), with focus and calmness. They have become best friends and this makes my job even more fun. Our group video call was full of smiles, to be expected from 2 judoka who finished their first WJT event back, in the final block.
We talked about preparation and nerves and fears and protocols, of course. Slovenia and Brazil have had to approach these recent months very differently and that in itself is ripe for discussion.
Maria told us, "the situation for the virus is really bad in Brazil so the team were moved to Portugal for a long camp, almost 3 months. It was great for us because despite the long travelling we arrived somewhere with familiar language, many friends and some stability. At the end of the camp we even had a small tournament between Brazil and Portugal and this meant that our first fight nerves here in Hungary were much easier to manage than they might have been."
Tina continued, "we didn't have any special, different training towards the competition and as my weight was ok I could just stick to my usual preparation. We drive to Budapest from Slovenia and so the travel wasn't too stressful. Once here though, I had my usual nervousness at the beginning of fight day. It felt harder because of all the rules and safety protocols, more things to think about and solve. When I stepped on to the mat first, I felt almost like maybe I wouldn't remember how to compete. We gripped and moved and it felt tough, really tough. Going into golden score my body finally woke up and got into its rhythm and I was able to throw for ippon quite quickly. For the rest of the day I felt good, strong."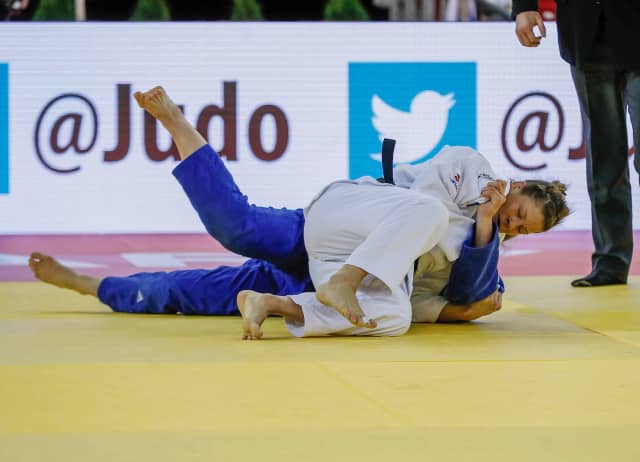 Tina mentioned the protocols, but both judoka were so positive about the lengths the organisers have gone to, to make the competition possible. They are under no illusions about the necessity to keep everyone safe. It seemed strange to them to not be encouraged to shake hands or embrace at the end of contests, especially after being in such close contact with their opponents, but even this is understood from the perspective of minimising all non-essential contact.
Maria accepts it, "for now we have to respect all of these rules. This is a big step towards what we all want and it's not worth risking either our health or goals by putting this event in a bad position. Everyone is working so hard to make this happen and all judoka want to fight again, so we have to accept that it must be this way."
Tina agreed, "this step has been wanted by all of us for so long and we are here. I had the chance to fight again and I'm happy to have had the opportunity. In the end I was happy with my performance too, of course happy to have won, but also to have won by ippon in ne-waza twice and to have felt that my training and patience were on the correct line."
Maria was pleased with her day, although would have been more satisfied with a medal, we are clear on that. "I attacked a lot within the hard draw I was blessed with. I know Timo and all the others so well but today was a little different for me. I was really focussed and managed to beat the Russian I have lost to before, using a big throw and so I'm actually feeling quite proud. It's a good feeling after all the hard work and complications of these last months." Tina gave a little clap, in appreciation of her friend.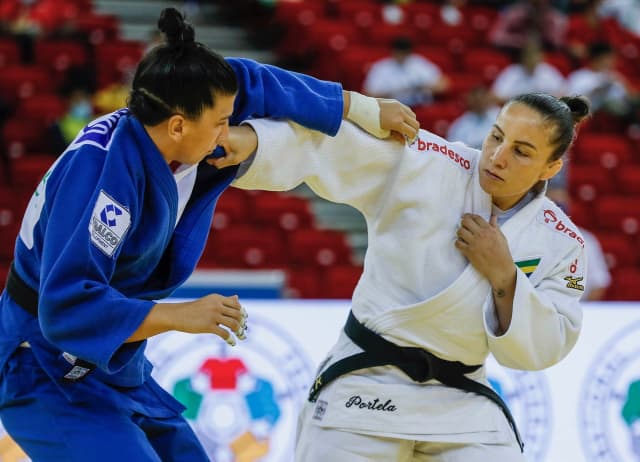 I had to ask though, how do two such different personalities, from opposite sides of the world, end up being best friends. They giggled throughout the interview and kept looking for each other to finish their sentences. They almost asked one another for agreement before allowing me to have some comments or ideas. It was funny.
Tina said, "she never wanted to train with me!" Maria laughed loudly but nodded, "it's true! Well, I don't know, she always seemed so regimental and serious and I am Brazilian, you know. Regimental and serious is not our way." Tina looked amused but indicated with her face that this outward impression is sometimes not so far from the truth.
Maria added to the story, "so in 2017 my team-mate Erika Miranda went to train at Tina's club in Celje, Slovenia. She had invited me but I didn't go. When she came back she was jumping up and down, 'you have to come, you have to come, it's so hard but so good!' And so when she wanted to go again in 2018 I went too and we stayed for a month."
I was also travelling at that time and took my club their for a one week camp. I remember watching Maria and Tina in randori and feeling truly educated by it. Astonishing respect for one another while working at maximum capacity to develop every technique and situation. By the time the Brazilian girls had to leave, Maria and Tina had shared some incredible moments on and off the mat and the generosity of the host club had allowed that to flourish, benefiting both judoka. It became a perfect illustration of jita kyoei.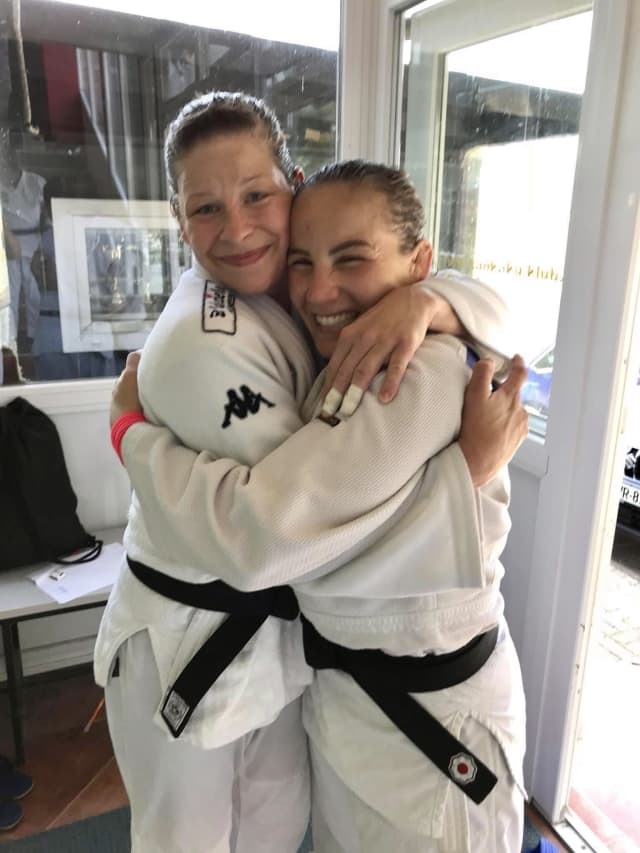 "She's like my sister now!" Said Tina. "We speak a lot, when we can, supporting each other through the trials of the Olympic cycle and even beyond judo. It's really something to make friends in this sport, when you know that they will be with you forever now."
Maria just nodded again, agreeing as they always seem to, but a more serious nod this time. "This kind of friendship is important. It's hard not being able to hug while here, but I'm so glad our friendship was able to share this restart of the World Judo Tour, from a distance, of course."