On 24 August, the second edition of the Gender Equity Conference was hosted, one day prior to the start of competitions.
IJF President Marius Vizer opened the conference with a warm welcome to all delegates. "I'm pleased we are able to host this important conference for the third time. Our female judokas are wives, mothers, daughters but also professionals in different sectors and showing us much passion for everything they do. As a federation IJF is always open to collaborate. Criteria in judo are professionalism and sportsmanship. As an initiative we will increase the number of female EC members. A big step forward for the next Olympics here in Tokyo is the quota of 50/50, totally gender balanced regarding our athletes. I like to thank all ladies involved in our projects and wish you success," President Vizer opened the conference.
"On behalf of AJJF I wish you a warm welcome," said AJJF President Yamashita. "It's a great honor to have this edition in Japan. Judo is a sport for all regardless religion, age and of course gender. I also look forward to the last day of competition where we will have a mixed team event where men and women will compete together for success."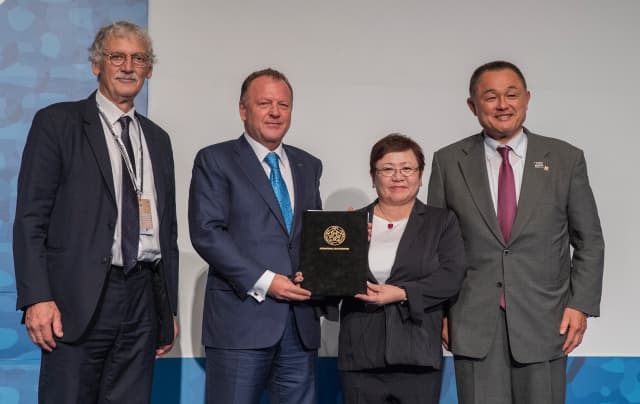 An import moment at the congress was the signing of the 'Brighton plus Helsinki 2014 Declaration' by President Vizer and Dr. Etsuko Ogasawara, Asian representative of the International Working Group on Women and Sport, with Mr. Rougé and Mr. Yamashita as witnesses.
Dr. Sanda Corak, Gender Equity Commission member and President of the Croatian Judo Federation presented some interesting statistics on women in judo as numbers are objective. "Men and women have a different historic path in judo. Development led to gender equality during competition, but women are still underrepresented in all other areas as there is an important gap between the share of women as competitors and the share of women on other positions such as coaches or officials. However, a small number of NJFs have already undertaken activities regarding empowering women in judo."
A number of examples of good practice in IJF member countries followed.
Japan
"Women competition in Japan had a slow start," Motoko Matsuda, Women's Judo Promotion Commission of the AJJF explained. "But as time passed, Japan went on to produce many World and Olympic champions." However, once they retire from competition, many women quit judo and few become coach or official, only 6.4%. "There are several reasons", Ms. Motoko said. "Challenges of having a child and continuing judo, work and career responsibilities, or after moving due to marriage or work, there is little connection within the local judo community and also a lack of female role models as coaches or officials, not only in judo but in all sports." In order to counterattack these setbacks, AJJF started putting women in key positions. The first female executive board member was appointed in 2013, the first female vice-president was appointed in 2019. Women in the AJJF now also make core decisions. Also, a Women's Judo Promotion Committee Established in 2015 for enhancing the presence of women to develop judo while increasing the number of female judokas, is increasing the number of women in leadership roles and creating a better environment for female coaches and referees. As a result, 40 out of 47 regional judo federations have appointed women in board member positions while women are now beginning to assume decision-making positions in organizations. Interesting fact also is that a Day Care Service for young children at Judo Events was implemented so young mothers can continue to compete or coach.
Cuba
Ms. Idalys Ortiz, elite athlete from Cuba, shared her story with the delegates, from a young girl shyly starting the sport developing into a high-level athlete currently at the pinnacle of her game. "Women's judo in Cuba has been a school of human values and each of the teenage girls who reached the world elite, remember that at the beginning our parents and some people in society did not understand this sport which helps break barriers and which makes us feel freer and also healthier physically and spiritually. Judo is a sport that breaks barriers and shows values."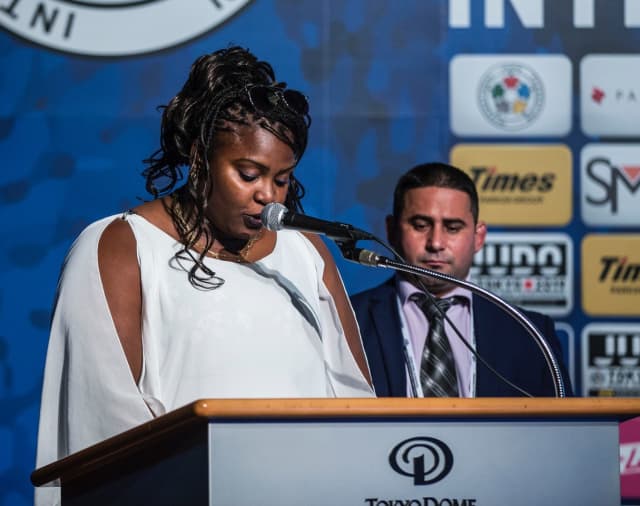 "It is increasingly important that the empowerment of women in sport that they occupy the same responsibilities that have long been reserved only for men," said Yordanis Arencibia, Ortiz's coach. "And that they do so with that dose of strength and tenderness that only women can achieve. Each of their triumphs is a teaching that they can conquer what they set out to do."
Canada
Nicolas Gill, CEO and High-Performance Director of Judo Canada, gave a brief history of Gender Equity of Judo Canada which started with the hiring of a first full-time female coach for the women's national team in 2009. "The number of women's participation in judo drops at the senior level, after the active career they don't stay in the sport," said Gill.
"Judo Canada is committed to the achievement of gender equity and recognizes the importance of measuring all activities against the values of equity and access. We define gender equity as a process of allocating resources, opportunities, and entitlements fairly to both females and males without any discrimination based on gender. Equity does not necessarily mean that all persons must be treated in exactly the same manner. Nor does it mean to imply that females need to participate in the same activities as males. In order to be treated fairly, people may need to be treated differently, including having activities of their choice provided and administered in a fair and unbiased environment."
For every election, the Nominations Committee of Judo Canada will ensure that the nominees consist of at least one-third (33%) of individuals from the minority gender identity.
The Nominations Committee will also recommend that members elect a Board of Directors that consists of at least two individuals from the minority gender identity. Furthermore, Judo Canada will develop effective strategies and resources to increase the participation of either males or females where an inequitable gender balance occurs in any leadership, athletic, or program area.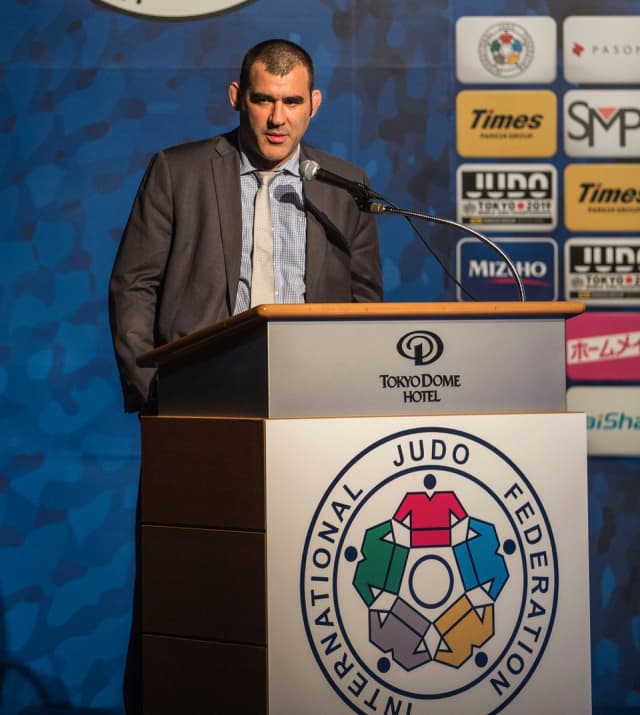 Algeria
Mrs. Salima Souakri, IJF Gender Equity Commission member, Advisor to the Minister of Youth and Sports of Algeria and UNICEF Goodwill Ambassador, told the amazing story of her life presenting an important lesson to all delegates. Being born as the only girl in big family with many brothers in a Muslim country, she fought the discrimination of girls at the very young age standing up for her rights to play and do sports, just as boys could. Overcoming adversity and setbacks, even after an assassination attempt on her life what got her younger brother killed, she persevered in her ambitions and actions becoming a genuine judo champion and an important role model for many girls and women in Algeria. After her sports career, since 2008, she seeks other challenges promoting integration and she travels to the most remote regions of her country to push the girls to practice sports and judo.
"Judo has given me everything in my life. It's a real school of life. The sport has built my character and made me who I am. It's a passion that will continue to burn in me. For me it's very important to be a true ambassador for equality. Everything is possible, that's what I want to show women and girls. Together we are stronger!"
Closing the conference Dr. Sanda Corak presented some recommended activities on gender equity in judo. "Where to start? The best way is the check and compare the data, then set the goals. Research and draft a National Action Plan. Many activities can be undertaken, like educational ones, start a women's network, putting the smaller number of women together to work on the issue. Promote your actions and finance them via sponsoring, partnerships, your NOC etc." Many examples of good practice can be found on the IJF GEC web.
Dr. Lisa Allan rounded up the conference. "We should give our girls a greater voice. We need role models, but mentors are also essential. Sadly, some women have not that opportunity. National Federations have a huge role to play. We must create safe and respectful communities for all our judokas. Where there is a judogi, there must be two. Everyone has the right to use it, men and women. Boys and girls may dream differently, but both can use the same tatami to achieve those dreams. There will be no judo with just one judogi. Together we are stronger."
After the conference the Gender Equity Commission Director confirmed its success to IJF Media. "It was a really great conference with many delegates attending and some fantastic speakers," commented Dr. Lisa Allen. "It was so important that IJF President Vizer and Dr. Etsuko Ogasawara together with Mr. Rougé and Mr. Yamashita signed the 'Brighton plus Helsinki 2014 Declaration'. We are moving forward, progressing so much in the last eight months on this topic. It's more that I've could have dreamed of. There will come a day that this commission is no longer necessary for future generations. The 50/50 gender quota for our athletes participating in the 2020 Olympics is also major step forward. There will be more role models for these young judokas to follow, man and women. The future for judo looks pretty good."