At the end of day at the IJF Worlds in Tokyo, the medalists of day 4 of competitions gathered in the press conference room for their chat with the media covering the event.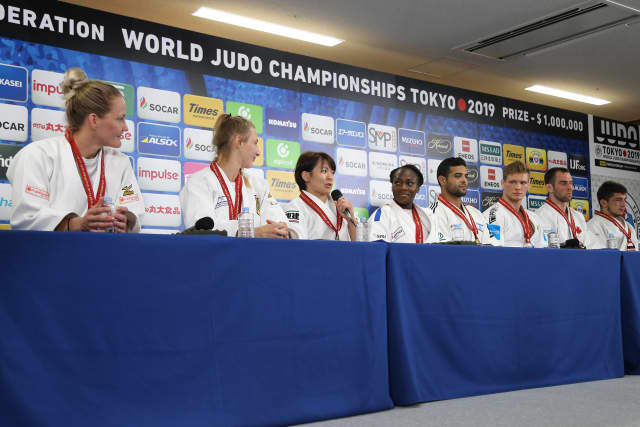 Women's -63kg
1. AGBEGNENOU Clarisse (FRA)
2. TASHIRO Miku (JPN)
3. TRAJDOS Martyna (GER)
3. FRANSSEN Juul (NED)
Men's -81kg
1. MUKI Sagi (ISR)
2. CASSE Matthias (BEL)
3. VALOIS-FORTIER Antoine (CAN)
3. MAISURADZE Luka (GEO)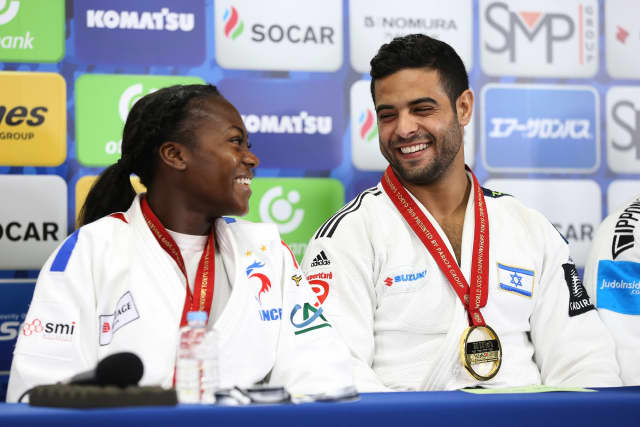 "I'm really happy winning my 4th World title here in Japan in the Budokan. It's amazing," said Clarisse Agbegnenou. "It's been one of the hardest matches of my career. I competed against Miku before. She's a very good judoka. Very strong. To be honest, I don't know how I won. It could have gone both ways. I need to train harder because she's waiting for me."
"I thank everybody for cheering for me during the day," said Miku Tashiro. "It's been a tough day. I got silver today. This will make me to continue to train hard."
"This is my first 1st world medal," said bronze medalist Martyna Trajdos. "I'm delighted to be on the podium with the best women in the world."
Dutch judoka Juul Franssen was also delighted joining the podium. "A 2nd bronze for me," she said. "I'm happy looking forward to my next Olympics here in the Budokan next year."
"It was a top day with top athletes here in Tokyo," said the new World Champion Sagi Muki.
Belgian Matthias Casse, his opponent in the final agreed. "This is my first World silver medal at a senior Worlds," he said. "It's not the color I favored, but it certain is an incentive to train even harder."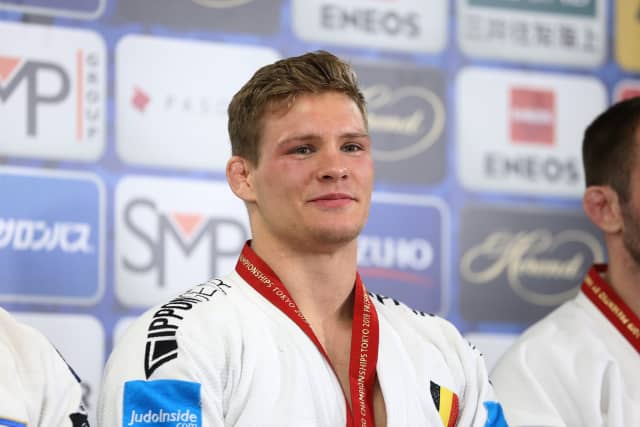 The final bout for the gold medal category was a clash between the European Champion from 2018, Muki, and this year's current European Champ, Casse. Both encountered each other on the tatami seven times now. Muki won six out of seven bouts. "Matthias is a smart judoka. Every match against him gets tougher than the previous. I concentrated on my skills, but I knew it was not going to be easy. Every fight against him is a learning experience in the skills he acquired."
"Sagi is an amazing judoka and a tough opponent", Matthias replied. "He had a great year and today he once again proved to be on top of his game. I tried to beat him today and will continue to do so. But it won't be an easy job to do."
"This medal is very special to me," said Antoine Valois-Fortier. "I was injured a lot last year and it's great to make it to the podium."
"I'm glad I could pocket a bronze," said Luka Maisuradze. "In the future, I'll try to change the color of the medal to silver or hopefully gold."