Another day of great judo at the IJF Worlds in Tokyo. To conclude the day, the medalists of day 5 of competitions gathered in the press conference room for their chat with the media covering the event.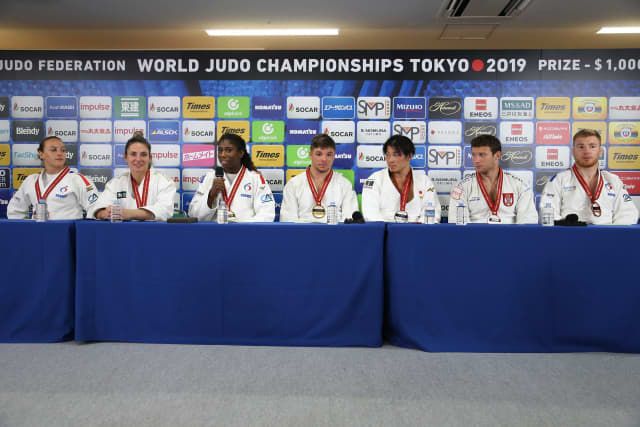 Women's -70kg
1. GAHIE Marie Eve (FRA)
2. TIMO Barbara (POR)
3. CONWAY Sally (GBR)
3. PINOT Margaux (FRA)
Men's -90kg
1. VAN T END Noel (NED)
2. MUKAI Shoichiro (JPN)
3. MAJDOV Nemanja (SRB)
3. CLERGET Axel (FRA)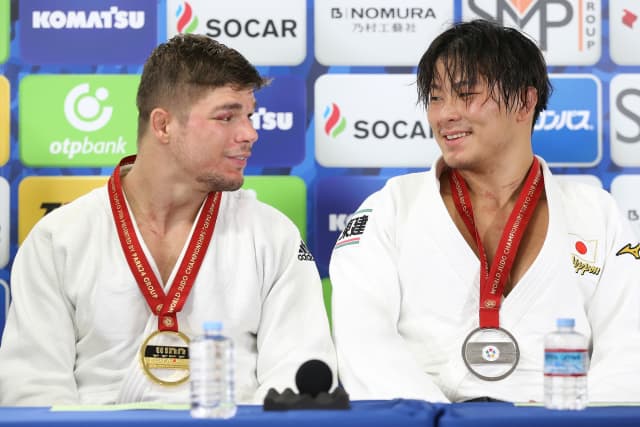 The Nippon Budokan is kind to Dutch judokas. In 1964, at the Olympics, IJF Hall of Famer Anton Geesink was the first Dutchmen winning Olympic judo gold. And today, Noel Van T End took a first men's World gold in the same venue, 55 years later. "I was musing about that fact prior to the competition," said the newly crowned World Champion. "Especially today against Mukai in the final. It was like Geesink was there with me, it gave me extra power. It was amazing. The gold at the Grand Slam in Yekaterinburg earlier this year, got me my confidence back in my judo stepping up my game. And it's going better indeed. I have this gold medal as proof and I'm really happy with it."
"I regret I lost the final and am really in disappointed in myself," said Shoichiro Mukai. "Hearing all the cheers from the crowd, it was really special to compete in the Budokan as lots of my friends were present. I wanted to show them I'm number one. My goal now is to prepare for the Olympics and get ready and return in 2020 to become a champion."
"This bronze medal actually feels as a gold one to me," Nemanja Majdov said. "I recently got a knee injury that required some surgery; hence I could not properly prepare for this World Championship. So, I decided to participate anyway to rack up some qualification points for Tokyo 2020, but the outcome was more than expected. It was a long and tough day. Due to my knee, I was limited in my game, no big throws for me. But once I got to the bronze match, I gave it all, and didn't care about my knee anymore because a medal is medal," the happy Serbian said.
"I'm so happy with this medal," Axel Clerget said. "I also came back from an injury at the Paris Grand Slam where I pulled my hamstring. I was out for four months and had to work my way back. I felt strong today and winning this bronze undoubtedly is the cherry on the cake, especially winning it in the legendary Budokan."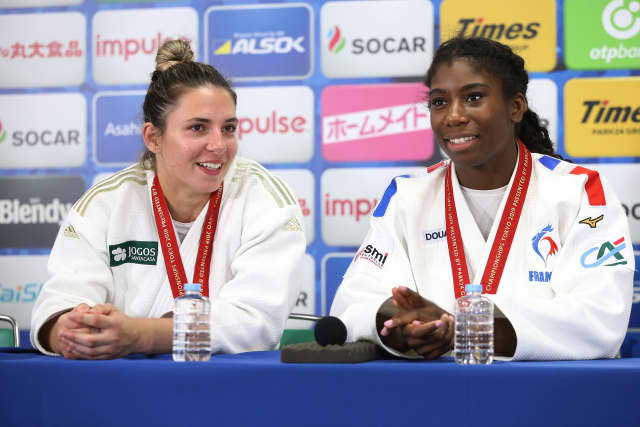 "This is fantastic," said Marie-Eve Gahie. "It's an honor for me to become the World Champion at the home of judo." The French judoka finally added a gold to her silver and bronze World Championship medals, completing the three-color set. "It will certainly be a dream to return here to compete and win at the 2020 Olympics."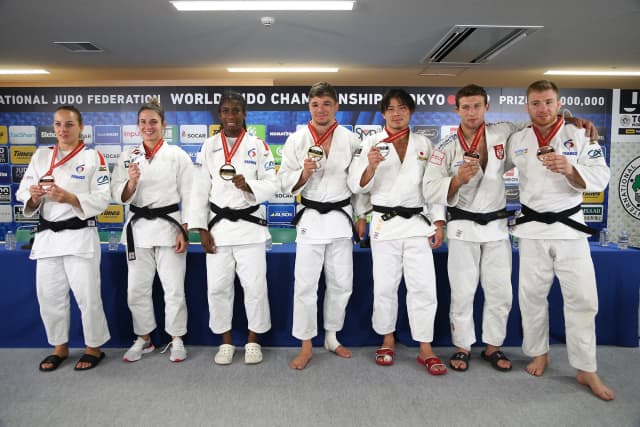 "I'm very happy," said Barbara Timo. "Happy and proud also of the way I competed. I also could not prepare the way I wanted due to injuries. Beating the Japanese Arai here in the Budokan was almost a euphoric experience."
"I have mixed emotions," said Margot Pinaux. "Happiness for the bronze, sadness I could not get into the final. After the loss in the semis, I concentrated on me next bout, blocking out the loss and mentally focusing on the win."
"I went out here to do my best," said Sally Conway. "It's my first medal at the Worlds. I'm still buzzing. I can't smile bright enough."