Day 7 marked the last day of the individual competitions. To conclude the day, today's medalists gathered in the press conference room for their chat with the media covering the event.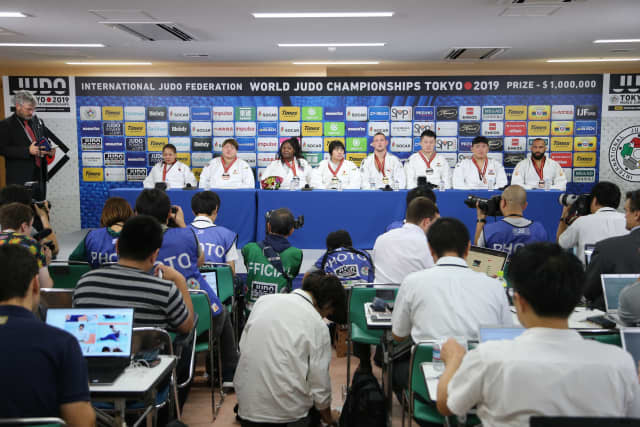 Women's +78kg
1. SONE Akira (JPN)
2. ORTIZ Idalys (CUB)
3. ASAHINA Sarah (JPN)
3. SAYIT Kayra (TUR)
Men's +100kg
1. KRPALEK Lukas (CZE)
2. HARASAWA Hisayoshi (JPN)
3. MEYER Roy (NED)
3. KIM Minjong (KOR)
A day of upsets here in Tokyo as neither of the defending World Champions in men's +100kg, Guram Tushishvili (GEO), nor in women's +78kg, Sarah Asahina, could prolong their title. Tushishvili had to settle for a 5th place as he lost the bronze to Dutch Roy Meyer who pocketed his first World medal.
Sarah Asahina lost in the quarterfinals on shidos and was relegated to repechage. The Japanese powerhouse refueled her batteries for the next bouts and took the bronze in the end. Emotions ran high when leaving the field of play under loud cheers of her fans.
Her compatriot 19-year old Akira Sone became the youngest heavyweight World Champion taking over the baton from Sarah previously being the youngest at 21. At this young age, Akira has already pocketed the triple, i.e. World Champion in cadets (2015), juniors (2017) and now seniors (2019).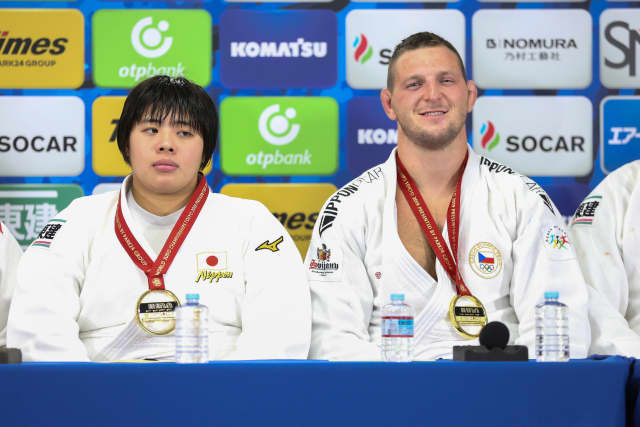 "To put it simply, I was preparing really hard an ending with the gold is great," said Akira Sone. "Fighting on home soil with so many fans supporting me gave me the energy to succeed. I will now prepare for the Tokyo Olympics step by step." On beating seasoned veteran Ortiz she said: "Idalys is a very strong athlete. I went into the bout taking it moment by moment and had the will to win." When asked if she planned the succession of World titles in all age categories, she said she didn't really do so. "I just tried to focus on my game. However, I'm happy I progressed this way."
"I'm very happy with this silver medal, the second in a row," Idalys Ortiz told the journalists present. "This is my 8th medal in the Worlds. It's hard to achieve the gold. I don't know how long I can maintain to keep performing on this level, but I continue to work hard. Each time I come to Japan to compete, it's a real honor."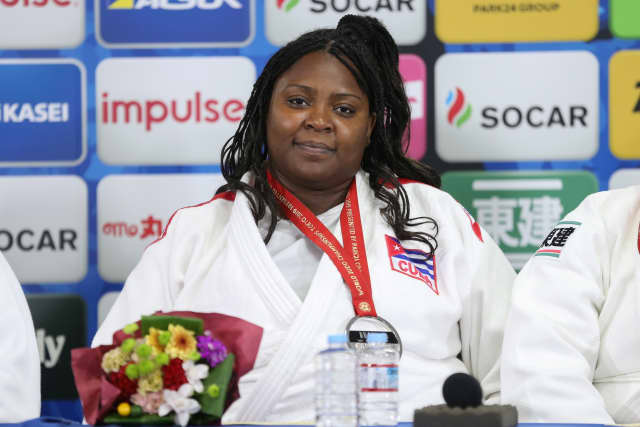 "Thank you all for still working so late to report on our achievements," Sarah Asahina addressed the journalists in the press conference room. "Tokyo is my hometown and I wanted to get gold here," she said. "Many of my friends came to watch and I feel I disappointed them. So I will continue to work on my skills."
Kayra Sayit pocketed a second bronze medal in a row. "I'm happy to finish with a medal, but also feel a bit disappointed not being able to get the gold. I had a good physical preparation, as I knew every bout was going to be a very physical one. As competitor you always want to win the gold. Not this year apparently, but I stay focused for my next goal: Tokyo 2020."
"When I changed from weight categories my biggest dream was to also win both the European and World title in my newest category +100kg," Lukas Krpalek said. "Today, this dream came through. Winning the gold medal here in the legendary Budokan surely was a big motivator. I wanted to win, I won for my fans and kept going to the end. There is one man on the planet against who I didn't win yet. An Olympic final against Teddy Riner would be fantastic."
"Teddy Riner was absent, hence I wanted to win gold. I didn't so I'm disappointed," Hisayoshi Harasawa said. However, it gave me goosebumps competing in the Budokan and definitely a lot of energy. I tried my best but felt short tonight. Next year I will have another chance."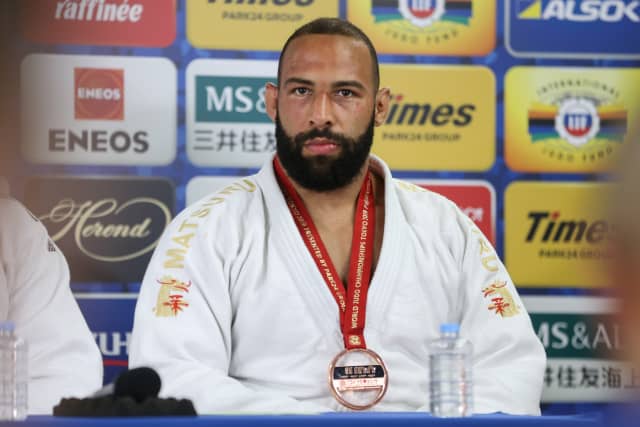 "This is my first medal on the Worlds," Roy Meyer said. "The Budokan has been kind to the Dutch as it's the fourth medal four our team. The fact that my good friend Noël Van T End became World Champion earlier this week, gave me an extra push. I watched him compete from the stands and it was amazing. Afterwards, I was so pumped, I could hardly sleep. So, I had to medal today. My opponents see me often as the underdog. And I like that. I had three key words: 'aggression' for the will to compete, 'intention' for wanting to excel here and 'focus' for winning using the right tactics. And it worked."
18-year old Kim Minjong performed the match of his young career. In an exhausting Golden Score he managed to take over from Brazilian Silva ending the thriller in his advantage. "This is my first medal in the senior Worlds. Tomorrow I turn 19. I think I gave myself the best birthday present," he joked.