At the champions' press conference at the end of day 2 of competitions at the Tokyo Worlds, all medalists of the day were present.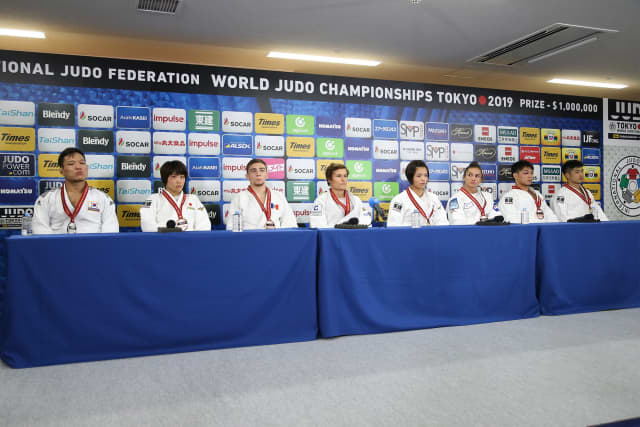 Men's -66kg
Gold: Joshiro Maruyama (JPN)
Silver: Kim Limhwan (KOR)
Bronze: Denis Vieru (MDA)
Bronze: Hifumi Abe (JPN)
Women's -52kg
Gold: Uta Abe (JPN)
Silver: Natalia Kuziutina (RUS)
Bronze: Majlinda Kelmendi (KOS)
Bronze: Ai Shishime (JPN)
"It's the first time at the Worlds I won the title, so I'm really happy about this and it is also a sweet feeling as it was on home soil," said the new World Champion Joshiro Maruyama. "After winning the semi against defending World Champion Hifumi Abe, I realized I had to focus on the final so I didn't think too much of it. But the moment I realized I won to gold, I realized everybody was cheering for me. I'm happy about that because I gave them my best."
"I had a disappointing semi," said Hifumi Abe who had to settle for the bronze. "When I lost the right to compete for the gold, I was determined to win the bronze. Competing home and in the Budokan, it was a great experience."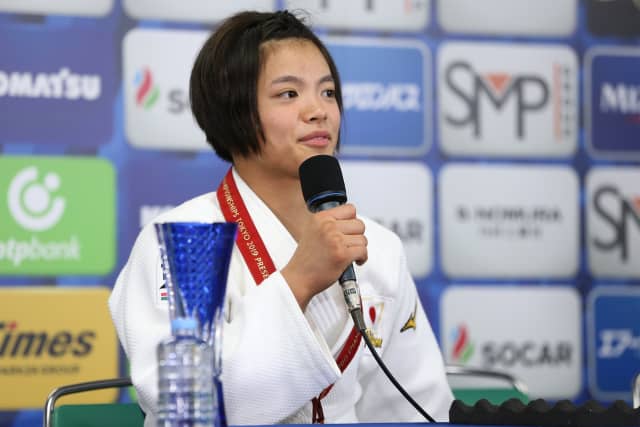 "I wanted this medal and was concentrated on the bronze fight," said Moldovan Denis Vieru. "It was a great atmosphere here in the Budokan. I hope to find the same atmosphere here next year at the 2020 Olympics and hope to win a medal there as well."
Last year, the Abe siblings both pocketed the gold at the Worlds in Baku. Not here in Tokyo. "Winning gold with my brother was our longtime goal. We succeeded last year, but not here in Tokyo. However, I'm confident more opportunities will arise in the future and we will be striving to achieve it," Uta Abe commented.
The women's -52kg semi-final was a head-on collision of two power-judoka's, a mere clash of the titans, between the World Champion Abe and the Olympic Champion Kelmendi. "It certainly was a very anticipated bout that everybody wanted to see. I think we both showed some good judo. Hard and tough, while it went more or less how I planned it. Unfortunately, it's still judo and one has to win and the other to lose."
Will Uta Abe the athlete for Kelmendi to beat in the 2020 Olympics? "She is indeed my biggest rival here and also at the Olympics. Her judo is amazing, she has great throwing skills. But that's a motivating factor for me. I'm already looking forward to the Olympics. To be a legend you have to beat one. An she's a legend in Japan."
"For me having the Worlds at home with the Olympics following is a huge motivation," says Uta Abe. "It gives me power and confidence. It felt great to compete in a packed Nippon Budokan." Shishime confirmed. "I was able to hear and listen to the cheers of the fans and get lots of energy from it all. After the match I regretted not winning a better color medal. However, as I was injured during the season I'm happy with my bronze."