At the end of day 3 at the IJF Worlds in Tokyo, the medalists of day 3 of competitions gathered in the press conference room for their chat with the media covering the event.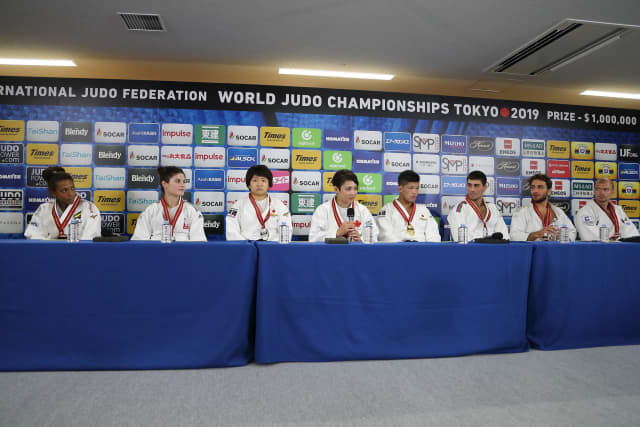 Men's -73kg
Gold: Shohei Ono (JPN)
Silver: Rustam Orujev (AZE)
Bronze: Denis Iartcev (RUS)
Bronze: Hidayat Heydarov (AZE)
Women's -57kg
Gold: Christa Deguchi (CAN)
Silver: Tsukasa Yoshida (JPN)
Bronze: Rafaela Silva (BRA)
Bronze: Julia Kowalczyk (POL)
"I have no words," said Christa Deguchi, who won Canada's first Senior World Championship gold. "I'm just amazed. I was not really expecting to win." She had a special fan sidelined at the tatami. Her father is a press photographer working at this World Championship. "When I compete in Japan he is always there. That makes me comfortable. He's like my guardian angel."
Her male counterpart winning the gold was pretty straightforward. In stark contrast Ono said "I knew I was going to win. There was no alternative for me. I had my mind set on the gold." And he surely did, adding a third World title to his name. The gold medalist was indeed untouchable in every bout.
Similar to day 2, the women's semi-final on day 3 was also a head-on-collision between two titans, i.e. Olympic Champion Rafaela Silva vs. World Champion Tsukasa Yoshida.
"My desire was to win against the Olympic Champion today, but my wish did not come true," said Yoshida. "I'm sad I could not prolong my World title but also happy I won a bronze medal after all."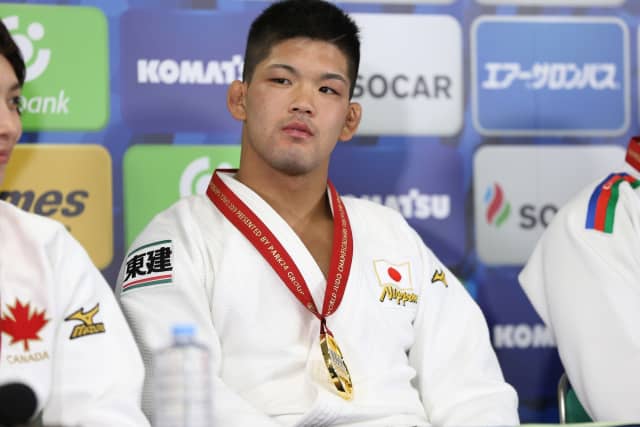 "I prepared well for this World Championship," said Silva. "Fighting against a World Champion betters my judo. My weight category is a hard one to excel in, it's stacked with plenty of strong athletes."
"I'm beyond happy," commented bronze medal winner Julia Kowalczyk. "It feels unreal to me right know. I need some time to let it sink in."
"Although I lost in the final, I'm happy going home with a medal. I'm tired today but will be prepared again for next competitions," said Rustam Orujev. The bout between him and Ono was a repeat of the 2016 Olympic final in Rio. "I was prepared. Ono is a strong athlete. After several fights against him I could not win yet. Hopefully in the future I can change that." Ono confirms. "We've been competing against each other since the junior level. I'm happy this rivalry keeps me sharp. I hope we continue to face each other in big finals."
"This is my first medal at a top competition," Denis Iartcev said. "I'm really happy. I'll do my best that this will not be the last one," he smiles. "In the semi-final I lost against Ono. I was of course hoping for a victory, I did once beat him, but we need more fights to decide who is the best of the two of us," he jokes.
"Congrats to all," said a delighted Hidayat Heydarov who repeated his 2018 bronze on home soil in Baku. "It's my first time in Tokyo and I'm very happy winning the bronze medal in the legendary Budokan."