The IJF World Judo Tour has returned to Hungary's capital city of Budapest for the penultimate event before August's World Championships with just 45 days to go until judo's summer homecoming in Tokyo, Japan.
IJF President Mr. Marius L. VIZER made the opening address at the draw.
"Dear colleagues, dear guests, judo community members, it's a great pleasure to welcome you here to one of the judo capitals of the world. Hungary is a country that organised the 2017 World Championships, many Grand Prix in the past, the Hungary Cup and I can announce provisionally that Budapest will host the 2022 World Judo Championships.
"I want to introduce to you CEO of Herend Porcelain, Dr. SIMON Atilla, who we have the pleasure and honour to sign with Herend and with this occasion I say welcome and I hope the judo media value and popularity will raise visibility internationally of the Herend brand.
"It's a great pleasure to see a lot of competitors here, I'm happy to see judo family members and I hope to have a successful competition like always."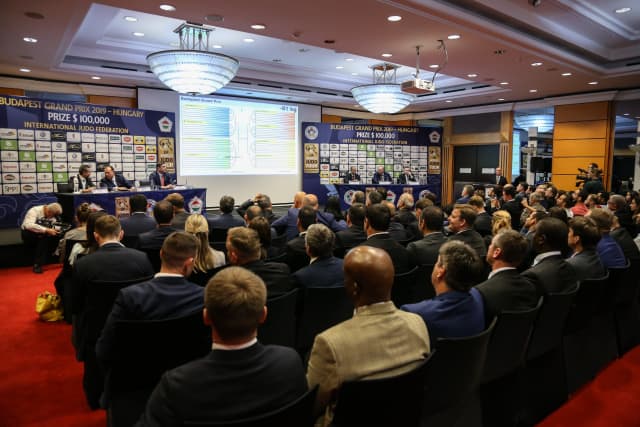 Dr. TOTH Laszlo, HJA President, said: "Dear Mr. President, on behalf of HJA, I warmly welcome the judo family here, this is the fifth time we organise this great event in Budapest, I hope everybody will enjoy this event and I hope the Tokyo 2020 qualification for each country will be assisted by their time here at this Grand Prix. I wish you all a successful competition. I hope to see you all again soon and we look forward to seeing you all the 2022 World Championships in Budapest."
Following the conclusion of the draw of the 14 weight categories (seven male, seven female), the stage was set for the sponsorship contract signing between Herend and the IJF.
Herend Porcelain CEO Dr. SIMON Atilla said: "Thank you Mr. VIZER for meeting with us, thank you for the singing, Herend is the largest manufacturer of its kind with more than 64 million different products.
"I think that Herend can support the IJF and the IJF can help us. We can encourage each other in the future and thank you once again Mr. VIZER."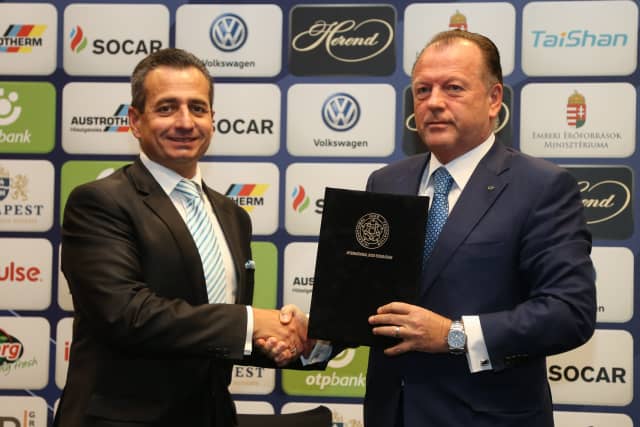 Mr. VIZER said: "Thank you Dr. SIMON, I'm sure it will be a great collaboration and will be win-win for both of us."
IJF Competition Manager, Dr. Lisa ALLAN, announced the IJF Refugee and Young Immigrants Project, the first of its kind, which initially includes 50 seniors and 10 juniors.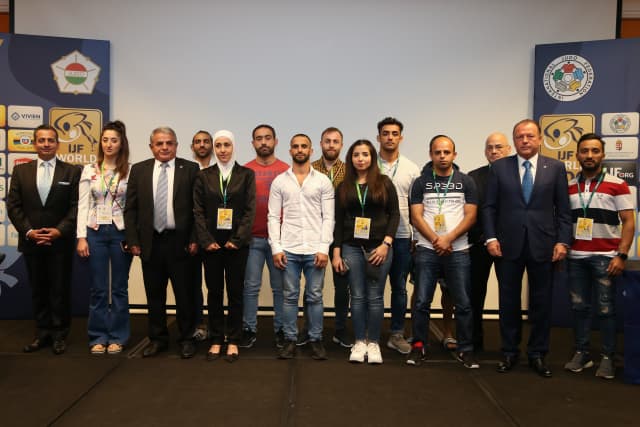 Budapest was introduced to 18 members of the team, who will fight under the IJF flag this weekend, at the draw. The judoka hail from Iran, Syria and Afghanistan.
The project is being used by the IOC as an example for other sports to follow as the IJF aims to support the judoka to participate in the sport at the highest level and to pursue a sporting career by giving them social education skills for a sporting life to contribute to a better society.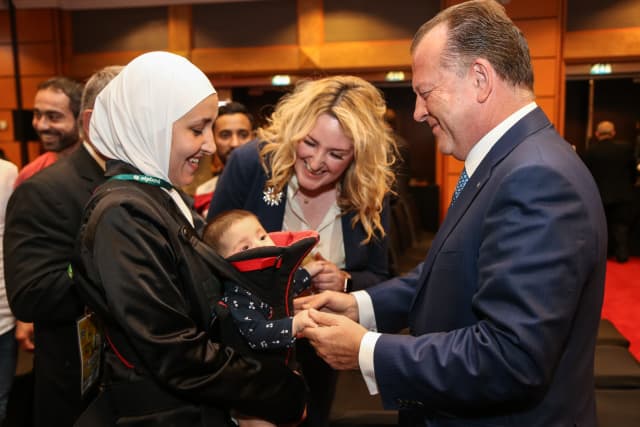 The draw revealed that 550 judoka (344 men, 206 women) will compete in Hungary from 82 nations over the next three days with the competition due to start at 10.30am each day.
As the last but one event before the Worlds, Budapest has a bumper entry, as expected, with champions galore as the season hots up with the blue ribbon event of the IJF World Judo Tour looming.
Japan's all-star entry includes three-time world champion EBINUMA Masashi (JPN), 2017 world champion and 2018 world silver medallist TONAKI Funa (JPN), world champion ASAHINA Sarah (JPN), World Judo Masters gold medallist SASAKI Takeshi (JPN) and Osaka Grand Slam gold medallist MUKAI Shoichiro (JPN) as well as former world champion and AJJF Openweight Championships winner WOLF Aaron (JPN).
Reigning world champions CHO Guham (KOR) and Nikoloz SHERAZADISHVILI (ESP) will both compete along with two-time world champion Mayra AGUIAR (BRA) and Olympic champions Majlinda KELMENDI (KOS) and Khasan KHALMURZAEV (RUS).
Hosts Hungary have picked a 40-strong team including former world silver medallist TOTH Krisztian and London 2012 Olympic bronze medallist CSERNOVICZKI Eva and London 2012 Olympic silver medallist UNGVARI Miklos.