On 23 August, two days prior to the start of the 2019 World Judo Championship in Tokyo, the IJF Gala was celebrated. A special celebration indeed, as it marked the 55th anniversary of judo as an Olympic sport which had its debut in 1964 … in Tokyo. Hence, no better place to celebrate this feat. Six decades of Olympic champions were honored at this Gala with a special plate designed by Herend Porcelain. IJF Media had a chat with them or their family members as three passed away.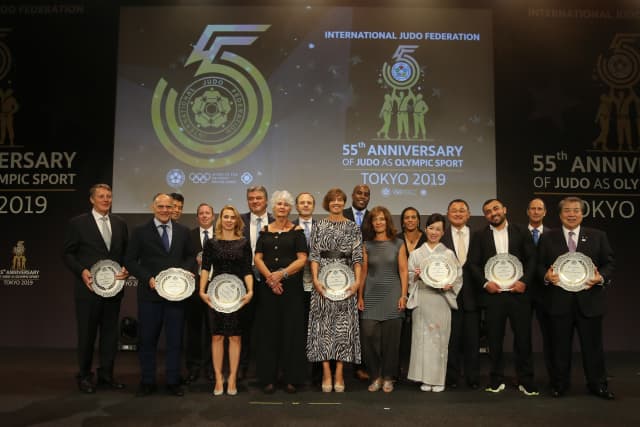 Anton Geesink (NED) – 1964 Tokyo
The Dutch giant became the first non-Japanese judoka to win gold at the Worlds (1961) and he was also the first to defeat Japanese athletes at the 1964 Olympics during the inaugural appearance of judo as an Olympic sport. "Until I arrived in Japan, I didn't realize how big the impact of my father was in judo," his son Anton Geesink jr. commented. "Once here, meeting the international judo family again, talking with his training partners and friends, you realize it was something special he did and that something we cherish within our family."
Wim Ruska (NED) – 1972 Munich
Wim Ruska became the sole competitor to win two judo golds at the same Olympic Games, in the heavyweight category and the open weight class. Ruska passed away in 2015 and his wife was present to receive the award in his name. "I think this is a very fine gesture by the IJF. I'm also very proud of my husband with his achievement. He worked hard to become Olympic champion. I'm confident he would be proud of me as well receiving his award here in Tokyo in his name," an emotional Mrs. Ruska said.
Haruki Uemura (JPN) – 1976 Montréal
After a distinguished athletic career, Haruki Uemura served as president of AJF and is currently and IJF EC member. "Judo became an Olympic sport in 1964, 55 years ago. Many people built this judo family. I feel very happy to be a part of it. No Japanese was able to win a gold medal at the time. I felt relieved to be able to return home from the Olympics with the gold medal. If you practice judo, you are the student of Jigoro Kano. It is our duty to help each other as brothers and sisters to spread the correct judo throughout the world and help each other in times of need," the current President of Kodokan said.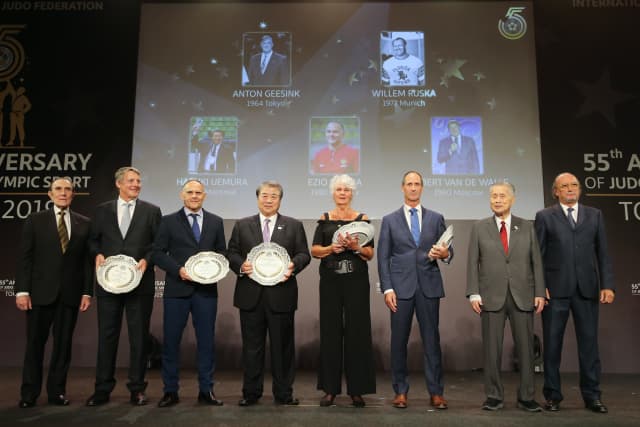 Ezio Gamba (ITA) – 1980 Moscow
After his successful career as an athlete the Italian judoka became the mastermind to Russia's success on the tatami. "Nobody does the same judo. Each judoka has his or her own style and particularities. Also, today, with the system that President Vizer has put in place, the development of judo is phenomenal."
Robert Van De Walle (BEL) – 1980 Moscow
The Belgian judoka is a true legend after he became the first ever judoka to compete at five Olympics, from 1976 to 1992, winning gold in 1980. "It's always nice to receive recognition for your efforts. But meeting old friends again is nice as well. Important for me is the fact that after 40 years the judo family has not forgotten about me and I'm still a member of this great family."
Yasuhiro Yamashita (JPN) – 1984 Los Angeles
The former great is currently the AJF president and recently became president of JOC as well. "I'm really fortunate that I started judo. It's at times as these I feel that judo is really a way of life. There have been many pioneers and senseis, so I feel it's my mission to continue to promote judo to give it even more value in today's society and to have more people involved in judo."
Hitoshi Saito (JPN) – 1988 Seoul
Hitoshi Saito was the first Japanese judoka to become a double gold Olympic medalist in the heavyweight category, in Los Angeles (1984) and Seoul (1988). He passed away in 2015. His son is treading in his father's footsteps and represents the next generation of Japanese heavyweights. Together with his mother and brother he accepted the award of his father. "I feel very honored to carry the name of my father. From now on I will train even harder and make my own name."
Waldemar Legien (POL) – 1992 Barcelona
Despite of being the third competitor to win two Olympic titles, Legien won them back-to-back. "What a fantastic evening it is! The very best judokas are present. It is a real pleasure for me, taking a walk down memory lane, reminiscing about our endeavors on the tatami."
Miriam Blasco (ESP) – 1992 Barcelona
Blasco was the first Spanish athlete to win a medal, a gold one, at the Olympics in Barcelona. "It's a bit surprising to receive this kind of award so many years after my gold medal, but at the same time it's very nice. It's endearing that the judo family is such a close-knit family with many values. It still gives me goosebumps after all those years."
David Douillet (FRA) – 1996 Atlanta
As an athlete Douillet possessed of both finesse and power. He became Olympic champion in 1996 and 2000. "Looking back at my career, it's not necessarily the Olympic titles that I think of. It's rather the judo as a whole. And everything judo has taught me. All the aspects of judo that can be significant to society, that's what stays in my heart today."
Ulla Werbrouck (BEL) – 1996 Atlanta
Werbrouck was one of the most successful Belgian judokas. The highlight of her career came at the Games in Atlanta where she became the first Belgian female judoka to win Olympic gold. "It's true honor to receive this award. Especially here in Japan. I consider it like coming home, back in Japan again after my judo career. I'm a bit speechless to be honest. I'm very grateful to receive the award but also to return to the homeland of judo."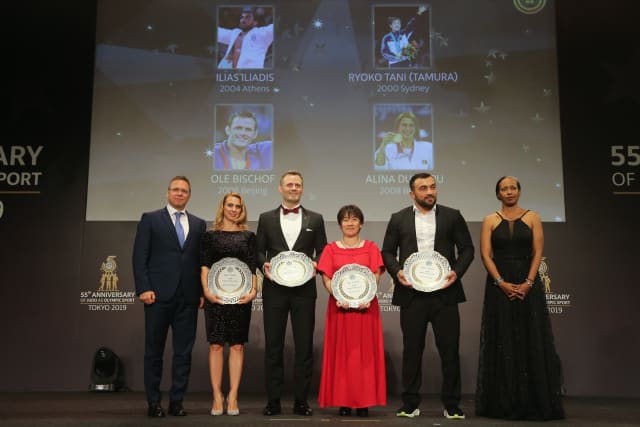 Kosei Inoue (JPN) – 2000 Sydney
Currently coach of team Japan, Inoue is considered one of the most spectacular judokas of all times. "As a judoka I feel very happy to receive such an award. Receiving this award after such a long period I feel a great responsibility to continue this legacy and to continue working hard and promoting judo."
Ryoko Tamura (JPN) – 2000 Sydney & 2004 Athens
A participant in five Olympic games, Tamura set her mark winning gold at the 2000 and 2004 Olympics. "I was very fortunate as over the years I had the tremendous support of so many friends, family and fans. Today, receiving this award, I'm extremely happy. At the same time, it's an opportunity for me to reunite with my old friends and senseis and the whole judo family. For this, I'm very grateful."
Ilias Iliadis (GRE) – 2004 Athens
During his impressive career, Iliadis has reached the top of the Worlds three times and pocketed gold at the 2004 Games. Today, the athlete is still a role model for many and one of the most celebrated judokas on the planet. "When I was ten years old, I had a dream to become Olympic champion, a dream that came true. At the Gala, I'm amidst the legends of my youth. This is a big honor for me. My life is judo. I want to keep sharing my experience with the younger generations and show them never to give up as dreams can become true."
Ole Bischof (GER) – 2008 Beijing
Olympian Bischof vividly remembers his gold quest in Beijing. "When I knew I won the gold, I fell on my back laughing while at the same time tears came into my eyes. It was so incredible, packed with emotions."
Alina Alexandra Dumitru (ROU) – 2008 Beijing
After claiming victory in the Olympic final in Beijing, Dumitri became the first Rumanian judoka to win Olympic gold. "It's a great honor for me to be here and receive this award. Winning that gold medal was a special day for me. At first, I couldn't believe it, but I will cherish it forever."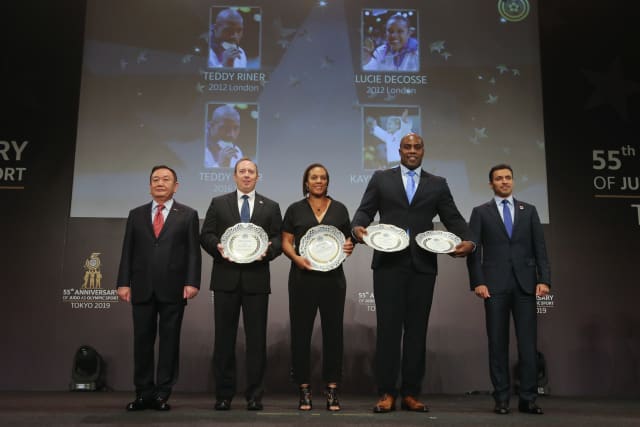 Lucie Decosse (FRA) – 2012 London
Considered one of the best and more spectacular technicians of the sport, Decosse crowned herself Olympic champion at the London Games. "Pocketing my Olympic title got me the recognition for all the hard work."
Teddy Riner (FRA) – 2012 London & 2016 Rio
Since 2010, the French giant has been undefeated (148 victories in a row as of July 2019) on the international circuit and running for a third Olympic title in 2020. "It's a real pleasure to be here. We work so hard to excel at our sport. When you receive a prestigious award, this touches me. It's a reward for all the efforts and sacrifices done."