Chafik El Kettani is a concentrated man. For nearly two weeks, the Royal Moroccan Judo Federation, which he chairs, has organized events of global significance: from 10 to 13 October, the Veteran World Championships and then the Junior World Championships, which are currently taking place (16 to 20 October) in the tourist city of Marrakech.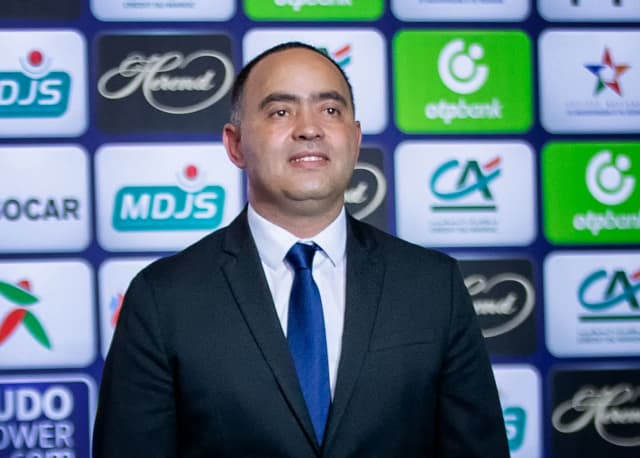 Organizing two world events back to back is a real challenge that President El Kettani and his team are brilliantly picking up: "Overall, I am very satisfied with the organization. We made a lot of effort and put a lot of resources into making both world championships a success. Without predicting what will happen in the last two days of the World Juniors, I can say that we have taken up the challenge."
There is a world between the Veterans who came in numbers last week and the juniors currently competing though: "We had nearly 1,200 participants during the first days, it was a real judo festival. Many competitors came with their family. There was enthusiasm, joy, a lot of emotion and beautiful reunions. I really felt it was a party shared by all."
For Chafik El Kettani, beyond the beautiful celebration of judo for all generations, there was a clear interest in organizing the two world championships one after another: "With everything that veterans can still bring to judo, it seems to me that it's a good thing to offer them world-class facilities. The fact of linking the two competitions, allowed us to make important economies of scale. We were able to divide our organizing teams into two groups, giving everyone a chance to participate in the success of these championships. Veterans have judo in their blood. They are wonderful ambassadors for our sport."
President El Kettani also has an opinion on juniors: "I am pleased to see that there is no longer small or big nations of judo. We saw it during the first two days of this second week ; of the seven titles involved, seven countries won gold. It is significant. We also see many young athletes who already participate in senior competitions and who have a great experience of the international circuit. The level is really high."
These two weeks of judo also make it possible to draw up a more global assessment: "We chose to come here to Marrakech for many reasons. First of all because it is a really welcoming city and we wanted to continue in the wake of the Open World Championships we organized here in 2017. We still have work to do. For example, in a few years there will be a dedicated competition hall in the city. That's why, at the next Moroccan Grand Prix, we will be in Rabat in 2020."
Apart from all these considerations, there is a very important element for Chafik El Kettani: "The decision made by President Vizer and the International Judo Federation to attribute those events to Morocco is very symbolic, because it is not only Morocco that is concerned, it is all Africa. I want to talk here about the universality of our sport. It is crucial that the representativeness of our sport is global. We are in Morocco, but more globally, we are in Africa and it is necessary that our continent is present on the world stage. By choosing Morocco, all of Africa smiles. We can and must progress technically, tactically and obviously in terms of organization too. These two world championships, as well as all the events we have already organized, help us greatly."
Morocco today has more than 22,000 judoka and is present throughout the country. If judo competition is in the spotlight these days, the national judo federation is active on all fronts: "We have many educational programmes. We work a lot with orphanages for example, and we have a booming Judo in Schools programme. We can not develop judo without the education and recreation part."
Chafik El Kettani is obviously a concentrated man who measures the path he has traveled and the one he still has to go through: "We do not have a world medal yet, but we are progressing, step by step. We invest in organizational teams and in youth. That will end up paying."
It would not be indebted to Morocco to conclude without speaking of the hospitality that was offered to hundreds of judoka and delegations from around the world in Marrakech: "Morocco is synonymous with hospitality. We are the heirs of a land of welcome for centuries. The Berbers, the Arabs, the Andalusians and many others have forged a country which, beyond its capacity to welcome tourists, especially in this region of Morocco, has the openness to others inscribed in the genes. Morocco is multicultural and multi-religious and we are very happy about it. If all the judoka who came to Marrakech leave with this feeling then these two world championships will have been a great success."
There is no doubt that it will be and is already the case.