Laxmi Magar is not a judoka. She was actually the Nepalese best player of 2020, recognised by the Ministry of Youth & Sports, in cycling. She is a South Asian Games gold medallist in cycling in XC MTB (Cross Country - XC - being the only recognised discipline of mountain biking at the Olympic Games). She cycled with Sabrina Filzmoser (AUT) for two weeks as part of her Forever Everest expedition. As Sabrina explained, without Laxmi and Harka, her two cycling mates, she couldn't have covered phase one of the journey as quickly and efficiently as she did. As Laxmi was heading back to Kathmandu, Nepal, we asked her a few questions to understand better what lies behind this whole adventure.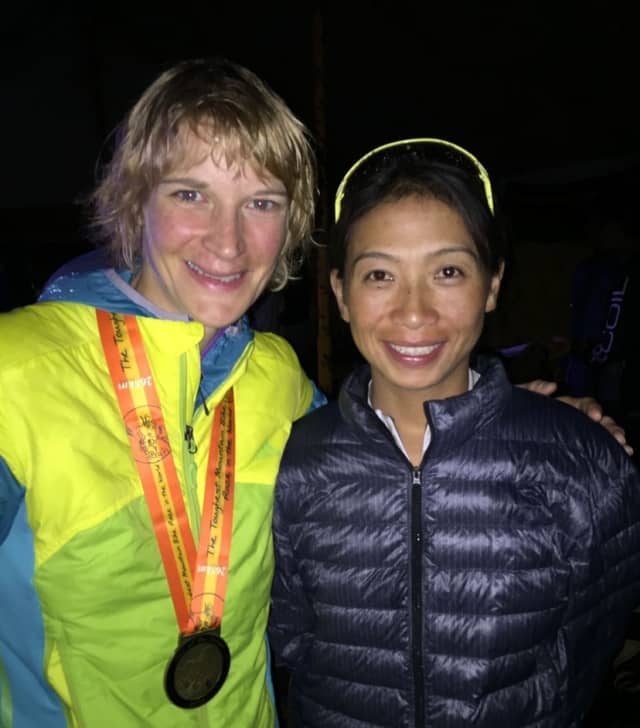 The true friendship between Laxmi and Sabrina started a few years ago, "I met Sabrina during the Tour of the Dragon Super Endurance MTB race in Bhutan 2014. She told me that she liked supporting sports development in Nepal and other countries.
I was aware of her Manaslu summit success (https://www.ijf.org/news/show/sabrina-filzmoser-on-top-of-the-world). Later, before she went on her Ama Dablam Summit attempt (6170m), we were participating in a high altitude adventure mountain biking race with many passes, including Thorang-La (5416m) pass. Once she had summited Ama Dablam in only 6 days, which is very technical climbing, I used to ask her why not Everest? At that time she was in Olympic preparation and there were too many events for her."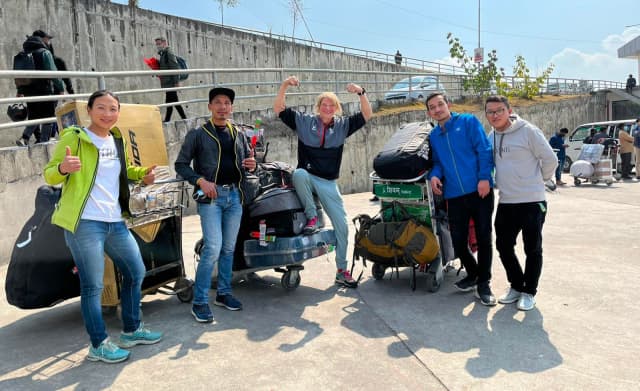 Now, after four participations in the Olympics, Sabrina decided that it was the right time to go from sea level to the top of the world. "You know, we are friends. I am an athlete. I can understand the passion for sport. Sabrina has been helping many athletes from Nepal and Bhutan and she is truly doing all things for sport," explains Laxmi.
Before cycling with Sabrina in India and Nepal, Laxmi was already involved with the logistics of Sabrina's commitment to support sport in the region, "She used to send lots of sports equipment by herself, spending a lot to help athletes who really needed that contribution to get better performances. I used to deliver the gifts and goods to the athletes by myself and send items to other Nepalese athletes who are passionate about sport. I work as a local coordinator for the Everest Judo project, focusing mainly on logistics, because the judogi and sports goods sent by Sabrina arrive at the airport or at the post office in Kathmandu but the Everest Judo Club members are in Solukhumbu, almost 150km away from the capital."
After two weeks on the road, Laxmi began to realise that the Forever Everest project is very special, "I feel privileged to be a part of it. Everyday, step by step, we came to terms with just how big this mission is. To tell the truth, nobody believed in it and nobody took it seriously until we were on the road, until we arrived here today. Now people are asking many questions. They are curious about the routes we took. They understand that there are potentially new ideas for Nepali tourism in the adventure sector. Maybe from sea to Ama Dablam, from sea to Manaslu or from sea to the Annapurna. In the future, those routes could become one of the challenges people would like to attempt from zero metres to 8849m up, to the top of the world. We can say proudly that we cycled part of the Forever Everest adventure."
Cyling in Nepal does not come naturally, when you imagine the landscape, but at least for Laxmi it has become a major part of her life, "I used to be a very average rider but later on I found that my body was very well adapted to high altitude cycling. I did not realise until I saw my friends suffering during high altitude mountain biking races. Even the best riders from other countries have to deal with the effects of the high altitude. As we began our journey from sea level, for me, the low level zero was challenging because of the high temperature and humidity.
I have been doing Cross Country mountain biking, but long distances on flat land is truly tough for me. I was almost falling asleep on the saddle on the flat roads in India. Sabrina was alerting us all the time to stay hydrated and drink in advance to avoid dehydration. There was chaos and heavy traffic in the Indian cities. We rode more than our itinerary. Sometimes we had to skip our accommodation bookings and other times we would reach places where only one motel was open. Everyday was awesome though because we started our rides at 6am, going until the heat rose.
Sabrina was a bit nervous when we arrived at the Jogbni border and we had to leave India. The border officers were operating all the procedures manually, phoning Calcutta to get the information. We were relieved when we got the stamp in her passport before crossing the border. Then I had doubts about the Nepalese side, getting her immigration entry permit for the country. It took us a very long time to find the immigration office. As it was Women's Day and a public holiday, we had to wait an extra 24 hours, but the next day that was done and we were all joking."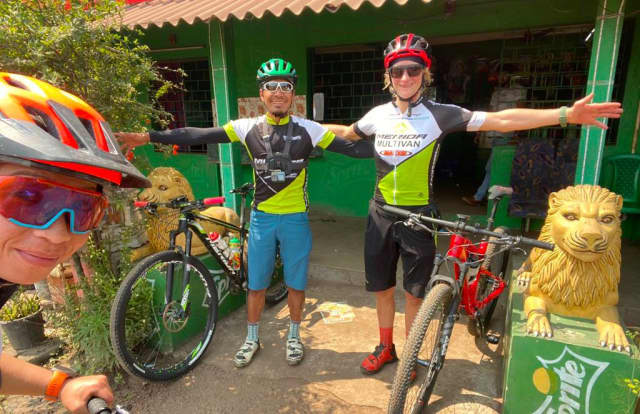 While Sabrina continues her journey to Mount Everest on foot, Laxmi is back in Kathmandu where she still has a lot to do, "I went to the capital to release the 12 boxes that were in held in customs. I know how hard Sabrina worked packing all of the things by herself and sending them to Everest Judo. She spent a lot on cargo charges too, which nobody noticed. We have already faced customs problems in India. I was trying my best to help Sabrina worry less about this because it can distract her from her main goal which is to go from sea level to the Everest summit. Also Sabrina had to reply to all the emails about the war in Ukraine that she was receiving from the judo athletes. I just helped her to be less worried about the less important things, which could be done by others, so she could focus on Everest Judo and Forever Everest for now."
Organising such an expedition is tough and can not be improvised, "The main challenge was to face the effect of post-lockdown in India. We had to be careful not to get infected by different bacteria because we wanted to be strong to complete the cycling part of the mission. We also had to face challenges because of the administrative system in India. On the Nepalese side we also had challenges mainly because of the hilly terrain. We started to bike in the Chure Pahad (baby hills) region on the seventh day. We had to climb the dry and dusty Mahabharat Parbat (high hills) for 25 to 30 kilometres, off road. Next day we had to climb even bigger hills, 42 kilometres from Ghurmi to Thade (2900m.). Everyday was challenging because we were faster in covering more height in shorter periods. Distances were decreasing and altitude increasing. It was high and the way was rough, rocky and dusty. Sabrina was becoming stronger every day as we came closer to the Khumbu region. She was telling us that she could feel the air from Khumbu from far behind."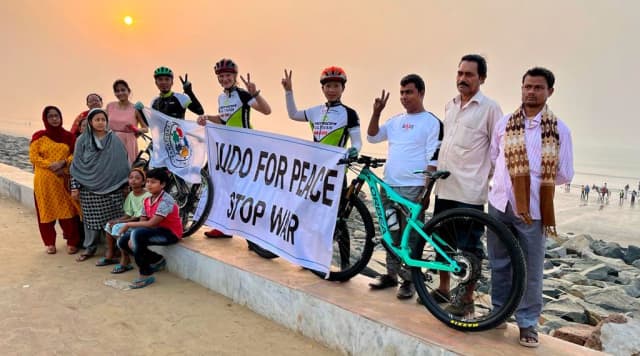 This first part of the adventure was only phase one and Sabrina still has a long way to go to reach Everest, "It will be a true climb, because it's without oxygen. When I was a child, I heard that Pasang Lhamu Sherpa was the first woman to climb Mount Everest. I did not know that after five thousand metres people would climb Everest using oxygen. So to go from sea level to 8849m without oxygen, this is is a true feat."
Together with Sabrina, Laxmi was also accompanied by Harka and it is time to know a little more about them, from Laxmi, "I am a mountain bike athlete from Nepal. I Won the South Asian gold medal in MtB XCO in 2019 and was awarded the best player award from all sports, in 2020. I am a goodwill ambassador of the Great Buddhist Trail and I work in mountain biking tourism during my free time, after my racing events. Harka used to work in Nepal tourism. He started in tourism as a porter before he became a trekking guide and later on a tour operator. He started racing a few years ago and became a national champion in the master category. He was cured from bladder cancer one year ago." Impressive!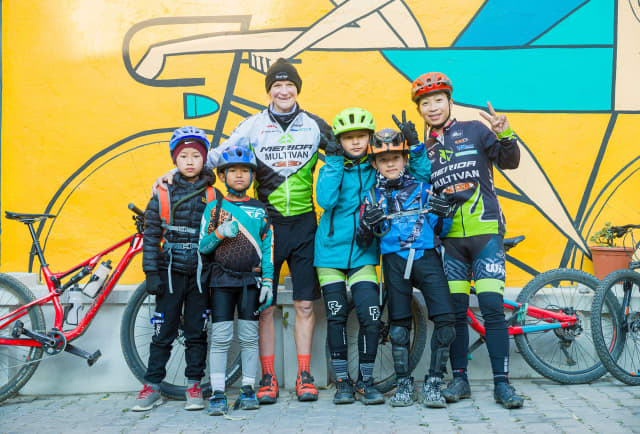 Both Laxmi and Harka, with the support of Sabrina, are involved in the Nepal Cycling School, "We started from home after a long lockdown in Nepal. Before that I used to guide some of the young cycling girls, on and off. I had done the level one coaching course in Korea in 2016. I was in contact with Sabrina and she advised me to do better. She had been supporting by sending cycling gears for several years. I used to send them out to needy athletes. I was always looking for good training partners while I was an amateur cyclist but there was no cycling training club until we created the Nepal Cycling School. Now everybody realises that they should learn cycling for everyday transport or to keep children active. Cycling can be the best sport for children and for girls. We, elite riders, decided to officially start cycle training and to help children to get outside regularly, especially after such a long time sitting in the house due to the lockdown. They had become video game lovers. Sport is better."
Even though this first part of the journey was by bike, judo is never far away and even if Laxmi and Harka are not judoka, they can relate, "I like the judo values and the ethics. Judo is about friendship. It was so cool when Sabrina was doing sessions with children in Kolkata and Ramnagar in India. I really enjoyed it so much. Sport is really important, raising awareness about the benefits of living an active life. It teaches you discipline. You can represent your country and it's also about development. This is the most important thing ever. Sport has even helped to stop wars in history.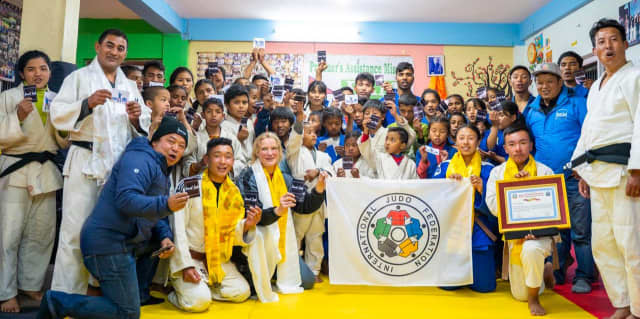 Climate change is another serious matter that Sabrina is addressing through her expedition. Everyone has to be aware to be able to contribute to the saving of planet Earth. Everyone should be aware of climate change. Earth is our home."
Laxmi and Harka are now back in Kathmandu, collecting footage and pictures from phase one of the Forever Everest project. Meanwhile, Sabrina is getting closer to Mount Everest. In the coming weeks she is going to get acclimatised with the altitude, while helping her beloved Everest Judo club. She is not alone though. Through this adventure, she is not only biking and hiking and climbing, she is also building bridges between people and cultures, inspiring a generation of young people and she is uniting the world of sports around values that are necessary more than ever.