Following our in-depth look at the women's divisions, we complete our #JudoWorlds preview by looking at the champions in the men's weight categories.
Olympic champion
Beslan Mudranov (RUS)
Former world silver medallist MUDRANOV, 33, will not be in action in Tokyo. The Russian veteran's career has been winding down since his Olympic win, which followed the success of his teammate Arsen GALSTYAN who won in London.
Russia's -60kg division is, however, in good hands with world number one and world silver medallist Robert MSHVIDOBADZE in line for a major title bid on Sunday 25 August.
World champion
TAKATO Naohisa (JPN)
Three-time world champion TAKATO, 26, is bidding for a clean sweep of world crowns between Rio 2016 and Tokyo 2020.
Olympic bronze medallist TAKATO, who won his first world title in 2013, took gold in 2017 and 2018 and starts as the favourite ahead of teammate and fellow Tokai standout NAGAYAMA Ryuju who won bronze a year ago.
Outsider
KIM Won Jin (KOR)
World number 41 KIM won bronze at the Worlds in 2013 and 2015 and returned to the circuit last October after two-year break after the Rio Olympics.
KIM should be a leading contender for world glory in the -60kg category but has only fought three times on the IJF tour since 2016. The five-time Grand Prix winner marked his return to action by beating TAKATO in his very first contest back in Osaka last year.
Despite his low ranking the Hohhot Grand Prix winner could go all the way on day one in Tokyo.
-66kg
Olympic champion
Fabio BASILE (ITA)
Italian sensation BASILE, 24, won the -66kg title in Rio in one of the biggest shocks at South America's first Olympiad. BASILE has since moved up to the -73kg category but is still without an IJF gold medal.
The charismatic world number 24 has established himself in the heavier weight category this year with bronze in Paris and silver in Ekaterinburg and has the ability to push for honours in Japan.
World champion
ABE Hifumi (JPN)
ABE, 22, is a two-time and defending world champion and is one of the poster stars of not only the World Championships but also the Tokyo 2020 Olympics next year.
The six-time Grand Slam winner, who memorably won in Baku last year alongside his sister, has actually lost his last two contests on the IJF circuit after MARUYAMA Joshiro (JPN) beat his compatriot to Osaka Grand Slam gold last year and ABE was stunned by Italian youngster Manuel LOMBARDO in his opening contest in Paris in February.
World Judo Masters winner MARUYAMA makes his Worlds debut and his gripping rivalry with ABE has ensured that day two is one of the hottest selling days in the eight-day event.
Outsider
Bagrati NINIASHVILI (GEO)
World number 23 and World Championships NINIASHVILI burst onto the scene last year by winning the Antalya Grand Prix. The 20-year-old has medalled at all four of his competitions this year including the Ekaterinburg Grand Slam, Tbilisi Grand Prix, Antalya Grand Prix and European Games.
-73kg
Olympic champion
ONO Shohei (JPN)
Tenri University superstar ONO, 27, returns to the World Championships stage for the first time since 2015. The two-time world champion has won his last four events having returned to full-time training last year after completing his dissertation – 'A Technical Analysis of O-Soto-Gari'.
Pound-for-pound king ONO, who is ranked 14th in the world, claimed Osaka Grand Slam gold in November and won the Düsseldorf Grand Slam in February. ONO is riding a 22-fight winning-streak on the international stage and is the favourite on day three at the Nippon Budokan.
World champion
AN Changrim (KOR)
World number three AN, 25, has been ruled out of the Worlds with a neck injury. AN, who is currently undergoing treatment in Sangenjaya in the Setagaya Ward having grown up here in Japan, hopes to return later this year.
Outsider
TSEND-OCHIR Tsogtbaatar (MGL)
World number 11 TSEND-OCHIR, who represented his country in the -60kg category at Rio 2016, is now ranked 11th in the -73kg category.
The two-time Junior World Championships silver medallist, 23, took silver at the Paris Grand Slam in February and won gold at the Asia-Pacific Championships in April. One-time IJF gold medallist TSEND-OCHIR holds wins over world champion AN, Olympic silver medallist Rustam ORUJOV (AZE) and London 2012 Olympic champion and Rio 2016 Olympic bronze medallist Lasha SHAVDATUASHVILI (GEO) as well as world number seven Akil GJAKOVA (KOS).
-81kg
Olympic champion
Khasan KHALMURZAEV (RUS)
World number 10 KHALMURZAEV, 25, won world bronze in 2017 and finished seventh last year in Baku. The Rio 2016 Olympic gold medallist is without an IJF gold medal since 2017 but has been in and around the medals this year.
KHALMURZAEV won bronze at the Antalya Grand Prix in April before missing the podium in Budapest last time out and needs to produce a strong result in Tokyo to ensure that he'll be back in the same city next year to try and defend his Olympic crown.
World champion
Saeid MOLLAEI (IRI)
World number one and world champion MOLLAEI, 27, has hit form at the right time with medals at his last three events. The Iranian hero won bronze at the Paris Grand Slam in February before capturing Grand Prix gold in Hohhot and bronze in Zagreb last month.
The owner of the red backpatch in the -81kg category is widely fancied to hold onto his title in Japan.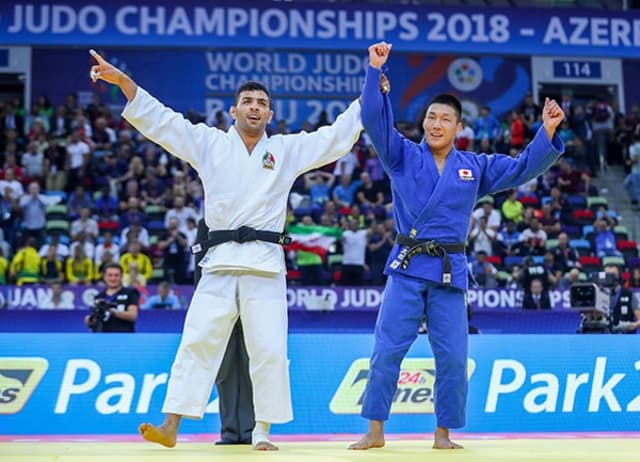 Outsider
LEE Sungho (KOR)
World number 41 LEE, 27, makes his World Championships debut next week and could make an impression in the -81kg category. The highly-talented but inexperienced judoka won bronze at the Asian-Pacific Championships this year and won bronze at the Hohhot Grand Prix in May.
The former Tokyo Grand Slam silver medallist will be one to watch on day four.
-90kg
Olympic champion
BAKER Mashu (JPN)
Olympic champion and world number 38 BAKER recorded his first win since his Olympic triumph when he took gold at the Montreal Grand Prix in July.
The 24-year-old has been overlooked for Japan's home World Championships in favour of two-time Grand Slam winner MUKAI Shoichiro. The door is not closed for BAKER who still has time to earn the nod for Tokyo 2020 and will put a lot of onus on the upcoming Osaka Grand Slam in November where a win could propel him back to the number one slot for his country.
World champion
Nikoloz SHERAZADISHVILI (ESP)
World number one and world champion SHERAZADISHVILI, 23, became his country's first senior male world champion a year ago in Baku.
SHERAZADISHVILI, whose victory also made headlines in Georgia due to his Tbilisi roots, won the Masters in December and took gold at the Budapest Grand Prix last time out.
The Spaniard should be in the medal picture once again but the -90kg category is one of the most open and is one of the most difficult to predict this time around.
Outsider
Mikail OZERLER (TUR)
European Games gold medallist OZERLER, 25, recorded his first title win for Turkey at home in Antalya this year and took gold in Belarus last time out.
Formerly known as Mihael ZGANK when he represented Slovenia, and took world silver for them in 2017, the world number 21 will be a dangerous fighter as he will no doubt look to employ his trademark ippon-seoi-nage and everyone will be aware of his quality.
-100kg
Olympic champion
Lukas KRPALEK (CZE)
Now a heavyweight contender, KRPALEK, 28, won everything on offer in the -100kg category and made the expected move up to the +100kg ranks in 2017.
The world number two has won three Grand Prix titles as a fully-fledged heavyweight and a European title but is still aiming to disrupt the +100kg elite on the World Championships stage. The Czech ace will be tipped to medal this time around.
World champion
CHO Guham (KOR)
Four-time Grand Prix winner CHO, 27, ruled the world a year ago in Baku and has been a major performer on the IJF World Judo Tour over the last 12 months.
World number two CHO won the Hohhot Grand Prix in May and will be the man to beat in the -100kg category as he aims to retain his red backpatch in one of the deepest and most star-studded weight categories in judo.
Outsider
Arman ADAMIAN (RUS)
World number 21 ADAMIAN won the Ekaterinburg Grand Slam in March with a thrilling performance and followed up with gold at the European Games in June.
The 22-year-old looks set to have a major impact on his Worlds debut and will be looking to emulate or indeed improve on his silver from the 2017 Junior Worlds.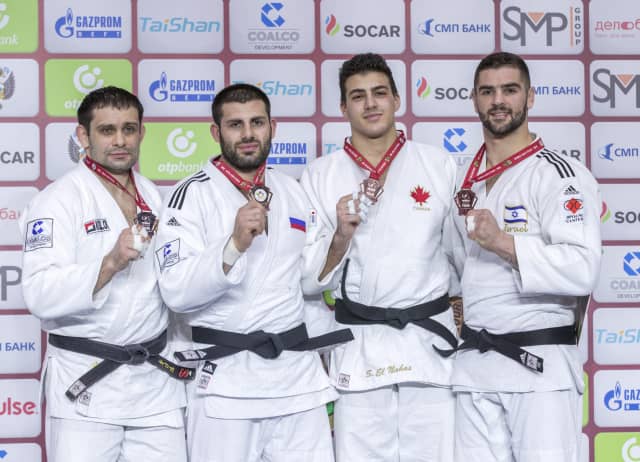 +100kg
Olympic champion
Teddy RINER (FRA)
Olympic champion and 10-time world champion will sit out the Worlds this year. RINER, 30, who successfully returned to action at July's Montreal Grand Prix after a two-year lay-off, will be in Tokyo in his role as the Chairman of the IJF Athletes' Commission and will be honoured at Friday's gala.
The French kingpin, who is currently ranked number 26 in the world, is expected to compete later in the year with the Abu Dhabi Grand Slam and World Judo Masters mooted as potential outings for the most decorated judoka on the circuit.
World champion
Guram TUSHISHVILI (GEO)
World number one and world heavyweight champion TUSHISHVILI, 24, has won his last three competitions and is poised to show the world that he's the best active heavyweight in judo.
The Georgian star will be making his first IJF World Judo Tour appearance for 2019 but has been unbeatable so far this season and arrived early in Tokyo to acclimatise and will be more than ready to defend his crown on day seven.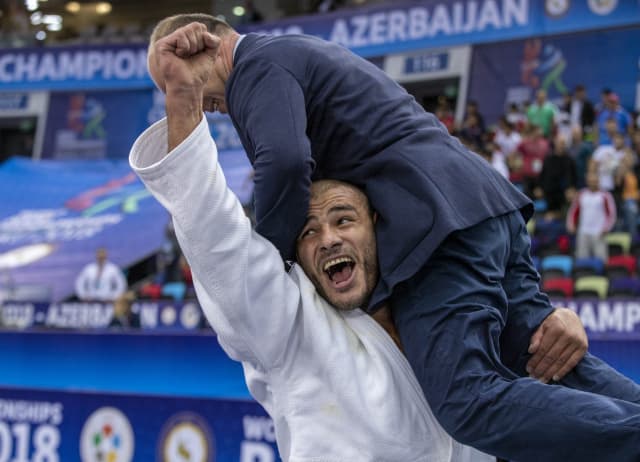 Outsider
KIM Minjong (KOR)
Former Cadet World Championships winner KIM, 18, gave a glimpse of his enormous potential in Baku when he beat Olympic bronze medallist Or SASSON (ISR), former World Judo Masters winner Daniel NATEA (ROU) and three-time Grand Prix winner and Dutch powerhouse Roy MEYER.
KIM, who has since defeated Olympic gold medallists NAIDAN Tuvshinbayar (MGL) and Lukas KRPALEK (CZE) on his way to gold at the Hohhot Grand Prix, is ranked number 34 in the world and will be in line to upset the top contenders in the preliminary rounds.
Watch #JudoWorlds free here on the IJF website at live.ijf.org from 25 August - 1 September.