Attentive judo watchers might have seen the name 'Wright' on the back of the judogi of three different judokas at the Grand Slam tournament in Ekaterinburg. Indeed, the Wright siblings – Chantal (-70kg), Kyle (-81kg) and Liam (-73kg) – all three participated in this Grand Slam representing Team USA. At the sidelines, a fourth Wright – their father and coach Arthur – is omnipresent for them as well. "We left mum at home because she can get really loud," they joke. IJF Media sat down with them after their practice in Ekaterinburg.
"When my dad was young he started with judo in Sierra Leone," explains Kyle. "I then quit for a while because the coaches left," explains Arthur. "I played squash afterwards but got injured and finally reconnected with judo later living in Switzerland due to a Swiss friend of mine who was a former international. As a result of that my kids gradually rolled into the sport. Liam, the youngest was practically raised on the tatami as he tagged along to all practices."
They like judo a lot. "I'm very competitive," admits Kyle. "I really like competing against the top players, getting the experiences while testing myself."
"I am competitive as well," adds Chantal. "I also like the aspect of meeting all these people and competing worldwide. And ultimately reach the goal we all have, competing at the Olympics."
"I'm competitive too," Liam agrees laughing. "But also, I like the fact that it is an individual sport. If you fail, you have nobody to blame but yourself. You can push yourself as hard as you can, but at the end it is really up to you."
Liam, the youngest of the Wright siblings, made his debut on the World Tour hardly a week ago at the Marrakech Grand Prix. "I'm still a junior," the biology student says. "To compete now against athletes, I saw in action while growing up and they are so good, so for me that is very special."
Brother Kyle, a Kinesiology Student, enters his second year on the World Judo Tour. "During my first year I was very insecure. This year I feel I'm getting really comfortable in competing on this level. It started with Paris, I felt really good, my first competition of my second year and I've been gaining confidence from there onwards. For me it's not only about winning, but also of gaining confidence and getting better, just to keep growing."
Chantal, on the World Judo Tour since 2017, finds it getting tougher. "Any competition you go to, it isn't getting any easier. Everybody is scrambling for points," she says.
Chantal is 68th on the World ranking, Kyle 94th and Liam 147th. But for them there is no rivalry among themselves. "The real competition between us is at the club. When we train and work out," jokes Liam.
"As soon as we hit the world circuit we're in it together. But it's not so as if one fails, all of us fail. If I lose they might win a match or vice versa. The thing is, it's much more stressful to watch my brothers fight than being out their myself. I sit there shaking and yelling," says Chantal. Kyle agrees. "When Liam fought at the Pan-American championships and was in the final, I was totally fired up. I was so happy for him to be there because we push each other. If my brother and sister grow, I grow also. I'm really glad to see if they reach something they wanna reach," says Kyle. Their father also admits. "It's pretty stressful to watch. I've seen them evolve since they were young. I have to take a deep breath and put the father part away because it's coach time. You have to keep your head clear on that otherwise you're not able to help. But indeed, I'm still nervous for them, especially just prior to each fight. Then it really hits me, and I have to calm down a bit."
"Our mum is the worst," Chantal adds. "She freaks out all the time," she laughs. "But she will be watching online. It's good to know that we have that support back home."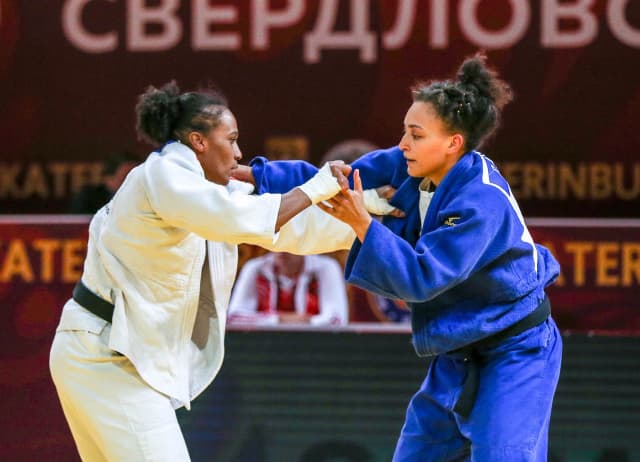 Judo is not a big sport in the USA compared with the likes of NFL, MLB, NBA or NHL. "It's not that mediatized indeed. And sometimes it's frustrating we don't get that kind of recognition. But we do judo for ourselves because we love the sport. We don't do it to please others or to get that huge media coverage because we know that is not going to happen. It's because we love the sport, we love what we do," Chantal says.
For the Wright siblings competing on the World Judo Tour is not a walk in the park. "Most of the travels are self-funded", says Arthur Wright. "Because the budget of the federation is small. Liam was partially funded for Marrakech and this tournament. The other two came self-funded. It really varies. At the moment only the top-five players get full funding."
"Besides judo, I work full time as an intensive care unit nurse," says Chantal. It's like a dual career for the Wright Siblings. "That's also were judo kicks in for me", says Kyle. "I'm really competitive at school also. I'm always going for the best grades," the kinesiology student of the University of Texas says.
Because of budget restraints, often the Wright siblings travel to competitions without their father-coach who also has a daytime job outside judo. "That's also a part of the challenges they have. Judo USA not always sends out a coach with the athlete, so they have to manage," says their father.
"It's tough, but if we're in the stands we try to help each other. But in the end you're out there on the mat and we know what to do".
"It made us tougher," Kyle adds. "It makes you self-reliant. Nevertheless, it always helps to have a coach in the corner for advice and sometimes a confidence boost."
"It's the little details", Chantal points out. "When you're at the sidelines you notice things, you don't see on the mat."
They always try to compete at the same events, but it's not always possible. "For Judo USA we have to sign-up six months in advance. It all depends who signs-up for what competitions," explains Chantal. "I always got selected for most competitions as there are not much American competitors in my weight category. For Kyle there two more athletes in front of him who get first choice. Liam has one in front of him. We try to fly out together but it in the end it is Judo USA who decides."
"I try to get them to compete at the same tournaments," their dad adds. "For exactly that reason of moral support to each other."
The Wrights are on the road some time. "We travelled to Morocco for the Grand Prix in Marrakech prior to coming here in Ekaterinburg", tells Liam. "We made a stop in Camberley, Great Britain where we trained in the local judo club. It was good for a short but intense training. It's also about relationships. The Camberley Judo Club has been very supportive of us. We've been able to go and train there on other occasions too. It's part of the judo spirit as well," the coach says. "Even if we go on holidays as a family, we take our judogis with us," chimes Chantal. "That's right," Liam adds. "We never have holidays without our judogis packed."
"We always made a point of training when we go to another country," says their father.
Like all athletes, their dream is one day to compete on the Olympic tatami. "It certain is an aspiration," says Chantal. "I'll continue to work hard to realize that dream." Brother Kyle agrees. "For me the Olympics are definitely a long-term goal. Right now, I focus on reaching quarter-finals for the big tournaments and the Judo Worlds, but that Olympic dream is certainly in the back of my head, if not in 2020, hopefully the next edition."
The youngest sibling also has similar ambitions. "I'm still a junior, hence I still have more time. For me right now is the get a lot of experience along the way. I will be chasing the guys who are bound to qualify and then try to pass one of them and see what happens next."
It's obvious for the Wright family, judo is more than a sport. It's a lifestyle. "Judo thought me to be more determined in anything I do, but also making new friends all over the world," says Chantal. "For me it's being compassionate," Kyle opinions. "Also, determination. Getting knocked down but standing up again every time."
"For me undoubtedly self-discipline and time management," adds Liam. "We are all in school or working, so we really have to be organized."
At the Grand Slam, none of the siblings made it to the second round. Kyle lost against Etienne Briand (CAN), who won bronze. Liam was stopped by Tohal Butbur (ISR) who ended in 7th place. Chantal was stopped by Assmaa Niang (MAR) who won bronze. But then, as they previously mentioned, growing their international competition experience is also an important part of their journey.