The French and Israeli anthems played out for the first time at #JudoWorlds as both European nations took centre stage on day four at the Nippon Budokan.
WOMEN
-63kg: AGBEGNENOU becomes the most successful Frenchwoman in World Championships history
Clarisse AGBEGNENOU (FRA) won her fourth title to enter the record books as France's first woman to win four world judo titles. AGBEGNENOU won an epic rematch of the 2018 final as her arch-rival and three-time world medallist TASHIRO Miku (JPN) gave the defending champion one of the toughest fights of her illustrious career. TASHIRO, who trailed their head-to-head series 1-9 coming into the final, knew what to expect and blocked the powerful attacks from her familiar foe and had some moments of her own but both -63kg standouts failed to score in regulation time.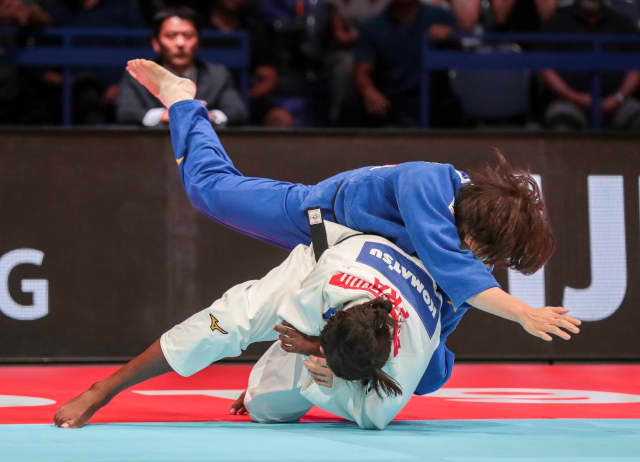 With the crowd on the edge of their seats, the battle continued into golden score and it was clear that something special would be needed to win the world crown for this year. Both judoka were totally spent as the clock passed seven minutes of golden score and a total of 11 minutes of contest time, and just as the momentum appeared to be turning towards the home judoka, AGBEGNENOU dug deep and exploded forward with a o-soto-makikomi for a waza-ari.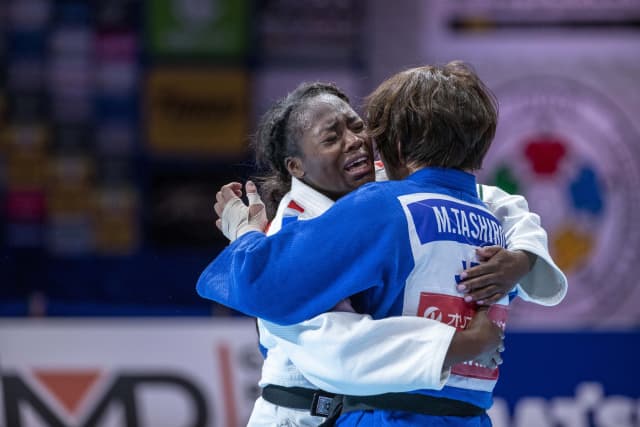 The crowd showed their appreciation for the tremendous efforts of the two who remained flat on the mat due to exhaustion after the score was awarded. As the tears flowed for AGBEGNENOU, she was quick to hug her opponent while both were on their knees and the immense level of respect between the two was one of the most powerful moments of the competition so far.
In the first semi-final TASHIRO defeated Olympic champion Tina TRSTENJAK (SLO) for the first time having lost all eight of their previous bouts. TRSTENJAK was disqualified after just one minute and a half for endangering the left arm of her opponent and was relegated to the bronze medal contest while the Japanese advanced to her second World Championships final.
In the second semi-final AGBEGNENOU saw off 2018 world bronze medallist Juul FRANSSEN (NED) by a waza-ari score. The French star had to work hard to overcome a spirited FRANSSEN and managed to progress by the smallest score possible to guarantee a medal for France.
The first bronze medal went to former European Games winner Martyna TRAJDOS (GER) as her would be opponent TRSTENJAK could not participate having been disqualified in her previous contest with a direct hansoku-make.
The second bronze medal contest was an all-Dutch affair as FRANSSEN pocketed her country's first medal of the competition. Zagreb Grand Prix bronze medallist Sanne VERMEER (NED) lost out by a waza-ari score as FRANSSEN matched her result from last year and solidified her place as the Netherlands' number one in the -63kg category.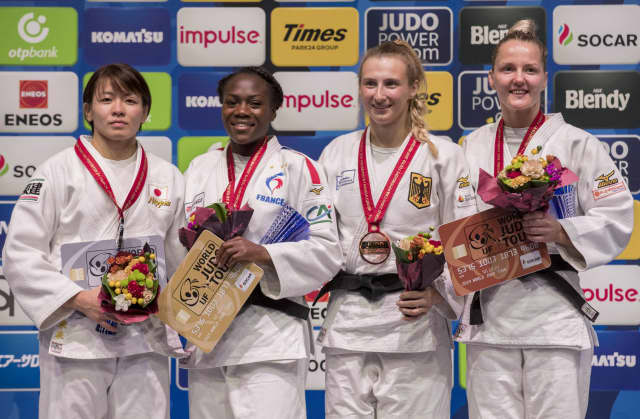 Bronze Medal Fights (-63 kg)
Final Results (-63 kg)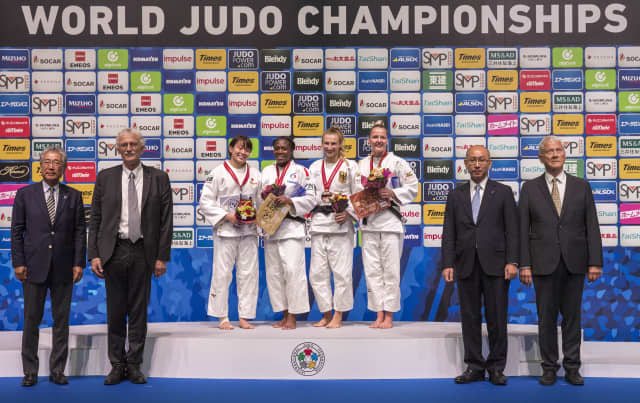 MEN
-81kg: Electric MUKI wins world crown for Israel
Baku Grand Slam winner Sagi MUKI (ISR) won World Championships gold for Israel after dispatching European Games winner Matthias CASSE (BEL) by two scores in the -81kg final. Four-time Grand Slam winner MUKI, who had won two Grand Slam events already this season, is one of the biggest throwers in judo and showed his explosiveness on the biggest stage of the IJF World Judo Tour to rule the world for Israel. While MUKI struck gold in his sixth attempt, Belgium's starlet CASSE took silver in only his second appearance at the Worlds and both men are now established as the leading men in the famed weight category.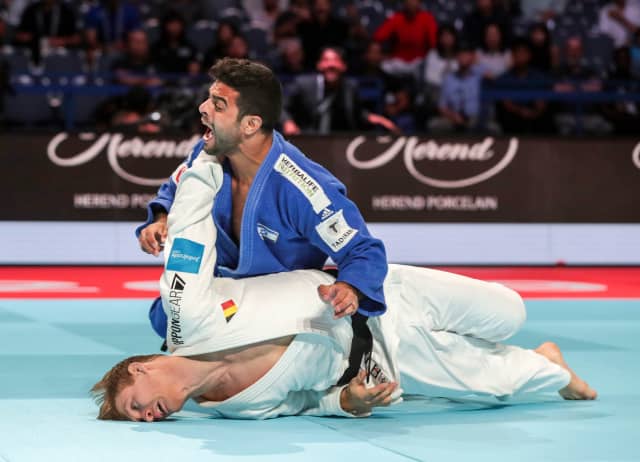 In the first semi-final MUKI edged past African Championships winner Mohamed ABDELAAL (EGY) by a waza-ari from a driving o-soto-gari in a nervy encounter. MUKI has been threatening to win a major title in recent years and showed control as well as power to secure his spot in the final.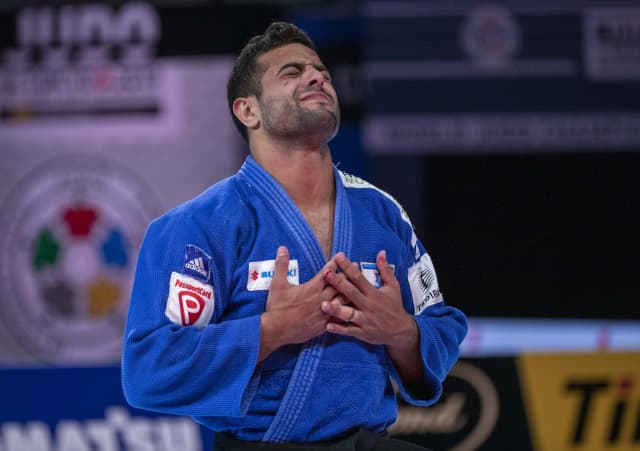 In the second semi-final world champion and world number one Saeid MOLLAEI (IRI) fell to CASSE and conceded his red backpatch. CASSE attacked on the ground after almost opening the scoring and held onto the arm of MOLLAEI to apply a juji-gatame and forced the defending champion to submit.
In the first bronze medal contest ABDELAAL went the distance with London 2012 Olympic bronze medallist Antoine VALOIS-FORTIER (CAN) who narrowly prevailed by a waza-ari score. Canada claimed their second medal of the competition following the historic exploits of Christa DEGUCHI on Tuesday. Both men were taking part in their seventh fight of the day and it went in the favour of the world number 12 who claimed his third World Championships medal.
In the second bronze medal contest MOLLAEI lost out to European Games bronze medallist Luka MAISURADZE (GEO) as he missed the podium in an unsuccessful bid to defend his title. Two-time world medallist MOLLAEI, who was heavily bandaged on his forehead because his left ear was bleeding, went behind to a waza-ari score after MAISURADZE countered a ura-nage. The Georgian then added a second and match-winning score as MOLLAEI was caught off balance from a weak sasae attempt and was countered to capture his first World Championships honours.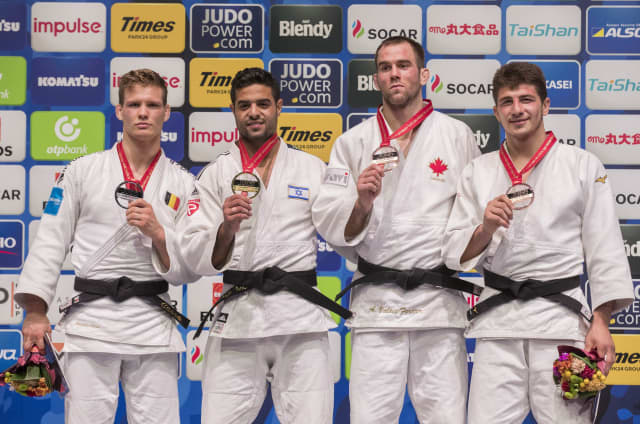 Bronze Medal Fights (-81 kg)
Final Results (-81 kg)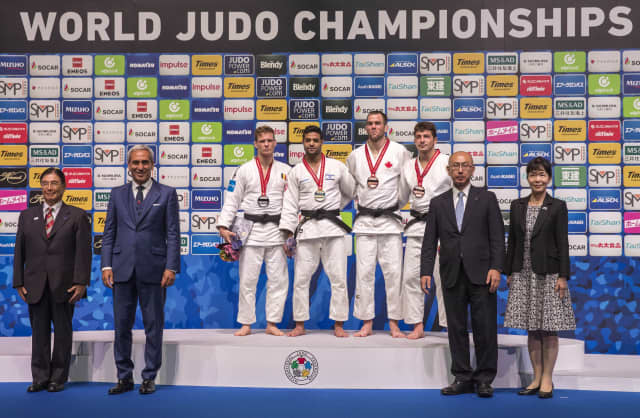 Watch day five of #JudoWorlds from 12 o clock on Thursday.