It's March 2023 and a stalwart of the Brazilian team has made the hardest decision of her career, to retire after almost 20 years with the national team. 35 year old Maria Portela has won 18 World Judo Tour medals, has a Masters gold and has competed at an immense 14 world championships and 3 Olympic Games.
"I've made this decision and it's funny because now I have such different problems to solve. Always it was my body that was tired, for example but now it's my brain. My priorities are so different so quickly."
Right now, at this moment, Maria is sitting at number 13 on the World Ranking List and is in a direct qualification position for the Paris Olympic Games, potentially a 4th Olympics for this prolific judoka. "All people ask me why, why now, why not the Olympic Games in Paris? But now at this phase of my life, I feel it is complete, the competitive part of my career. I'm happy with what I did. I put a lot of my personal life into it and to live this life has not been easy or straight forward."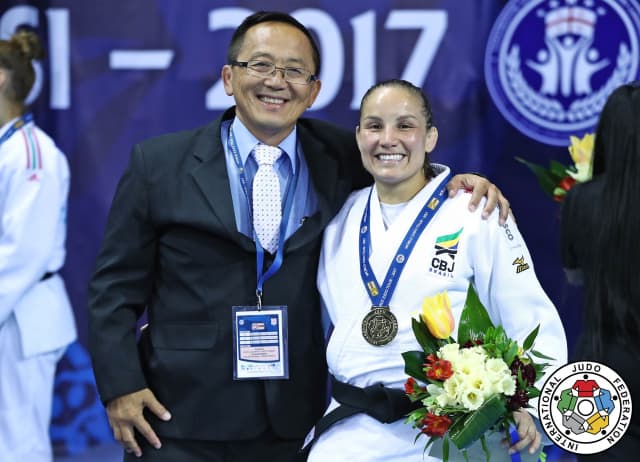 I always give 100% in training. It's not all about medals and after the last world championships it was important to realise this. I had a small surgery on my knee, not so serious but my feeling to come back from it was not the same as in the past. I also had so many different feelings in Tokyo, at the last Olympic Games and I had really enjoyed almost 15 minutes of good fighting.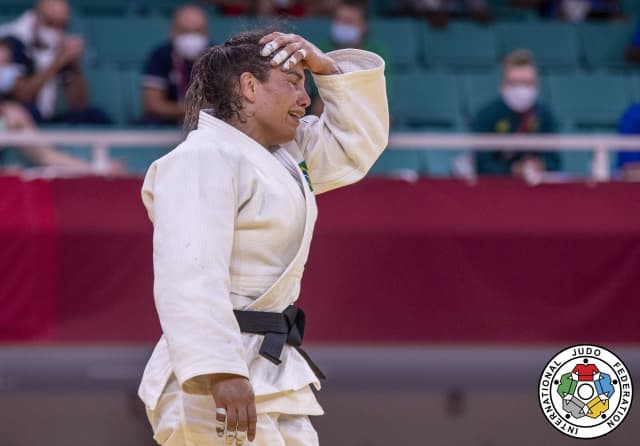 "Maybe people don't realise that I have a responsibility to my family. There, in Tokyo, my mum became unwell and I didn't feel I was able to commit to my family when I needed to. It's crazy for them to watch my fights, especially when I make mistakes and do things different from what might be correct to win. It's stressful for them and they always supported me without exception. I owe them some time now.
Each Olympic Games I have thought immediately about the next. After Tokyo it was different and when asked if I was now thinking about Paris, I couldn't think that far ahead. I started to lose this urgency during training. I needed longer breaks and before the 2022 worlds I had two months break with the surgery leaving just one month to prepare. Ten times losing at the worlds is too much and I started to think that it's time, it's now.
I have been to 3 Olympics and I know what it takes just to qualify. Now the new generation need to have their chance. Now another athlete can have enough time to prepare the qualification period and maybe qualify at -70kg. I leave it to them to try to qualify in time. Imagine if I decided halfway through next year, how unfair it would be for them, no-one would have the chance.
So now I have new goals. I will start to be a coach perhaps but I'm looking at different ways to enhance my education as I believe that is really important. I'm talking with different people, taking advice and exploring options. I would like to study mentoring too and I realise how important the mental side was for me. Mental organisation is so important and so now I want to work in this area too."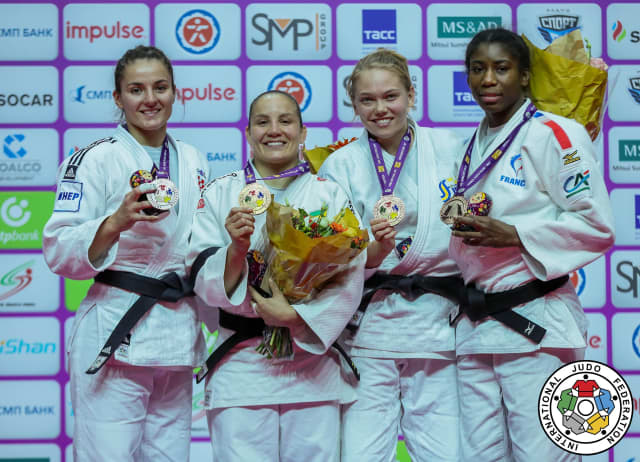 "I know I could still put all my effort into competition but my body at 35 now feels different. I'm ready to put my white belt on again and study. For sure I want to be on the mat and share with the next generation.
Competitive judo is like my identity and to change so much is exciting. I needed this. I have no sadness, I'm really proud of what I did. I see in the Brazilian team how strong we were and I hope the next generation can feel all I was able to feel. I'm grateful for all the opportunities I had."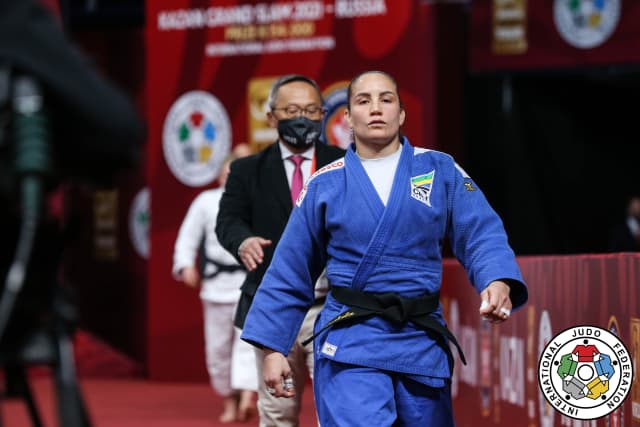 "I feel little scared though, you know. I am able to do everything possible and can learn any role but I have to prove that I am good enough. When you do one thing for many years and then start a new chapter, we have to accept that there is a lot of learning to do during this change.
I had a good talk with Clarisse after Tokyo, about what we put in to be at the high level and what we sacrifice. She wanted a new way and she did it. As women we can now do everything. We are still in a fight for position but we feel now we can do it. Coaches are women, many of them. I also look at Tina Trstenjak coming into the IJF team as a new referee supervisor and now she and Cathy Fleury are there, showing the next women in our sport what is possible. We still need to work to have the same space as men but it is coming."
Maria is moving on but she is both clear and emotional about what judo gave her, "I am a leader in my group. It's important to be an example for the new girls. Judo gave me the opportunity to change my life. You know I grew up without my father around and so there were some challenges. Independent of all of that I proved, through judo, that I was able to fight, not just in judo but in life. I grew up in the Brazilian team. We shared so many different experiences together. It gave me everything. I had positivity, friendship, family, opportunities to travel, an introduction to so many cultures, contact with new people, the chance to study and to learn about the world.
Now it's different for me you know because I just want to think about positives. Judo gave me a lot and now I will start again. Judo taught me to be me, in my career. I wasn't the best with technique but I always gave everything and what I showed on the mat was courage. It's important for me that I m a role model. I always knew that all was possible even without medals. I lost a lot of fights but I always had new goals and focus."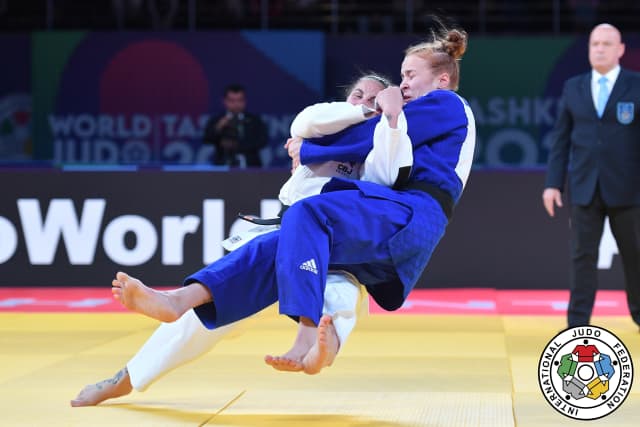 There are a lot of juniors looking up to me, it's part of my responsibility. In their minds I think they couldn't ever really see me stopping but now I did and they need to work. All the time I proved I was there because I wanted to be. I took some medals. Now they can see that it's not been easy and that the first step only is entering the national team. Larissa Pimenta said I need to stay in touch because I am important for them. This kind of message is important for me."
Watching Maria Portela fight is to know that she has given everything. Her values are clearly visible. "Courage is mine, the most important of all. To attack, to fight against yourself. I've had some of the longest fights, like against Taimazova in Tokyo or at the 2013 World Championships in the repechage against French star Lucie Decosse. She was a big inspiration for me but it was a fight in Brazil, in my home. My family were so close to the mat and I remember that during the golden score my mind told me it was possible, even against the might of Decosse. I did all I could but her experience won in the end. She threw me with her o-uchi. I have a really good memory from this and I know I had the courage to face it and to give my all. In her interview she said she put everything into our fight too and then lost for bronze. I had good feelings that we had a really honest fight. The feeling somehow was more important than the result."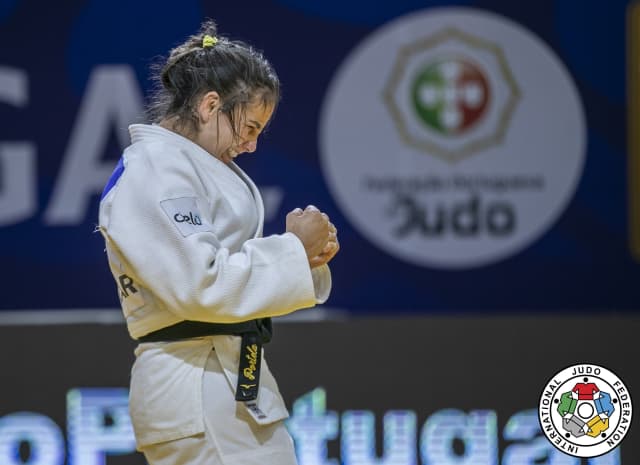 Courage and responsibility feature heavily in Maria's judo life and one area in which she can really be looked up to is that of being authentic. She's an athlete whom has only ever tried to be the very best version of herself. "I tried -63kg just once. So many people said I should, that I was too small for -70kg. Trying it just once changed my mindset. I knew I couldn't do it, didn't want to do it, but I could be faster and work hard on my physical training and really be myself more confidently at -70kg. It was important to move fast. I worked to add some judo on the left although I was right handed. I loved to use my legs too and make moments for ashi-waza. I had a good counter and useful hips because I was strong. It could have been easy for people to fight me just on the right side and with them all being tall but once I added the left it was very different and I started to protect myself and have a system that was right for my body.
Edith Bosch said it was hard to fight me because I was so different from the rest of the category. It might be uncomfortable for me but it must be the same and even worse for them. They are all tall for me but I am the anomaly for them."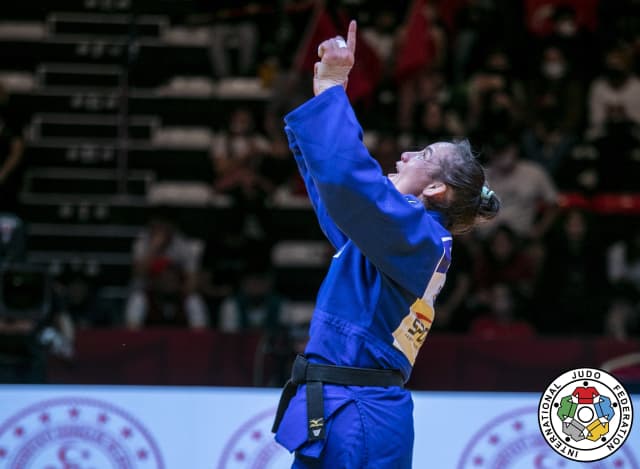 Maria's way was simply that, her way. This has been a wonderful positive example for young female judoka, those who could be influenced by media and by preconceptions of what women should look like. Maria shows that being yourself is the best way and gives rise to a long and fruitful career, protected by integrity. Now at the end of having to make those choices, Maria has new things to look forward to, satisfied with what has already been.
"My family are happy to have me back! They lost a lot of my time. They always supported me, always beside me even though I lost a lot of celebrations with them. Now there is time to visit. We are all excited to have this new time together.
Now I need sincerity in this new part of my life too as I know how important that is for me, and also new friendships, but of course not to get rid of the old. I'm open to new experiences. I know that doing the right things, as judo taught me, is who I am. Judo showed me the way, to give my best towards being the best. Judo is literally 'the way' and this is what will truly stay with me now."