Throughout the history of judo there has been an understanding that to learn from each other, to travel for that purpose and to spread the values alongside the technical aspects of judo is imperative. Jigoro Kano himself believed in and encourage travel. From the early 1900s practitioners sailed to America and to Europe to teach judo while learning about different countries.
Japanese judoka, both those with medals and those with the highest level of coaching expertise, have sought out fixed term placements, welcomed by dojo facilities and universities all over the world. Kiyoshi Murakami, for example, spent 20 years in France and in that time became the national coach for the women's team, a team which took Olympic golds with Cathy Fleury and Cecile Novak. Since then he has worked in Italy and is now enjoying a relatively new home in Hungary.
Great Britain has benefitted from guests such as Maki Tsukada and Kosei Inoue and are currently hosting both Masashi Ebinuma and Shohei Ono. Aside from these long term residential experiences there is now a trend of masterclasses and such events are appealing to the Japanese. Scotland enjoyed a weekend technical camp with Ebinuma and Ono last month. Ono also led a packed training camp in Madrid two weeks before that, which attracted hundreds from both local and international clubs.
The latest of these events has recently come to a close in Focsani, Romania. It was the first international training camp for Maruyama, as an instructor, that is. The camp is long-running and accompanies an annual tournament in the region, 'The Aurel Campeanu Memorial.' Their camp has a tradition of hosting world and Olympic level competitors and the occasion is always eagerly awaited by Romanian judoka.
Members of Judo Club Liberty Oradea, including 2 coaches and 6 judoka, took part in the training camp, registering specifically to see double world champion Joshiro Maruyama. The club coaches said, "The organisers gave the chance to so many young judoka to see real world champions and to step on to the same tatami as them. Maruyama's judo skills were outstanding and he is one of our judoka's favourites, a real inspiration."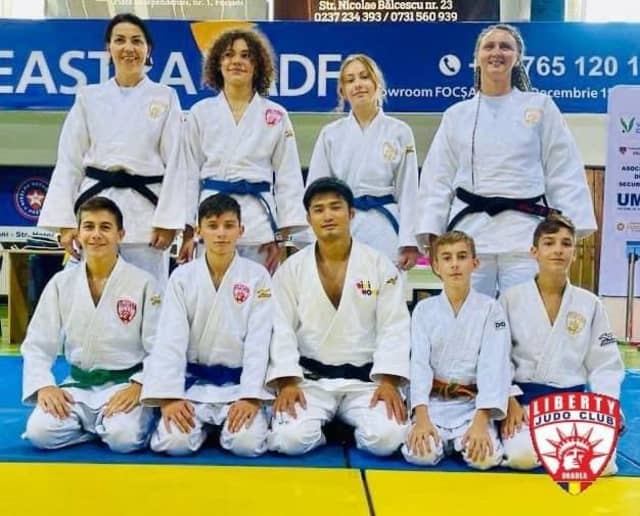 "It was a big job to plan the trip, with more than 20 hours on the road but it was worth it. It was a small sacrifice that had a huge impact on our athletes. Meeting a world champion is a memorable experience that a child will carry with them for life. It can be a source of stories and lessons that they will share with others.
Maruyama impressed everyone. Our judoka were impressed not only by his outstanding uchi-mata but also by his incredible story-telling, about his childhood and his training routine. He spoke about the 50 ladder steps he was running 50 times a day before his judo training and it made our athletes realise how much effort is required to be able to win at the high level."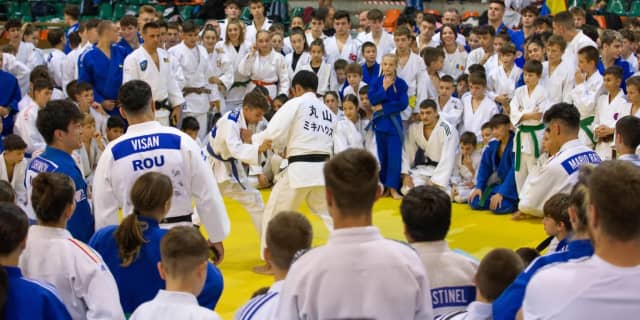 "The technical elements of the training made our athletes very focused and engaged and every throw was accompanied by a 'wow' and lots of clapping but the best part was when Maruyama challenged a few of the judoka to engage in randori with him. One of the lucky ones was our Liberty Judo Club u14 national champion George Asproiu. It will be an unforgettable moment for him as well as for us.
We would like to share our appreciation for the organisers of the event, the staff and of course Maruyama, for the great lessons learned."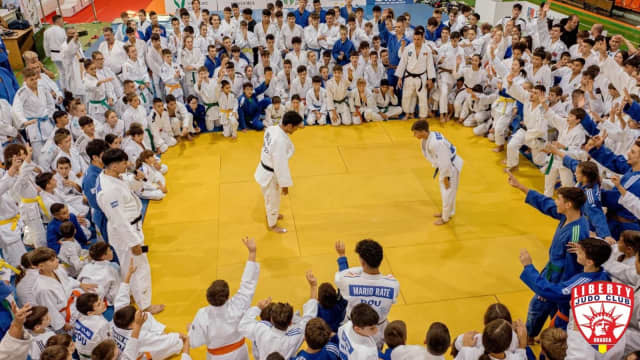 Training camps and masterclasses continue to be staged all over the world and the culture of travel and shared education pervades our whole community. This is the right way, Jigoro Kano's way.