It is not a goodbye, rather a see you soon, because we do not usually lose contact with any judoka; it is not our style and even less with her. But she leaves. She hangs up the judogi to exchange it for her lab coat because she's a doctor and because it's about time, she says. She has all the desirable titles, with a tired body and an agile mind. It is her trademark: always attentive, available, a good doctor, an exceptional judoka.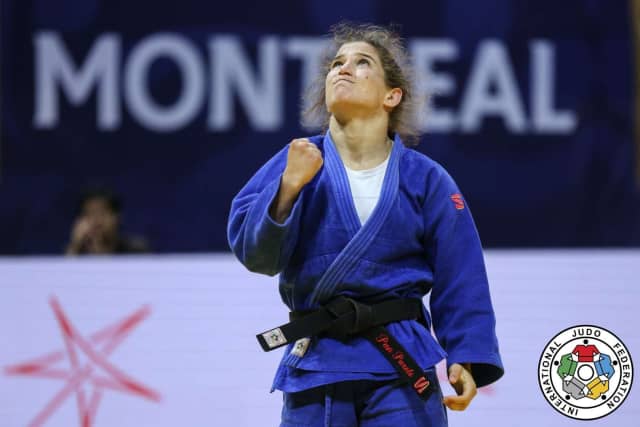 Why are you retiring now? 
I think my body gave everything and even more than it could. High performance makes the head demand of the body, sometimes more than it can. That can lead to injuries and when they accumulate they mark the time to say enough. 
Did it just come to your mind or was it a longer, considered decision? 
Yes, I was already thinking that Tokyo would be the last Games, years ago. 
How do you handle it now that you are no longer a professional judoka? 
Very well! I'm using my job as a doctor, spending more time on practice and study in this area and also helping with the technical training of the judoka who continue training today.  
Let's ride in the time machine. When did you start judo and why? 
I began at 9 years of age, because we became members of a club and my dad taught us that there was a sport called judo. My brother started first. I started in a second class when I learned about the sport. Apart from that, there was also the good bond that I always had with my brother.  
Did you like it right away or did you need some time to adapt? 
No, I always liked it. I actually started it because of that. If I was not attracted to it I would have never started. 
How was the evolution between your first steps and the Olympic title? 
Things were happening little by little. First going to interclub tournaments and then provincial, national and so on. I moved on to the Pan Americans and then my first World Cup in 2007, at which point I qualified for Beijing 2008. It was my first Olympic Games and also a first big surprise. 
Then I continued training without having the idea of going to the next Games and even less thoughts for Rio. 
Things were falling into place with the training, day to day, with good results and so I qualified for London and then Rio. I think the evolution was to continue training on a daily basis, thinking about performing at maximum every day, without thinking so much about long-term results. 
Did you know from the beginning that you wanted to be professional or was it a decision later? 
No. In fact, I never considered myself as a professional. Judo in Argentina is amateur. I always did it as a hobby and when it came to qualifying for my first Olympic Games it became a reality, the fact that I was a high performance athlete, but never professional.
You have one of the best track records in the history of women's judo.  Now that you have concluded this part of your life, how do you analyse your journey? 
I think it was worth every effort from the many days and years of training. I think that this effort was not only mine but also that of my family, friends, coaches, psychologist and all those who in one way or another collaborated since I was born. I was trained as a person and as an athlete at the same time. To all of them, I will always be grateful for accompanying me on this tour. 
Idalys Ortíz is the only one who can compete with you with the number of successes. She is a heavyweight and you are a lightweight. That shows that judo is one of the few sports where everyone can participate in a professional way. What do you think? 
I think just like you. It is a sport that everyone can practise, beyond physical characteristics and even beyond age. In Argentina I saw judoka practising at the age of 80!
What has been the most difficult during all these years? 
Maybe the injuries, which always make you backtrack on your initial plan and they make you doubt your future, but they also always end up teaching you to put a plan B in motion.
What was your most difficult contest? 
There wasn't one in particular, to tell the truth. I can say that fighting with myself in every training or every competition was always the battle that most influenced me. When it came to competition I then acted accordingly. 
Who has been your toughest opponent? 
I don't know; I don't think there is one in particular. Sometimes the fights even with the same person get complicated and sometimes not; that's the beauty of judo. There are no favourites, neither easy fights nor difficult fights. I think it completes the idea of the previous question a bit as well. 
What was your best match, the fight in which everything turned out as you wanted? 
Again, I don't recall one in particular, but I remember a tour we did where there were 3 events in 3 weeks and in the first competition I lost one of the fights with a particular technique. In the two weeks that followed we planned a tactic to avoid it and countered it. At the last competition of these 3 I had to repeat my contest with that same rival and I was able to win with the tactic that we practiced in those two weeks . So I could say that, that was one of the most educational programmes that judo gave me. It all turned out the way we had trained it, starting from a losing fight. 
Your best memory? 
It's from the 2016 Rio Olympics. In the grandstand, when the final ends and they are waiting there for a big hug, all those who made that achievement possible. Celebrating all that great work with the team; celebrating an Olympic gold medal with all of us who won it. 
Your worst memory?
At the Pan American Games in Lima 2019 I wasn't able to fight for the bronze medal due to an injury to my cervical spine. In fact, some time after that, I went for surgery for the same injury because it was putting my health at stake. I did not feel good because, even with injuries, I think you always must try to fight. There is always a chance to win only if you show up. If not you have already lost before fighting and that can feel like betraying yourself. That is why it is a bad memory. It was an internal struggle that my psychologist managed to help me overcome. 
How can you combine high level sports and a medical career? 
By establishing a proper order, making an annual schedule of the main activities in each area, with objectives and real possibilities for each thing. 
As a doctor, would you advise the practice of judo at the highest level? Why? 
I think doing sports is healthy. In high performance, athletes always know they are on the edge. I think the advice is to listen to your body and your mind to know how far you can go. That is a very individual and challenging thing to advise on. It can only be felt very personally. 
What was your favourite tournament, to which you liked to return every year and why? 
I had none like that, to be honest. I only went to tournaments with my team, believing they were important as part of the preparation to continue getting better. 
Who has been your favourite judoka? Why? 
An Argentina representative, who was fighting at -78kg. Lorena Briceño is her name. She went to the Beijing Games with me after two previous attempts to qualify, where she didn't give herself that chance, due to injuries or issues that had nothing to do with her abilities. Yet she never lowered her commitment and she continued to pursue her dream of going to an Olympic Games until she fulfilled it. She was not only an excellent judoka but also a great example of perseverance and firm goals. 
Are you going to continue practising judo in your free time? Are you going to teach judo to the youngest?  
For the moment, I am only contributing with my experience in technical matters. Physically I would not be in a position to practise it. I already demanded my body work to the maximum and even more. Now I need to recover. 
What have you learned thanks to judo? 
So many things! There are so many contributions from judo, teaching you as part of Japanese culture, things such as respect, honour, friendship, order and kindness. Everything one learns on the mat can be applied to daily life and make it much more bearable. In turn, the path also taught me that sometimes medals are won and other times there is just learning. Winning and losing go beyond the results. It all depends on how each one  is analysed and what happened in training or competition. 
Is there life after judo or is judo part of a lifetime? 
There is always life. Judo is part of it in my case. I don't think there is such a thing as 'after,' it's just finishing a chapter to start another. 
How would you like us to remember you? 
What a difficult question! I do not know, everyone has their own opinion. I'm just me. If I have to define myself, I would say that I was a judoka without great technical attributes but I always went out to fight giving everything in every fight, thinking that every fight was a battle, with faith and knowing that in judo anything can happen. 
Do you have a message before you say goodbye? 
That there are no limits when the job is right and that is why the effort is always worth it. 
If you had to put a title to this interview, what would it be? 
Mental Judo