9:12am Miklos Ungvari prepares to fight in the first round at the World Judo Championships Hungary 2021, in front of a home crowd. Breathing techniques, stretches, getting focussed after a vigorous warm-up that for most would constitute a full work-out.
This is his 14th first fight at a world championships. Let that sink in, remembering that for a long time, the Worlds was only fought every other year. This is a career spanning decades.
His expression is one of seriousness, fully aware of the magnitude of today. Of course, a world championships is a big event for anyone, but when you are on the brink of either retirement or qualifying for a 5th Olympic Games, the stakes are high and the emotions need to be controlled. Despite the customary Ungvari discipline we see, no-one can deny the emotional core of our sport, especially for him today.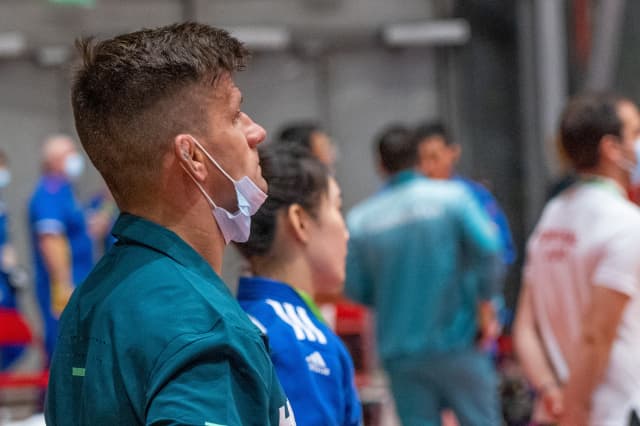 10am
Standing in the tunnel, hearing the arena music and the announcer's voice, behind those in the first contest of the day, knowing you have to step forward in just a few minutes time, is a kind of mental game that most will never have to manage. And then it was time to face a young but strong Greek competitor, for maybe his last ever appearance in competition.
Spectators maintained a barrage of support from before hajime, shouting 'Let's go, Miki, let's go, Miki' on repeat. Their voices were not just hysteria or lip-service, but the voices of proud, committed judo fans, excited to share this day with one of their national heroes, especially as it's the first time spectators have been allowed to watch, in person for well over a year.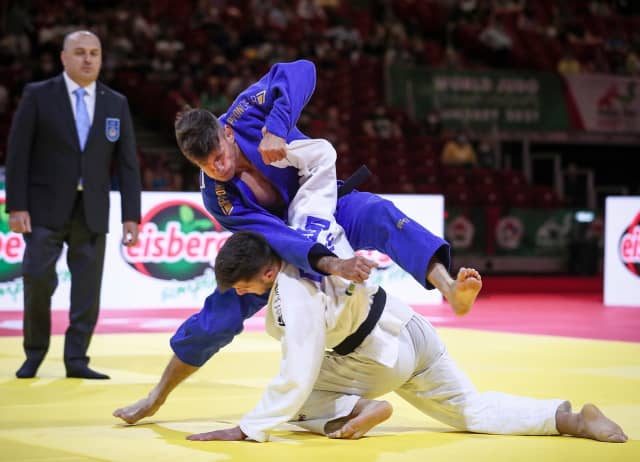 Winning in golden score, with the crisp precision of his trademark ko-uchi, to the sound of horns and passionate Hungarian fans, actually felt as if their was a collective will protecting and pushing him on the tatami. Everyone knows this is not an ordinary day for him. He reversed off the mat, walking backwards, as he always does and bowing respectfully as he left. That's one victory pocketed.
So what now? Now he has to prepare all over again. A loss in the first round would have meant retirement. A loss in the second round, surely the same, but a win means a round by round replaying of the gargantuan effort it takes to prepare mentally for all possible outcomes. This is exhausting and is a task reserved only for the elite. Miklos Ungvari is and has always been the consummate professional and as this massive day unfolds, he sticks to that path, at least on the surface.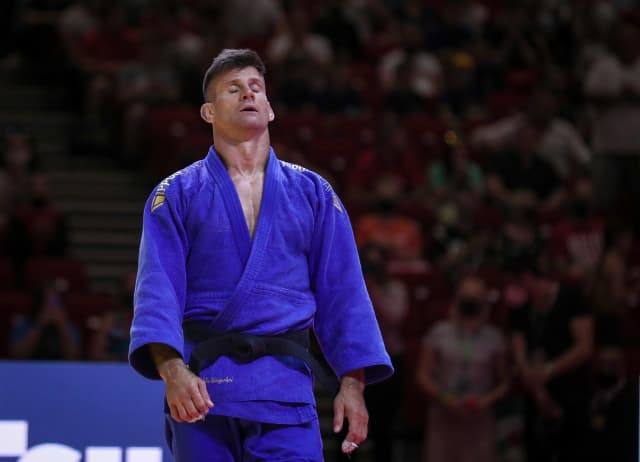 10:55am
Round 2, against Njie (GAM), fast, explosive, needing a sharpness of the highest level. Always forward. A deep top grip and again the powerful, whole body ko-uchi and then he must regroup again, for a 3rd round contest at a whole different level.
This is a brutal day for Miklos, with a yo-yo of mindsets to observe and control.
Attila, already qualified for Tokyo after his astounding victory in Kazan, has been by Miki's side all day, with their bond palpable. "From this win he goes to the quarter final. He is almost 41 and so he already did something extraordinary today. Each match from here is a gift, a present for him. I haven't seen him fighting so well for a long time and I wish him a continuation of this great judo today. If he can qualify it would be magic for us, for our family."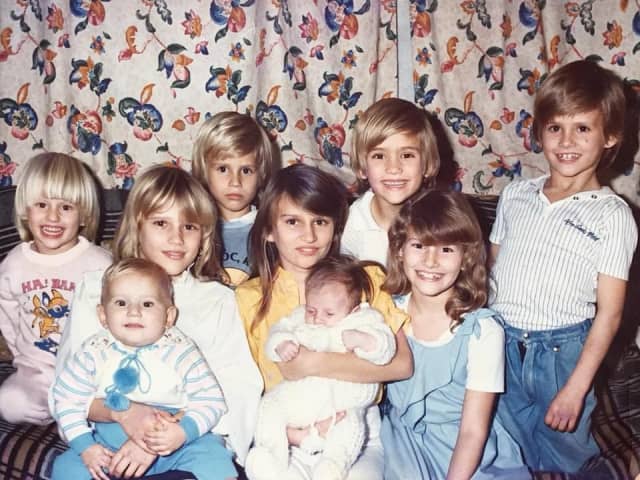 11:42
Against Tsend-Ochir (MGL) the normal time was as close as a contest can be, with two shido apiece at the bell. Golden score brought an acceleration for Ungvari, something we might not expect for a 40 year old and he gripped and moved and gripped and moved, picking up the level of control. A seoi-nage attempt looked well defended but a second drive brought the waza-ari and Miki had reached the quarter-final.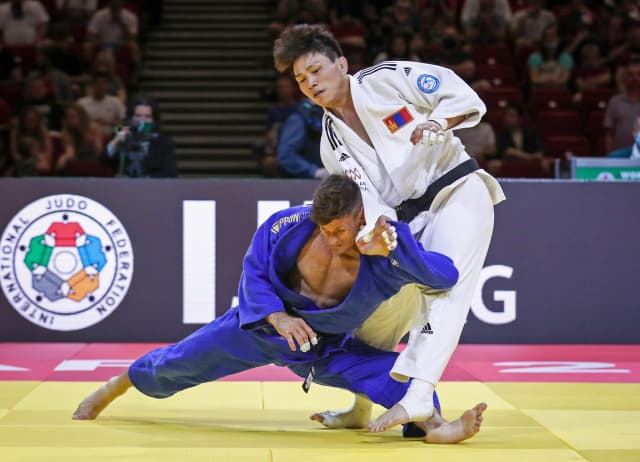 The prospect of facing the explosive power of -66kg London Olympic champion Shavdatuashvili (GEO) for a possible place in the final block, is complicated. They fought the 2012 Olympic final together. A win now could bring a continental quota place into view for the Tokyo Olympic Games and that means the chance to compete again, at a fifth Games, no less, but this time with his baby brother competing too.
At 10 minutes into the match exactly, a short pause. Ungvari drops his head, a clear moment of thought, maybe a decision. Within the next minute it was all over though and a loss on penalties meant a new phase of the day and a juggling of mindset.
13:06
Watching the repecharge final close, again in golden score, was a privilege, as we now realise that the heroic effort delivered by Ungvari was just not quite enough for a direct Olympic place and it may not be enough for a continental quota place either. That is a jigsaw puzzle and the final picture won't be seen until the end of this tournament.
The performance was enough for the crowd, though, who were not thinking about the Games, but about the decades of pride Miklos rained down on them. Never was a home crowd so appreciative of their compatriot in a losing situation, but Miki deserves it. These years of service are something incredible: 4 Olympic Games, with a silver medal in 2012, 14 world championships, including 2 bronze medals, 4 European medals and two of them were gold.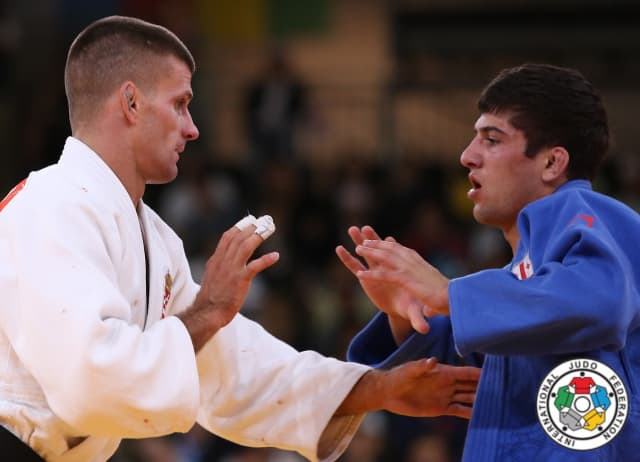 Often, after a loss, judoka need time to reflect and settle before giving interviews, but Miklos, however emotional, was determined to complete the day with the same professionalism with which it started. He didn't ask for more time or limited his words, but spoke quietly and honestly about his day.
"I'm very disappointed to be so close, by just by one more position on the contest sheet, but I'm also grateful that possibly my last competition is here in Budapest. To be able to fight here with the spectators is something I really appreciate, as a last career contest.
It's pretty difficult for me right now to settle my thoughts, with a head full of 30 years of memories. I'm thinking that I should have won more medals and had a more successful career but I can't chew the past and must look forward."
It's a natural response when an athlete is essentially already grieving for the end of something as intense as a 30 year sports career.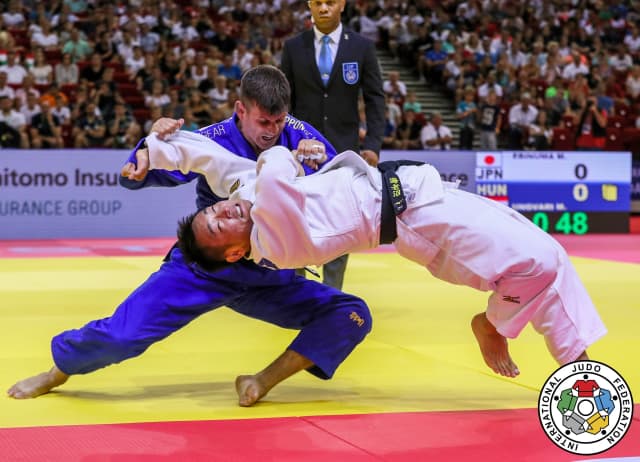 "I hope I didn't disappoint anyone during this day. The crowd, the medical staff, friends, my team and coaches all support me so much and disappointing them is my greatest fear."
Concerned with how others may feel on a day when he is feeling so much is indicative of the person Miklos is. It is part of the reason that his team are unable to feel anything other than immense pride. Disappointment left the building a long time ago and cannot be associated with Miki.
"I am very grateful to the Hungarian government because in this period it was complicated to make the World Championships happen in front of spectators, our home crowd. They showed bravery and a commitment to us and we really understand what this means."
To retire after giving today's performance would be noble, inspiring and generous, but let's see what the final Olympic Ranking List will offer at the end of this incredible World Championships. Miki is a hero and we can't wait to see what he chooses to do next. Whatever he applies his dedication to, it promises to be a job well done. How could it be otherwise?