IJF Hall of Famer Neil Adams, who is in Cancun in his IJF Referee Supervisor role, shared his technical analysis of the opening day of Grand Prix competition in Mexico.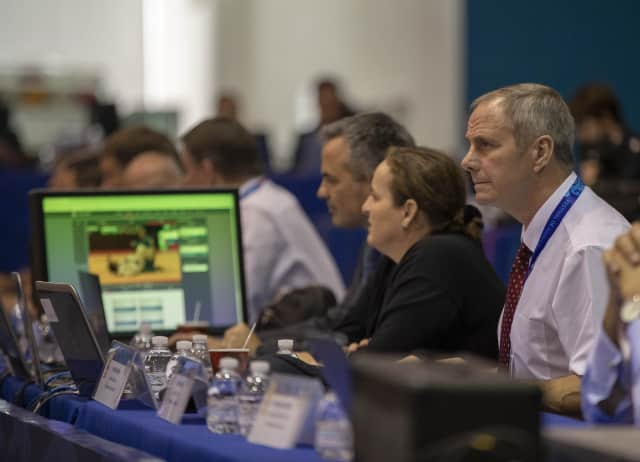 From a technical point of view I believe the Cancun Grand Prix has started really well. Generally, there was a high percentage of ippons and a few golden scores towards the end. We carried on from the World Championships in terms of exciting and positive judo.
There's been a really good balance with the interpretation of the rules, to allow the fights to go on and the judo to flow. We've seen very strong transitions into the ne-waza which is an area that I have been particularly persistent with.
I have to stay that between the groundwork and standing there was a very good ratio.
We had a couple of occasions where we thought judoka were playing for penalties and using gamesmanship. We want judoka to playy for scores and not penalties. Our message is for coaches to train their judoka and instil a mindset to always go for scores.
We want to encourage more scores. We saw one example with dominating grips, dominating kumi-kata, but using it for the wrong reasons, not to attack and such instances result in a penalisation for breaking the rules.
Olympic champion Paula PARETO (ARG) was absolutely superb, I thought she was good in the Worlds but has been exceptional here. PARETO has looked really sharp and defeated London 2012 Olympic champion Sarah MENEZES with a good performance.
Olympic champion Rafaela SILVA (BRA) also fought well. She was positive, looked strong and kept the scoreboard ticking over.
Day one has been a highly enjoyable day of judo. I believe the World Championships set a new marker, a new level in terms of quality for elite level judo and that is continuing here in Cancun.
British legend Neil Adams is double Olympic silver medallist, 1981 world champion, five-time European champion and is ranked 9th Dan. IJF Commentator and Technical Adviser Adams, who is known as the 'Voice of Judo', moved into coaching after his remarkable competitive career and had spells with the Welsh Judo Association, British Judo Association and in Belgium.