Kazi Sherpa is from Jorsale in the Himalayas and is a volunteer judo coach at Everest Judo Club, there since it's earliest beginning in 2016.
"Professionally I work for the German Alpine club as a trekking guide in Nepal, Bhutan and Tibet. In the summer I am a happy gardener, out of trekking season."
Kazi has a lifelong love for judo and has competed internationally for Nepal, winning medals at the South-East Asian Games, "My dream was to participate in the Olympic Games but I didn't make it so now I want to have many students participate in the Olympics in the future."
Through his guiding work he receives many international visitors, with particularly strong links to German and Austrian hikers, "People enjoy the Nepali food here but there is a lot of influence from the Germans and Austrians in my home. During trekking we have local food but after two weeks they are looking forward to home style cooking, so when guests arrive at my place, the Nirvana Lodge, we serve them Kaiserschmarren! I can cook it myself."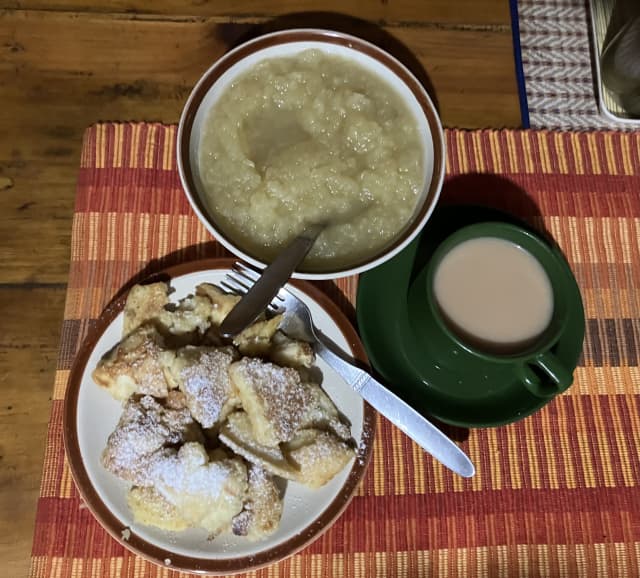 When we arrived in Jorsale on our way up to Khumjung some days ago, Sabrina was very excited as she knew Kazi's wife was likely to offer us Kaiserschmarren, thick Austrian style pancakes with homemade apple sauce. Her wish came true and now we all understand why she was looking forward to it so much.
Kazi Sherpa is very proud of what they have started in Monjo, "Everest Judo Club is very new to Nepal, starting at Monjo School with just a small student group. In 2022 we are now established also at the Sir Edmund Hillary School in Khumjung and now we have more than 80 children.
29th May was our official inauguration. It was amazing, with special guests from the IJF and our Sabrina was there too. It was a very special day for me and the club, especially as it was Everest Day, recognising Hillary's first successful summit expedition on Everest.
The day was beyond expectation. In the beginning nobody here understood judo. Most didn't know what it was. Now everybody knows about it and all are really positive."
Kazi had a long term goal, many years before Sabrina became part of their judo family, to build an Everest Judo Club but her support is undeniable, "Without Sabrina what we have done would not have been possible. I wanted to begin with a small class but Sabrina always motivated me to make a big dream and she is right. Because of Sabrina we are successful in now inaugurating the new classes in Khumjung.
We first met in 2016 with the beginning of the first small Monjo class, meeting in Kathmandu through charitable activities in orphanages. She is a beacon of the judo club. I always talk with her even when she isn't here. With any difficulties, she is my first point of contact. She always motivates me and supports us. She is our backbone."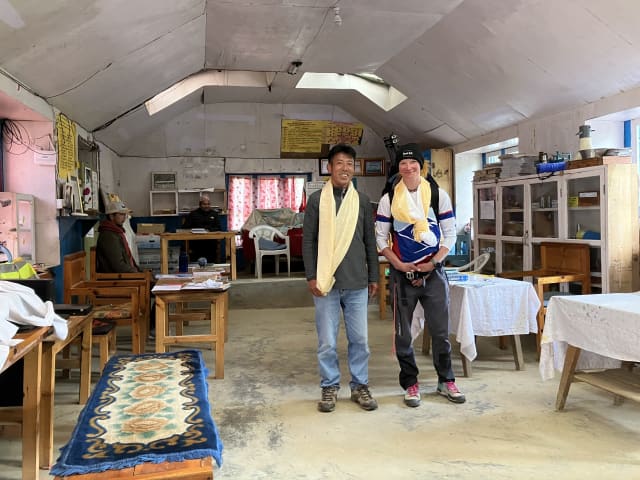 It's difficult to speak with Kazi about the challenges presented by the region itself. He acknowledges that others see this life as difficult but, "In Khumjung it's at 3790m altitude. Even our first dojo is at 2850m. In the Khumbu region it is very remote, with no transport links. From one place to another requires a lot of walking but for us it is very normal. We are used to it but for foreign visitors or city people it is very adventurous. For the Sherpa this is our life and we accept it.
I like challenge. Without challenge I cannot progress myself. The moral code of judo is very important, the judo education. I wish all youth, especially school children, the opportunity to access it. I'm a Sherpa and our culture is similar to the moral code of judo with a big focus on friendship. For Sherpa people judo matches our culture.
I am also a judoka; physical education is very important but it is not enough. All children, all people need mental training and a chance to improve their confidence. We also need self defence. That's why I like judo, very much, for these 3 points."
Kazi's heritage plays a big part in his approach to Everest Judo Club and also to his way of life, "I'm both a Buddhist and Sherpa and according to our religion the environment is a big concern. That's why we see so many prayer flags. We always want to protect the elements and the whole environment. So, we are happy that Sabrina is aligned with our concern for the climate and environment. That's another reason why she is our Sabrina!
If we don't protect our Earth from global warming, sooner or later there will be big problems that we can't even imagine. We are already organising clean-up programmes and in the summer monsoon time we take the judo children for forest plantation.
Sabrina's mission 'Sea to Summit' had a big impact on the local community, with her constant drive for peace, for environmental understanding and for her unwavering support of the judo club.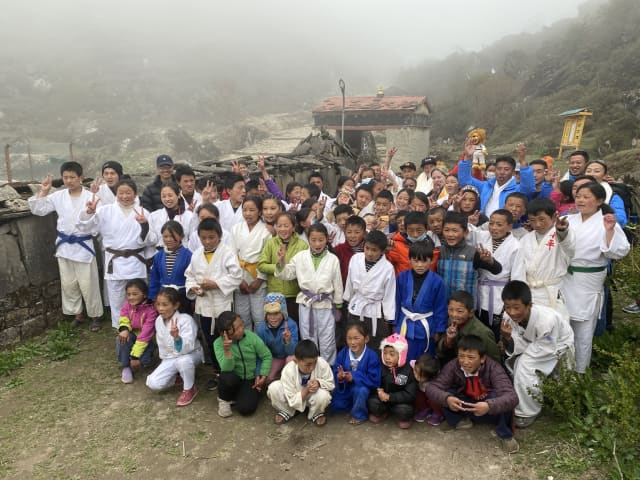 "Her mission to publicise the judo club was something that really touched us and it's also important for women here to see her success. We were very excited and happy for her achievement. It's almost unbelievable what she achieved!
When she first came with her Everest expedition idea I found it a bit crazy. I was happy for her but also worried as there are so many obstacles, not just the altitude but the temperatures, the many other risks. Acclimatisation is important. Nepalese people start already high up and are more used to it but to start at sea level means a tough acclimatisation. I was thinking about it a lot, even sometimes keeping me awake. But everything is possible, she showed us that with her expedition.
With Sabrina's successful expedition and with the inauguration, we proved we can make it work here and I know from this point Everest Judo Club has a new energy."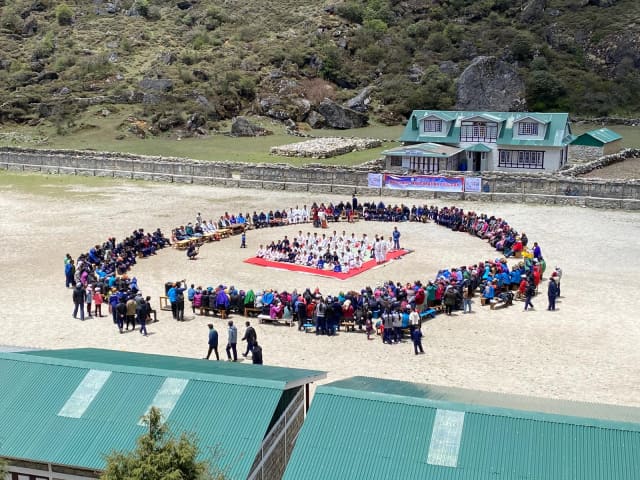 Sometimes systems facilitate development, sometimes it's the strength of individuals and here in Nepal it is all about the individuals. The incredible commitment to their community's education is Inspiring and Kazi Sherpa loves his work, continuing to do all he can for his students and the region. If we ever needed an illustration of judo values, Kazi is it!