Across the scores of member federations of the IJF there are countless people who drive development and uphold the values of our sport year on year. Peter Blewett joined the British Judo Board in 2012 before being elected as Chairman of Judo England in 2017 and BJA Vice Chairman, both positions he held until his recent retirement.
On 11th November 2022, British Judo hosted a retirement dinner for Mr Blewett, ensuring his departure was an occasion to celebrate all the work he has done and the friends and colleagues whose judo lives he has enriched.
Mr Blewett's career highs were noted, including being part of the team which hosted this year's Commonwealth Games. The dinner was attended by board members, the British Judo President and Chief Executive, as well as many members of staff who have worked closely with Mr Blewett over the years.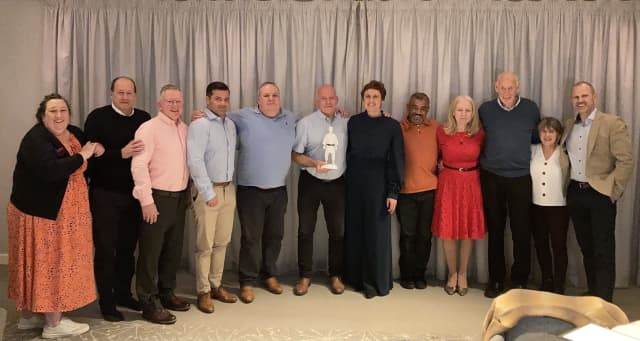 Peter Blewett is a 7th Dan, a senior examiner and is Chairman of the London Area and The Budokwai in Chelsea.  He won the British Championships in 1979 and competed for Great Britain in the European Team Championships in 1980 and the World Student Games in Rio de Janeiro in 1978. He returned to Brazil as head of the judo delegation at the Paralympics in 2016.
Mr Blewett said, "I am delighted and honoured to receive a porcelain Kano trophy from British Judo, presented by Ronnie Saez, British Judo Association Chair. It's a pleasure to have my long service to judo recognised in this way. Thank you to all the directors and members who I have been privileged to serve and work alongside."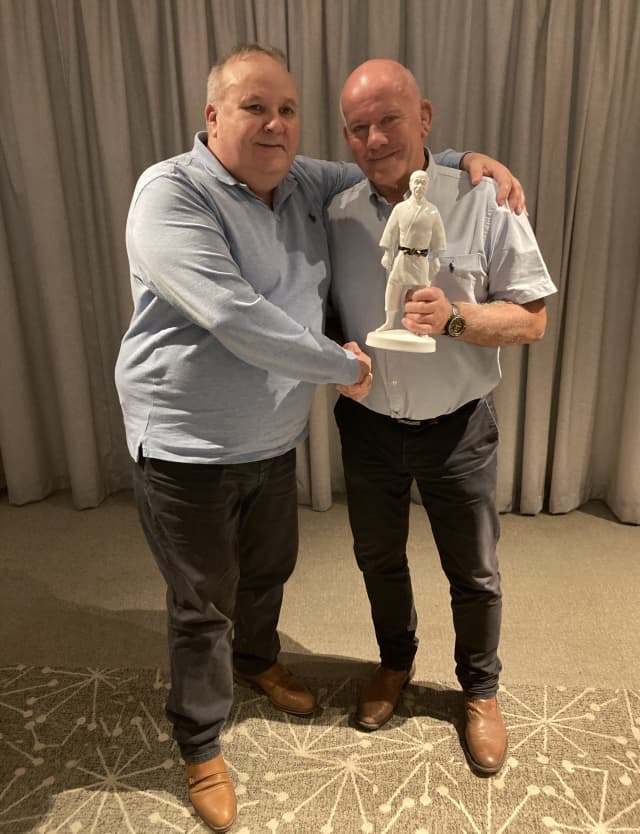 British Judo Chairman, Ronnie Saez said, "Peter has been a tremendously hard working and talented member of our board for the last 10 years. I have enjoyed working with him immensely and he has provided me with valuable guidance and support in his role as BJA Vice Chair, as well as being our safeguarding and anti-doping lead.  I shall miss his presence at our meetings and also his keen sense of humour, which often lightened the mood during our gatherings."
British Judo CEO Andrew Scoular added, "It has been a pleasure to work alongside Peter for the past 10 years. He has been a fabulous support on the Performance Advisory Group.  Peter's vast expertise has been an invaluable help over the years with the challenges we have faced. He will be a hard act to follow in the role of England Area Chair!"
Away from judo, Mr Blewett is a retired head teacher and despite his reduced sporting roles, he will continue to enjoy coaching and examining at the Budokwai in London while also spending more time with his beloved family.
Congratulations to Mr Blewett and the British Judo Association.