Prisca Awiti Alcaraz (MEX) lives in the UK but with a Kenyan dad and a Mexican mum, she is truly a global citizen, fully immersed in the cultures and customs of each of these places. Her background is unique and living with roots spread across 3 continents keeps her wide awake and with a permanently full heart.
"Judo wasn't my first sport, with gymnastics until I was 12, up to national level, and also swimming. Judo came after that because I realised I was too tall for gymnastics at the highest level. I was only training once per week at my local judo club at first.
Traditionally, in Mexico, opportunities for women in high level sport haven't always been there but over the last 15 years or so the women, particularly in judo, have had far better results than the men. Zambotti for me was the person who ignited the flash point for women in judo to be recognised."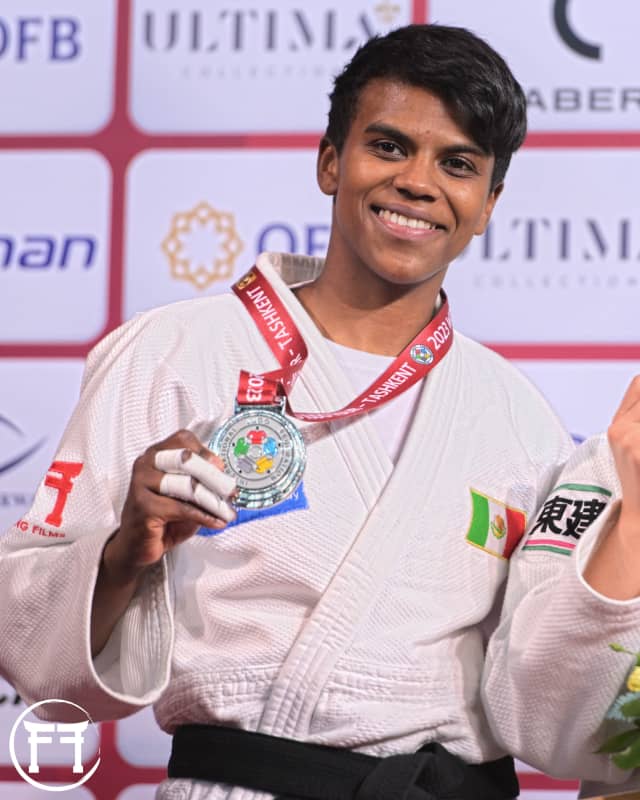 Vanessa Zambotti (MEX) fought at +78kg and during her career competed at 4 Olympic Games. She also had two grand slam medals and 6 continental medals.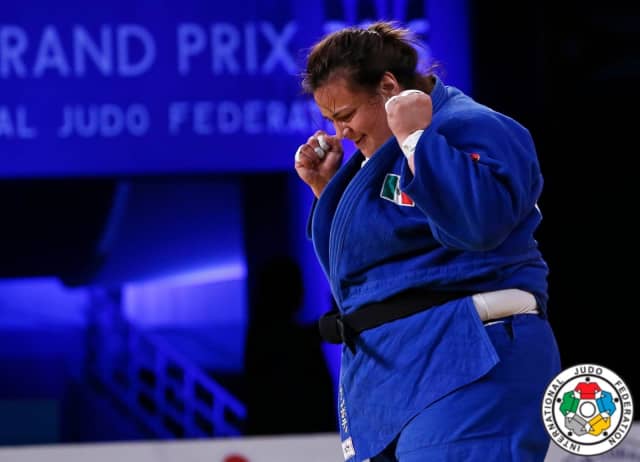 "Mexican women are really strong in diving and Tae Kwon Do and so we find support for women's sport is now better than it has ever been.
CONADE, Mexico's national commission for physical culture and sport is a government department which funds all sport in Mexico. Each federation puts forward nominees for funding and I'm fortunate to receive funding that way, thanks to the results of our team and even the results of those in other sports.
Prisca won her first grand slam medal in Uzbekistan, after 12 previous attempts. In fact, it's her first World Judo Tour medal and at 27 it couldn't have come soon enough. With the Paris 2024 Games just around the corner and all points being valuable towards qualification, Prisca's path looks more and more pointed at the French capital.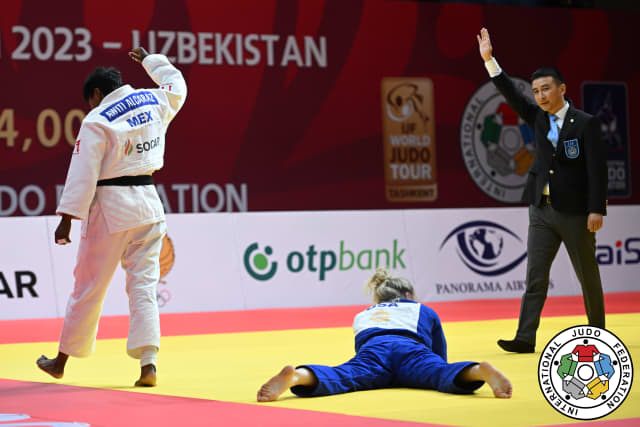 "I can travel where I want to, for the most part, with the funding I'm so grateful to be receiving. We do quarterly planning to ensure the right schedule. My result in Tashkent makes our position better for everyone so we all have the collective motivation to do well for ourselves and each other. We each need everyone to do well and so it's a real family effort."
What Prisca describes, the shared team motivation and responsibility, fits perfectly with judo's philosophy. It is the concept of jita-kyoei or mutual prosperity for self and others. This is a key principle of the foundations of judo and one the Mexican Judo Federation has taken to heart.
"I have a lot of support from both the men and the women of the team. In judo I've never experienced discrimination at all. The Mexican team is really united and I feel grateful to have been welcomed so perfectly by everyone. I arrived on the team at a good time. I'm sure it hasn't always been like that. I don't remember seeing women before Vanessa. It was inspiring but also a relief, just good to know that women can get there and be supported. She went to places and had results. She was followed by a small team of women including Carrillo at -48kg and others, so there was a team of women there."
"Gender is just not an issue for us. I know there are other countries which don't have the luxury of this kind of parity. The culture of combat sports now is so empowering. Women can be fighters, be strong. Mexico is traditionally a man's country with women staying at home. Friend of my parents are still in that culture but I can now see some men cooking and other shared responsibilities. The culture is, step by step, moving forward to be more equal. We are in a mid-phase.
I had the choice to travel with the Kenyan team too, with my heritage. Mexico just seemed so open though and it made sense as we have such good contact. I joined the team in 2017 and have loved it ever since, having spent all my childhood immersed in the culture through my mum."
Prisca reflects a lot on not only her life situation, her circumstances more widely but also on each event and performance. "Concentrating on just the sport and not having to fight for my place as a woman is a wonderful place to be in. The Mexican team gives me that."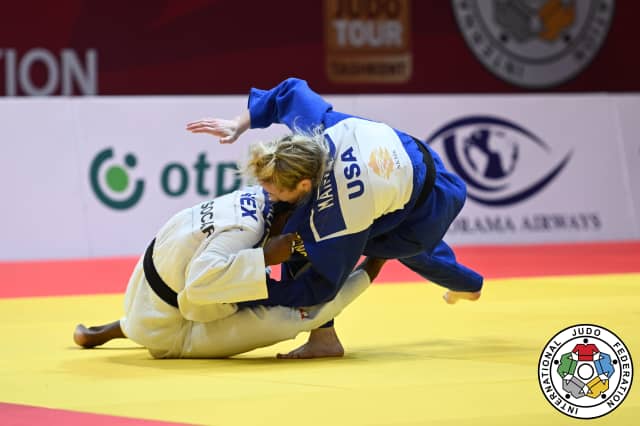 "In Tashkent I felt like from the beginning of the day I was feeling a lot better than I did on other days. I'd cancelled my participation in Tel Aviv due to illness, keen to only give of my best when spending the money and effort on competing. So I was keen to bring my best to Uzbekistan. I didn't sleep so well before fighting. My draw wasn't the best but I had fought many of them at the Paris Grand Slam camp and felt I could do it, I could beat them. I had a positive mentality throughout the day and held focus. I held on to my tactics.
The semi-final was really emotional. It was my third semi on the WJT and I'd had two 5th places before so I had to break that barrier. It was so surprising in the moment, like 'oh my, I've done it.' It was an emotional day for the whole team as there has been some talk about losing funding without the higher results but the team was so happy for this result. There was no feeling of them wishing it was them. We win and lose together. It was nice to be in that atmosphere. Getting into the final was almost overwhelming. I do some work behind the camera with Fighting Films and I'm used to seeing others feel it but this time it was me."
Prisca's story is unique, full of hard work, twists and turns, but also honesty and humility. Her first grand slam medal is a fine reward.
"My story isn't about being a woman in sport but being a judoka. I look forward to it being like this for all women."