World Judo Championships Tokyo 2019 Presented by PARK24 GROUP – PREVIEW

The World Judo Championships Tokyo 2019 Presented by PARK24 GROUP, the marquee event of the International Judo Federation's World Judo Tour, will take centre stage in the sport's homeland of Japan as the Nippon Budokan will host the world's elite as it did at the Tokyo 1964 Olympics and will again next year at Tokyo 2020.
The official draw and press conference took place on Saturday afternoon at the Tokyo Dome hotel on the eve of the competition which will take place from Sunday 25 August to Sunday 1 September.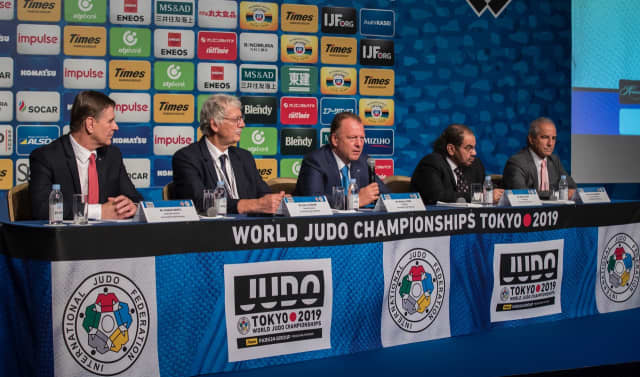 Following Friday's IJF Gala which celebrated 55 years of judo as an Olympic sport, and an impressive Art Exhibition at the Kodokan on Saturday morning, all the delegations, officials and media descended on the Tokyo Dome Hotel to witness the fate of their charges at the draw.
IJF Head Sports Director Mr. Vladimir Barta revealed that a record-breaking 841 judoka and a new record of 147 nations would participate.
A colossal 92 judoka will take part in the men's -66kg category while 57 judoka while see action in the women's -52kg category.
Judo fans will have unprecedented access to the sport's blue ribbon event with each mat being broadcast live on the IJF website with a commentator for each mat as well as television coverage in over 190 countries.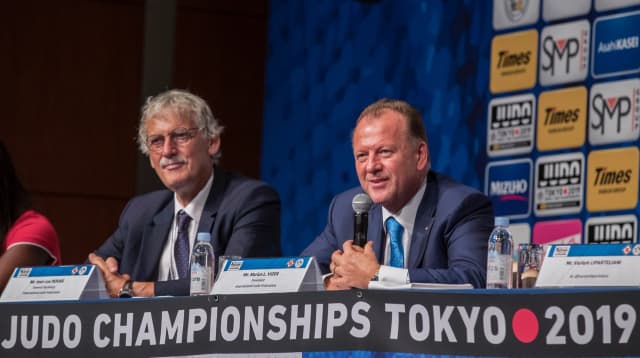 Mr. Marius L. VIZER, IJF President, made the opening address at the draw.
"Dear Presidents YAMASHITA and UEMURA, dear guests, ladies and gentleman, dear judo family members, organisers, it's a great moment to have the draw before I hope becomes one of the best World Championships of all time and one year before the Tokyo 202 Olympic Games. We had a nice gala yesterday and I hope those of you who were there had a good time. We have a huge number of countries and a lot of guests and I want to thank all of you for your contribution towards to the judo development.
"We had a successful Congress and re-elected our General Secretary Mr. Jean-Luc ROUGE and General Treasurer Mr. Naser AL TAMIMI and as well we have more than 570 media representatives in this World Championships which is a great honour for us and for the international media we welcome you all.
"I want to wish you all a successful World Championships and I'd like to say happy birthday to 10th Dan George KERR."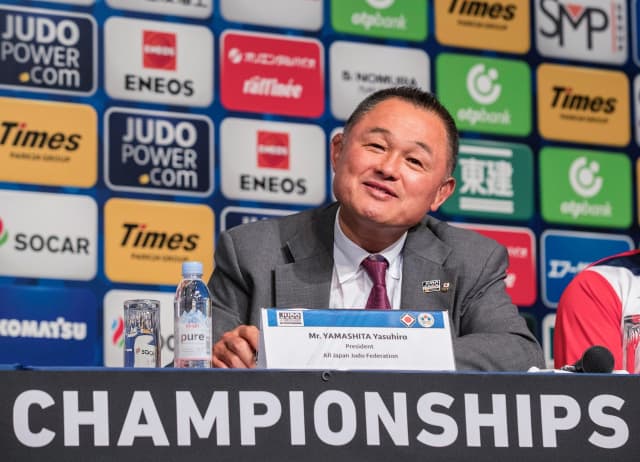 Mr. YAMASHITA Yasuhiro, All Japan Judo Federation President, said: "Dear President Vizer, Eexecutive Committee members, athletes, coaches and judo family, welcome to Tokyo, on behalf of the AJJF I'd like to express my warmest welcome to you all. It is a great honour to host the 2019 World Championships. I'd like to thank Mr. Vizer and all of our partners and sponsors. We believe these Worlds will add new values to our sport and will attract new fans on the way to the Tokyo Olympics.
"I wish all the best to all the judo family members from all over the world. I wish you a memorable stay in Tokyo."
Mr. UEMURA Haruki, Kodokan Judo Institute President, said: "I'd like to welcome you all to Japan and from tomorrow I expect to see judo with a good manner and a good attitude. I look forward to great performances from our champions."
Mr. Vlad MARINESCU, IJF Chief Media and Marketing Officer, said: "It's a pleasure to be here, I'm happy to announce that we will show the Worlds in over 190 countries and both mats will be available on satellite.
"We are working hard to show our sport in more countries. We will have highlights from each judoka which we will make available to all national broadcasters and national federations. Reuters will be among our partners at this event. The Reuters agreement means this information will be available to over 15,000 journalists.
"We will have a 360 degree camera in the warm up area to show a new dimension of our sport. We will have press conferences every evening with both gold medallists. We have over 570 accredited media here and we look forward to record-breaking coverage in Tokyo."
Mr. VIZER added: "I have three highlights of this special period, Her Imperial Highness Princess Tomohito of Mikasa was appointed as an IJF Ambassador, with AJJF and with Kodokan I hope we can promote more the values of judo throughout the world. Recently Mr. Yamashita was elected as JOC President, congratulations to him, and finally, the motto of the World Championships is 'Competing For A Better World'."
Mr. Juan CARLOS BARCOS, IJF Head Referee Director, "We felt the initiative for coaches to bow to each other has been very successful and it gives a very positive image of our sport. I'd like to thank you all for this. I want to wish you all a great World Championships."
Following the individual draw it was time for the team draw which featured 15 teams and for the first time, a history-making IJF Refugee Team.
Top seeds and hosts Japan have a first-round bye and will face the winners of Netherlands-South Korea while the IJF Refugee team have been pitted against Russia.
In round one the team competition will start with contests in the -70kg category after this weight category was drawn by 10th Dan George KERR.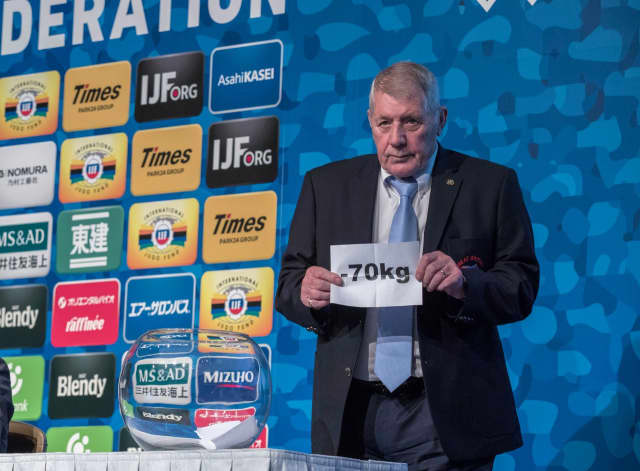 Judo champions welcome judo's homecoming
Following the completion of the draw, the press conference took place with five champions.
Rio 2016 Olympic silver medallist Varlam LIPARTELIANI (GEO) said: "Hello everyone, when you fight in Japan it's a good feeling, when you win here, a gold, its an amazing feeling. A medal here is like gold because it means so much. People love judo here and when you make a good result here you should be happy and you make a good feeling in your heart.
"I come for gold but it's not easy. I will do my best and give everything I have to try to win for Georgia."
World champion Clarisse AGBEGNENOU (FRA) said: "For me to fighting in Japan is very important as tits the homeland of judo, I have three world titles and I want to win my fourth here, it would be the best for me and especially with the Olympics next year in the same venue."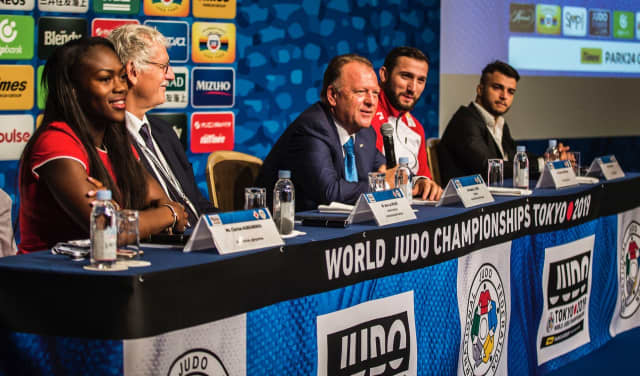 World champion ASAHINA Sarah (JPN) said: "Thank you for coming to today's press conference, I'm very honoured to be here with the judo family and these great champions. Tokyo is my hometown. I'm very excited to fight there. This is a great opportunity for me before the Olympics to fight at the Nippon Budokan. I will do my best and work hard. Welcome everyone to Japan."
Former world champion HASHIMOTO Soichi (JPN) said: "First of all I'm very happy that this World Championships is in Japan. I am taking part here in the team competition. I will do my best for Japan. I hope all my matches will be victories and I hope to help Japan to gold in the team event."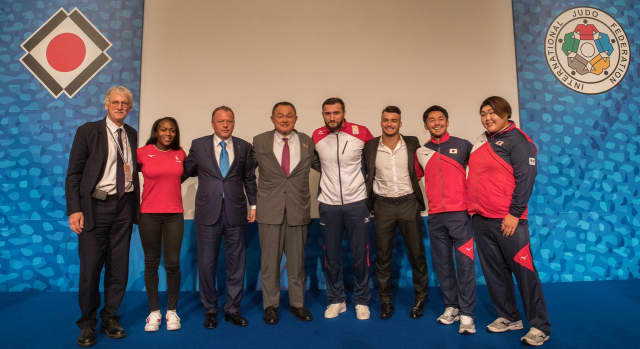 Olympic champion Fabio BASILE (ITA) said: "I'm very happy to fight here in Tokyo, I think Japan is the best nation for the education of the world. I like to stay here. I enjoy my time here. We'll see how the competition goes, I hope I will do well and I'm aiming for gold. A male Italian judoka has never won gold at the Worlds and I hope I'm the first."
Watch #JudoWorlds free here on the IJF website.