The days go by and look the same, without being the same. They look alike from an organisational point of view, but with the categories of the judoka changing, every day we can enjoy a completely renewed show. It is not enough to say that the two categories of the day exuded freshness, work ethic and talent. They also selected among themselves two great champions, ambassadors for judo and they are even more impressive when we consider just how close we are to the big Tokyo rendezvous.
At -63kg we rediscover what dominating a weight category means. We were also able to realise to what extent an announced result remains more than interesting to observe, regardless of its predictability. With her victory Clarisse AGBEGNENOU (FRA) can definitely be called, the Judo Queen.
We have also seen that judo remains spectacular and that it produces magnificent champions, who are much more than medallists, but who are above all role models. All this is possible thanks to the thousands of hours of training that all athletes consume throughout the year. One gets nothing for nothing an today, CASSE proved that working hard is the key to the world title.
This is valid for the competitors of course, but also for the organisers of the World Judo Championships Hungary 2021, who in four days of competition have already built an undeniable success.
-63kg: Clarisse AGBEGNENOU, What Else? If the men's category of the day is not predictable, the women's -63kg competition is, with Clarisse AGBEGNENOU (FRA) being so dominant. Still, it's always an outstanding pleasure to see the young French woman step on to the mat, showing both determination and relaxation. Before each of her matches, she was actually dancing in the tunnel, her headphones on, just totally relaxed and ready to start her journey to conquer a new world title.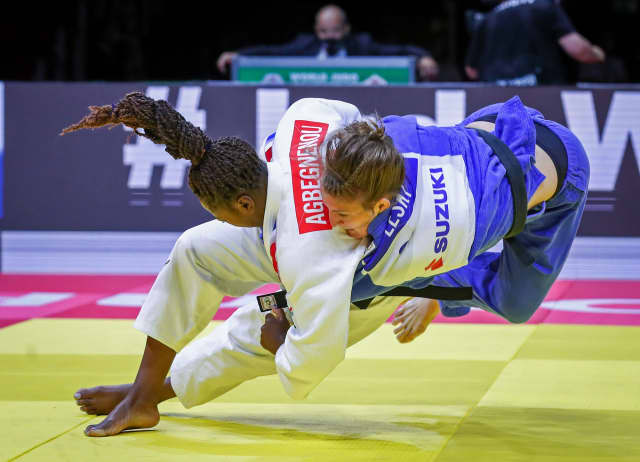 With four world titles already to her name, being again on top of the podium may not be AGBEGNENOU's top priority. This event is clearly a step towards being the queen of the Olympic Games. Without producing her most beautiful judo, the French heroine took match after match and imposed her style and power. In theory, no-one seems to be able to rattle her, as she showed so much confidence today, like many of her previous competitions. For her, the final judgement will definitely be in Tokyo this summer, but once again Clarissse AGBEGNENOU entered the final of the World Championships, where she faced Andreja LESKI (SLO) for the first time at this level of competition.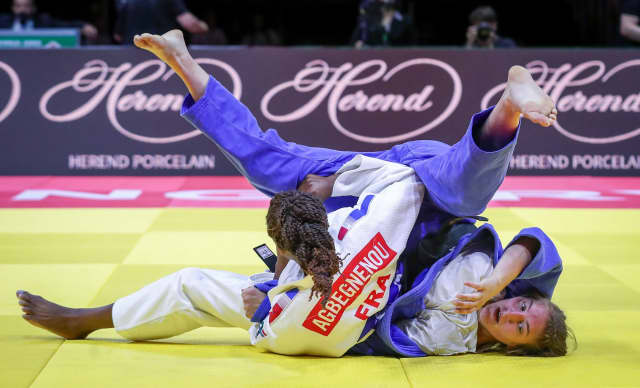 It is interesting to underline that Andreja LESKI is the biggest rival of current Olympic Champion Tina Trstenjak (SLO), who was and still is one of the biggest rivals of AGBEGNENOU. Obviously that national rivalry pays off for LESKI who produced really good judo throughout the day.
A first shido was quickly given to LESKI for blocking her opponent, before the Slovenian athlete put the French a little out of balance in an action-reaction situation, but nothing really dangerous for the four-time world champion. Again, LESKI proved to be more active with a koshi-waza attack for no score. As LESKI was again attacking on her knees, Clarisse AGBEGNENOU controlled her opponent to launch a powerful maki-komi to score a waza-ari, immediately followed with an immobilisation, that she had to repeat twice to win her fifth world title.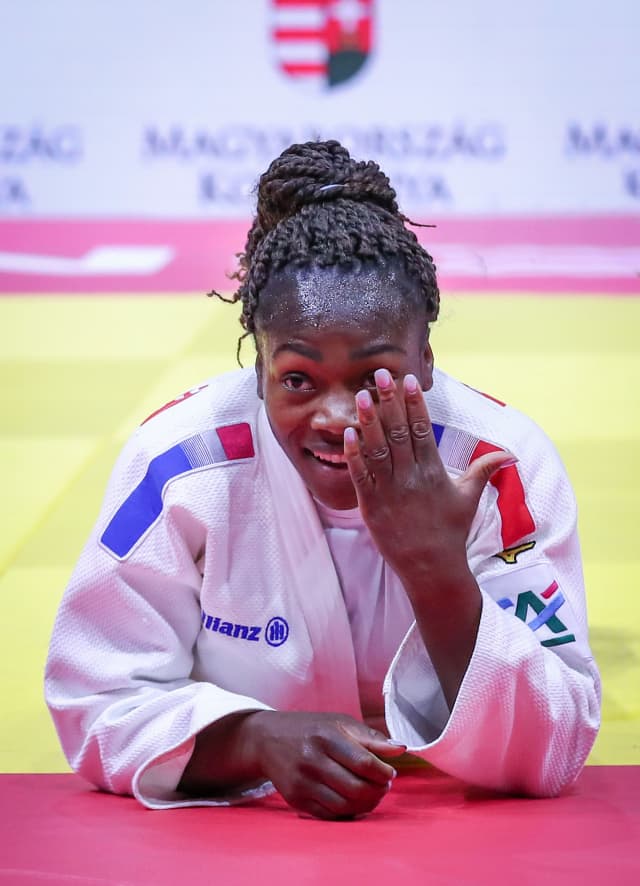 Clarisse AGBEGNENOU explained, "Three months ago I thought I would not attend this event. Then I said to myself, 'if I dont go to Budapest and I fail in Tokyo, next year I will have no titles to defend and Budapest means a 5th title.' So here I am!"
What can stop the French woman from becoming one of the most decorated judoka in history? It is interesting to note that throughout the day the French champion scored several times on the floor, proving the benefit of developing this aspect of judo, even when already on top of the world, to stay in control when tachi-waza techniques are not efficient enough.
The first bronze medal contest of the category saw Anja OBRADOVIC (SRB) and Anriquelis BARRIOS (VEN), finalist in Antalya some weeks ago, who during the first rounds upset number two seed NABEKURA Nami (JPN). As the match was unfolding, OBRADOVIC was trying to apply what helped her to win some of her preliminary rounds, a tani-otoshi, but unsuccessfully this time. She tried to vary her techniques, but, even if she was penalised once, it was BARRIOS who had the strongest opportunity during normal time. As they entered the golden score period, once again Anja OBRADOVIC launched her homemade tokui-waza for a waza-ari and her first medal at this level.
Ketleyn QUADROS (BRA) is one of those athletes who has been present on the circuit for many years. The Brazilian judoka was an Olympic medallist in Beijing in 2008. Thirteen years later she is still competing for a world medal. This is impressive. Sanne VERMEER (NED), defeated by Clarisse AGBEGNENOU in the semi-final, didn't want to give away the medal and the competition for bronze was heated. VERMEER was the first in action, keeping distance from QUADROS with a strong left arm and looking for the action reaction. The Brazilian athlete was the first to score with a sumi-gaeshi on the edge of the competition area, though. It was nothing to disturb VERMEER, who immediately came back with a waza-ari of her own. This easy to watch match continued with attacks from both sides, until the Dutch competitor applied one more of her action-reaction movements to score a clear ippon this time to grab the bronze medal.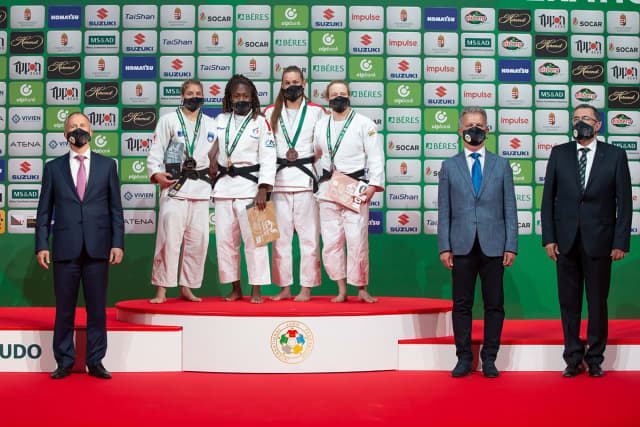 Final AGBEGNENOU, Clarisse (FRA) vs. LESKI, Andreja (SLO)
Bronze Medal Contests OBRADOVIC, Anja (SRB) vs. BARRIOS, Anriquelis (VEN) QUADROS, Ketleyn (BRA) vs. VERMEER, Sanne (NED)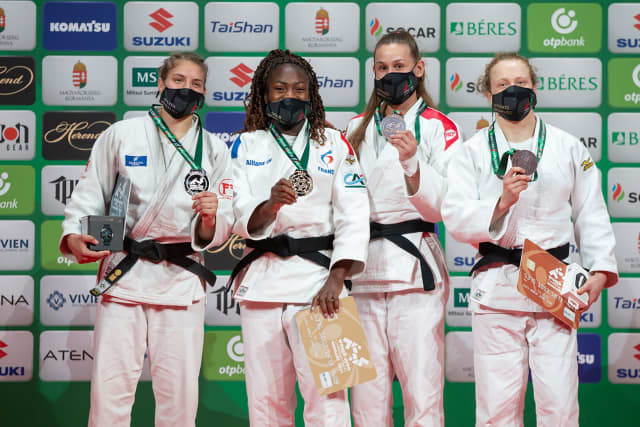 Final Results 1. AGBEGNENOU, Clarisse (FRA) 2. LESKI, Andreja (SLO) 3. OBRADOVIC, Anja (SRB) 3. VERMEER, Sanne (NED) 5. BARRIOS, Anriquelis (VEN) 5. QUADROS, Ketleyn (BRA) 7. DEL TORO CARVAJAL, Maylin (CUB) 7. OZBAS, Szofi (HUN)
-81kg: CASSE's Golden Come Back There are categories like this, where nothing is predictable. Even if all the athletes present in the final block are top judoka, there is still a great level of uncertainty which forbids anyone to make clear predictions. On the World Judo Tour, -81kg is a perfect example of that. The more the competition unfolded, the more the big names of the category remained, but no-one knew in which order they would settle. The final of the day eventually brought together Matthias CASSE (BEL), already a finalist two years ago in Tokyo and Tato GRIGALASHVILI (GEO), winner of the last World Judo Masters in Doha in January.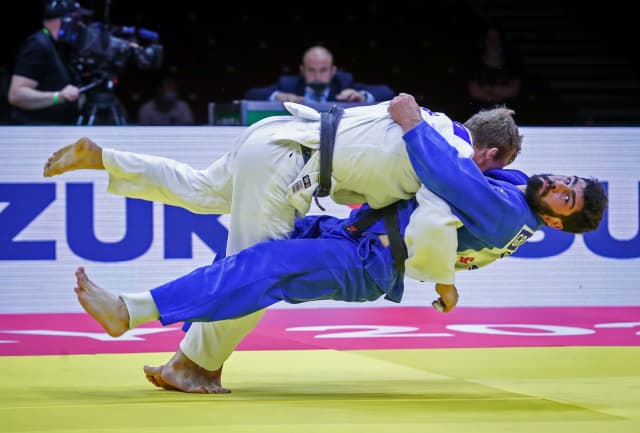 During the first half of the final GRIGALASHVILI seemed to be slightly ahead, looking for the instant moment where he could kill the match with a magical move, but CASSE resisted and step by step also imposed his power, so the two men reached the end of normal time with only one shido to GRIGALASHVILI. During the golden score period everything can happen. GRIGALASHVILI was looking for the perfect moment, CASSE as well, but maybe with a little more clarity in his mind, as the Georgian started to launch an unfinished attack. Suddenly with a massive utsuri-goshi, CASSE, who two years ago couldn't win gold, this time threw his opponent for ippon. After a world silver medal, being able to come back and win is impressive. CASSE did it and he did it with style.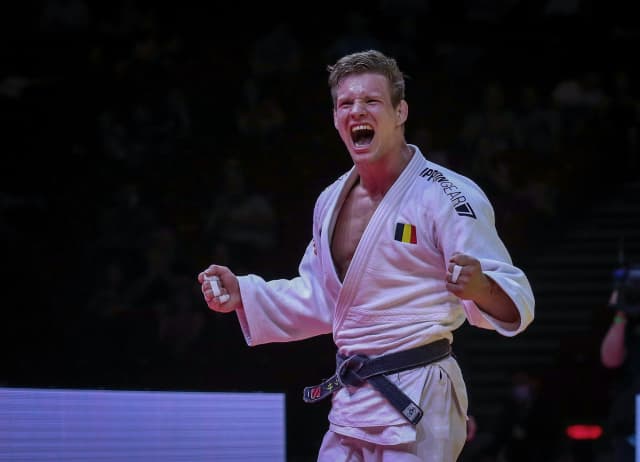 Matthias CASSE said, "Like I said a couple of days before, I had a plan for every single opponent. Today I stuck to the plan in every contest. Now I need to remain calm for another month."
In the first bronze medal contest we found FUJIWARA Sotaro (JPN), bronze medallist at the Paris Grand Slam at the beginning of last year and Frank DE WIT (NED), finalist of the last edition of the World Judo Masters in Doha, where he lost to GRIGALASHVILI. After two minutes, Frank DE WIT seemed to be more dynamic than his opponent, bringing more rhythm and creating opportunities. FUJIWARA was penalised with a first shido for a false attack. With one minute left, he was again penalised, for passivity.
They entered the golden score period, which started with a strong attack from FUJIWARA, but DE WIT turned on time to land on his stomach. Another attack-counter-attack combination was then close to scoring. A last false attack from FUJIWARA deprived him of the bronze medal, one that went to the Netherlands and Franck DE WIT. He's a regular at the top level; this result is totally deserved.
Quite discrete during the first round, compared to the big names of the category, Anri EGUTIDZE (POR) reached the contest for the bronze medal, against Ilias Iliadis' protege, Sharofiddin BOLTABOEV (UZB). A first shido was rapidly awarded to each competitor for avoiding contact. A second shido was then given to the two for passivity, obliging them to take more risks to score. It's actually not that they were inactive, but they neutralised themselves until BOLTABOEV scored what he believed was a waza-ari with an aerial ura-nage, but the score was cancelled. Time for golden score! This is when Anri EGUTIDZE decided to launch a last attack with a left-handed maki-komi that scored ippon. Bronze medallist for the first time at the world level, the Portuguese let his joy explode.
Earlier in the day, to reach the final, Matthias CASSE had successive wins against Hievorh MANUKIAN (UKR), Benedek TOTH (HUN) and Eduardo Yudy SANTOS (BRA), without great difficulties, while in the quarter-final he had to produce a real effort to overcome a Japanese obstacle in the name of Sotaro FUJIWARA. In the semi-final he faced Sharofiddin BOLTABOEV (UZB), winner in Tel Aviv and second in Tashkent, who had just ruined Saeid Mollaei's dream of becoming world champion again, but this did not disturb CASSE at all and he gave no chance to the Uzbek to enter his second world championship final in a row. As the Belgian said a couple of days ago, he has a plan for everyone and this has worked pretty well, but the question is: would it work also against Tato GRIGALASHVILI (GEO)?
The Georgian can definitely be called an artist in the way that he produces spectacular, aerial judo. In the semi-final, Frank DE WIT (NED), particularly well known for his resistance, couldn't do anything, when GRIGALASHVILI, maybe one of the most unpredictable judoka of his generation, produced a right handed tai-otoshi, which he never has before, to score an incredible ippon. Before that, GRIGALASHVILI had sent LEE Moon Jin (KOR), Robin PACEK (SWE), Alexios NTANATSIDIS (GRE) and the Belgian Sami CHOUCHI back home. Sadly Chouchi was injured and couldn't compete in the repechage.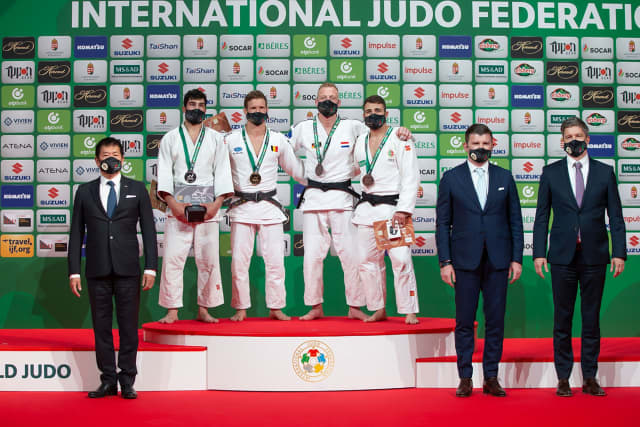 Final CASSE, Matthias (BEL) vs. GRIGALASHVILI, Tato (GEO)
Bronze Medal Contests FUJIWARA, Sotaro (JPN) vs. DE WIT, Frank (NED) EGUTIDZE, Anri (POR) vs. BOLTABOEV, Sharofiddin (UZB)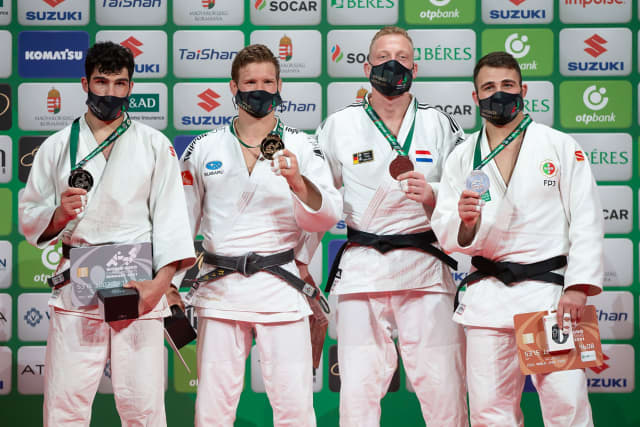 Final Results 1. CASSE, Matthias (BEL) 2. GRIGALASHVILI, Tato (GEO) 3. DE WIT, Frank (NED) 3. EGUTIDZE, Anri (POR) 5. BOLTABOEV, Sharofiddin (UZB) 5. FUJIWARA, Sotaro (JPN) 7. CHOUCHI, Sami (BEL) 7. MOLLAEI, Saeid (MGL)