She entered the field of play as the reigning World Champion of the +78kg category but could not prolong her title and had to settle for bronze. Nevertheless, when Japanese Sarah Asahina enters the tatami the home crowd goes wild for this popular judoka. This time however, Sarah had some specials fans supporting her bouts …
Although a fierce judoka on the mat, Sarah is a very gentle and likable person off the tatami. Moreover, she volunteers her free time working for 'Project Puppy', a program for patients with respiratory problems which started in 1983 by Dr. Katsuyuki Miyasaka, Professor Emeritus of St. Luke's International University, when he was the director of the Anesthesia and Intensive Care at the National Children's Medical Center in Tokyo, the flagship of Japanese children's medicine. He developed the world's smallest and lightest battery operable ventilator for home and transport use and named it the 'Puppy' ventilator. The introduction of 'Puppy' into pediatric home ventilatory care was revolutionary and made the lives of patients and their families much easier.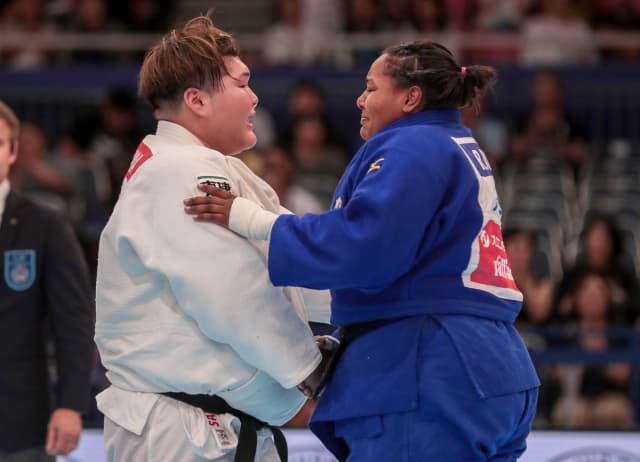 Dr. Katsuyuki Miyasaka and his team strongly felt the need to provide technology dependent children and their families with the opportunity to enjoy outdoor activities. They wanted to give the children a chance to meet other children without fear for medical issues and give the parents a chance to socialize and relax without the burden of being sole caregiver. With the support of Dr. Yasuyuki Suzuki, the current Director of Anesthesia and Intensive Care, and Mr. Tetsuya Suzuki, the President of Origin Medical, the first official Puppy Summer Camp was held in 1995.
Sarah Asahina started joining the camp activities when she became a high school student. Sarah, together with her father Dr. Teruya Asahina, who was an anesthesia trainee under Dr. Katsuyuki Miyasaka at that time, and her friends often give judo demonstrations to the delight of all. For many participants it's their first occasion to experience a live judo performance.
"Sarah fits in fine with her big smile and a helping hand," Dr. Katsuyuki Miyasaka commented. "It is my understanding that her will to become a medical doctor in the future crystallized through this activity. She has made special efforts to take time out of her training and competition schedule to attend Puppy Summer Camp regularly. We all know how much of an extraordinary effort it is to follow the difficult path of both becoming a medical doctor and an Olympian at the same time. Our ventilator-dependent children may not have a chance to be Olympians, but we all cheer Sarah for her effort and her love."
"Sarah has a big heart," her dad Dr. Teruya Asahina said. "She invited a number of patients she works with as a volunteer to come and watch her competition at the Judo Worlds and paid for their tickets. In Japan it's common to have disabled patients to be present at baseball or football games, but it was unheard of in judo, until now. I'm proud of my daughter."
"I like volunteering for Project Puppy," says Sarah. "My goal is to bring judo as close as I can to children that are physical not capable for doing judo. So in a way, they too can experience the excitement of the sport and everything that comes along with it: respect, courage, perseverance … That's also the reason I invited some of them to watch my competition here in the Budokan. I hope they can draw energy through my performance. I'm a bit disappointed I let them down and only could win bronze and not gold again. I will invite them again to other competitions."