After a last intense day of judo, beautiful movements and determined battles, punctuated by twists and turns, Japan once again inscribes its name at the top of the world of the mixed team event.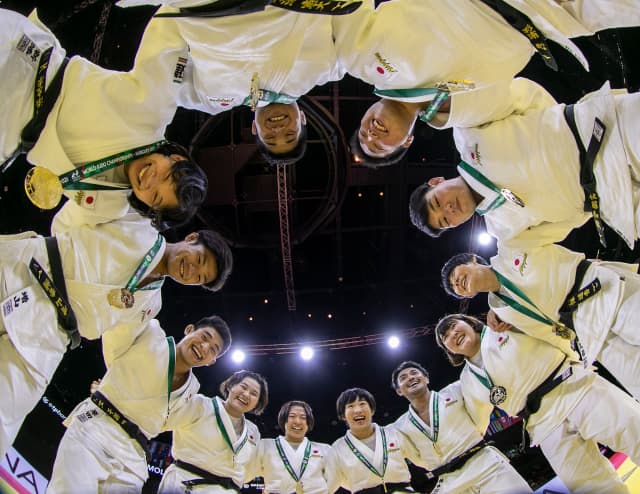 We cannot repeat it enough: judo is an individual sport that is practised as a team. It is impossible to become an individual world champion if you do not have the opportunity to train with a team of partners and team spirit is one of the essential elements that all the delegations maintain and try to develop.
This probably explains why team competitions always have that little extra something that makes them insanely exciting. While for the previous seven days we have focused on the journey of athletes who have come to clinch the world title in their respective weight classes, on this final day of the 2021 World Championships, all eyes were on the mixed teams, comprising groups of men and women whose sole objective was to serve the interests of the team.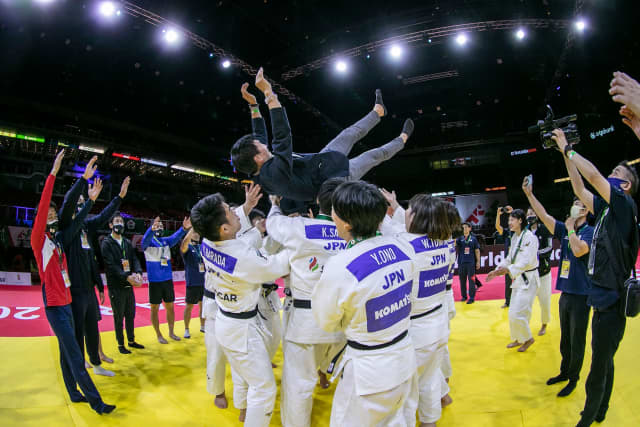 In a few weeks, in Tokyo, for the first time in the history of judo and the Olympic Games, judo will have a mixed team tournament. Some athletes who will be crowned in the individual event will have to refocus on a new competition. Others who have not performed will be keen to get the medal and write their name down for posterity.
What is certain is that the desire to win will be immense. It was the case today in the Laszlo Papp Budapest Sports Arena. When suddenly, in each round, the whole of a delegation begins to support their representatives on the tatami, the noise level goes up a notch. From 10:00am this was the case in Budapest.
When we also understand that the sum of the individuals in a team does not necessarily correspond to the team's ability to win, we can easily imagine the energy that emerges.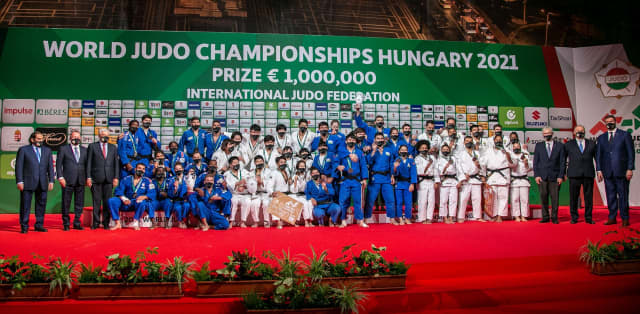 This explains why we have seen, several times, during the preliminary rounds, improbable changes in the dynamic of the whole match between two nations. The most striking example, even if there were others, was the quarter-final between France and Georgia. At the end of the match, the two teams were tied with three wins each. A contest to decide between them was therefore drawn.
Francis Damier (FRA) was called back to the tatami against Avtandili Tchirikishvili (GEO). The Georgian team was elated because in the first match between the two athletes, it was the 2014 world champion Avtandili Tchrikishvili who won without difficulty. Everything seemed folded, but it was without counting on this famous team spirit and on this addition of talent, whose result may be different from the one we might expect. Tchirikishvili presented himself confidently, probably a little too much and Francis Damier knew how to take advantage of it in the best way, propelling his team to the semi-final after a beautiful counter-attack.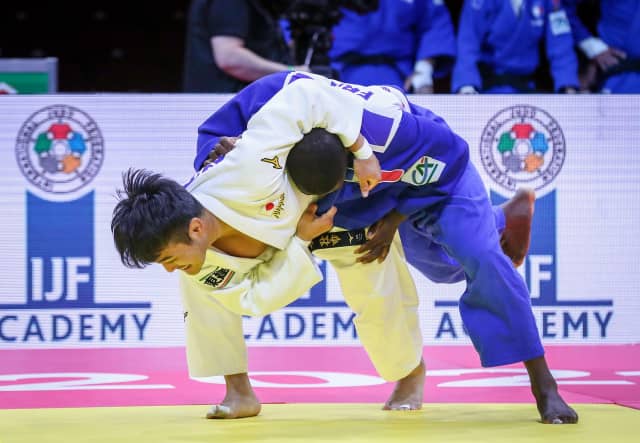 It is even more impressive when you see that the Frenchman is only at a distant 356th place in the world and is only 19 years old. In the semi-final it was again he who gave a decisive point to his team by beating Shermukhammad Jandreev (UZB), allowing France to continue to dream of the gold medal.
In the other part of the draw, Japan were favourites and they did not disappoint, by winning against Ukraine and then in front of the delegation representing the Russian Judo Federation.
The France-Japan final is a classic of team tournaments and there is no doubt that during the Tokyo Games, the two teams already imagine themselves in the final. Much can still happen by then. The composition of the teams will not be the same and the stakes will be different, but this is another story, which we will soon have the pleasure of telling.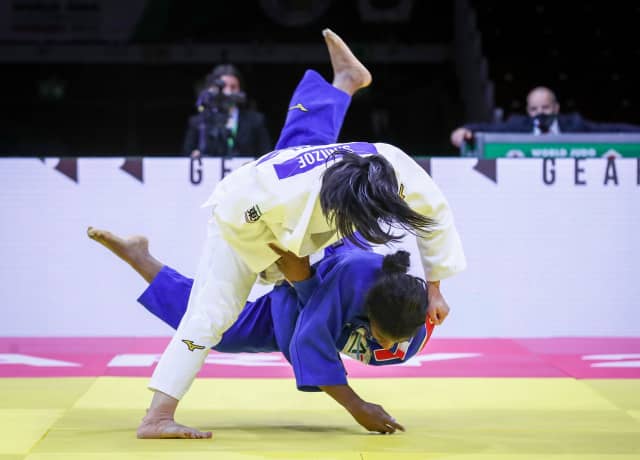 It will also be remembered that in Budapest, during the first round, the IJF Refugee Team faced the Ukrainian team with courage and determination. The refugee athletes will also be present in Tokyo this summer; another great first! When we know what these athletes have experienced, finding themselves united around a common goal takes on a very special meaning that goes beyond the purely sporting framework. Well done to Oula, Adnan, Sanda, Ahmad, Muna and Tareq for reminding us with their presence that when we talk about the judo family it really means something. What better than a mixed team event to illustrate that?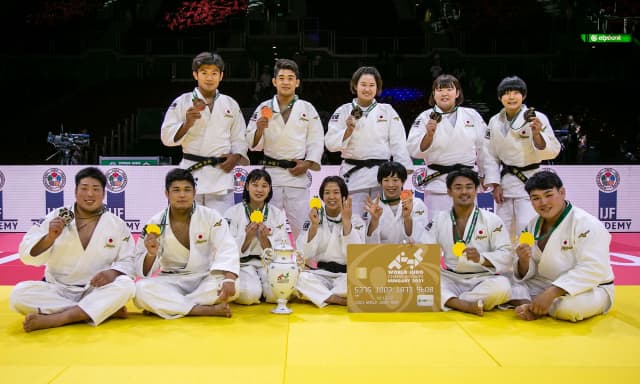 Final JAPAN (JPN) vs. FRANCE (FRA) -73kg: Soichi HASHIMOTO 1 / Joan-Benjamin GABA 0 -70kg: Saki NIIZOE 1 / Marie Eve GAHIE 0 -90kg: Kenta NAGASAWA 1 / Francis DAMIER 0 +70kg: Maya AKIBA 1 / Lea FONTAINE 0 +90kg: Kokoro KAGEURA / Cedric OLIVAR -57kg: Haruka FUNAKUBO / Gaetane DEBERDT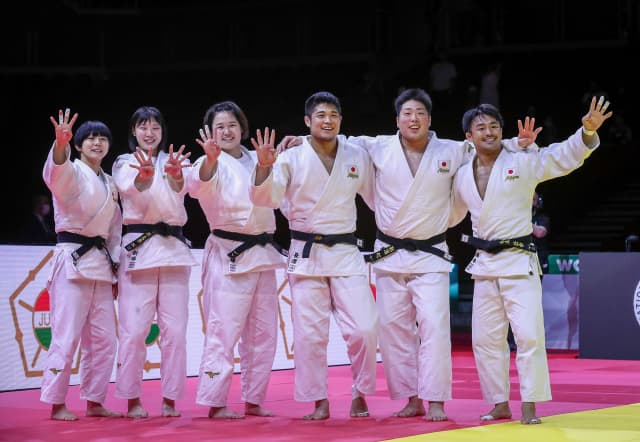 It took almost 2 minutes of golden score for Soichi HASHIMOTO to score the first point for team Japan after an heroic resistance from Joan-Benjamin GABA, who finished totally exhausted with three penalties to his name, but who really tried as hard as possible to find an opportunity against the wall HASHIMOTO built. 1-0. Despite the fact that Marie-Eve GAHIE seemed to dominate at the beginning of the match and that Saki NIIZOE was penalised twice, during the golden score period, the Japanese athlete scored with a stylish uchi-mata for ippon giving a second point to team Japan, as the French 2019 world champion left the mat with what seemed to be a slight rib injury, which could explain that she was not at her full capacity. 2-0. With Kenta NAGASAWA's victory against Francis DAMIER by waza-ari, Japan scored their third point. Maya AKIBA scored the last point for Japan against Lea FONTAINE. The new mixed team world champions are Japan.
Soichi HASHIMOTO said, "Our coaches are true leaders. They made us better and motivated us. We are stronger because we feel united."
Bronze Medal Contests KOREA (KOR) vs. UZBEKISTAN (UZB) -73kg: Joonsung AHN 0 / Obidkhon NOMONOV 1 -70kg: Heeju HAN 0 / Gulnoza MATNIYAZOVA 1 -90kg: Juyeop HAN 0 / Shermukhammad JANDREEV 1 +70kg: Hayun KIM 1 / Iriskhon KURBANBAEVA 0 +90kg: Jonghoon WON 0 / Muzaffarbek TUROBOYEV 1 -57kg: Jandi KIM / Shukurjon AMINOVA
The first match was won by Obidkhon NOMONOV with a waza-ari after dominating the whole contest. 0-1. With a massive ippon from a koshi-waza technique, Gulnoza MATNIYAZOVA added a second point for her team. 0-2. Team Uzbekistan continued to harvest points with the victory of Shermukhammad JANDREEV's seoi-nage technique for waza-ari. 0-3. After a very brave contest against Hayun KIM, Iriskhon KURBANBAEVA was pinned down for ippon, giving a first point to Korea. 1-3. With the fourth point scored by Muzaffarbek TUROBOYEV, Uzbekistan won the bronze medal and could let their joy explode. The young team, led by Ilias Iliadis, put genuine smiles on their faces and celebrated their victory in a traditional farandole manner.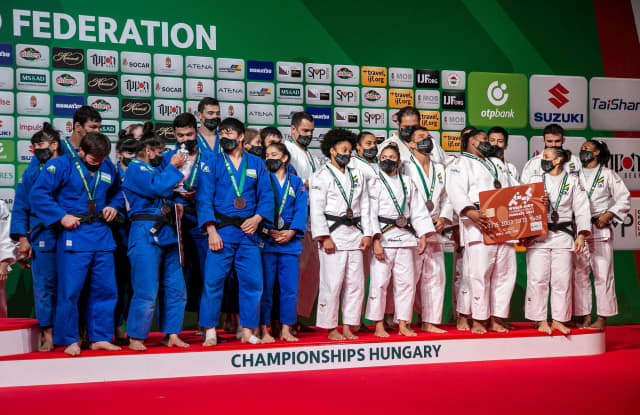 BRAZIL (BRA) vs. RUSSIAN JUDO FEDERATION (RJF) -73kg: Eduardo BARBOSA 0 / Denis IARTCEV 1 -70kg: Maria PORTELA 1 / Dali LILUASHVILI 0 -90kg: Rafael MACEDO 0 / Khusen KHALMURZAEV 1 +70kg: Beatriz SOUZA 1 / Daria VLADIMIROVA 0 +90kg: David MOURA 1 / Alen TSKHOVREBOV 0 -57kg: Ketelyn NASCIMENTO 1 / Anastasiia KONKINA 0
With an ippon chalked up in golden score with an armlock, Denis IARTCEV won the first point for the RJF team, to take the lead. 0-1. After a second golden score, this time the point went to Brazil after Maria PORTELA scored waza-ari with a classic o-goshi. 1-1. RJF took the lead again after Khusen KHALMURZAEV won by penalties against Rafael MACEDO. 1-2. The teams equalled the score again with the clear ippon victory of Beatriz SOUZA. 2-2. For the first time, Brazil took the lead with the point scored by David MOURA against Alen TSKHOVREBOV. 3-2. With Ketelyn NASCIMENTO upsetting Anastasiia KONKINA in the last match, Brazil took the last point to win a well deserved bronze medal. Before team Brazil left the tatami, David MOURA, who has been one the pillars of the team for many years, made a discrete sign to signify that it might be one of his last appearances on the world circuit. Rafael Silva is going to the Olympic Games and David congratulated him on social media and wished him good luck. Job well done David and see you soon.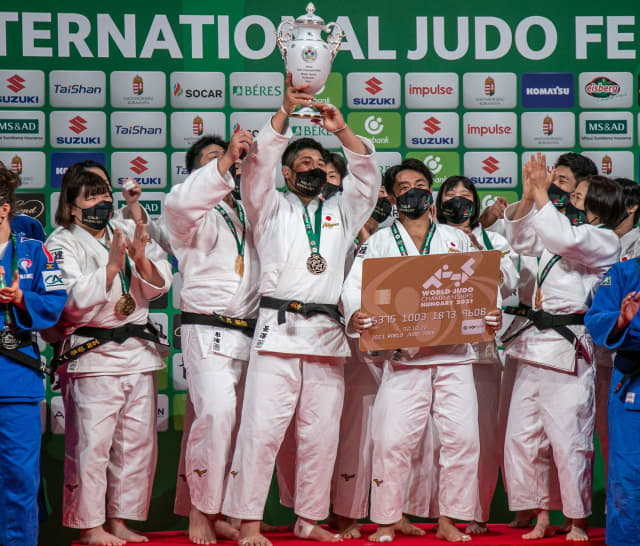 Final Results 1. Japan (JPN) 2. France (FRA) 3. Uzbekistan (UZB) 3. Brazil (BRA) 5. Korea, South (KOR) 5. Russian Judo Federation (RJF) 7. Ukraine (UKR) 7. Georgia (GEO)