With a bye in the first round, because that is your reward for being the number one seed, a seemingly straight forward second round match ensued between 3-time Olympic medallist Lasha Shavdatuashvili and his Korean opponent, Kang, who was junior world champion in 2015 but has shown very little since.
Lasha won that contest by dominating every single inch of the tatami and forcing 3 penalties, by design, in 3 minutes. There was then a trickier 3rd round contest against Koda of Brazil, which required some oxygen and tactical superiority, to hold a waza-ari score until the end. Done!
Next, to the quarter-final, which should be at an increased intensity, for this stage of the competition; it is a grand slam after all. Sarakhonov (TJK) started each exchange left, producing a perfect mirror for Lasha (GEO), with his right stance. The very beginning of each exchange was the same with a couple of seconds of limited movement and then a launch to the centre from both, locking horns.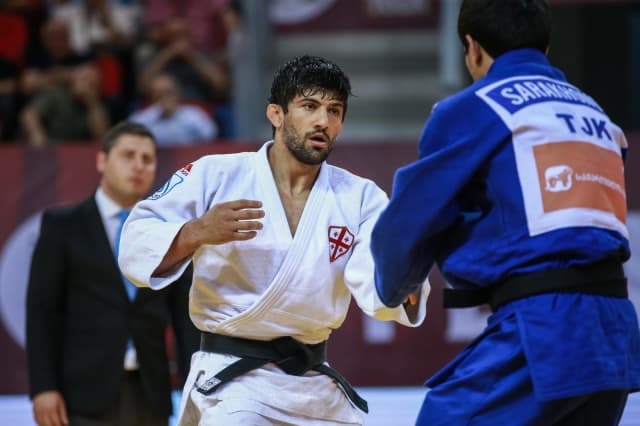 The gripping of triceps looked nailed but heavy-handed cross-grips were employed to break the deadlock, keeping hold though, as per the new gripping rules. Sarakhonov locked in with a sasai to osoto attack more than once, perhaps with a little understandable hesitation and 10% less power than needed, but Lasha's outstanding speed in transition to squash his opponent into the all-fours position, drilling his hands into position and sitting for the shime-waza, came over and over again. It almost scored and from there it could only be Ippon.
This is all well and good but as striking as the speed of transition was, it was the absolute confidence in his tactics that drew our eyes to Lasha. He isn't European, world and Olympic champion for nothing and the wisdom he's acquired over the years is plainly visible. His control of Sarakhonov throughout was nothing short of astounding.
A penalty for breaking the grip without keeping it. A penalty for a false attack. Then another for gripping. It was all over in 2 and a half minutes. It was not spectacular but it was a lesson from a grand master in tactics and control.
The semi-final could possibly be considered uninspiring but I could challenge anyone to find a better example if control than that of Lasha. At home, facing a teammate, Lasha didn't unleash hell but did what he has done since 11:30 this morning and controlled the fight down to the finest detail.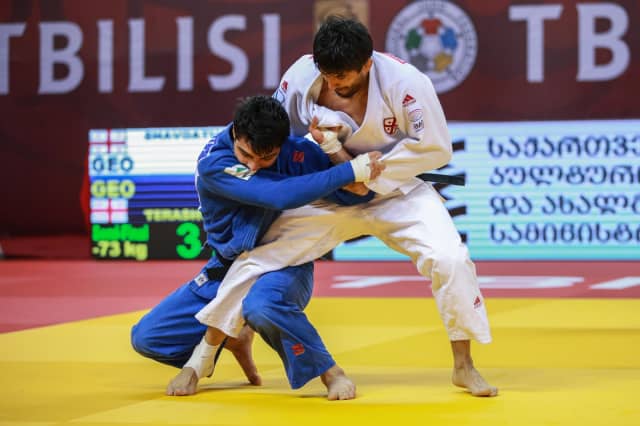 Terashvili is only 19 but he won gold in Antalya and that means he is no fool, young but not without judo! The difference in manner is subtle. The beginning was an exchange asserting dominance and it was Shavdatuashvili who commanded, no doubts at all. From there it all slowed down and left us with a mild frustration, knowing that either could throw and the pace could move us and the crowd. Then it began again and the first shido came and then another. Leading, Lasha kept his head and dictated the exact pace he needed to stay just enough in front, calculating the times and trends perfectly. Then a shido for him, unexpected, a miscalculation. He tilted his head to one side, clearly irritated and then continued on his way. Into golden score, probably unnecessarily had he chosen to open up just a little more and in the second exchange he turned into a bear, mauling Terashvili horribly, ensuring they both understood the hierarchy. Lasha leant on him and outgripped him and blocked his movements. That exchange gave the youngster no chance at all. Then back to his normal pace, gradually forcing a third penalty, this one for passivity.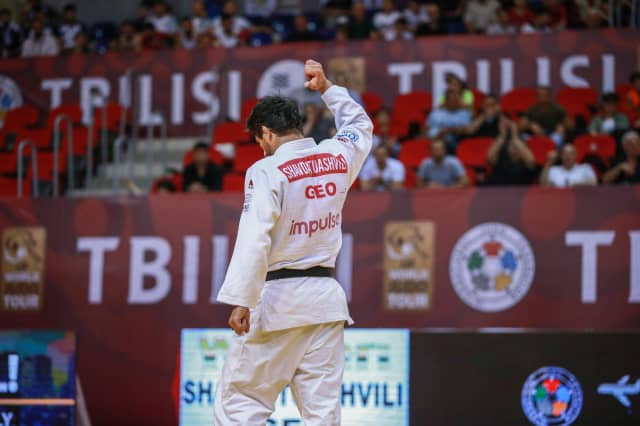 Lasha went to the final in Tbilisi without a single moment of doubt; the lesson being that confidence is earned, not stolen. In judo you can't pretend to be the king. He's built his toolkit from Games to championship and from camp to Games. He approached each contest knowing that no matter what came up he'd felt it before and a solution would be dug out of his extensive kit bag; nothing new.