Distria fought the 2011 cadet worlds, followed only weeks later by the junior worlds, without medalling at either. Already training with the small core group of Kuka's representatives of their fledgling country, Distria was at the beginning of more than a decade of hard training and climbing slowly through the ranks of the world's elite.
In this first ever Kosovan judo team was a quiet girl, a few years older than Krasniqi, by the name of Maijlinda Kelmendi. She became a national hero winning their first ever Olympic medal, from any sport, and it was a gold. She dominated the -52kg category for a period of four years, from 2013-2017, winning world and European medals at a staggering rate and even outside of that four years she could never be ignored.
Krasniqi often fought in the same category, always falling short of her teammate's success. Being younger and somewhat less experienced, it made sense but must also have been a tough mental game, to live with belief, a necessary ingredient for success, while also having to absorb the evidence that even at home you are not the best.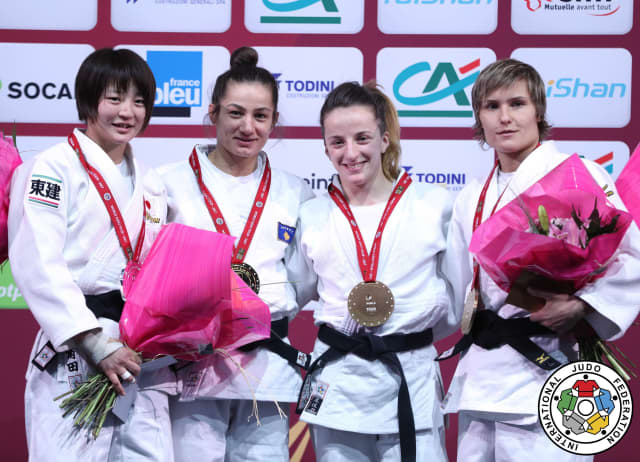 One solution has been the yo-yo between -48kg and -52kg for Krasniqi and eventually that game paid off with her becoming -48kg Olympic champion in Tokyo. Maijlinda lost in Tokyo but was still with Distria and also Nora Gjakova throughout. By that time, the three came as a unit, walked as one. Tokyo was the end though, for the most senior of the group.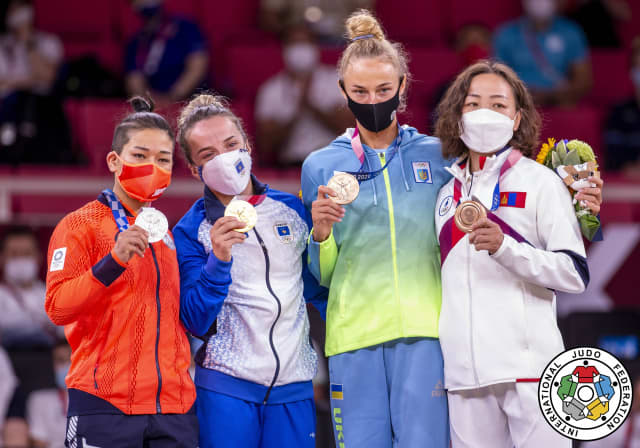 Krasniqi and Kelmendi have been training partners, friends and pioneers through a period of growth and recovery in Kosovo. They have contributed to the pride of a new nation and have been beacons of possibility for all Kosovan women. Losing Kelmendi from the sport altogether was not an option and coach Kuka was already co-ordinating her transition into the coaching team.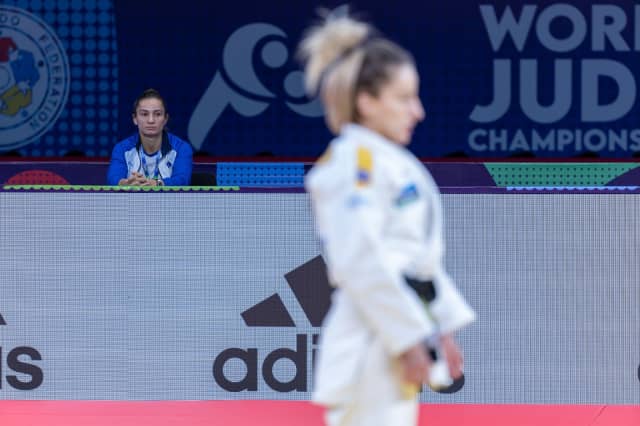 In Tashkent Distria, now back at -52kg, stepped on to the world stage again but this time with Maijlinda not only in her warm-up space but in the tunnel and in the coaching chair. Their relationship has shared the highest of all highs along with the complexities brought on by an undeniable rivalry. They have pushed each other and fought for each other and also had to fight against each other but what is clear is that what they have shared binds them in the most intense, unbreakable way.
In Tashkent the teammate became the coach and the support is different, it's trusted and safe and total. Who better to have in your chair than the one you looked up to, the 2016 Olympic champion in your new weight.
Maijlinda confirmed all, "It's different and I thought it would be easy but sitting there, in that chair, was so stressful. To coach Distria is easy technically because I know her so well. The fact is that I know her even if she doesn't talk. We grew up together. Usually she doesn't have stress and even here she didn't, not really. It was an amazing experience."
Maijlinda recalled the moment just before the medal ceremony, "I felt like I was joking becasue I was standing in the line with the four of them, Giles, Abe, Amandine and Distria, my rivals, my team. It was normal and yet so strange."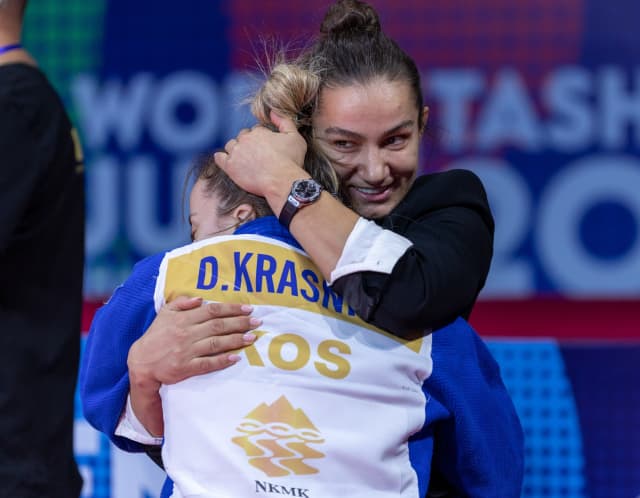 The transition has now been made, there is no doubt. Coach Kelmendi is just as important a part of team Kosovo as ever and now it's time to put all her experience into the new team of judoka. What the photos show us is the intensity and honesty of what we thought all along.