Five years go a long way. It is a long period and when it comes to a fratricidal confrontation, even more so. We have watched and analysed the contest from the beginning and have reported on its progress. Now it is over and we have the denouement.
Julia Figueroa and Laura Martínez Abelenda share flag and anthem and also a weight category: -48kg. They are Spanish and have been fighting for a plane ticket to Tokyo for five years. The Spanish Judo Federation made things clear from the beginning; the one with more points of the two before the Olympic event would be chosen because only one judoka per country and category goes to the Games.
It has been three and a half years of competitions under normal conditions and a year and a half of pandemic, with the final season of fireworks consisting of 1 World Judo Masters, 5 Grand Slams and a world championship in Budapest. In Hungary they arrived with only a slight advantage in favour of Julia. In other words, nothing was decided.
"They both arrived exhausted," explains Laura's coach, Quino Ruiz. "It's too much pressure for too long. Laura has come here to have fun and she hasn't even achieved that. What she needs is to rest." 
Laura reached the quarter-finals based on determination. There, the world number one and great favourite, Distria Krasniqi (KOS), awaited. It was too high a mountain to climb. Krasniqi won. 
Julia's performance remained to be seen. The Valencia judoka did not miss the opportunity and qualified for the semi-finals by defeating one of the sensations of the season, Shirine Boukli (FRA), who has beaten all the favourites on the world circuit this year.
In the semi-final she faced another tough nut to crack, Koga Wakana (JPN), with a lower ranking but the current Japanese and junior world champion. The Japanese athlete won but Julia had officially caught the long-awaited Olympic ticket.
There was one more thing, the very last moment to close the contest, rest and prepare seriously for the Games, to aspire to the medals in optimal conditions. There was the possibility of closing the duel today with a bronze medal. For this she had to pass Keisy Perafán (ARG), number 49 in the world ranking, with 6 continental titles but no medal on the World Judo Tour. 
Perafán had a sweet day in Budapest and reached the quarter-finals, which gave her the right to fight for a place on the podium. This is where third seed Julia set her stripes. In less than two minutes she executed a throw for waza-ari and then concluded with a text book osae-komi. Clean, professional, ippon, bronze and an express interview!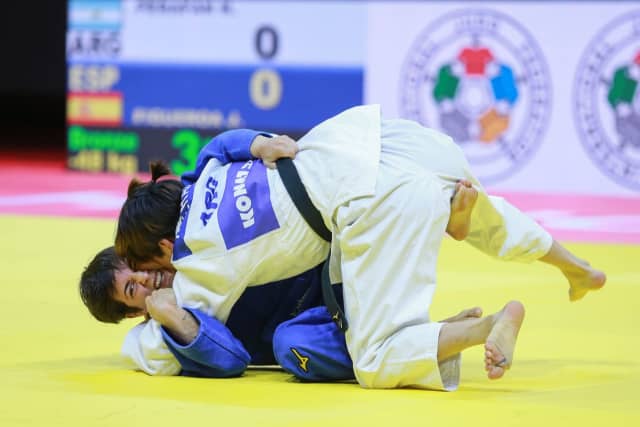 "I am happy because I finished with a victory and a medal. The bad thing is that now my rivals are going to watch me more." 
She says it with a smile but she is right.
"Anyway, you cannot aspire to victory without beating the best and I will go to Tokyo with the intention of reaching the podium." 
It's crystal clear; from now on everybody knows her state of mind.
Julia already has her gaze directed towards the far east. Laura will have to wait and try again, for Paris 2024. That's the way things are in the world of judo.