True. Judo as a competitive sport at the highest level is all about winning medals, grabs and throws, sweat and hard work … In short, the quest of each athlete to reach the highest podium and shine at the end of the competition day with a radiant smile and the blinding glow of that gold medal. Especially at the Worlds. Because the IJF Worlds are that annual moment supreme where the stakes are very high!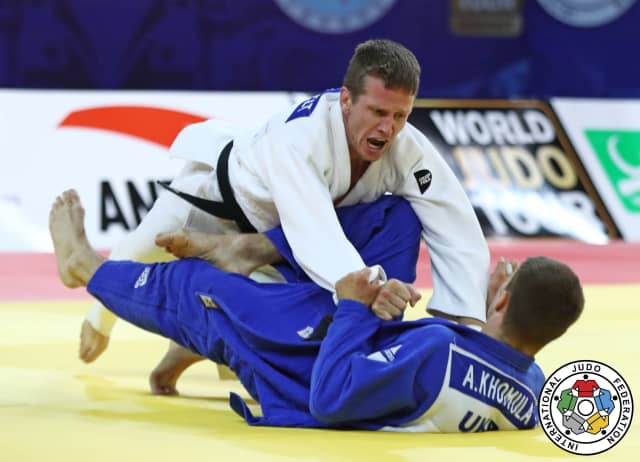 True also, every judo fan knows all the accomplishments of his/her idol on the tatami. How many times he or she medaled on the World Judo Tour, the ranking, the number of head-to-head fights, the victories, the losses …
Hence, … the lighter side of judo. At the Worlds in Tokyo, IJF Media wants to scratch away a bit of judo layer and find out what our judokas like, away from the tatami, so we can share this inside intel with all judo fans.
In the catacombs of the Nippon Budokan, we ran into Belgian Dirk Van Tichelt, bronze medalist at the 2016 Olympics in Rio. It's his first return to action in the last 9 months after a serious knee injury that required surgery.
"I'm more of a series guy," says Dirk. "I really liked 'Breaking Bad'. I've been binge watching all episodes. It's great to have Netflix. Series are perfect for after or between practice. Although I have to be careful not to forget to go to sleep and rest," he laughs. "I try not to exaggerate. However, when I start a series, I want to get to the end of it. It's addictive." Dirk doesn't really have a favorite actor or actress, but he finds Eva Mendez a real head turner. Regarding music, he's a real glutton. "I like all genres. I'm not a fanatic wearing headphones during practice all the time, but when I'm cycling in the fitness, I like a good beat in the earplugs. I also crank up the volume a bit. For the cool down I dare listening to Flemish schlagers," he laughs.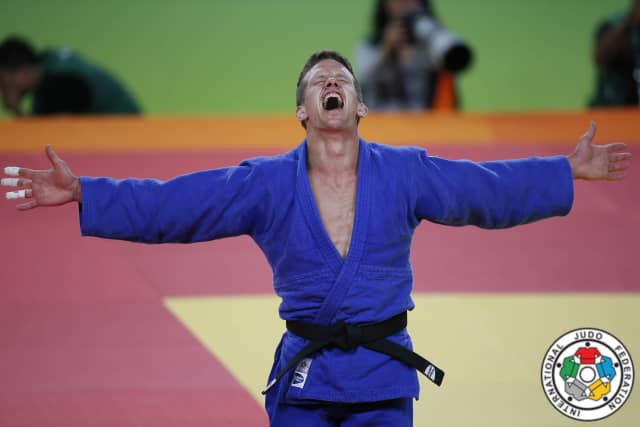 Don't start the topic of 'food' with the Olympian. "Man … do I love spareribs," he says. "I'm a certified meat lover. My parents have a cattle farm, so I grew up with a lot of meat on my plate. Meat for breakfast, lunch and dinner. So why did you bring this topic up? I'm hungry now," he jokes. "It's not fair, especially now that I have to make weight. As I had surgery and revalidated for six months, I didn't have to look at the scales that much. But returning to competition I had to lose all the extra weight. So, I started on time, but nevertheless it was pretty snappy in the end to make my weight. What can I say, I love meat." Being Belgian, his favorite drink is without any doubt a good Belgian beer. "Blond or dark, while one of my favorites is definitely Brugse Zot."
Asking a guy of his favorite color might be awkward, but Dirk certainly has one. "Gold without doubt, but apparently everybody thinks it's bronze", he jokes.
Two cities he really likes, are Tokyo and Rio de Janeiro. "Always great to travel to. But I also love Antwerp. I went to the top sport academy in Antwerp and I really like the city. It's an international metropolitan city but at the same time it feels like a small town. Lots of museums and culture, cozy too. I love to walk around in that city."
Asking Dirk if he has a pet, he laughs. "No, we have a small zoo. We have two cats roaming around in our house, but I also have a boar in my garden, as well as chickens, ducks and rabbits."
Currently, he's an avid reader of 'Dobbit' a DIY magazine. "I'm renovating my house, so I'm getting plenty of ideas there," he says.
His older brother was his real role model. "He's five years older than me. I looked up to him. I always wanted to be like him."
His dream match? "Against Ono. I've lost three times from him. Everybody has flaws. I would like to win against him for a change. And in my dream, I win. But then I prefer not to dream about judo. There are better topics to dream of," he jokes.